Cyprus is an island paradise with an exciting history. This Cyprus Itinerary 7 days covers what to see in Cyprus on a road trip and includes Paphos, Nicosia, Larnaca and details for each destination!
When I arrived in Cyprus the air was balmy and nobody wore jumpers or jackets.
It was October.
It was instantly clear why people flocked to this Mediterranean paradise, not only did it have the perfect weather during most months of the year, the sea was calm, traditional Cyprus food was delish and there were numerous things to see in Cyprus too.
The locals were chatty and helpful ….but the sunsets were the highlight for me!
A Cyprus road trip was the perfect way to see shipwrecks, snorkel and the cute fishing villages around the country and so I hope this Cyprus itinerary that I put together as a first time visitor helps you get the most from your 1 week in Cyprus.
---
A Cyprus itinerary for 7 days
---
Accommodation: Best places in Cyprus
This Cyprus Itinerary takes you through the best parts of this country for a week-long holiday. During your week, you'll want to spend two days in Nicosia. You can spend the days exploring the capital, its history, multiple ruins and museums. And don't forget to try the Cyprus local cuisine.
Staying in Nicosia is a treat. It's where all the economic buzz is. Meaning you can find some amazing hotels, restaurants and places to see in Cyprus. The Hypnos by Bed 'n Mix is located in the city centre and offers an inclusive breakfast buffet.
If you still want to experience Nicosia but don't want the hustle and bustle of the capital, The Aelia Wellness Retreat offers natural surroundings, a spa, fine dining, AC and an array of rejuvenating activities from yoga to cycling to cooking classes.
Next, you can head to Paphos for days 3-5.
Here you can explore the coast or visit the historic birthplace of Aphrodite. If you're travelling with kids or are just a child at heart, you'll love the Leonardo Laura Beach & Splash Resort. If you're looking for something more lux, you can rent out Villa Alexandros Palace.
Another region on your Cyprus must-see list should be Larnaca.
Spending your last 2 days here lets you relax in a picturesque town, wandering down the coastal promenade or visiting the famous Sea Caves in Ayia Napa.
While staying in Larnaca, you'll want some beachfront views. Les Palmiers Beach Boutique Hotel is in the city centre and quite well known for its great food.
---
How long does it take to get to Cyprus?
By Air: Cyprus is quite a popular tourist attraction with over 2 million visitors yearly. Its breathtaking Mediterranean ocean views and rolling hillsides, along with its rich history and tranquil beaches, are definitely responsible.
Cyprus has three international airports to host the loads of tourists that visit. You can catch a plane from most major international cities to one of the three airports. The Nicosia Airport is the smaller of the three, while the largest is Larnaca International Airport, with an express shuttle service for your convenience.
The prices of these flights vary depending on when you booked, the time of year and, of course, where you're coming from. Flying in the school holidays or over peak tourist season can increase your flight costs, but finding a package deal can make your trip a little more affordable.
---
By Boat: An aeroplane isn't the only way to get to Cyprus. There are two ports in Turkey where you can catch a ferry. You can either go from Ports Mersin or Tasucu and arrive in Cyprus at Kyrenia or Famagusta (Magusa) Ports.
The ferry ride will give you a fresh sea breeze blowing through your hair, not to mention the endless views of the blue Mediterranean Ocean. Typically the ferry ride takes about 6 hours, but depending on the routes, ocean conditions and weather, the trip can take up to 8.5 hours.
Now you've arrived in Cyprus, where to go next?
---
Places to go in Cyprus and how to get around
First, it's recommended to hire a car. There is some level of public transportation and you can take a bus from Paphos to Larnaca, but the places to visit in Cyprus are easier to get to when in a car. And plus, the Cyprus road is easy to drive and navigate.
The most affordable option is to rent a small economy car that is easy to park and low on fuel. However, some roads lead to unique gems and aren't travelled on as often. Here, a 4 wheel drive could benefit you. If you're not worried about being stuck, those small rental cars can still make it. Taking out an insurance package with it will put your mind at ease about those steep charges if you damage the rental car.
---
Best time to go to Cyprus
The best time to visit Cyprus is usually in the summer months of May and June when the days are warm and sunny and once can enjoy the coastline of this beautiful country. But summers are not the only season you can visit Cyprus.
Each season has a different charm in this Middle Eastern country. Spring is another best time to visit Cyprus from the months of February to April. This is when the flowers start blooming especially on the mountainside, including as many as 40 different species of orchids!
Autumn in Cyprus ranges from the month of October to November and is usually a quieter time of the year when it comes to tourism. The days are warm and evenings are pleasant and if you fancy yourself a quiet vacation with not many people around, autumn might just be the best time to visit Cyprus for you!
Winters in Cyprus are cold and rainy and is usually the time when tourists lay off this otherwise paradisiacal country.
---
Where to visit in Cyprus
Whether you're on one of your yearly Cyprus trips or it's your first time in Cyprus, what to do won't be an issue with this list of fantastic things to do in Cyprus.
---
2 Days in Nicosia, Cyprus
If you're wondering; What are the best places to visit in Cyprus? It's always a good idea to start your Cyprus vacation in the capital, Nicosia. Not only does this city have loads of fascinating tourist attractions, but it's the last and only capital city in Europe that is divided.
One half of the capital belongs to the Republic of Cyprus, another to the self-proclaimed Turkish Republic of Northern Cyprus.
---
Things to Do in Nicosia
Ledra Street and Old Town
The Old Town or Ledra Street is a pedestrian street that offers plenty of shops, restaurants, cafes and tourist attractions to keep you busy. This major shopping district in the capital city of Nicosia is named after the kingdom of Ledra which used to be located where present-day Nicosia sits.
A short part of Ledra Street lies in the UN Buffer Zone after which the Turkish part of the capital city begins. (Window) shopping in Ledra Street is a great way to get acquainted with the art, crafts and culture of Cyprus while also being introduced to its complicated history with Turkey.
Entry fee: None
Visiting hours: Open 24 hours
A stroll down Duck into the Levantis Museum is a great way to immerse yourself in historical and archaeological Cypriot works like photographs, pottery, maps, costumes, artefacts, jewels and more.
This museum presents a long withstanding history of Nicosia beginning from the Chalcolithic period in 3,000 BC to the present day and shows the city's social development. The exhibit in the museum is laid in chronological order and there is also a souvenir shop and a small library for visitors to check out.
Entry fee: None
Visiting hours: 10 am to 4:30 pm, closed on Mondays
Address: Hippocratous 15-17, Nicosia 1011, Cyprus
---
Nicosia is one of the few ideal Renaissance cities in the world, like Valletta in Malta and Palmanova in Italy because of its fortifications.
These defensive walls that round around the city of Nicosia were first built during the Middle Ages and are still mostly intact. The city has three gates and eleven bastions, each making for great photo ops and a peek into a bygone era.
Buyuk Han is an old travellers inn that's been turned into a quirky market. This inn was first built by the Ottomans and then passed down through several empires. In the middle of the inn is a beautiful mosque.
Today, there are several galleries and workshops in Büyük Han, making it a bustling arts and culture centre. With several courtyard cafes and shops, you can shop for some unique and authentic tokens or souvenirs.
Entry fee: None
Visiting hours: 9 am to 6 pm
Address: Asmaaltı Sokak, Lefkoşa, 99010
The Saint Hilarion Castle in the Kyrenia mountain range, located just 30 kilometres north of Nicosia, makes for a great day trip from the capital city. This castle is one of the three, and the best-preserved castles in the Kyrenia mountains.
This castle gives awe-inspiring views of the surrounding mountain range and is a great place to be if you want some peace and quiet from the city life.
Entry fee: £5
Visiting hours: 9 am to 5 pm in summers and 9 am to 2 pm in winters
Tip: You can also book a Nicosia and Kyrenia full-day tour. These guides include transport and a human guide to tell you interesting facts along the way.
---
Where to eat in Nicosia
In Nicosia, the locals love to pop into cafes. It's the way of Cypriot life. You can visit the To Apomero, which translates to 'secluded' cafe. After trying a hot drink and their delicious pastries and cakes, you can take a walk along the Green Line.
This is where green barrels and sandbags mark the split of the region.
---
---
3 Days in Paphos, Cyprus
Paphos is one of the most popular towns to visit on the island. This is probably because of the unbeatable views, beachy coastline and rich cultural heritage. Here your time will mostly be spent swimming in the crystal clear ocean or soaking up the Mediterranean sun.
---
Things to do in Paphos
Medieval Castle of Paphos
The Medieval Castle of Paphos was built in the Byzantine Era to protect the city's harbour. It has been passed down and ravaged by various dynasties including Lusignans, Venetians and finally the Ottomans.
It is a beautiful castle which can be accessed all around the year, except for public holidays. The entry fee is €2,50, and one can consider getting the special entry card issued by the Department of Antiquities which grants visitors access to multiple sites on a one-time payment.
Entry fee: €2.50
Visiting hours: 8:30 am to 5 pm
Address: Kato Paphos Harbour, Coastal Broadwalk, Paphos, Cyprus
The Mediterranean coastline at Paphos is unmatchable, but Paphos is more than just the beaches. Here you can visit The Tombs of The Kings. This is a UNESCO-certified archaeological site that dates back to 31 BC.
Here you can explore the ruins and interesting history. It's recommended to visit this site in the morning before the sun gets too hot and the tourist's flood in.
Entry fee: €2.50
Visiting hours: 8:30 am to 7:30 pm
Address: Tombs of the Kings Ave 63, Chloraka, Cyprus
---
---
After a satisfying day of exploring the rich history of Paphos, it could be a good idea to cool down by the beaches of Paphos. Home to a stunning coastline, some of the most beautiful beaches of Paphos include Coral Bay, Latchi Beach and the Blue Flag Vrysoudia Beach.
Experience the Street Art of Paphos
In 2017, when Paphos hosted the Street Art Square Festival, many internationally acclaimed street artists like Italy's Millo and Switzerland's Meats left behind stunning graffiti across the city.
Ever since the graffiti scene in Paphos has only grown. Some art appreciation around the city makes for the perfect late afternoon stroll!
Not many know that Cyprus is home to Commandaria, a dessert wine that is also the world's oldest named wine! The art of wine-making is about 6,000 years old in Cyprus and the southwest region including Paphos is rich in vineyards.
From half-day, full-day to multi-day wine tasting tours, this is a fun excuse to drink through your day on this holiday!
Entry fee: From €50
Another great way to spend your day in Paphos is by going scuba diving. Because the water is so clear, you have the perfect chance to get up close and personal with the colourful array of Mediterranean sea life.
If you prefer to be on top of the water rather than below it, you can opt for this half-day Sea Cruise or other day trips from Paphos.
Entry fee: From €90
---
Visit the Troodos Mountains
The Troodos Mountain range is the largest in Cyprus and is home to several sleepy villages and ancient monasteries from the Byzantine period. This region makes for a lovely day trip from Paphos which is only about 70 kilometres away.
Places like Mongari village, Tzelefos Bridge and the Kykkos Monastery are some of the must-see places here.
Day Trip to the Akamas Peninsula
Spending the day exploring the Akamas Peninsula can't be beat. This National park is located only a 1.5-hour drive from Paphos and offers beautiful secluded beaches with unreal views.
While here, you should also check out the hiking trails, Baths of Aphrodite, Blue Lagoon and the Avakas Gorge. Aphrodite's Rock is said to be the birthplace of Aphrodite, the Greek Goddess.
You can swim around the rock in the clear pools that surround it. Relaxing at Lara Beach is another fun thing to do here and maybe see some baby turtles before heading back.
Hike Down the Avakas Gorge
The Avakas Gorge is a stunning hiking trail near Paphos and is a great way to spend your day if you are a nature and outdoor enthusiast.
Located just at the beginning of the Akamas Peninsula, this 8.2 kilometres long trail goes through a gorgeous canyon and is home to unique flora and fauna including the Cyprus wheatear, Cyprus warbler, iridescent frog, Cyprus scops owl amongst others.
Entry fee: None
Visiting hours: Open 24 hours
Address: Avakas Gorge Rd, Peyia, Cyprus
---
Places to eat in Paphos
Aphrodite's Rock Brewing Company
The Aphrodite's Rock Brewing Company near the village of Tsada is a microbrewery where visitors can get a tour and learn about the history of brewing beer in Cyprus – from the Bronze Age to the present day. One can try IPAs, Irish Red Ales and Bavarian Lagers when here.
The Seven St Georges Tavern
7 St Georges Tavern is arguably one of the best places to indulge in a meze at Paphos. This tavern is very traditionally built from stone and wood and the interiors of the places are decorated with traditional Cypriot antiquities, making it a once in a lifetime experience.
After exploring the ruins at the Tomb of Kings, you can hop over to the Old Town for some traditional food at Laona. This Greek and Mediterranean restaurant is known for its authentic Cypriot dishes like stuffed lamb and lawar. The old-world ambience of this restaurant and lip-smacking food are reasons enough to give it a visit!
After hours of activities at the Akamas Peninsula, you'll probably be hungry. Why not stop at Yiannis Sandwiches while at the Peninsula? This restaurant is affordable, damn tasty and even the locals love it.
---
2 days in Larnaca, Cyprus
Larnaca is one of the largest cities in Cyprus and has the busiest airport. This and its proximity to the sea makes Larnaca quite a popular tourist spot to stay. This city offers both an energetic coast and a vibrant city centre.
To make the most of your two days, it's recommended to spend the first exploring the sites you'll find along the trip from Paphos to Larnaca. You can seep up historical facts at the Kourin Archaeological Site and Kolossi Castle and take a cool-down swim at Kalymnos Beach.
---
Things to Do in Larnaca
Hala Sultan Tekke and Larnaca Salt Lake
Hala Sultan Tekke is an important mosque associated with Cyprus's very first Arab invasion in 647 AD. Built in traditional Ottoman architectural style, in the present day this monument also houses calligraphy from several periods in history.
Have you ever floated in the Dead Sea? Well, in Larnaca, you can see pink flamingos floating on the Salt Lakes.
The unique lakes are made up of a constellation of 4 shrimp-stuffed lakes where thousands of bright flamingos come to feast. These four interconnected salt lakes of Larnaca are important wetlands where migratory birds – including cranes, gulls, flamingoes – make a stop during winters.
Entry fee: None
Visiting hours: 8:30 am to 5 pm
Old Turkish Quarter or Skala
Entering the Skala or the Old Town of Larnaca feels like an other-worldly experience in itself.
The narrow old-world lanes of this part of Larnaca are great places to get your Instagram game going, as well as shop for some bohemian Greek and Turkish souvenirs like pottery and sea sponges.
---
Day Trip to Stavrovouni Monastery
Located about 45 kilometres from the city of Larnaca, a visit to Stavrovouni Monastery is a must if you have the time.
This Greek Orthodox monastery is perched atop a cliff and is one of the few places in the world where pieces of the True Cross still survive. The view of the surrounding landscapes from the monastery is breathtaking and well worth the drive.
Entry fee: None
Visiting hours: September-March: 7 am to 11 am and 2 pm to 5 pm. April – August: 7 am to 11 am and 3 pm to 7 pm
From the city of Larnaca, one can take a quick 45 min drive to Ayia Napa to see the gorgeous Sea Cave landmark along the coast at Cape Greco National Park.
Here you can float in their sparkling, teal water, find incredible rock bridges, tunnels and hidden caves that can extend 80m into the earth.
MS Zenobia was a Swedish ferry that capsized under mysterious circumstances close to the city of Larnaca in 1979. Ever since it has been named as one of the world's top ten wreck diving sites in the world.
But one need not book a scuba experience to see this shipwreck. Because the seawater is so clear, one can see the ship while snorkelling or while on a glass-bottom boat tour!
Entry fee: Free to see the shipwreck, scuba depends on the tour operator
Visiting hours: 24 hours to see shipwreck, suba timings depends on the tour operator
---
Places to eat in Larnaca
To Kazani Traditional Tavern
After a long day of exploring, you can have your own shrimp feast at To Kazani Traditional Tavern. This tavern is famous for its original decor in blue and white, with checkered tables, green plants and random rustic decor scattered throughout, not to mention their delicious food.
To end off a perfect day in Cyprus, you can watch the sunset below the horizon while enjoying your last meal at the family-owned Aquarium Bar Cafe. This restaurant offers indoor-outdoor dining set on top of a boat parked in the harbour.
---
Cyprus frequently asked questions
What are the must-try foods in Cyprus?
Meze or mezze is a meal made of several hot and cold appetizers – something like a tasting menu which is a must-try food in Cyprus.
Other dishes include the souvlaki which a Greek dish consisting of grilled meat on a skewer, traditionally served with a piece of thick and fluffy pitta bread.
In Paphos, you can also try the best loukoumi in Cyprus which is a dessert traditionally offered to wedding guests as a gift. Halloumi cheese is also a very popular dish in Cyprus that should not be missed.
Some other traditional foods of Cyprus include moussaka, Imam, aphelion, dolma and koupepia. Don't forget to also try out some local Cypriot wine!
Is Cyprus expensive?
Cyprus is not an extraordinarily expensive country to visit. Prices in Cyprus are usually similar to European destinations like Spain or Croatia.
However, Cyprus is not an ultra-budget destination either and the average daily price per person could go around €82. You can save up by using public transportation as much as possible and opt for mid-range or budget-friendly hotels.
Is Cyprus dangerous?
Though Cyprus is located close to war-torn countries such as Syria, it is generally a very safe country to visit.
However, like most other tourist destinations, petty thefts and tourist scams can occur occasionally. Otherwise, you can have yourself a nice, relaxing vacation in Cyprus without any worries.
What part of Cyprus are Turkish?
The Northern parts of Cyprus fall under Turkish territory and are known as the Turkish Republic of Northern Cyprus. Turkish is the main language spoken in these parts.
This division of Cyprus happened in 1974 when Turkey intervened during a Greek-backed military coup to protect the northern parts of Cyprus.
What is Cyprus famous for?
There are many things which Cyprus is famous for and these include the country's historically rich past, Halloumi cheese and Cypriot wine, Mediterranean beaches and mineral wealth – especially copper.
But apart from these, the main reason Cyprus is so famous is that it is believed to be the birthplace of Aphrodite, the Greek goddess of love and beauty.
---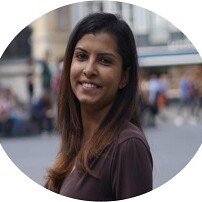 Award-winning Analyst, multi-nominated digital content creator and photographer Lavina Dsouza's words capture stories about culture and tradition mainly through its food and people. She has written and contributed to publications such as The Washington Post, Lonely Planet and Matador Network, to name a few. She is the editor of UntraditionalHumans.com, a non-profit created to share inspiring stories from women of colour who break free from traditions and choose happiness.
She's also a speaker passionate about DEI and champions solo travel. She has collaborated with numerous renowned brands such as Intrepid Travel, TripAdvisor, Travel and Leisure and Adobe, to name a few.
She can be found on Twitter and Instagram.
---
---
---
Some of the links on this post are affiliate links. These do not cost you extra to use, but will help provide Continent Hop with a small commission if/when you purchase through them, to recover some of the costs of running this website and providing free content to help you plan your travel. I appreciate your support!
---