Cyprus is the perfect destination all year round as the weather tends to be quite pleasant and the sea warm. Many tend to fly in to Paphos – the capital, so here's some famous landmarks in Cyprus that you can visit as Paphos excursions or day trips from Paphos.
Who wouldn't want to pay a visit to a place that is apparently the birthplace of the Greek goddess of love, Aphrodite?
Especially when it is by the sea amongst gigantic rocks and has the most picture-perfect sunsets?
Paphos, the capital of Cyprus is the perfect holiday destination and should be included on your Cyprus itinerary.
Indulgent resorts by the sea, gentle winds and gorgeous sunsets, irrespective of whether you're a couple looking for adventure in Cyprus or a romantic getaway or a family with kids who love running around, Cyprus makes for a good break.
The ruins, history and Cypriot Meze are the other things worth keeping in mind when visiting this destination.
If you'd like to plan an itinerary and make sure you don't miss out on the famous landmarks in Cyprus, here you go!
---
Paphos excursions – 11 Day Trips from Paphos Worth Every Minute
---
How to Get to Paphos
Paphos is fairly easy to get to through a combination of flights, public transport and taxis.
By flight: 
For international travellers, Paphos International Airport (code PFO) is the best pathway to Paphos. The airport handles commercially scheduled and charter flights, both of which are fairly easily available front the major European centres. PFO is about 7 miles from Paphos itself.
By bus: 
A public bus (route 612) runs from the airport to the Kato Paphos Main Bus Station, near the harbour in Paphos. Kato Paphos is the main tourist hub, where most of the resorts and hotels are found. Alternatively, bus route 613 runs into the centre of the city.
By taxi:
You can opt for a taxi from the airport, but note that they all run by the meter – there is no flat rate for an airport transfer. Expect to pay in the region of £30 GBP, depending on your final destination.
---
Where to Stay in Paphos
You'll never really have any trouble finding a hotel room in Paphos. The abundance of top hotels and resorts are a visitor's dream – in some ways reminiscent of sun-drenched Santorini. Here are just a few of the great options.
Elysium is a 5-star hotel right on the beachfront, right next to one of the major attractions – the Tomb of the Kings. You can't beat the views over the ocean from the main terrace of this gorgeous location.
Just 2km from the beach is Elysia Park, another absolutely beautiful resort that offers self-catering units, balconies and amazing views.
Amavi is a hotel with a unique appeal – it's made exclusively for couples. No children are allowed, and all the facilities are designed with a romantic holiday for two in mind. It has access to a wonderful blue flag beach and is within touching distance of a medieval castle attraction.
---
Famous landmarks in Cyprus
Paphos carries a long history dating back to before Roman times. Indeed, archaeological sites and museums here carry artefacts from the late Stone Age (see below).
But it's such a fascinating island, and it marries itself to modern luxury travel with resorts and hotels and traditional foods in Cyprus to challenge the appeal of almost any other in continental Europe.
The most famous landmarks in Cyprus to visit, though, must surely be the remarkable ruins and historical aspects that partner the exquisite beaches, views and foods of Cyprus island.
Here are 11 of the best Paphos day trips to see and do while you're here.
---
Aphrodite's Rock / Kouklia / Petra Tou Romiou
The Goddess Aphrodite was allegedly born here, between Paphos and Limassol. As is befitting a goddess of love and beauty, this location is visited and admired by many – you can even book a grand tour here that includes the Troodos mountains.
The story goes that she emerged from the sea at this point, and what is adventure in Cyprus without a bit of mythology?
On a modern tourism note, the beach here is a great swimmer's stop, and especially nice as it requires only a short walk to get there. You can also simply admire the wonderful views from the top of the rocks as well.
---
---
Avakas Gorge
Much of modern Paphos is designed with the tourist in mind. There are hotels and developments as far as the eye can see sometimes. But Avakas Gorge seems to have escaped the gaze of the developers. The gorge is 30m deep and offers a wonderful hike free from the reach of modernity.
A brisk 3km walk along these limestone cliffs can really energise the soul.
So pop on those hiking boots, grab a water bottle and break out into this unique, natural attraction – it's undoubtedly one of the best excursions from Paphos.
---
DETAILS
Entry fee: None
Address: Avakas Gorge
Visiting time: Open all day
---
Blue Lagoon
No, it's not in the least related to the classic movie (you may be old enough to remember that one?). This one is for those that appreciate a bit of sea and sun. Some say the waters at Blue Lagoon beach are the bluest you can find. It's definitely worth seeing and swimming in.
You can only get there by boat or by a rough dirt road, but the effort is well worth it, especially if you plan on spending most of your day here. Boats leave from Latchi harbour – if you're feeling especially flashy, opt for a service with catering.
The dirt road is a seriously tough option, and a 4×4 utility vehicle is absolutely necessary. Sedan cars are not recommended.
---
Chrysorrogiatissa Monastery
Historical interest abounds on Paphos excursions. This monastery dates back to the 12th century and is a treasure trove of historical art.
Of special note are the gold and silver representations of Christ and the Virgin Mary, and an attached museum of Byzantine-era art. But it's not just the museum curiosities that are breathtaking. The monastery also offers views of the Paphos cedar forest.
You'll find the site near the Troodos Mountains, northeast of Pathos.
---
DETAILS
Entry fee: None
Address: E703, Pano Panagia, Cyprus
Visiting time: May – August: Daily: 09:30 – 12:30 / 13:30 – 18:30
September – April: Daily: 10:00 – 12:30 / 13:30 – 16:00
---
Evretou
The island's history of war and division is interestingly preserved in this fascinating town. The island was ravaged by a bitter conflict in the 70s that left the people and land divided. Here in Evretou, everything seems to have been left as it was after that conflict.
There are many abandoned Cypriot homes, ruins from the war and a general sense of how the whole period disrupted the people and their lives. It's like instantaneously stepping back 50 years, into the quiet aftermath of a great tragedy.
---
Kato Paphos Archaeological Park
For a look even further into Cyprus Past, explore the Archeology park, which shows remnants as old as the Roman Empire and the Middle Ages.
Some buildings have been uncovered and seem to still be quite radiant, despite their age. Make a point of visiting the Odeon. It's an ancient site that was used for public speeches and performances, and still is today!
Statues, murals and mosaics from as far back as 100 AD are beautifully preserved and some even partially restored.
Of the places to visit in Paphos, the Archeological park offers incredible insight into Roman times that you'd be hard-pressed to find anywhere else.
---
DETAILS
Entry fee: €4,50 / Tombs of the Kings additional €2,50. Passes are also available . One day entry cards – €8,50, three (3) day entry cards – €17,00
Address: QC45+F85, Paphos, Cyprus
Visiting time: April 16 – September 15, daily: 08:30 – 19:30
September 16 – April 15, daily: 08:30 – 17:00
---
Medieval Castle of Paphos
The previously-mentioned Medieval Castle of Paphos was built as a Byzantine stronghold. It was taken over and used similarly by the Lusignans in the 1200s.
Eventually, the Ottoman Empire rebuilt it into the castle that still stands today. Currently, it's a tourist attraction, but its history as a military structure gives it an interesting past worth knowing.
It was also used as a prison and a food warehouse at one time. Its location at the mouth of the harbor seems to suit its uses.
---
DETAILS
Entry fee: €2,50
Address: Kato Paphos Harbour, Coastal Broadwalk, Paphos, Cyprus
Visiting time: April 16 – September 15, daily: 08:30 – 19:30
September 16 – April 15, daily: 08:30 – 17:00
---
Paphos Archaeological Museum
Unlike a single archaeological dig site, the Archeological Museum houses artefacts and items from a number of different excavations around the Island. The items span the neolithic age (late stone age) through to as late as the 1700s. Many of these pre-date the founding of Paphos itself.
You'll see items dating through the Roman era, too –  everything from coins, pottery, and even sculptures are superbly housed and storied. Look out for an especially exquisite bust of Paphos' own and much-loved Aphrodite.
---
DETAILS
Entry fee: Free
Address: Griva Digeni Avenue, 43
Visiting time: Tuesday-Sunday: 10:00 – 17:30, Closed on Mondays
---
St. Paul's Pillar
In terms of remarkable historical sites and trips from Paphos for religious pilgrims, St Paul's Pillar remains one the most visited in the region. This is where the Apostle Paul was flogged for trying to convert locals to Christianity.
Today there is a church – the Panagia Chrysopolitissa – that marks the site. But the actual pillar to which Paul was tied remains in the grounds. Though weathered, it is remarkable that the pillar exists more than 2000 years on.
---
DETAILS
Entry fee: Free
Address: Panagias Theoskepastis, Paphos, Cyprus
Visiting time: During the winter, 16th September – 15th April: 8.30 – 17.00
During the summer, 16th April – 15th September: 8.30 – 19.30
---
Tombs of the Kings
We've mentioned the Tomb of the Kings, which is housed in the Kato Paphos Archeological Park. The tomb is actually a series of burial chambers that were carved out of the foothill rocks of the nearby mountains.
Interestingly, it is said that they were influenced by Egyptian notions of creating chambers for the dead that were similar to their homes while they were living. Within these, they would carry on in the afterlife.
In reality, no actual kings are buried here. But there are a fair few high officials, at least. And don't be put off by the lack of royalty – these chambers are seriously impressive.
---
DETAILS
Entry fee: €2,50
Address: Tombs of the Kings Ave 63, Chloraka, Cyprus
Visiting time: April 16 – September 15, daily: 08:30 – 19:30
September 16 – April 15, daily: 08:30 – 17:00
---
---
Troodos Mountains
The Tomb of the Kings is in the foothills of these mountains. And the mountains themselves make for a great day-trip. Explore the villages dotted around the foothills, or take a hike in the mountains proper.
Explore the olive groves and sample the wine from the local vineyards. There are even old churches and buildings to find and investigate – many of them are UNESCO heritage sites. This is arguably the best Paphos sightseeing option on offer.
---
---
You may choose to laze by the pool in your resort however if the weather isn't scorching, Cyprus has a lot to offer and it is rich in history, culture and archeology.
Some of my best memories are ones of gorgeous sunsets, coconuts and delicious meals full of flavour.
No matter what route and day trip from paphos you pick to explore, chances are it will leave you happy and content of getting to see more of this Mediterranean jewel!
---
If you like history, you might like this post on all the details inside Petra!
---
Cyprus frequently asked questions
What are the must-try foods in Cyprus?
Cypriot Meze or mezze is a mix of hot and cold snacks or appetizers, like a tasting menu of the best dishes on offer in Cyprus.
Something you should try to order in case you're unsure what to choose and it is your first time here! Some of the popular items on the platter are Souvlaki, grilled Halloumi cheeses, pita bread, and lots of dips and olives!
Also do try Moussaka, Dolma and koupepia. This detailed guide should help.
Is Cyprus expensive?
Cyprus isn't too expensive however resorts by the sea can tend to get pricey especially during summer holidays and high season.
There are budget friendly places in the city where you can stay. Meals are pocket friendly. While there is public transport available, hiring a car is recommended.
Is Cyprus dangerous?
It is quite safe to visit Cyprus even though many believe it is closer to the Middle East.
You can have a relaxing and safe holiday here however as always do stay alert and keep an eye out in areas not recommended by locals.
What part of Cyprus are Turkish?
The Northern parts of Cyprus is known as the Turkish Republic of Northern Cyprus. Turkish is the main language spoken in these parts.
This division of Cyprus happened in 1974.
What is Cyprus famous for?
History, Halloumi cheese, beaches and Cypriot wine in short.
However, main reason Cyprus is so famous is that it is believed to be the birthplace of Aphrodite, the Greek goddess of love and beauty.
---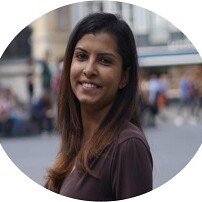 Award-winning Analyst, multi-nominated digital content creator and photographer Lavina Dsouza's words capture stories about culture and tradition mainly through its food and people. She has written and contributed to publications such as The Washington Post, Lonely Planet and Matador Network, to name a few. She is the editor of UntraditionalHumans.com, a non-profit created to share inspiring stories from women of colour who break free from traditions and choose happiness.
She's also a speaker passionate about DEI and champions solo travel. She has collaborated with numerous renowned brands such as Intrepid Travel, TripAdvisor, Travel and Leisure and Adobe, to name a few.
She can be found on Twitter and Instagram.
---
---
---
Some of the links on this post are affiliate links. These do not cost you extra to use, but will help provide Continent Hop with a small commission if/when you purchase through them, to recover some of the costs of running this website and providing free content to help you plan your travel. I appreciate your support!
---