Many visit Egypt mainly for its Pyramids and take a quick stop in Cairo. However, if you do have time to spare, there are so many places beyond the pyramids that are worth exploring! Luxor is full of awe-inspiring architecture, history and landscapes. Hurghada by the Red sea is an underrated destination and can definitely be visited in a day if not more!
Luxor, the world's largest open-air museum, has stunning architecture, prolific ancient Egyptian history and tombs of many significant pharaohs of the country. Walking through the ruins and tombs of pharaohs in Luxor is like stepping back thousands of years in time.
The name Luxor is derived from Arabic: Al-Uqṣur meaning the palaces/forts. A part of Luxor was Thebes, the capital of Egypt during the New Kingdom (c. 1570-c. 1069 BCE). It was a centre of worship for the deity Amun, the Egyptian God of sun and air. In 1979, the area identified as Thebes was identified as a UNESCO world heritage site.
The Nile River splits the city into the East Bank and West Bank. The East Bank of the city has the centre, large hotels and more activity than the quieter West Bank.
Luxor is easily accessible from Hurghada, Cairo and Aswan.
Hurghada is about 310 km away from Luxor, and tourists usually take a day-long Luxor trip from Hurghada. A Hurghada to Luxor day trip is enough to see the city's highlights.
If you want to follow a relaxed itinerary and see all the monuments, plus spend some time taking a hot air balloon ride or cruise on the Nile, consider spending two-three days in the city, rather than a day-long Hurghada to Luxor tour.
Here is an itinerary for a Hurghada to Luxor day trip :
---
What Documents are needed to Enter Egypt?
If you are planning a holiday or a trip to Egypt, there are several documents you will need to prepare. These documents are required by the federal government and must be obtained before you can visit the country.
These include the following:
COVID – Test
A negative COVID-19 test taken 72 hours prior to visiting Egypt has to be provided to Egyptian authorities at the airport. Keep in mind that the test has to be taken in this specific duration before landing in Egypt or you could be denied entry into the country.
Yellow Fever Certificate
If you belong to a region with cases of Yellow fever, you will also require this certificate. Ensure that you check before you leave for Egypt whether you require this certificate.
---
Egypt e-Visa
Visas to most Asian and Middle-Eastern countries can be stressful but it doesn't need to be this way!
Many countries are now introducing electronic visas and Egypt is one of them and all it takes is a couple of minutes. You could obtain either a single-entry or a multiple-entry visa depending on your Egypt itinerary.
You only need a computer, a reliable internet connection, and a few minutes to apply for an e-Visa online to Egypt.
The best bit is that it only takes about 72 hours or so to acquire it.
---
Hurghada to Luxor Day trip
---
4.30 am – An early departure for your Luxor trip from Hurghada
---
The first Hurghada to Luxor bus (GoBus) starts at 7.30 am.
It usually takes about 4 hours to get to Luxor so you're estimated to get to Luxor by 11.30 am if you take the GoBus and about 9 am if you prefer a private trip or a group tour. Starting at 7.30 am would give you barely any time in Luxor if you have to get back to Hurghada by night.
To leave for Luxor early, you'll have to take a private car/transfer from your hotel in Hurghada.
All Luxor day tours from Hurghada begin between 4–5 am to have ample time for sightseeing.
You can hire a car from one of the agencies to pick you up from the hotel, take you from one site to another in Luxor and drop you back at the hotel in Hurghada at night. This will cost around 150-200$.
Here are a few car hire options :
123 Taxi & Tours – 133$
Sharm Wonders – 158$
Private Taxi Hurghada – 175$
Ensure you communicate clearly with the hiring company that you are looking for a car for a Hurghada to Luxor day trip and using the car to get from one place to another in Luxor and for their day trip package (which would mean you'll have to follow their itinerary and only see those places)
If you are looking for a day trip package, there are many companies that provide these. Here are a few options for day trip packages for a Hurghada to Luxor day trip –
Sharm Wonders
Memphis Tours
Marsaalam tours
---
---
9 am – Breakfast on East Bank
---
Eat breakfast at the Café & Restaurant Maratonga, an Egyptian-German restaurant with Egyptian and international food options. They provide organic food with non-vegetarian, vegetarian and vegan options.
---
DETAILS
Address: Madinat Habu, Luxor
Hours: 6 am – 10 pm
---
10 am – 11.30 am – Valley of Kings
---
The Valley of Kings is an elaborate collection of royal tombs on the West Bank of the Nile. It is the burial site of all the kings (pharaohs) of Egypt's 18th, 19th, and 20th dynasties.
The Egyptians believed in following a set of funerary practices to be able to continue with their afterlife. They believed the pharaoh to be a mediator between God and the world of the living.
After death, the pharaoh became divine and passed on his sacred powers to the son. As a result, they prepared elaborate tombs and memorials for themselves – with paintings that showed their journey into the afterlife and belongings that they needed.
Tomb robbing became common in Egypt as early as the Early Dynastic Period (c. 3150 – c. 2613 BCE). Robbers broke into the pyramids and other tombs and stole valuables as well as the mummies of the pharaohs. As a result, pharaohs began hiding their tombs. The rulers of the New Kingdom of Egypt (c. 1570- c. 1069 BCE) chose this isolated site near the Nile River to hide their tombs.
The valley is famous for the tomb of Tutankhamun, the last of his royal family to rule in the 18th dynasty. The tomb was excavated in 1922 and contained a gold-enclosed mummy and over 3000 precious objects and objects used in daily life that helped archaeologists learn about ancient Egyptians.
There are over 60 tombs in the Valley of Kings, and archaeologists are still discovering more. The tombs range from single stone tombs to elaborate caves with paintings, hieroglyphics and decorations. Only eleven tombs are open to the public.
You'll have to take a short tram ride to reach the tombs. Photography is not allowed at some tombs and only with a pass at others.
---
DETAILS
Address: Luxor, Luxor Governorate
Hours: 6 am – 5 pm (Summer), 6 am- 4 pm (Winter)
Cost: Main entrance ticket (For eight tombs): 240 EGP for adults, 120 EGP for kids above the age of 6 as well students with a valid student ID
Buy tickets separately for other tombs
Photo pass: 300 EGP
Tram Ticket: 4 EGP
---
---
11.30 am – 12 pm – Colossi of Memnon
---
The twin colossi depict the Pharaoh Amenhotep III (c. 1386-1353 BCE), the ninth king of the 18th Dynasty of Egypt. The statues depict the seated king, imagery of his mother and wife, the god Hapi and other engravings.
Amenhotep III was one of the most prosperous rulers of ancient Egypt. During his reign, the regime prospered – he maintained peace with other nations through diplomacy, increased its wealth and built many buildings and statues.
The statues are made of quartzite sandstone which was excavated near modern-day Cairo and transported here. The figures were part of a large temple complex built by the king and completed in 1350 BC. A violent earthquake in 27 BC and floods ruined most of the temple complex, yet the statues have remained, albeit damaged.
There's an interesting story about why the statues have been named Colossi of Memnon. One of the statues would 'sing' at sunrise. By the time this was observed, Alexander the Great had taken over Egypt (332 BC). Soon, Romans and Greeks would visit the statues, and that's how the name was associated with it.
At dawn, one of the statues would make a high-pitched noise. The Greeks and Romans attributed this noise to Eos, Memnon's mother singing and mourning for her son.
Researchers think that the noise was due to the rise in heat and humidity, which affected the cracks produced in the stone post the earthquake in 27 BC. The statue stopped making noise after restoration work under the Roman emperor Septimius Severus (reigned 193-211 CE) repaired the fissure.
---
DETAILS
Address: Thebes, Al Qarnah, Qurna, Luxor Governorate
Hours: 6 am – 5 pm
Cost: Free
---
---
12 pm – 12.30 pm – Queen Hatshepsut temple
---
The Queen Hatshepsut temple, a masterpiece of ancient Egyptian architecture, was built during the reign of Pharaoh Hatshepsut of the Eighteenth Dynasty of Egypt. The unusual circumstances of her life led to her becoming a pharaoh – Her husband, Thutmose II, died while his successor Thutmose III was still a child.
She started controlling the state's affairs and, in the seventh year of her regency, broke the tradition and declared herself the pharaoh of Egypt. She was the second woman pharaoh of Egypt and ruled for twenty years.
---
DETAILS

Address: Kings Valley Rd, New Valley Governorate
Hours: 6 am – 5 pm
Cost: 140 EGP for adults, 70 for students, 2 EGP for tram
---
12.30 pm – Get to the East Bank of Luxor
Getting to one of the restaurants on the East Bank from the West Bank would need about an hour.
A local ferry also starts from the dock near Gezira village on the West Bank and lands near Luxor temple on the East Bank and costs 5EGP. Small motorboats too take customers from one end to the other.
1.30 pm – Lunch
Here are a few good options to have lunch on East Bank :
Cuisine: Egyptian
Address: Al-Sahaby Street, Luxor City,
Hours: 7 am – 11.30 pm
Cuisine: Egyptian, European
Address: Kaled Ebn Elwaled Street, first floor, front of Sonesta Hotel & Lotus Hotel & Steigenberger Hotel
Hours: 12 pm – 1 am
Gerda's Garden
Cuisine: Egyptian, European
Address: Ali Ibn Abi Taleb, Gazirat Al Awameyah, Luxor,
Hours: 11 am – 11 pm
---
---
---
The Karnak temple is a precinct located on the East Bank of the Nile River, which consists of many temples, chapels and pylons. It is spread over 200 acres, and several pharaohs have contributed to it over hundreds of years.
The temple is dedicated to the Theban triad of Amun, Mut, and Khonsu, the gods worshipped by the Egyptians. In addition to being of religious significance, it was also an administrative centre and palace for the New Kingdom pharaohs.
As with ancient sites, the site fascinates visitors as to how the grand buildings were built without any modern equipment.
If you are here for a limited time, you can see the complex of Amun-Re, see the impressive structures here.
---
DETAILS

Address: Karnak, Luxor, Luxor Governorate,
Hours: 6 am – 5.30 pm
Cost: 200 EGP per person
---
4 pm – 5 pm – Luxor temple
The Luxor temple was built over hundreds of years by different pharaohs and was the largest religious site in ancient Egypt. The temple is made from sandstone from Nubia and limestone. Pharaoh Amenhotep III started the construction of the temple in 1392 BC.
---
DETAILS

Address: Luxor City, Luxor, Luxor Governorate, Egypt
Hours: 6 am – 5.30 pm
Cost: 160 EGP per person
---
---
5 pm – Return to Hurghada
---
Start from Luxor by private car to return to Hurghada. Go Bus runs a bus from Luxor to Hurghada at 5.30 pm. So if you want a cheaper option instead of a private car, you can take the bus from the Go Bus terminal on the East Bank.
If you are staying for longer than a day here, here are the top things to do in Luxor :
Visit the Luxor Museum

See the Ramesseum

See how the Egyptians created Mummies – Mummification Museum

Enjoy a hot air balloon ride

Enjoy a felucca ride on the Nile

Shop in the local markets
---
Getting around the city on your Hurghada to Luxor day trip
Most tourists take Hurghada excursions to Luxor through a package tour or through private cars with drivers. This is the best way to get around.
There are microbuses around the city area in the East Bank, which charge as little as 1 EGP. Still, it's best to avoid them, especially on this itinerary for a Hurghada to Luxor day trip where you'll have limited time in the city.
If you have not hired a car for your Hurghada to Luxor day trip, you can hire a taxi for the day or from one location to another or for the day. Ridesharing apps like Uber and Lyft do not operate here, and the cabs do not operate on a meter.
So before you get into a taxi, you must decide the fare. Scamming and trying to overcharge tourists is common here, so be careful regarding the fares and routes. Hotels also give out bicycles for rent which you can use for short distances.
---
Best time for Hurghada to Luxor day trip – Luxor Weather
The best time to visit Luxor is between October to April (Winter-Early spring). December and January are the peak season, and hotels are expensive during this time.
Accommodation is cheaper between May and August, but it would be uncomfortable to do sightseeing during the daytime as the temperature goes up to 42°C. It barely rains here, so rainfall shouldn't be a problem for sightseeing during your Hurghada Luxor trip.
---
People tend to skip many spots in Egypt but it is here that you'll find a new side to Egypt; one that is unexplored and pristine!
Hurghada is one such town. It is perfect for some down time, to relax and rejuvenate after admiring and taking in all the architecture and history that Egypt has to offer.
And it certainly won't disappoint even after you return after an exhausting but fulfilling Luxor day trip!
---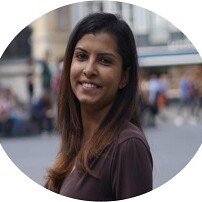 Award-winning Analyst, multi-nominated digital content creator and photographer Lavina Dsouza's words capture stories about culture and tradition mainly through its food and people. She has written and contributed to publications such as The Washington Post, Lonely Planet and Matador Network, to name a few. She is the editor of UntraditionalHumans.com, a non-profit created to share inspiring stories from women of colour who break free from traditions and choose happiness.
She's also a speaker passionate about DEI and champions solo travel. She has collaborated with numerous renowned brands such as Intrepid Travel, TripAdvisor, Travel and Leisure and Adobe, to name a few.
She can be found on Twitter and Instagram.
---
---
EXPLORE MORE OF READY-TO-GO ITINERARIES
---
Some of the links on this post are affiliate links. These do not cost you extra to use, but will help provide Continent Hop with a small commission if/when you purchase through them, to recover some of the costs of running this website and providing free content to help you plan your travel. I appreciate your support!
---