Malta in March is one of the best times to visit Malta when the water is starting to warm up but the crowds are yet to arrive! Spring in Malta isn't busy but has many festivals and events on offer. Here's things to do in Malta in March.
As March knocks on the door and rest of the Europe is still shivering from cold winds, Malta is geared up to welcome sunshine and warm days.
Not that it snows in Malta even in December, but winter in Malta can still be a little harsh.
But come March, Maltese people are all set to start sunbathing on its pretty beaches and hiking through different trails. Sunbathing, not swimming as the sea can still be quite chilly.
And as March is the shoulder season, Malta comes with crowd-free streets (especially if you're a Game of Thrones fan), cheaper flights, and slashed prices for accommodation.
What else can you ask for when visiting Malta in March, right?
So, ensure to refer to this article when you are planning to spend Spring in Malta and you will find all the necessary information for the perfect getaway – irrespective of whether its a family holiday or a spring break getaway!
Malta in March / Spring in Malta – How is the weather?
---
Here is everything you can expect from the climate in Malta in March.
With March comes the end of winter and the start of spring. And spring in Malta means you can enjoy longer and sunnier days. It anyway rarely snows in Malta, but that doesn't mean winters are not harsh. So, expect to enjoy some sunshine when you visit Malta in March.
When it comes to Malta temperature March, the average high temperature is 18°C (64°F), making it ideal for beach days and outdoor activities.
It also drops down to 11°C (78°F) with occasional rain and strong winds. But rain usually doesn't last long and strong winds also do not stay for hours.
So, for those wondering 'how hot is Malta in March?', the weather stays mild throughout this month. In fact, you may need layers just in case.
With 7 hours of sunshine and 10 hours of daylight, you get plenty of time to go on walking tours, catch some tan, take a quick dip in the ocean, and explore nature before it gets crowded.
But also carry an umbrella, as Malta in March weather is a little unpredictable with rains. You do not need to carry rain boots if you are planning a hike, but an umbrella is necessary on some days.
---
What is Malta like in March?
---
Yes, in fact, the month of March can be one of the best times to visit Malta – however keep in mind that it may not be so if you're looking for a beach getaway as while the beaches and temperatures are pleasant the water may not be so for all.
The chilly winter breeze is rare, the spring sun starts shining bright, and tourists worldwide are yet to flock to this tiny island country.
And every traveller knows what that means, right?
Visiting Malta in March is all about cheaper flight tickets, lesser prices for accommodation, and of course less crowd to navigate through when you are visiting popular sights and beaches!
You can finally ditch those heavy winter jackets when attending outdoor events. You may even be able to enjoy a cup of coffee and watch life go by while sitting on a patio in tiny lanes of Valletta or Gozo.
As this season brings plenty of sunshine, you may wonder 'is Malta hot in March?'.
But that's the best part of spring in Malta – the sun is bright, but not enough to make it uncomfortably hot. All these things combined definitely make March a good month to explore Malta, with occasional winds popping by.
---
Where to stay in Malta in March?
Malta offers a variety of cities for those who like all the hustle and bustle and small fishing villages or resort towns who are in Malta for a slow-paced holiday.
It depends on your interests which can be the best place to stay in this country.
But usually many prefer cities like Valletta or Sliema as these cities are well-connected via public transport to other parts of the island.
But you can also consider less popular towns on the main Maltese island or small fishing villages on Gozo if you intend to have a leisurely stay.
Some of the best Maltese resorts and hotels are located on Gozo and offer lovely beach stays
When you are planning holidays in Malta in March, you may also find great discounts on hotel rates as it is not a peak tourist season.
Here are a few suggestions on where to stay in Malta –
If you decide to stay in Valletta, you can consider The Embassy Valletta Hotel as it provides free bikes and free Wi-Fi along with a restaurant, a bar, and a swimming pool.
It is also located around half a kilometre from Upper Barrakka Gardens and 1.5 kilometres from Valletta Waterfront.
Osborne Hotel, located within Valletta's historic walls, is also a good option as it is only 5 minutes away from the nearest bus stops and ferry port.
If you choose to stay in Sliema, then the 1926 Hotel & Spa can be considered. It is a short walk away from the Sliema beachfront and is perfect for those looking for a relaxing stay.
Check the list of hotels in Gozo before finalizing your stay and you will come across several luxury stays, service apartments, and modest hotels.
---
Things to do in Malta in March and places to visit
---
With pleasant weather in spring in Malta, you will get to experience different interesting sites and activities.
The fewer crowds mean you might even get some of the lesser-known places and beaches all to yourself.
Here are a few things to do in Malta in March that are a must for every type of traveller –
Stay in Valletta to soak in the Maltese vibes
The walled city of Valletta can be explored in a day or two depending on your pace. You can include St. John's Co-Cathedral, Upper Barrakka Gardens, Grandmaster's Palace, and Fort St Elmo – National War Museum.
You can also spend some time strolling along the Valletta waterfront and try mouth-watering Maltese seafood.
Apart from the well-known places, you can also shop for souvenirs at Republic Street Market and try street food at Valletta Food Market.
When it comes to Malta in March things to do, Valletta will not disappoint you.
Reserve a day for the beach-y Sliema
Sliema is a great city for beach lovers. Even though March in Malta is not exactly for sun worshippers, you will find beaches in Sliema a great addition to your itinerary.
The famous Balluta Beach and the largest Fond Ghadir Beach will give you a chance to let the sand caress your feet.
The Fort Tigné and Independence Garden are usually included in every tourist's trip plan. Apart from these, you can also shop around on Bisazza Road and Tower Road.
---
Visit the Three Cities of Birgu, Senglea, and Bormla
The Three Cities – Birgu, Senglea, and Bormla, also known as Vittoriosa, Isla, and Cospicua respectively – are popular for their history and culture.
The city of Birgu has the most attractions including the Inquisitor's Palace, St Lawrence Church, Maritime Museum, and Fort St Angelo.
The other two cities are known for Bir Mula Heritage Museum and Gardjola and its garden. When it comes to Malta in March things to do, this cluster of cities is bound to be the popular choice.
You can explore Three Cities on your own, but for the ease of transportation and getting around, it is recommended to opt for the Malta: Tour Of The 3 Fortified Cities Including Boat Trip as there's hotel pickup and you could see more things if short on time.
Stay on Gozo island for a couple of days
The island of Gozo is all about laid-back vibes during the day and bar hopping at night.
From the famous Ggantija Temples and Basilica of the National Shrine of the Blessed Virgin of Ta' Pinu to the Citadel and Ta' Cenc Cliffs, you will find plenty of places to visit on Gozo.
Do not miss a chance to go to Marsalforn Bay and Ramla Beach as these are the perfect spots for sea-lovers. Here is everything you need to know about things to do in  Gozo.
If you are planning to visit Mdina on your own, then here is a detailed travel guide about Mdina to help you organize your trip.
---
Festivals and events during Spring in Malta
What is Malta like in March? It is a country that starts celebrating warmer days and pleasant nights with different festivities, events, and of course,  good food to accompany it all.
So, here are some of the major Malta events in March that are a must if you want to be a part of the local canvas.
Malta Carnival – Famous for spectacular floats, quirky costumes, and different festive traditions, Malta Carnival is a perfect addition to your March itinerary.
It is celebrated every year for 5 days and the dates usually fall in the first week of March.
The dates are different every year, but it always comes 7 weeks before Easter Sunday. You will get to witness the incredible processions, floats, artistic dances, workshops, and a ball in Valletta and Gozo.
St. Patrick's Day – you may be surprised to see how popular this Irish public holiday is in Malta in March.
The cultural, as well as religious part of the feast, is celebrated with much enthusiasm and it will be a treat for locals and travellers alike.
---
Recommended tours during your holiday in Malta in March
Even though Malta is not a vast country and can be explored on your own, there are a few tours preferred by tourists for making the best of time. If you like exploring towns by yourself and are a GOT fan, then you'll find all the Game of Thrones filming locations in Malta here when visiting these two towns to then plan your itinerary.
March in Malta can be all about walking tours of different cities as the weather is usually perfect for outdoors.
You can start your trip by the famous Valletta walking tour as it will give you a chance to understand what this historic city has to offer. You can decide which places to visit and which ones to skip depending on your interest later.
Valletta: Street Food and Culture Walking Tour is also a good option for food lovers. This 3-hour tour will introduce you to Maltese cuisine and the local guide will also explain the history of Malta.
The walking tour of Mdina and Rabat has become popular with tourists. It will introduce you to these twin towns in 2 hours.
If you are in Malta only for a short period of time, then you can check the From Malta: Gozo Day Trip Including Ggantija Temples.  It is the easiest way to explore Gozo island in less time.
But if you have a couple of days in hand, then you can stay on Gozo island and take this Full-Day Jeep Tour with Lunch and Powerboat Ride.
This tour is perfect for visiting small fishing villages, eating scrumptious meals, and reaching the corners of Gozo that cannot be covered by public transport.
There are several tours of Comino island and Blue Lagoon, but when you are visiting Malta in March, Blue Lagoon is not exactly a place to be.
The water is too cold for a swim, the weather is unpredictable for sunbathing, and not many operators offer tours in March. You can still visit the Blue Lagoon on your own.
If you'd still like to visit, here's everything you need to know about Blue Lagoon and a day trip to Comino island.
---
With so many things to do and places to explore, spring in Malta is the perfect time to visit this tiny country.
If you are tired of the snow or if you are looking for warmer holiday destinations in March, then pack your bags and head off to Malta!
---
FAQs – Malta in March
Is Malta hot in March?
Yes, March in Malta witnesses warm weather as compared to other European countries.
Malta is known for its Mediterranean climate and average high temperature in March is 18°C (64°F), whereas the average low temperature is 11°C (78°F).
So, get ready for bright and sunny days and warm weather when you visit Malta in March.
Can you sunbathe in Malta in March?
Yes, March can be a good month to sunbathe in Malta. Even though sea water temperature stays cold, the sun starts shining bright and spring starts knocking on the doors of Malta.
Apart from the occasional rain, there is nothing to stop you from sunbathing in Malta in March.
Is it warm enough to swim in Malta in March?
No, the sea is not exactly warm enough for swimming in March in Malta.
The average sea water temperature in March is 15°C or 60°F and even though you will see a few people daring a dip in the water, the swimming season does not start in March. So, that means no lifeguards on the beaches.
What is a good month to visit Malta?
March and October are good months to visit Malta. The peak tourist season to visit Malta is from May to September when the days are longer and the weather is ideal for wandering around.
But if you are looking for lesser crowds, then the months of October and March are also good for visiting Malta. The temperature is not too cold, the peak tourist season is over, and most of the establishments are still open during these two months.
---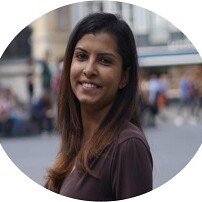 Award-winning Analyst, multi-nominated digital content creator and photographer Lavina Dsouza's words capture stories about culture and tradition mainly through its food and people. She has written and contributed to publications such as The Washington Post, Lonely Planet and Matador Network, to name a few. She is the editor of UntraditionalHumans.com, a non-profit created to share inspiring stories from women of colour who break free from traditions and choose happiness.
She's also a speaker passionate about DEI and champions solo travel. She has collaborated with numerous renowned brands such as Intrepid Travel, TripAdvisor, Travel and Leisure and Adobe, to name a few.
She can be found on Twitter and Instagram.
---
---
---
Some of the links on this post are affiliate links. These do not cost you extra to use, but will help provide Continent Hop with a small commission if/when you purchase through them, to recover some of the costs of running this website and providing free content to help you plan your travel. I appreciate your support!
---