Iceland is stunning and has lots to offer no matter the time of year. It could be a difference in landscapes or unique activities and as such there's no dearth of things to do in Iceland in August too! Read on to know what to do in Iceland in August and info on Northern Lights!
I've always timed my visit to countries where I have a chance to view the Northern Lights between the months of August to April as that is when the Auroral displays are at their peak.
However Scandic countries have so much going on when it comes to changes in landscapes and things to do each month that irrespective of which month you visit, chances are there'll be lots to do, including dramatic changes to the landscape.
August in Iceland is a good time to visit as it is almost the end of summer in Iceland and start of autumn, leading to quick changes in the temperature and more diverse activities on offer.
It is when you'll not only be able to see the midnight sun and see some puffins in the wild but also have a chance to see the rare Northern Lights!
Here's my top choice of things to do in Iceland in August to suit most tastes so that you can rest assured of having a memorable time here!
---
Iceland in August – Weather, Activities & Travel Tips
---
Basic Info
WHEN | August
WEATHER |  Warmest month in the year with temperatures ranging from 10 degrees to 15 degrees with intermittent rain spells and chilly breeze sometimes. Weather in Iceland in August can be unpredictable so ensure you pack for most seasons!
TOURIST CROWD | Quite busy at touristic spots however sparse otherwise
---
Where to Stay in Iceland in August
Southern Iceland: Complete with modern decor, huddled next to the geothermal springs in Hveragerdi, Frost and Fire Hotel offers fabulous accommodation options with views of the Varma river. Thingvellir National Park is located 40 minutes away.
East Iceland: Equipped with ocean views, 2 saunas, whirlpools and kitchens, Blabjorg Guesthouse is located in Borgarfjordur Eystri, a fishing village in East Iceland. There is also a restaurant and cafe and some great hiking trails nearby.
Northern Iceland: About an hour from Akureyri Airport is Siglufjörður where you'll find the Siglo Hotel, which has a restaurant, bar, saunas and hot spring baths to enjoy after your day's adventures. Continental breakfasts are served on the water's edge everyday here.
West Iceland: Just under 2 hours from the Reykjavík Domestic Airport, you'll be able to stay at the Hótel Húsafell in the prolific Húsafell region with hot tubs, a golf course and a restaurant that serves traditional and international meals.
There's geothermal pools and Thingvellir (UNESCO national park) close by as well.
---
Weather in Iceland in August
Iceland's August weather is warmer than most other months.
As the season shifts from summer to autumn, there are about 16 to 17 hours of sunlight each day, which means you'll have loads of time to explore. The average temperature ranges between 10°C and 15°C, but it can reach up to 25°C.
---
What to wear in Iceland in August
However, it's still Iceland, so you should expect the possibility of rain and cold weather over your stay. It's important to remember to pack clothes for all types of weather. You could always refer to a summer packing list however here's other things you should include as well:
Hiking boots

Windbreaker

Thermal underwear

Thick socks

Tough trousers

Warm jacket

Swimsuit

Sunglasses

T-shirts

Sweater

Shorts
---
The Northern Lights in Iceland in August
An item that's on just about everyone's travel bucket list is seeing the Northern Lights. In August, you stand a chance at seeing one of nature's most spectacular wonders.
The season for viewing the lights starts in August and ends in May. The best time to observe this phenomenon is during the peak period between November and March, but you can still get a chance to see them in August if the weather permits.
---
---
10 best things to do in Iceland in August
Here's what to do in Iceland in August
---
Not only is the weather in August rather temperate, but this time of the year offers visitors astonishing opportunities to witness wildlife and explore the island's sites and natural beauty.
---
River Rafting
If you want to take advantage of Iceland's exceptional river rafting, August is the last boarding call. Up north, the West and East Glacial River Canyons offer river rafters phenomenal rapids.
There are plenty of family-friendly and beginner rapids in the West River Canyon. Experienced kayakers can visit Eastern Glacial River Canyon for exhilarating higher-grade rapids.
The Hvítá river also has whitewater rafting on Iceland's South Coast. There are rapids suitable for all experience levels, and you'll soak in splendid views of the famous Gullfoss Waterfall and the impressive cliffs in the Bruarhlod canyon.
---
DETAILS
Address: Reykjavik, Iceland and various other locations in Iceland too
Timings: Tours mostly take about 3 hours however ones that include the Golden Circle or other attractions take the whole day
Price: Prices start from $50 onwards
---
Blue Lagoon & Hot Springs
A 15-minute drive from the Keflavík International Airport and 30 minutes outside of Reykjavík is the Blue Lagoon. Due to its unique location and tranquil waters, the hot springs have become one of Iceland's most visited sites. The pale blue water remains at a simmering 39°C all year, which contrasts the barren landscape of jagged rocks and volcanoes that surround it.
While this location offers visitors a unique and peaceful experience, it can get rather crowded. However, there are plenty of other superb hot springs that are also worth visiting, such as the Mývatn Nature Baths located along the Ring Road.
---
---
Drive the Ring Road
Taking a road trip along the Ring Road will take you around the entirety of the island. While it can be driven year-round, the temperature in Iceland in August offers better weather. This gives you more opportunities to view and discover sites that aren't available in the winter months.
Explore the South Coast, Vik's black sand beaches, Dettifoss Waterfall, Myvatn Baths, Jokulsarlon glacier lagoon, and the capital city Reykjavik. If seeing as many places in Iceland is what you're after, the Ring Road should definitely be on your bucket list.
Whale Watching
The ultimate whale watching opportunities are available between March and September when you can observe these mammals as they migrate between the Arctic and the Atlantic.
For the ultimate whale watching experience, visit Húsavík in northern Iceland. Here you'll be able to go on whale watching tours where you'll sit in awe as Humpbacks, Blue whales, and Orca pods breach next to you.
---
---
Visit the Puffins
Puffins migrate south for the winter, so if you're visiting before then, be sure to see Iceland's favorite bird.
They can be spotted throughout the island, but Reykjavik's weather in August is perfect for going on a puffin viewing tour. The tours will take you to the best viewing points so you can get up and close to these beautiful birds.
---
---
Hiking
The hiking trails make it possible for you to witness the thousands of waterfalls scattered across Iceland and take advantage of the berry season. Along the trails, you'll have ample opportunities to pick blueberries, bilberries, brambleberries, wild strawberries and crowberries, which are the ripest in August.
Embark on the stunning Thorsmork Volcano Hike if you're in the Southeast and the Landmannalaugar geothermal area if you're in the highlands. These are just some of the fantastic things you can get up to along Iceland's endless hiking trails.
---
Go Camping
If you want to completely immerse yourself in nature and ensure you get the best possible weather, Iceland in August just so happens to be the optimal month for camping. From June to July, the midnight sun can keep you up, but there are just enough night hours to get a good night's sleep during August.
If you plan your camping well, you'll pitch your tent next to glaciers, waterfalls, mountainsides, hot springs and potentially sleep under the Northern Lights.
However, it's important to note that the authorities are strict regarding protecting natural habitats, so there are specific guidelines for campsites that you should research before going camping.
---
Visit Villages
If you want to plunge headfirst into local culture, then spend some time in the many smaller quaint villages that are less visited by tourists. Many of these villages are located along the Ring Road and are close to the numerous attractions that Iceland is famous for; it's a win-win.
Staying in these villages will likely be one of your most unforgettable memories once you leave. You'll meet locals, and try food you've probably never heard of before, and make the most of your Iceland trip.
---
Attend the Þjodhatid (Thjodhatid) National Festival
Since 1874, thousands have celebrated the Thjodhatid festival that occurs in August. As the most prominent outdoor festival in Iceland, many locals and visitors congregate in the Westman islands for a weekend of live music, bonfires, and fireworks.
The enormously popular sing-along occurs on the Sunday night of the weekend when over 17,000 voices of festival-goers sing songs together.
How to Get to Iceland
By air: The easiest and fastest way to travel to Iceland is by plane. Many international flights arrive at Keflavik International Airport, the nation's largest terminal, so expect most international flights to land here. The airport is also conveniently located near Iceland's South Coast, the perfect starting place for a 6-day itinerary of Iceland.
Over 25 airlines offer flights to Iceland, with typical flight times from Europe ranging between 3 to 4 hours. Travellers from the UK, Canada, EU, USA, Australia, New Zealand, and other nations that are signed up to the Schengen Agreement don't require visas if the stay is under 90 days.
By car & boat: While Iceland is an island nation, you can travel there in your car; you'll just need the assistance of a car ferry to transport you across the ocean. Departing on the boat from Denmark is probably the easiest option.
The Norrona Ferry leaves once a week from Hirtshals, Denmark. Once onboard with your car, you'll be transported to Seyðisfjörður in Eastern Iceland. There is a stop at the Faroe Islands along the way, so you'll have opportunities to explore here before you arrive in Iceland.
By cruise ship: If you're planning your first cruise, you should know that Iceland in August makes for a perfect destination. Passengers aboard these transatlantic voyages have a few days to explore the island while the cruise ship is in port. Cruise Lines that travel to Iceland include Holland America Line, Hurtigruten, Princess Cruises, and Norwegian Cruise Line.
---
Whether you plan to visit Iceland in August or any other time of year, this mesmerizing country will definitely be value for money and send you away with memories to last a lifetime!
It is the trip of a lifetime so make sure you plan well and pick activities that suit your taste!
Irrespective of whether I was hiking on a glacier, or walking through a centuries old volcano tunnel I knew this was one of the best trips I'd ever been on and I knew I would return…the next time possibly to experience the midnight sun!
---
August in Iceland – Frequently Asked Questions
Is August a good time to visit Iceland?
Summers in Iceland are short and last between July and August. These two months have long been the best time to visit Iceland. During this time, most mountainous roads remain open as the snow melts, and most hiking trails are also accessible.
With plenty of daylight, August is definitely a great time to visit Iceland.
Can you see the Northern Lights in Iceland in August?
Northern Lights in Iceland are visible in August only during certain hours of the day due to longer daylight hours. In the summer, it almost never gets dark in Iceland and therefore, August is not the best time to see the Northern Lights in Iceland.
However, as the month progresses, the days become shorter and towards the end of August, it might be possible to see the beautiful Aurora Borealis.
Is Iceland crowded in August?
Since the summers are usually peak tourist season in Iceland, most popular places in August will definitely be a bit crowded. However, hiking or staying in the countryside are ways to escape the crowd if you're looking for some peace and quiet!
Is Iceland green in August?
Summers in Iceland mean warm temperatures, longer days and definitely a lot of greenery around. In the countryside you can also see animals grazing on the grass and the warm sunny days mean the perfect opportunity for a picnic and sunbathing!
Is Iceland really expensive?
Iceland is generally considered an expensive country to visit. Some of the most popular haunts in the country have a high entry fee like the Blue Lagoon. On an average, it usually costs around 1,000 USD to plan a trip to Iceland. For even the most budget backpackers, a trip to Iceland will cost at least 500 USD per day.
What should I pack for Iceland in August?
In August, the average temperature in Iceland remains around 10 to 15 degree Celsius. On an especially hot day, the temperature can go up to 25 degrees as well. But since weather in Iceland is unpredictable, it's always good to carry a rain jacket and waterproof hiking shoes.
Also packing a swimsuit to Iceland is a must because the natural hot springs provide the perfect opportunity for a soak. For the night, remember to carry a warm jacket and a woolen cap.
---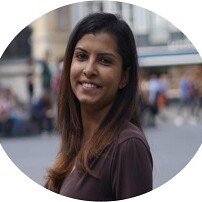 Award-winning Analyst, multi-nominated digital content creator and photographer Lavina Dsouza's words capture stories about culture and tradition mainly through its food and people. She has written and contributed to publications such as The Washington Post, Lonely Planet and Matador Network, to name a few. She is the editor of UntraditionalHumans.com, a non-profit created to share inspiring stories from women of colour who break free from traditions and choose happiness.
She's also a speaker passionate about DEI and champions solo travel. She has collaborated with numerous renowned brands such as Intrepid Travel, TripAdvisor, Travel and Leisure and Adobe, to name a few.
She can be found on Twitter and Instagram.
---
---
HERE'S MORE ITINERARIES TO HELP YOU PLAN YOUR HOLIDAY
---
Some of the links on this post are affiliate links. These do not cost you extra to use, but will help provide Continent Hop with a small commission if/when you purchase through them, to recover some of the costs of running this website and providing free content to help you plan your travel. I appreciate your support!
---