Emborio (or Emporio) in Santorini, Greece is a quaint little village that many aren't aware of. It's an alternative Santorini away from the crowds. Read on to know more about this town where the locals live.
It's ironic how we look to travel for some 'me' time away from the noise and crowd yet find ourselves in the very place that's frequented by many.
A few hundred shares and an image imprinted on your mind, maybe a few discussions over drinks on where you'd like to go next, is all that is needed to create a buzz about a place.
Yet even in the tiniest of islands, there exist inhabitants that call that space 'home'. The beauty of the place isn't lost on them, they've gotten used to it, just like someone who wouldn't be fascinated with the mundane candy in the neighborhood store, yet a visitor might find precious!
They scurry back home after a hard day's work to get away from the crowds, the ones that bring stories from the land beyond the seas and also bring pollution, traffic, and inflation with them.
Emborio is one such place.
Nestled away between the lighthouse at Akrotiri and the swarm settled at Oia, this colorful and vibrant village isn't where one would land, as it isn't forgotten, but doesn't have the prerequisites.
I was however fortunate enough to come across this place and spent a few hours here exploring the nooks, the alleys, abandoned houses and smiling at children who peeked mischievously. It was miles away from what one would associate with the hub of tourism called Santorini.
---
Where is Emborio (Emporio), Santorini?
Emborio is the biggest village in the whole of Santorini at the foot of the Profitis Ilias mountain.
Located in the south of the Greek island, about 24 kilometers or 40 minutes away from Oia, Santorini; Emporio is one of the villages the locals call home in Santorini.
The closest towns to Emborio are Thera, Megalochori, and Akrotiri.
Once a commercial hub in Santorini, Emborio is also known as Emporio, Emporeio, Emborion or even Nimborios, which comes from the Greek word "trade," as it was once a major trading hub in Santorini.
The region of Emborio includes the villages Emporeio, Perissa, Agios Georgios and Exomytis.
---
Getting to Emborio
Here's how to get to Emborio:
BY BIKE/CAR | You can take the road that leads to Perissa from Thira and take the left road from Venetsanos Winery towards Megalochori and continue towards Emporio.
PUBLIC TRANSPORT | If you'd rather use public transport, take the bus towards Perissa and ask the bus driver to stop when you reach Emborio.
TAXI | Taxis in Santorini do not have meters and hence, as with any destination, it is always good to decide on the fare before setting off.
———————
STAYING HERE / NEARBY
While it is possible to stay in Emporio, most of the options are villas with a couple of hotels nearby.
If it's just a day trip to Emborio you're planning on, and staying in Thira/ Oia or nearby, 
Cocoon Suites,
Cave Tagoo
 and 
Andronis in Oia 
are some fabulous budget options with jacuzzies and even a view of the caldera!
The region of Emborio includes the villages Emporeio, Perissa, Agios Georgios and Exomytis.
---
---
---
A walk through history in Emborio, Santorini
When entering the village on the right, you'll pass by the hills of Gavrilos which has 8 windmills, ruins of a Byzantine civilization and a great view.
Once here, the best way to see Emborio is by allocating a couple of hours to spend here and taking a walk. You'll hardly find any tourists here to talk to and it is a refreshing change!
The 3500 or so locals are off to work during the day and it is rare for anyone to visit during the evening as people are scouring the island for the best sunset spots.
You'll find Emporio almost deserted during the day with just a couple of cafes around. There aren't too many shops as the main villages are hardly 15 minutes away.
There are innumerable alleys and winding streets, some quite narrow, that you're free to explore, however, some sections are abandoned and it's not traceable on Google Maps, hence do be careful if it starts getting dark.
On your walk, you'll notice the most colorful doors and houses in Emborio. Even some passages are painted colorfully.
The architecture is what will stand out in addition to the colors, as the village is one of the best preserved examples that reminds one of the times gone by.
---
---
---
What to do in Emporio Santorini
Emporio, however, does have the Goulas tower (also called the Tower of Nimborio) which is quite old. The purpose of the tower was to store grains and provide refuge.
There are also some churches, such as the Saint Nicholas Marmaritis Church built in Cycladic style and is called so due to it being made from grey marble as 'Marmartis' means 'made from marble' in Greek.
Five fortified citadels were built around Santorini to keep an eye out for pirates and due to Emporio being the commercial hub you'll find one of them here called 'Kasteli'. The others are located in the villages of Akrotiri, Pyrgos, Oia, and Imerovigli.
Houses in the village were built around the castle and connected by bridges which is why the town still resembles a labyrinth.
You could also take a hike to the top by picking one of the winding alleys which also leads to the castle in Emporio. It is quite a task as some parts are in disrepair and difficult to navigate. On your way to the top, you'll pass under some of the bridges and arches.
The view from the top is unlike any other you'll find in Santorini, different to the ones that look over the caldera or the windmills.
If you're wondering where to eat in Emporio, Santorini, once back in the village, you can grab a Greek coffee at the To Kafenedaki Tu Emporiou, Cafe Desiderio or Zygos.
Being close to Perissa, you could also visit the beaches of Perissa and Perivolos which have a vibrant nightlife and even a few bars too. There's numerous things in Santorini one can do and there's something for everybody.
---
Emborio must have been quite a spectacle in ancient times, an alternative Santorini, which still gives the wanderer a small taste of its medieval history and architecture even if in a partially dilapidated state.
The remains that exist here of a time gone by, now try to exhibit its prosperous cultural past in a very sonorous present.
---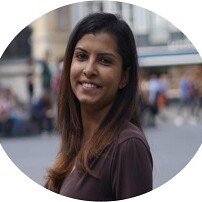 Award-winning Analyst, multi-nominated digital content creator and photographer Lavina Dsouza's words capture stories about culture and tradition mainly through its food and people. She has written and contributed to publications such as The Washington Post, Lonely Planet and Matador Network, to name a few. She is the editor of UntraditionalHumans.com, a non-profit created to share inspiring stories from women of colour who break free from traditions and choose happiness.
She's also a speaker passionate about DEI and champions solo travel. She has collaborated with numerous renowned brands such as Intrepid Travel, TripAdvisor, Travel and Leisure and Adobe, to name a few.
She can be found on Twitter and Instagram.
---
---
HERE'S MORE ISLAND INSPO FOR THE NEXT HOLIDAY!
---
Some of the links on this post are affiliate links. These do not cost you extra to use, but will help provide Continent Hop with a small commission if/when you purchase through them, to recover some of the costs of running this website and providing free content to help you plan your travel. I appreciate your support!
---