The Holland tulip festival ( and not the Amsterdam tulip festival as the fields are outside Amsterdam) draws about a million visitors each year and with good reason. Here's all the info you need to know about this Holland flower festival near Amsterdam in 2020, including tickets to Keukenhof.
Every day millions and millions of travellers pass through Amsterdam as it is one of the biggest hubs in Europe.
About a million or so visitors halt here from March to May to visit the Dutch flower fields and Keukenhof gardens near Amsterdam, where the tulip festival and show take place every year.
Curious to know what the fuss was about, we decided to pay a visit in spring.
We arrived at the entrance to Keukenhof to realize, many others had thought of turning up early as well. Thankfully that wasn't much of an issue as the tulip gardens cover an area of about 32 hectares (79 acres) and are home to about 7 million flower bulbs each year.
Although we were prepared with 
tickets brought in advance
 and wrapped ourselves well too, it still took a few minutes to get through the queue.
A few minutes later we were welcomed to a floral display unlike any other I'd ever seen in Europe. Rows and rows of the most colorful flowers were visible as far as the eyes could see with a few streams, windmills and even a wooden shoe thrown in! It was the perfect day trip outside Amsterdam!
If you're planning to visit Keukenhof and the tulip fields in Lisse, here's all you need to know about what to expect when visiting Keukenhof, how to prepare and save money and make the visit unforgettable!
---
Keukenhof tulip gardens
Address : Stationsweg 166A, 2161 AM Lisse, Netherlands
Timings: Open only during the festival. For 2020, it is 24 March to 15 May from 8 AM to 7.30 PM
Tickets: Best to buy tickets in advance, (which include transportation if you're not driving), which will help skip the queue and save time
---
Covid measures at Keukenhof
While many restrictions have been eased, visiting protocols and guidelines have been drawn out to ensure it isn't too crowded and rules are adhered to.
As such, visits have been divided into time slots and only a maximum number of participants can visit per time slot.
Hence it is more than important to book your ticket in advance before visiting to ensure you get to visit the gardens.
---
Where are Keukenhof Gardens and the Lisse tulip fields?
The region of South Holland
---
There are many places scattered throughout The Netherlands that have tulip fields like Hortus Botanicus, Museum Van Loon, and the Rijksmuseum in Amsterdam where the festival is celebrated, the fields themselves are located on the outskirts of the city, about 40 minutes away from Amsterdam.
'Bollenstreek', Dutch for 'Bulb (bollen) Region (streek)', denotes the western coastal areas of the Netherlands, in which most of the flower bulbs are cultivated, which also includes hyacinths and daffodils and the heart of the region lies at the Lisse tulip fields.
Bollenstreek also includes the villages of Voorhout, Sassenheim, Hillegom, Bennebroek, Heemstede, Noordwijk, Noordwijkerhout, and Vogelezang.
The Keukenhof Gardens, also known as 'The Gardens of Europe' are also located here which makes it ideal if you plan on visiting both. It is the best place to see tulip fields in the Netherlands.
If visiting the gardens is not your cup of tea, rent a bike (can be done at the entrance of Keukenhof), hire an electric car or drive and head off on the flower-route.
Starting from Haarlem, continue for approximately 30 km via Keukenhof, Lisse towards Leiden. Haarlem is about 20 km from Amsterdam and takes 20 minutes via the Intercity Sprinter train. The route is scattered with many flowers, not just tulips!
---
When is the best time to visit the Keukenhof Gardens? ( & the Holland tulip festival )
Start to mid-April
---
Depending on the weather, the flowers may bloom early if it's warm in March, but the best time to visit is mid-April. If you're driving past you'll see the fields in bloom around this time.
If you're keen to only visit Keukenhof, every year the gardens have a theme and the flowers are then planted in formations based on the theme! This year (2020) the gardens are open from 24 March to 15 May from 8 AM to 7.30 PM. It is open exactly for six weeks every year. The Ticket office is open from 8 AM to 6 PM.
Keep in mind that if you visit before April not all fields will be in full bloom and if you visit after mid-May, most of the buds in the fields may have been chopped off.
Try to avoid any public holidays and weekends as many visitors plan weekend trips and it gets really busy and crowded, especially in the noon.
It is safe to say that almost the whole of April is a good time to visit.
---
How do you get to Keukenhof from Amsterdam?
Driving, group day trip or public transport
---
Lisse where Keukenhof is located is about 40 – 45 minutes away from Amsterdam. You can choose to travel from Amsterdam city centre or Amsterdam Schiphol Airport and it is a very scenic drive.
It would take about 5 – 10 minutes less if you drive to Keukenhof by car. Taking public transport is ideal as it may tend to get quite busy and finding a parking spot may take time.
These excellent tours
 to Keukenhof have pickup options from Amsterdam city, airports and even from The Hague.
Here's more info if you plan to drive by car or take public transport.
BY CAR |
From highway A4 use exit 4 and from highway A44 use exit 3. The route is well signposted from Keukenhof once close to Lisse. Ample, reasonably priced parking is available.
PUBLIC TRANSPORT |
From Amsterdam to Keukenhof –
Via Europaplein (RAI). There is a direct Keukenhof Express Bus 852 from Europaplein (RAI) Metro Station. You can easily get to RAI from Amsterdam Central Station or any other metro station.

Connexxion Bus 397 from Amsterdam Centre to Hoofddorp Station, change to bus 859 to Keukenhof. Direct buses from Centraal station are also available.

From Amsterdam-Zuid Station bus 341 or from Amstelveen Bus Station bus 300 to Hoofddorp Station and then change to bus 859. Sometimes, a train to Haarlem or Schiphol and then taking the bus to Keukenhof works out better.
Further regional buses from Leiden, Harlem, Lisse, etc. also run to Keukenhof during the flower season.
---
---
What do you carry with you to Keukenhof?
Warm clothing, water, snacks and a picnic lunch
---
The Keukenhof gardens are massive and hence it is ideal to wrap yourself in layers as it can get quite chilly from March to May if it is windy. It is always handy to have a scarf and a beanie with you. Showers are unpredictable too, so having a rain jacket is useful too.
Having a refillable water bottle is also beneficial as you will be spending the whole day here and getting to the windmill or the restaurants may take time depending on the crowds.
If you're planning on visiting the Keukenhof Gardens on a budget, pack a picnic lunch with you. It'll help save time for sure and there's an area near the windmill where you can enjoy it.
---
How much does it cost to visit Keukenhof (2020) and Keukenhof tickets
Between 17 – 37 Euros
---
AN ORGANISED TOUR which includes the entrance ticket, bus transfer from the city and information about the city | Start from 40 Euros
ADULT TICKET – 17.50 Euros | CHILDREN (4-17) YEARS – 9 Euros | GROUPS (20 PEOPLE OR MORE) – 15.75 per person
COMBI ADULT TICKET (ENTRANCE + BUS TICKET) Ticket from Haarlem, Hoofddorp, Schiphol or Leiden – 27.50 Euros | CHILDREN – 14 Euros
COMBI TICKET from Amsterdam – 32.50 Euros | CHILDREN – 14 Euros
Park Guide – 5 Euros additional
Parking Ticket – 6 Euros additional
Renting a bike – 10 Euros additional
Renting a boat – 8 Euros adults and 4 Euros child
The map is included in the price.
Food is expensive, which is why I suggested you carry a picnic lunch with you to save time and make it budget-friendly.
If you're wondering where to buy the Keukenhof combi ticket in Amsterdam, unfortunately, you will have to buy it directly at the gardens if you haven't brought it in advance. The Ticket office is open from 8 AM to 6 PM. If you buy tickets in advance, you can enjoy the gardens after 6 PM without the crowds.
---
---
What to do in Keukenhof? What to see in Keukenhof?
Flower arrangement exhibitions, boat rides, restaurants, a windmill and an area for children
---
There isn't a set itinerary to follow when visiting but if you're also wondering how much time should you spend here, the answer would be at least 4 hours.
The grounds are massive, peppered with thousands of flowers so be prepared to walk! There's enough space for everybody, although it gets quite crowded over the weekend and holidays. There's nine different gardens which also include orchids and peonies.
While there's acres and acres of buds around the area, there's also indoor flower arrangement exhibitions held in the pavilions which have orchids and hyacinths on display too.
The only traditional Dutch windmill in the garden is at the extreme right corner. The wooden shoe, picnic area and restaurants are located near it.
There's a playground and a petting farm for children. Walking on the grass isn't allowed.
---
---
Can you visit Keukenhof on a layover at Schiphol?
Only if it is above 6 hours
---
It isn't advisable to leave Amsterdam Schiphol airport if the layover is less than 6 hours. Schiphol airport has good wifi, cafes, shops and even a museum which should keep you busy for some time if you have less than 5 hours to spend here.
If you'd still rather leave the airport, you can take the train from the airport to Amsterdam Centraal, which takes about 15 minutes and runs frequently. There's plenty to do in Amsterdam and you can see the canals right next to the station and you can even take a canal cruise from here.
If you've got a longer layover (7 hours) you can also have lunch/dinner here and take a walk around the city.
If you're visiting during the tulip season, and have about 9 hours, you can directly take the bus from Schiphol. Directions to finding the bus are present at the airport. There's bag storage within Keukenhof if you head here directly from Schiphol Airport.
You need at least 3 hours to visit the gardens and I'd highly suggest buying tickets in advance to save time. Another option is to skip the Keukenhof gardens and take a bike ride around Lisse.
It takes 40 minutes to get to Keukenhof from Schiphol airport and vice versa. Keep in mind to get to the airport 2 hours before your flight for flights within Europe and 3 hours for other international flights.
If you're planning to visit while on a layover in Rotterdam or passing by Rotterdam, do note that it takes about 50 minutes one way to get to Keukenhof via car and you will have to get Schiphol first to get to Keukenhof by using public transport.
---
What are the alternatives to visiting Keukenhof and Lisse?
Numerous other fields near Groningen, Giethoorn etc.
---
There's numerous other tulip fields around the Netherlands in and around the areas of Giethoorn (Overijssel), Brabant, Groningen and Zeeland (close to Antwerp) which are some of the options.
Almost all are privately owned and picking flowers isn't permitted, neither is walking through the fields without permission, however, most of them are free to visit. The tulip fields near Keukenhof, which you can walk to, are closed to public.
---
What is the flower parade and what is the route?
A parade with flower floats along a 42 kilometer long route
---
Numerous colorful floats made of flowers like Hyacinths, daffodils and tulips pass along the route. Also called the Bloemencorso Bollenstreek, the flower parade is free to watch and you only need to buy a ticket if you'd like a seat at one of the grandstands. In 2020, it is to be held on Saturday, 25th of April.
The route starts in the morning at Noordwijk Beach and will finish in the evening in the center of Haarlem City. There are three grandstands along the route. These are at Lisse (Keukenhof), Sassenheim and Hillegom.
The parade passes through the towns of Voorhout, Sassenheim, Lisse, Hillegom, Bennebroek and Heemstede. There are specific times to when the parade passes through each location. In 2020, it is to pass through Lisse at about 3.05 PM, 12.15 PM through Sassenheim and 5.10 PM through Hillegom.
The Grandstand's are excellent if you're looking for a covered seat to relax and avoid getting cold or wet if the weather isn't right. There's also extras such as parking, sanitary facilities and excellent catering within the facility.
Keep in mind that as it is Saturday it will be immensely busy and crowded. In such a case I'd highly suggest booking a place to stay in the area.
Tickets cost bout 24.50 Euros and parking costs about 7.50 Euros extra.
---
A weekend trip for the Holland flowers festival & Keukenhof
---
If you're looking to visit Keukenhof and possibly take a look at the flower parade, you will need to spend at least 2 days in Keukenhof, in the Netherlands.
As the flower parade takes place over the weekend and it is really busy, it isn't possible to do Keukenhof and other activities like visiting the tulip fields in a single day.
Here are a few options
 to stay near Keukenhof and on the flower parade route you can consider for a memorable stay. Also consider booking in advance as places fill up fast and it gets quite expensive closer to the event.
---
What are the other things to do in Keukenhof and beyond?
---
As mentioned above, the tulip fields are located in a few regions in Lisse, with some of them being a quick 15-minute walk away from Keukenhof. Depending on when you visit, you can do the flower parade or even take a drive on the flower route which has a variety of flowers, not just tulips.
If you want to pick your own flowers, you can visit Annemieke's Picking Garden in Hillegom which is located at a 10 minute drive from Keukenhof. There's also Hanneke's Pluktuin (Ellerweg 18, Biddinghuizen) or the tulip picking garden of the Boerenshop (Steenwijkerweg 26, Marknesse). Ensure you carry cash with you as small cafes and farmers do not accept cards.
You could also explore Noordoostpolder (in the province of Flevoland) and the garden route, which is about 19 KM long, on a bike.
The following gardens are part of the route:
– De Stekkentuin. Noordermiddenweg 13, 8311 PZ, Espel
– De Tuinen van Lipke Schat. Polenweg 9, 8314 PL, Bant
– De Goldhoorn Gardens. Klutenweg 13, 8314 PB , Bant
– De Pegasushof, Klutenweg 5, 8314 PB, Bant
If you plan on extending your stay, you could spend a few days in Amsterdam too. For first time visitors, here's all the travel tips you'll need!
There's the usual things you can do like taking a canal ride and visiting the windmills, but there's other cool and unusual things you can do around the area too!
There's also FloraHolland, the world's biggest flower auction located in Aalsmeer, just 30 minutes by car from Amsterdam.
---
Here's everything about the Holland tulip festival in brief
---
2020 TIMINGS | 21 March to 10 May from 8 AM to 7.30 PM every day
BEST TIME TO VISIT | The whole of April. Early morning and late evening to avoid crowds
START AND END DATES | Mid-March to Mid May
PRICES | Check the section above
HOW TO GET TO KEUKENHOF | Purchase the entrance tickets inclusive of bus fare from a convenient pick-up point. The system will let you choose one. Direct trains are available from Amsterdam Central and Amsterdam Schiphol Airport.
JOURNEY TIME | 1 hour 20 mins from Amsterdam by train. 45 mins by bus from Schiphol
BUS TIMINGS | Almost every hour
FEATURES | Tulips are present the entire time in addition to other flowers like hyacinths, daffodils and orchids. Many tulip fields are located next to Keukenhof. Although we visited the last weekend and almost all the buds were chopped off, you can wander in the fields, if you visit earlier. Speak to the farmers directly located there.
---
Can you see tulips after spring?
---
Unfortunately not in the fields or after Keukenhof is closed but there's a tulip museum located opposite Anne Frank House that has all the info you'd need about the Netherlands and its tulips.
There's also the Bloemenmarkt – the floating flower market in Amsterdam, near Singel where you'll be able to find these buds and many others throughout the year.
A National Tulip Day is also held in January every year in Amsterdam if you can't visit Holland in spring.
---
Keukenhof castle was built by the Dutch East Indies Company and the gardens on the estate were used as herb gardens.
Countess Jacoba van Beieren would be surprised at the popularity of her small herb garden near the kitchen, Keukenhof, which literally means 'Kitchen courtyard'  has attained…and it just keeps increasing!
---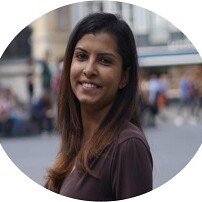 Award-winning Analyst, multi-nominated digital content creator and photographer Lavina Dsouza's words capture stories about culture and tradition mainly through its food and people. She has written and contributed to publications such as The Washington Post, Lonely Planet and Matador Network, to name a few. She is the editor of UntraditionalHumans.com, a non-profit created to share inspiring stories from women of colour who break free from traditions and choose happiness.
She's also a speaker passionate about DEI and champions solo travel. She has collaborated with numerous renowned brands such as Intrepid Travel, TripAdvisor, Travel and Leisure and Adobe, to name a few.
She can be found on Twitter and Instagram.
---
---
HERE'S MORE UNIQUE THINGS TO DO
---
---
Some of the links on this post are affiliate links. These do not cost you extra to use, but will help provide Continent Hop with a small commission if/when you purchase through them, to recover some of the costs of running this website and providing free content to help you plan your travel. I appreciate your support!
---