This is my guide to where to find the best tapas in Santander or Pinchos in Santander, Spain as it's called here. Out of the numerous Pinchos bars present in Santander, these are my favourites with suggestions on what food to have while you're there too!
It's about six in the evening in Santander, Spain. After spending a beautiful day exploring the Picos De Europa National Park, we'd returned back to Santander and I'd opted to stay back in the city and try the food in Santander.
The tapas in Santander to be precise.
Just before I'm about to alight from the cab, I ask for a few suggestions from our host for the day, Jana from Cantabria, Spain. With a puzzled look, she answers, I will be served tapas free of charge with all my drinks. Now, it's my turn to be surprised as I'm quite sure, that it's not my lucky day and I'm not about to be treated to free tapas in Santander!
I tell Jana that Tapas is to be my dinner, to which she smiles and tells me it's Pinchos I'm looking for, not tapas nor Pintxos, as that's what it's called in The Basque region.
Here, in Cantabria, it's Pinchos and I'm too early for it! The Pinchos bars start off by about 8 and I'd be lucky to get anything before that! She jots down a few suggestions, I step out of the car, on to Plaza Cañadío, where the popular Canadio tapas bar serving some of the best tapas in Santander is located.
As with everywhere in Spain, people slowly arrive at the square to start off their evening having just finished their siesta. I take a few pictures of Centro Botin, located around the corner, and make my way back at about 7 pm to the tapas bar. I'd tried traditional Finnish food , Austrian and Czech food and was impatient to do the same in Spain.
There were tapas bars scattered all over Santander, making use of fresh local ingredients, especially seafood and I was excited to see them being put together to create colourful platters of tapas! I wanted to make sure I visited some of the best during my weekend in Santander, Spain.
---
Tapas in Santander, Spain: The best pinchos bars in Santander
---
#1 Try almost all of the tapas aka Pinchos on offer in Cañadío
I find myself to be the first customer in the Pinchos bar called Cañadío in Santander, till I hear a grandma talking feverishly at the far end of the bar.
I quietly walk up to where she's standing to realise the cooks are busy prepping the food to get all of it out to the tapas bar, on time by 8. I understand a few words and try my best to figure out what she's saying.
She realises this and points to her tummy clearly showing she's very hungry and can't wait!
Amused, I watch in fascination as each cook assembles a different dish, while a tray of tapas is ready to be taken out. I follow the tray and promptly ask for one Pincho. The server holds up 2 fingers, indicating it's for 2 Euros, and I'm grinning widely while she hands me a small plate with the Pincho on it while trying to explain to me what it is.
It's spinach wrapped in ham, placed over a fried egg, melted cheese and toast.
I savour each bite and by the time I'm done, she gets platters of smoked aubergine with manchego cheese over toast, mini Jamon baguette sandwiches and a tuna spread sandwich, each topped with a neat prawn! While I make my way through my next serving of Pinchos, the Jamon baguette, the bar is almost full of trays of tapas and customers have started to arrive.
The grandma is sat next to me smiling happily as she continues to talk in Spanish and I keep nodding to her as I respond in English, both aware that the opposite party can't understand a word we're saying!
Feeling a little better, I realise, I could eat about 6 different types of tapas out of about 12-15 that they have on offer and be quite full without leaving Cañadío, but I was enthusiastic about what the other tapas bars in Santander would have on offer, so I reluctantly made my way to my next joint, El Sol.
---
DETAILS
Address: Calle Gómez Oreña, 15, 39003, Santander, Cantabria, Spain
Opening Hours: Monday – Saturday, 1–4 pm, 9 pm–12 am, Closed Sunday
---
---
#2 Tapas in Santander isn't complete without trying the Patatas Coreanas in El Sol
Tapas is synonymous with Spain and when one talks about tapas, one of the first dishes that comes to mind is the humble yet fiery Patatas Bravas.
On my way to El Sol in Santander, both locals and visitors smiled at me when I stopped to take pictures, proving yet again that Spain was a delight when it came to street and portrait photography.
As I stood outside El Sol, trying my best to adjust the camera settings to get a good picture of the Pinchos bar from outside, a group of customers hurriedly got together and smiled brightly at the camera taking me by surprise!
Laughing, and promising to send the picture to them, I made my way in, and promptly order the Patatas Coreanas.
While El Sol did have a bar, the Pinchos on offer were limited and most of their signature dishes were to be ordered off the menu.The patatas bravas was the best I've ever had not just in Santander but in all my visits to Spain and I'm not exaggerating!
The potatoes were crisp on the outside and super soft inside and were topped with a spicy sauce and minutely chopped jalapenos.
It didn't take me long to finish all of it and I was very much tempted to order another plate but I decided to pay El Sol another visit the next day to try the other tapas they had on offer.
---
DETAILS
Address: Calle de Santa Lucia 32, 39003, Santander, Spain
Opening Hours: Sunday – Saturday, 12 AM – 11:59 PM
---
---
#3 Jamon, Croquetas and Pimientos de Padron from Bodega Fuente De
On my way to Toñin Y Bruma, I saw a queue waiting patiently for their turn, only to realise a minute later that it was the Bodega Fuente De, one of the oldest tapas bars in Santander.
Curious, I stepped inside to find people chatting happily.
It was a small space and after spending a couple of minutes in the corner, it was evident that it was mostly all locals from Santander, getting together at the end of the day to share stories over a pint or a bottle or two of Rioja, wine from Northern Spain.
The queue at the entrance was waiting to buy some charcuterie with freshly cut Jamon being the highlight of Bodega Fuente De in Santander.
The highlights of the tapas here were some of the best croquetas in Santander and pimientos de Padron aka fried Padron peppers. Padron peppers dubbed as the 'Spanish Roulette' have been one of my favourites as most are mild but there will be a random one that's spicy and it's always fun when you're sharing to see who gets it!
---
If you're planning to visit Santander and spend a weekend here, why not check this guide?
---
Realising I was trying to get pictures of the Jamon, the locals smilingly gave me space to get some. Happy with what I'd clicked, I purchased some Jamon for breakfast and headed to my next stop but not before trying some Picón Bejes-Tresviso, a blue cheese from Cantabria.
While it was one of the better ones I'd tasted, not being an admirer of blue cheese, a small nibble was all I had!
Bodega Fuente De is popular in Santander for its Cocido montañés, Cocido from the mountains. The dish originated as a means of making a stew to provide nutrition to workers working in the mountains in Cantabria by using leftover meat, especially pork.
While the Cocido montañés does not have a serving order, the Cocido Liébana from the Cantabrian region of Liébana and the Cocido Madrileño from Madrid have a set serving order.
Soup is prepared by adding noodles to the stock that has been used to stew pork and chickpeas. This is served first followed by the stewed meat and chickpeas.I'd highly suggest trying it at Bodega Fuente De in Santander.
---
DETAILS
Address: Calle Peña Herbosa, 5, 39003, Santander, Cantabria, Spain
Opening Hours: Monday – Saturday, 12 pm–5 pm, 8 pm–12 am, Closed Sundays
---
---
#4 Have the biggest Tomato of your life at Toñin Y Bruma for tapas
The sign read 'Pescaderia' and I knew I was going to like Toñin Y Bruma as soon as I stepped foot inside.
Far from a fish shop, the place had warm lights and the interiors were done tastefully. I perched myself on one of the stools by the counter and asked the server for 'tomate'.
She'd asked me if I was sure as she'd figured out I was not from town. Sceptical, as I was now confused what lay in store for me, I meekly say yes, again.
She smiled and instantly asked me where it was I'd heard of the 'tomate'. After explaining how it was I'd come to know of it, she told me that all the tomatoes were sat in the front.
So I proceeded to the entrance, and all the tomatoes were sat there, right below the sign, each as big as my hand! When Jana had asked if I Liked tomatoes, I was assuming she meant tomatoes in a salad or as an accompaniment.
---
---
I wasn't aware when she asked me, that the tapas in question was a tomato, all by itself!
I asked the server if I'd be presented with the whole tomato and she cheerfully said "Sí"! Happy that someone had specially asked for the tomate, she asked me to pick any tomato I preferred. So I picked the biggest, reddest one, and handed it over to her while I continued to wander around the cafe.
After about 10 minutes, she placed the tapas in front of me. Neat slices of tomato, doused with olive oil and rock salt.I cut a piece of the tomato and slowly took a bite, feeling guilty that I'd had my doubts.
It was delicious. Simple but very tasty.
The server asked if it was good and it was my turn now to smile and nod my head with a vehement "Sí"!
I continued to slowly tuck into my tomato tapas while pondering on what to order next. While the highlight at Toñin Y Bruma was undoubtedly the tomato, other pinchos that people were busy enjoying were smoked anchovies and salmon with lime and toast.
---
DETAILS
Address: Calle Peña Herbosa, 9, 39003, Santander, Cantabria, Spain
Opening Hours: Tuesday – Saturday, 12.30 pm–5 pm, 9 pm–12 am, Sundays 12.30 pm–5 pm, Closed Mondays
---
---
#5 Have delectable oysters at La Mar
Santander has abundant seafood and if you're a seafood lover you're in for a treat!
The perfect lighting and romantic setting were what I discovered at La Mar. As I live in the north of England, I treat myself to Oysters when I head to Whitby, however even though Whitby evokes beautiful images from a bygone era and has tasty oysters on offer, there are no exclusive oyster bars there.
I'd visited London many a time too but had never headed out to try oysters!
Hence, I was quite eager to try a few varieties and figure out differences in their salinity and texture. La Mar serves only oysters and drinks. Nothing else, but they do it brilliantly.
The servers will patiently make suggestions and help you make the best pairing.I selected a couple from Cantabria and France and the server expertly shucked the oysters in front of me, placed them neatly next to a slice of lemon and handed it to me.
I picked a bottle of Tabasco and headed to a table in the corner. They were fresh, juicy and scrumptious and served as a perfect treat amidst all the tapas I was trying. Tabasco accentuated the flavours of the oysters. La Mar had a great atmosphere, many local patrons visiting it frequently and details in the decor that I noticed as I devoured my oysters.
All these made visitors linger on, thus encouraging them to have more! If you were looking to spend a relaxing evening, romantic or not in Santander, I'd definitely suggest La Mar as the perfect spot for good conversations and some mouth-watering oysters.
---
DETAILS
Address: Calle Peña Herbosa, 11, 39003, Santander, Cantabria, Spain
Opening Hours: Monday – Wednesday, 1 pm–4 pm, 8 pm–11 pm, Thursday 1 pm–4 pm, 8 pm–1 am,
   Friday and Saturday 1 pm–4 pm, 8 pm–2 am, Sunday 1 pm–4 pm
---
---
#6 Don't miss the pinchos at award-winning Casa Lita
With more than a decade of experience and countless awards later, Casa Lita is the place that gets recommended by many without a second thought and rightfully so as the Michelin star chef ensures the food aka the platters of pinchos (tapas) are of top quality and the best ingredients sourced locally, daily.
The bright-coloured pinchos bar was located on the main street in a nineteenth-century building overlooking Santander bay.
I had spent just about a day in Santander but I could confidently state that Casa Lita had the largest variety of tapas on offer with the best views. After walking in, I asked one of the servers about how many pinchos were available and he smiled and replied "300 not including cheeses and cold cuts!", which confirmed my theory!
While I have a small appetite and a couple of pinchos would be all I needed, people had turned up at Casa Lita for dinner, or so it seemed, as pinchos kept flying off the counters and freshly made ones kept appearing from the kitchen.
While the pinchos bar was spacious, and there was a lot of seating area, way more than all the previous pinchos bar's I'd been to, but it was crowded as people were there just for the food which was priced exceptionally well too.
It was difficult to get a table but there were many tables to stand and try the tapas. It was possible to get a table if you arrived by 8 pm.Almost all the pinchos were for less than two Euros making it a sought-after spot for locals and visitors alike.
---
DETAILS
Address: Paseo de Pereda, 37, 39004, Santander, Cantabria, Spain
Opening Hours: Tuesday – Sunday, 12:00 PM – 11:59 PM, Monday closed
---
---
#7 Finish off your tapas walk at El Diluvio by trying Gulas
El Diluvio was the last stop on my tapas crawl in Santander. Though popular for its tortillas with a variety of stuffings, I decided to experiment and try something different here.
So I picked a pinchos that looked like it had an octopus placed over it, topped with a fried quail egg and tried it. While it tasted good, I was sure what I was having was definitely not Octopus as the 'arms' were no thicker than a strand of spaghetti and the colour wasn't pink.
A couple who were sat beside me having a tapas of flaky pastry stuffed with spinach, beans and cheese, obliged me and told me that it was Angulas – young European eels or baby eels, but what I was having were mock Angulas called gulas, similar to surimi.
Angulas were the equivalent of caviar in Spain and the price for this delicacy had skyrocketed a few years back with costs reaching about a 1000 Euros per kilogram!
This had led to the creation of mock Angulas by using pollock fish. Gulas was easily available in cans for cheap.Pleased that I'd learned something new and tried it as well, I decided to take a walk by Santander bay before calling it a night.
---
DETAILS
Address: Calle Ataúlfo Argenta, 14, 39004, Santander, Cantabria, Spain
Opening Hours: Monday – Friday, 7.30 am – 12 am, Saturday 10 am – 9 pm–12am, Sunday 11 am – 4 pm, 7 pm – 12 am
---
---
While the waves crashed softly on the promenade, I decided to stay a little longer and enjoy the feeling of a tummy full of appetizing meals. At none of the places, I jostled for space or waited too long for drinks or food.
The quality was top-notch and the prices were incomparable. Santander was a part of Spain that had all Spain could possibly offer for less and I felt grateful as I sat there, wondering if I should finish the day by having an ice cream myself, after having one of the best foodie days of my life.
---
Santander is the capital of the region of Cantabria, located between Asturias in the west and the Basque Country to the east. Rich in history and culture, it is one of the regions in Green Spain, which consists of Galicia, Asturias, Cantabria and the Basque Country.
While it has pleasant temperatures, they are still moderate as the presence of the Cantabrian mountains and the Bay of Biscay help in keeping it so.
WHAT IS THE BEST TIME TO VISIT SANTANDER
While June to September are still the hottest and the best time to visit Santander, with average temperatures around 25 degrees being the highest, the climate here is humid and the region can expect mild unpredictable showers.
These are usually mild and tend to clear off soon. As the weather is charming this tends to attract crowds making it busier than usual in Santander.
When I visited in October, the first day it was really hot in Santander, about 28 degrees, but thunder-showers were expected the next day and it did rain the whole day unfortunately.
However, it was mild and there were long periods with no rain during the day too. The coldest months are December – February and it could be freezing in the regions near Liebana near the mountains.
FLIGHTS – There are direct flights to Santander from London, by Ryanair and Iberia, but these could be seasonal. The flight takes 2 hours from London.
There are direct flights throughout the year from Barcelona and Madrid.
FERRY – Brittany Ferries operate a Portsmouth to Santander and a Plymouth to Santander route.
You can even choose to make it a holiday with them if you wish so! They do not run daily and you may need to check the website to inquire about prices and availability.
HOW TO GET AROUND SANTANDER
FROM THE AIRPORT
While you won't find Uber in Santander, you can easily hail a cab/taxi to get to the centre of the city which is about 6 kilometres away.
It isn't expensive and should cost about 10 Euros to do so. If you prefer to use public transport, buses leave every 30 minutes from Santander airport and take about 15 minutes to get to Santander City.
To get to Santander's Seve Ballesteros airport from the bus station, it takes the same amount of time and buses leave every 30 minutes. the cost for a single trip is 2.90 Euros. For more information on Santander Airport,  please refer to the link here.
TAXI
You can easily get around Santander by hailing one of the taxis from any of the taxi stands in the city. If you use Google Maps, if you select the taxi option, it will display the closest taxi stand to you!
You can also request to pre-book taxis if you're at a restaurant or from your hotel/lodging in Santander.
BUSES
Santander has a good network of buses and each trip costs 1.30 Euros. You can refer to the link here, to check the various routes available. Many bus stops have maps showing the route map too and some even have boards which display upcoming bus information.
---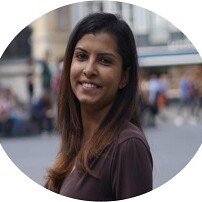 Award-winning Analyst, multi-nominated digital content creator and photographer Lavina Dsouza's words capture stories about culture and tradition mainly through its food and people. She has written and contributed to publications such as The Washington Post, Lonely Planet and Matador Network, to name a few. She is the editor of UntraditionalHumans.com, a non-profit created to share inspiring stories from women of colour who break free from traditions and choose happiness.
She's also a speaker passionate about DEI and champions solo travel. She has collaborated with numerous renowned brands such as Intrepid Travel, TripAdvisor, Travel and Leisure and Adobe, to name a few.
She can be found on Twitter and Instagram.
---
HERE ARE MORE FOOD POSTS FOR A FUN-FILLED FOODIE GETAWAY!
---
Some of the links on this post are affiliate links. These do not cost you extra to use, but will help provide Continent Hop with a small commission if/when you purchase through them, to recover some of the costs of running this website and providing free content to help you plan your travel. I appreciate your support!
---