Europe is vast and honestly it is impossible to cover all of it in 2 weeks however depending on your travel style, it is possible to cover quite a few places if planned right! Here's 6 in-depth European itinerary 2 weeks to help you see the best of Europe on your 2 week trip to Europe!
Europe is a medley of cultures: there are about 160 culturally distinct groups on the continent.
Santorini in Greece, Venice in Italy, Andalusia in Spain, and Cornwall in the UK…are just 4 of the numerous breathtaking places in Europe that I've had the fortune of exploring.
However, I visited each of these on 4 separate trips.
Sure, it can be done in one trip if you fly everywhere; however, that would be quite tiring and expensive!
I suggest picking a few countries based on your interests and sticking to the main cities.
If you have 2 weeks in Europe and are keen to see the most and yet ensure you do it in a budget-friendly and fun way, I've put together these itineraries from personal experience by region, so you can get the best out of your two week trip to Europe!
They are all fully customisable and flexible, and you can choose to stay longer in a place, skip destinations you don't prefer and even fly to a different place and continue if you wish!
---
6 Europe itineraries for a 2 week trip to Europe
---
---
Here's some information about the 2 week European itineraries I have suggested in this post and so that you have the required info when planning a 2 week trip to Europe :
These Europe itineraries 2 weeks suggest at least two days in every city and one day for travel between the two cities.

These itineraries have been planned with one day for travel between two cities. Even in cases where the cities are 200-400 km away, you'll literally be country hopping.

For flights, one needs to plan, keeping in mind the time to get to the airport and to get to the city from the airport. It's safe to say that you won't have much time or energy to do sightseeing in many cases when travelling from one city to another.

If you have limited time, stick to the main cities. Plan for fewer cities/countries in your Europe itineraries 2 weeks if you want to visit offbeat places – travelling to these would need more time.

Planning ahead is key
Book accommodations, flight tickets/train tickets, and have a rough idea of what you'd do on the two days in every city.

In fact, if you are visiting during peak season, i.e. planning a Europe summer holiday, I recommend having an exact plan and bookings. Some places are very crowded and offer 'skip the queue' tickets.

For instance, if you are planning to be in Italy in summer during your 2 weeks in Europe, you need to have advance bookings for accommodation and flights, or it's super expensive during this season

The first four Europe itineraries 2 weeks here are based roughly on dividing the continent into these regions – South, Central (and UK), East and North-West. The fifth one is an itinerary for Italy, Switzerland and Luxembourg.

There's also one for seeing the Northern lights in Europe, i.e. a winter vacation to Europe.
European itinerary 2 weeks
---
European Itinerary 2 Weeks
---
Itinerary 1
South Europe – Spain, France, Italy, Greece
Cities: Madrid, Paris, Rome, Santorini, Athens
---
Day 1, 2 – Madrid
Spend time seeing the Prado, one of the best art museums in Europe, the Royal Palace, Thyssen-Bornemisza Museum of Art and the Reina Sofia Museum. Football fans can visit Santiago Bernabéu Stadium, the home stadium of Real Madrid in the city. Or spend some time at El Retiro Park, a vast urban park around a lake.
Flamenco shows with dinner are popular among tourists here. Or you could take a tapas or walking history tour to learn more about the city's food, wine, and history.
Day 3 – Madrid to Paris
There is no direct train from Madrid to Paris. Travelling by train (which includes a transfer) would need 11 hours. You can take a flight to Paris.
Day 4,5 – Paris
Visit the iconic Eiffel Tower. Purchase skip-the-line tickets for the Eiffel tower if it is on your Europe summer itinerary as it is one of the busiest tourist destinations in Paris.
The Louvre Museum, Notre Dame Cathedral, and Seine river cruises are a few other tourist hotspots. Additionally, you may check out Sainte-Chapelle, a royal chapel with amazing stained glass windows, and the Musée d'Orsay, a gallery with stunning impressionist artwork.
If you want to do anything other than visit museums, think about going on a wine tour or tasting with a local company or going to the Moulin Rouge to see cabaret and theatre.
Day 6 – Paris to Rome
If you want to take the train, there is no direct train from Paris to Rome. You'll have to take a high-speed train from Rome and change to another train in Milan. This will need a little more than 11 hours. You can also take a flight to Rome.
Day 7, 8 and 9 – Rome
I suggest at least three days in Rome to get enough time to admire Roman art and historical attractions.
Admire the mighty Colosseum, stroll through St. Peter's square and throw coins in the water at the Trevi Fountain. Visit the Vatican museums and the Sistine chapel.
See the Basilica di Santa Maria Maggiore, the Pantheon and the Spanish Steps. See one of Italy's most important Roman ruins by visiting the Roman Forum. Palatine Hill, a part of this complex, also contains remarkable ruins. Visit art museums like the Galleria Borghese and Musei Capitolini.
---
Day 10 – Rome to Santorini
Fly to Santorini from Rome.
Day 11, 12 – Santorini
Check out this 2 days in Santorini itinerary to have the best time.
You can spend a day in Santorini and fly or take a ferry to Athens. This post can help you decide how many days in Santorini Greece is enough and has a one-day itinerary if you want to spend only a day here and get to Athens.
Day 13 – Santorini to Athens
If you want to take the ferry to Athens, take the high speed one so that you'd spend less time travelling or take the overnight ferry so that you save more time for sightseeing in Athens. Or take a 50-minute direct flight to Athens.
Day 14 – Athens
Visit the Acropolis, Acropolis Museum and Parthenon during your time in Athens. If you are spending longer here, there are other sites of Greek history to see, such as the Philopappos Hill, Temple of Hephaestus and Temple of Olympian Zeus.
---
Flying home from Santorini is likely to be more expensive. That's why I suggest flying from Rome to Santorini and then getting to Athens. Compare costs and check – you can also fly from Athens to Rome and end your trip in Santorini if this is not an issue.
If you're more of a beach person, you can skip Athens and spend your time at Naxos, Ios or another island around Santorini.
---
Itinerary 2
England and Central Europe – Belgium, Netherlands, Germany
Cities: London – Brussels – Amsterdam – Berlin – Munich
---
Day 1, 2 – London
See Hyde Park, the changing of the guard at Buckingham Palace, Westminster Abbey, Houses of Parliament and Big Ben. You can see the state apartments inside Buckingham palace during the summer months.
Walk by Trafalgar Square and see the National Gallery. Take a ride on the London eye in the evening to watch the setting sun paint the city with beautiful red hues. Pop into a pub to enjoy London's pub scene.
On the next day, you can see the London Tower, tower bridge and eat at the nearby Borough Market, the city's well-known food market. Pick between the Science Museum and the Natural History Museum and see the beautiful Kensington Garden and Palace.
Day 3 – London to Brussels
A high-speed train will take 2 hours to reach from London to Brussels whereas flights need an hour for the journey.
Day 4,5 – Brussels
If you are in Brussels between 21 July to the end of September, visit the Royal Palace of Brussels. It is the workplace of the King of Belgium. If the palace isn't open when you visit, you can see the Musées Royaux des Beaux-Arts instead, a group of six art museums in the city.
I recommend taking a chocolate tour or chocolate-making workshop in the afternoon – after all, you're in the city called the world's chocolate capital. Chocolate tours or tasting sessions range from 2 to 4 hours. If you're visiting during Europe summer holidays, pre-book as they get sold out quickly.
In the evening, take a look at the Manneken Pis (a sculpture of a little boy peeing), which attracts many tourists and check out Galeries Royales Saint, one of the first shopping arcades built in Europe.
For your second day, take a day trip to Bruges. The charming city is only an hour away from Brussels. You can take a train or bus to Bruges.
See the city's historic centre, a UNESCO world heritage site, and take a ride in one of the quiet canals. See the Belfry and nearby market halls. Other things worth doing are – a guided tour at the De Halve Mann brewery and seeing the Church of our Lady and Groeninge Museum.
Here's more options for where to stay in Brussels if you plan to stay the night.
---
Day 6 – Brussels to Amsterdam ( or Bruges to Amsterdam if you spend the night in Bruges)
Brussels and Bruges are about 210 and 250 km away from Amsterdam. You can take a flight or train.
Day 7, 8 – Amsterdam
See the Anne Frank museum, the house where the Frank family hid for two years during the war. Visit the Rijksmuseum and Van Gogh Museum. And take a canal cruise in the evening.
Or see the Jordaan neighbourhood on foot – this neighbourhood is known for its food and architecture. Explore Des 9 Straatjes or 'the nine streets', which is excellent for food, shopping and seeing the canal houses.
If you're here in spring (end of March to May), don't miss out on visiting Keukenhof to see the incredible tulip gardens.
Day 9 – Amsterdam to Berlin
Take the train from Amsterdam to Berlin (a 6.5-hour journey) or fly to Berlin (close to 3 hours at least as there is no direct flight)
Day 10,11 – Berlin 
See the Brandenburg Gate, the Holocaust Memorial and the Reichstag Dome. If you want to spend some time in nature, go to Tiergarten, a big garden in the middle of the city.
There are so many museums in the city and not enough time to see them all in two days. I think you should definitely visit the Pergamon museum: it features grand reconstructions of Greek and Roman architectural monuments.
On your next day in Berlin, see the neighbourhood of Kreuzberg and the Eastside Gallery, a large open gallery with painted graffiti on it.
Do a guided tour of the Topography of Terror, a museum that displays the history of the Nazi party. Consider doing a street art tour to discover more about the beautiful street art of the city or visit the Urban Nation museum to see some of the street art.
Day 12 – Berlin to Munich
Take the direct train to Munich (4 hours) or a direct flight (a little over an hour)
Day 13, 14 – Munich
Begin your day in Munich at the Marienplatz, the city's central square and see the nearby New Town Hall. Watch the miniature knight show at the Glockenspiel outside the New Town Hall. The show starts at 11 am and 12 pm, and people gather to see the miniature knights come to life.
Visit St. Peter's Church, the oldest church in Munich. In the afternoon, visit the Frauenkirche or Munich Cathedral, the city's largest church.
End your day by visiting the Munich Residenz, a large urban palace that was home to the royal Wittelsbach family of Bavaria. This palace is enormous and if you are short on time, just check out a few highlights of the palace.
For the first part of your second day in Munich, I suggest taking a short history/food or football tour. Later, see the Nymphenburg Palace and BMW Museum. If you have some time to relax, walk through the Englischer Garten, a vast garden with trails and water bodies.
---
---
Itinerary 3
Eastern Europe – Poland, Czechia, Austria, Slovakia, Hungary
Cities: Warsaw – Prague – Vienna – Bratislava – Budapest
---
Day 1,2 – Warsaw
Start your Warsaw sightseeing by walking around the Royal Way. It is a famous street in the city with lots of landmarks like the Copernicus statue, Chopin benches and the Presidential Palace along the route.
If you like seeing royal residences, see Castle Square from the inside. Castle Square marks the end of the Royal way. See the old town area which has some very photogenic streets. See the Warsaw uprising monument and POLIN Museum of the history of Polish Jews.
The Jewish Ghetto memorial is right in front of this museum.
On the next day, learn about the Warsaw uprising and its consequences by visiting the Warsaw uprising museum. Spend your afternoon in Lazienki Park. In the evening, you'll have to choose between the Copernicus Science Centre or Chopin Museum.
Day 3 – Warsaw to Prague
Train journeys need 8 to 9 hours, or you can fly to Prague through a direct flight in 1.5 hours.
Day 4,5 – Prague
Start your sightseeing in the Old Town area – most of the city's best sights are here.
Take a walking tour of this area to learn about its history or explore places like the astronomical clock and the Tyn Church, or Josefov, the Jewish quarter of Prague yourself. See the Prague Castle – seeing the castle and other buildings like the St. Vitus Cathedral, the Royal Palace, and St. George's Basilica would need 3 hours. Ride a cruise on the Vltava river.
Prague is also known for its beer, street food and nightlife. Try the beer in some of Prague's old pubs and head to Wenceslas Square for the street food.
Day 6 – Prague to Vienna
A train journey from Prague to Vienna, Austria needs 5 hours, or you can take a flight to Vienna, a 2.5-hour trip.
Day 7,8 – Vienna
Start with the Museums Quartier, an area with 60 cultural institutions. You will be overwhelmed by the city's abundance of museums. Determining which ones to choose will rely on your interests. Popular attractions include Kunsthalle Wien, the Natural History Museum, the Leopold Museum, the MUMOK (Museum of Modern Art), and the ZOOM Kindermuseum.
The Hofberg is another speciality museum nearby. Marvel At Vienna's Belvedere Palace and experience the cafe culture at one of the cafes in the city. See the Schönbrunn Palace and gardens. Stroll through the city's centre or perhaps shop at Graben, one of the city's best shopping streets.
Don't miss out on the Vienna State Opera, known for its performance and the grand venue. Tickets are expensive. You can get cheaper tickets if you stand in line 60-90 minutes before the show.
---
Day 9 – Vienna to Bratislava
Bratislava is only about 80 km away from Vienna. Take a shared cab, drive or take a ferry or bus to Bratislava: the trip will need an hour to a half.
Day 10, 11 – Bratislava
Many of the city's attractions are in the old town area. You can walk around the area to see St Michael's Gate, St. Martin's Cathedral, Church of St. Elisabeth and Primate's Palace.
There are more museums than you can see in 2 days in this city too! Nedbalka Gallery is a favourite among tourists and has stunning Slovak art on display. Another popular one is the Bratislava city museum which showcases the city's history.
On your next day in the city, see the Devin Castle, a few km away from the city. Return to the city to see the Bratislava castle, a landmark that overlooks the Danube river. Hang out by the Danube river and try Slovakian food at one of the restaurants on the banks.
Day 12 – Bratislava to Budapest
Take a shared ride or drive to Budapest. Or take a bus or train. The journey will take 2.5 hours. Budapest is only 200 km away from Bratislava.
Day 13,14 – Budapest
Start your tour from the Fisherman's bastion (Halaszbastya). See the Matthias Church nearby, Buda Castle and stroll through Castle Hill till you reach the Szenchenyi Chain Bridge. Walk to the St Stephen's Basilica. See the Danube Promenade and Central Market Hall (Nagy Vásárcsarnok) next.
Take a bath at the Gellért Baths, Budapest's famous hot spring bath. Climb up Gellert Hill for a panoramic view of the city.
On your second day, ensure you see the shoes on the promenade along the Danube river. These shoes have been sculpted as a tribute to the Jews shot here by Nazis during World War II.
Across this is the Parliament House, another landmark of the city. Pre-book if you want to see it from inside, as slots get sold out quickly.
See the House of Terror Museum and Heroes Square (Hosuk Tere). End your trip by relaxing in another famous bath in Budapest – the Széchenyi Thermal Bath.
---
Itinerary 4
Northwest Europe – Iceland, Denmark, Norway, Sweden, and Finland
Cities: Reykjavik – Copenhagen – Oslo – Stockholm – Helsinki
---
Day 1, Day 2 – Reykjavik
Start with visiting the Perlan, a museum and an excellent place for a panoramic view of the city; visit the Hallgrímskirkja, a beautiful church in the city and the National Museum of Iceland.
Other things worth doing are seeing the Reykjavik Art Museum, admiring the beautiful street art and exploring the nightlife in downtown Reykjavik.
Keep an entire day out of your 2 day Reykjavik itinerary to take a Blue Lagoon and Golden Circle tour.
This way, you'll have some time for some fun activities like glacier snowmobiling or swimming in a lagoon and visit places such as the Gullfoss Waterfall, Geysir Geothermal Area and Thingvellir National Park.
Day 3 – Reykjavik to Copenhagen
Fly from Reykjavik to Copenhagen (3-3.5 hour flight journey)
Day 4, 5 – Copenhagen
Stroll through Nyhavn, the port area of the city. See the Amalienborg Palace, home to the Danish royal family in winter and see the change of guards ceremony here.
Walk through Christiania, a self-proclaimed autonomous district of about 1000 people who have their own flag and rules.
Try some Danish food at the Torvehallerne Market. Finish your day at the Tivoli Gardens, the quaint amusement park, the world's second-oldest operating amusement park.
There are many stunning places around Copenhagen that you can visit through a day trip on Day 2. Choose from either of these –
Take a road trip or train to Møns Klint and relax by the Baltic Sea.

See the Roskilde Cathedral and learn about the Vikings' history in the Viking Ship Museum at Roskilde.

Visit another charming amusement park, Bakken: the oldest amusement park in the world!
---
---
Day 6 – Copenhagen to Oslo
There's no direct train. Take the bus to Oslo (8.5 hours) or fly to Oslo (1 hour 10 minutes)
Day 7, 8 – Oslo
Oslo has spectacular museums – the Fram Museum, Viking Ship Museum, the Holmenkollen Ski Museum and Norsk Folkemuseum. Wander through Frogner Park and Vigeland Skulpturpark.
On your second day, you can see the Akershus Fortress and explore the Royal Palace and Park. One thing you shouldn't miss out on in Oslo is taking a harbour for sightseeing in the Oslo Fjord.
For those planning European itineraries 3 weeks, I recommend spending more time here and driving from Oslo to Bergen or taking the train to Bergen. The train passes through the mountains, offering breathtakingly beautiful views of the terrain and is considered one of the most scenic routes in Europe.
Day 9 – Oslo to Stockholm
Take the train (5-6 hours) or fly to Stockholm (1 hour)
Day 10, 11 – Stockholm
Start with walking through Gamla Stan & Riddarholmen, the old town areas of the city. Next, you can see the Vasa Museum and Skansen Open-Air Museum. There's also the Stockholm City Hall, which offers a great view of the city.
On Day 2, you can tour the Royal Palace and see the Fotografiska, a museum that displays contemporary photography. You can also take a Stockholm Boat Tour under the bridges.
Day 12 – Stockholm to Helsinki
Fly from Stockholm to Helsinki – it is an hour-long journey.
Day 13,14 – Helsinki
Start Day 1 by visiting the Senate Square plaza and the Helsinki Cathedral. Next, spend time at the Suomenlinna Sea Fortress, a small sea fortress that's a UNESCO world heritage site. Next, see the Seurasaari Island and Open-Air Museum.
For your second day in Helsinki, see the Temppeliaukio Church, a church carved from rock. The Ateneum, an art museum with classics of Finnish art, is another great place to visit. Relax by taking a dip in the Allas Sea Pool or at any of the spas in the city.
---
Itinerary 5
Italy, Switzerland, Luxembourg
Cities: Venice – Milan – Lucerne – Zurich – Luxembourg city
---
Day 1, Day 2 – Venice
Start by visiting the Saint Mark's Basilica and the Doge's Palace. Enjoy the views in Piazza San Marco and eat at one of the many well-known cafes in the area.
Head to the top of St. Mark's Campanile for a panoramic view of the city. Wander along the Riva Degli Schiavoni to spend some time by the lagoon. Take a gondola ride to explore more of Venice.
For your second day, I suggest either of these –
A day trip to Burano, Murano and Torcello: from Venice to Burano ferry needs only 45 minutes.

A day trip to Verona, only 120 km away from the city
Day 3 – Venice to Milan
Take the high-speed train to Milan, which takes 2.5 hours.
Day 4, 5 – Milan
For your first day in Milan, visit the Duomo, II Cenacolo, Sforzesco Castle and the Pinacoteca di Brera. Stroll through Monte Napoleone, Milan's upscale fashion district with shops from all luxury brands.
For your second day in Milan, take a day trip to any of the lakes in the Lombardy region – Lake Garda, Lake Iseo and Lake Maggiore. These lakes are surrounded by picturesque villages that are popular tourist destinations in all seasons.
Day 6 – Milan to Lucerne
Milan to Lucerne by train is a 3 to 4-hour journey vs a 1 hour one through a non-stop flight.
Day 7, 8 – Lucerne
On your first day, explore Alstadt (Old town). See the Chapel Bridge, Jesuit Church and the Church of St. Leodegar. Spend time at the Lion Monument.
If you are here in the warmer months, it'd be fun to get out on Lake Lucerne: hire a small pedal or take a cruise ride.
Keep the second day reserved for a trip to Mt.Pilatus. This involves taking a scenic train/gondola ride from Lucerne, cog railway, cable car, and then bus back to Lucerne. An organised tour can help you do this excursion: check for Lucerne's golden, silver round trip.
---
Day 9 – Lucerne to Zurich
Lucerne is only 51 km from Zurich. You can easily take a train ride or drive to Zurich.
Day 10, 11 – Zurich
Start with Altstadt, Zurich's old town. Explore the area on foot and see the beautiful alleys, cafes and cobbled streets.
See the Grossmuster church. Check out the Bahnhofstrasse, Zurich's shopping street with many designers and luxury brand shops. On the other side of the river across from the Grossmuster is the Fraumunster Church.
Take a chocolate tour at the Lindt chocolate factory. Remember to pre-book your ticket as they have limited slots.
On your second day in Zurich, take a boat ride on Lake Zurich.
If you're here in summer, one of the best things to do in Zurich is to swim in the 'badi' or open-air swimming pools created in lakes and rivers. You can also hike to the top of the Uetliberg mountain, an easy hike that promises stunning views. Uetliberg is only a half an hour train ride from Zurich.
Day 12 – Zurich to Luxembourg city
Flying to Luxembourg would need 2.5 hours. You can also take a train or bus which would need 5-5.5 hours and 6.5 hours respectively. There is no direct train to Luxembourg; you'll have to change the train at Mulhouse.
Day 13,14 – Luxembourg city
Start by seeing the Place Guillaume II, a square in downtown Luxembourg. See the Cathédrale Notre-Dame, the Grand Ducal Palace and Saint Michael's Church.
Spend some time at the Bock Promontory and Bock Casemates. The Bock Casemates is a series of underground tunnels used as a bomb shelter during World War II.
Once you exit the Casemates, you'll be at the Le Chemin de la Corniche, also called the Walls of the Corniche. It is a walking path along the fortified walls of the Alzette valley, which is famous for the stellar views of the city.
You can walk down from here or take the Ascenseur Plateur St. Esprit elevator to Grund to see one of the city's oldest areas and enjoy the nightlife in the lively Clausen district.
For day 2, go to Vianden, about 22 km north of the city. See the beautiful Romanesque style Vianden castle and wander through Vianden. Get back to the city to take a ride on the Pfaffenthal Elevator, a glass elevator you can ride for free for panoramic views of the Alzette valley.
---
Itinerary 6 – Northern lights itinerary
Iceland, Denmark, Sweden, Finland, Norway
Reykjavik – Copenhagen – Stockholm – Helsinki – Tromso
---
Day 1, Day 2 – Reykjavik
See itinerary 4 for the best things to do in Reykjavik.
Keep at least an entire day to take a tour to see the Northern lights. You can take a combined tour to see the Golden Circle and Northern lights or the Blue Lagoon and the Northern lights.
Day 3 – Reykjavik to Copenhagen
Fly from Reykjavik to Copenhagen (3-3.5 hour flight journey)
Day 4, 5 – Copenhagen
See itinerary 4 for information on spending 2 days in Copenhagen.
Day 6 – Copenhagen to Stockholm
A direct train trip between the cities needs 5 and a half hours, or you can fly to Stockholm (a little over an hour).
Day 7, 8 – Stockholm
See itinerary 4 for a 2 day Stockholm itinerary
Day 9 – Stockholm to Helsinki
Fly from Stockholm to Helsinki – it is an hour-long journey
Day 10, 11 – Helsinki
See itinerary 4 for a 2 day Helsinki itinerary
Day 12 – Helsinki to Tromso
Fly to Tromso
Day 13,14 – Tromso
Keep one of the two days aside for a Northern lights tour. Tromso is a great place to view the northern lights in Norway.
For the other day, I suggest these activities and places –
Cable car and Sherpa steps

Tromso Cathedral

Taking a fjord cruise
---
You have to keep in mind that Europe is vast and the possibilities are endless!
Based on your travel style, your itinerary can be as hectic or as relaxing as you'd like it to be however, in two weeks you'll only be able to cover a fraction of the region.
However, that means you can and absolutely should visit Europe again as there's so much to see and do and you'll never be disappointed with the time you spend here and to craft everlasting memories!
---
European Itinerary 2 Weeks – frequently asked questions
How many countries in Europe can you visit in 2 weeks?
You can visit three to four countries in 2 weeks in Europe. They are incredibly close to each other in some areas, so you can squeeze in a fifth one in your itinerary. Three to four countries are ideal for 2 week European itineraries.  
Is 2 weeks long enough for Europe? 
2 weeks is definitely not long enough for Europe. Through 2 week European itineraries, you can only see one city in three to four countries in the continent or five countries if they are close to each other.
What is the best way to see Europe in 2 weeks?
The easiest approach to tour Europe in 2 weeks is to choose a region and keep close to neighbouring countries to save time on travel. For Europe itineraries 2 weeks, I also recommend sticking to the major, well-connected cities.
How easy is it to travel around Europe? 
It's pretty easy to travel around Europe. The main cities in many countries are well connected by public transport. You can take a flight to get from one country to another, or the train connections are excellent between many countries.
Can you drive a car across Europe?
You can hire and drive a car across countries in Europe. But most countries need an International Driving Permit (IDP). Ensure you have insurance for your car, pay heed to all rules by the rental car company and traffic rules in that particular country
---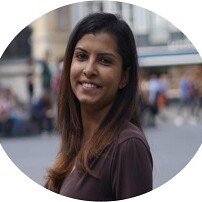 Award-winning Analyst, multi-nominated digital content creator and photographer Lavina Dsouza's words capture stories about culture and tradition mainly through its food and people. She has written and contributed to publications such as The Washington Post, Lonely Planet and Matador Network, to name a few. She is the editor of UntraditionalHumans.com, a non-profit created to share inspiring stories from women of colour who break free from traditions and choose happiness.
She's also a speaker passionate about DEI and champions solo travel. She has collaborated with numerous renowned brands such as Intrepid Travel, TripAdvisor, Travel and Leisure and Adobe, to name a few.
She can be found on Twitter and Instagram.
---
---
What's a Mediterranean destination you love?
I'd love to hear them in the comments below!
---
---
Some of the links on this post are affiliate links. These do not cost you extra to use, but will help provide Continent Hop with a small commission if/when you purchase through them, to recover some of the costs of running this website and providing free content to help you plan your travel. I appreciate your support!
---