If you're wondering 'how many days in Santorini?' Here's a Santorini itinerary to have the best time in 2 days in Santorini. It covers the must do places in Santorini, things to do in Santorini, one day in Santorini and how to get from Mykonos to Santorini too!
There were probably about two hundred people at Oia in Santorini, on the veranda where you would supposedly get to see the best sunset in all of Santorini. People were scuffling to get a good spot and it was quite loud; not how you'd like to enjoy a sunset!
Nevertheless, it was the perfect spot to get one of the best pictures in Santorini – like the ones you see on wallpapers and screensavers. However, it isn't something I'd recommend doing while in Santorini, at least not to watch a sunset.
Santorini definitely lived up to the hype for me. It sure is crowded and could even do with some initiatives to tackle over-tourism, but it is one for the bucket-list.
The dreamy blue domes, pristine white villages and views of the caldera are worth a trip to Santorini, no matter if you're visiting just the island, are on an island-hopping tour or on a sailing holiday in Greece..
You can spend even a week here however spending 2 days in Santorini or even 3 days in Santorini is a good duration to get a taste of what this island in Greece has to offer for first-timers.
Here's how to spend 2 days in Santorini to get the most from this once volcanic island. This two day itinerary covers locations in Oia, Imerovigli, Fira, Megalochori and Akrotiri. If you're wondering what to do in Santorini, this itinerary has you covered!
If you've only got one day in Santorini, pick sections that work best for you.
---
A Santorini Itinerary for 2 days in Santorini
---
How to get to Santorini
BY FLIGHT – A small airport serves Santorini, and a few flights arrive there each day. Although you can fly directly to the island, it might not be very affordable.
MYKONOS TO SANTORINI FERRY – After visiting Mykonos, we went to Santorini with a ferry ride from Mykonos to Santorini, details of which are available here. From Mykonos, it takes around two hours to go to Santorini.
---
Where to stay in Santorini
I'd strongly advise staying at a hotel with a caldera view. Nothing compares to enjoying your private Jacuzzi while watching the sunset away from the masses.
The Santorini neighbourhoods of Fira, Imerovigli, Firastefani, and Oia have a view of the caldera. When booking a hotel, check the location so that you can be sure it has unobstructed views.
If you are looking for hotels in the Imerovigli area, then consider Absolute Bliss which offers breathtaking caldera views. This is one of the top hotels in Santorini with private pools.
You will find more such options for hotels in Imerovigli here.
If you are wondering 'where to stay in Santorini for couples', then you can consider this beautiful Callia Retreat Suites – Adults Only Fira hotel where elegant suits are the speciality.  You can enjoy your stay with a swimming pool and a bar on the property.
Check the list of other hotels in Fira to find more options.
Galatia Villas is the best option if you are looking for family-friendly hotels in Fira, Santorini. This Greek-style property is located near Lignos Folklore Museum and Agios Constantinos Church. The location and facilities like free parking, an airport shuttle, and an outdoor pool make it one of the best luxury hotels in Santorini.
The other parts of the island have views of Santorini and a few are located near the beaches. Pick a location that suits you best.
---
---
START YOUR 2 DAYS IN SANTORINI ITINERARY BY TOURING THE TOWNS
Part of the day would be spent getting to Santorini and checking in to your hotel.
Santorini has some great hotels and resorts with stunning views of the caldera and I'd suggest putting some time aside in your 2 day Santorini itinerary just to relax and slow down.
If you get here the previous day and have a whole day to start your time in Santorini, start by exploring the villages.
I stayed in Imerovigli, but depending on where you're staying, pick towns closest to you.
The main towns in Santorini are Fira/Thira, Imerovigli, Oia, Pyrgos, Firostefani, Kamari, Akrotiri, Pyrgos, Emborio and Perissa. While it isn't possible to explore all of them, here are few you should prioritize.
THIRA – Thira the capital, is where you'll find the most restaurants, cafes and stores.
It is the most cosmopolitan and is one of the towns that looks over the caldera. The town also has views of the two volcanic islands, Palaia Kameni and Nea Kameni.
You'll find the parties here and it is here that the hike to Oia starts. The Megaro Gyzi Cultural Center lies here where cultural events are held periodically. The Archaeological Museum of Thira and the Museum of Prehistoric Thira are also located here if you're a history buff.
For photographers, many popular spots are concentrated in this area, mostly on the walk between Imerovigli and Thira.
IMEROVIGLI – We stayed in Imerovigli when we visited Santorini. Imerovigli, also known as 'The balcony to the Aegean' is the highest town in Santorini and is located right next to Thira. Skaros Rock, one of the five fortresses of Santorini that helped keep an eye out for pirates, is located in Imerovigli and is another photo-stop on the island.
Imerovigli also has numerous Churches located in the vicinity.
EMBORI0 – Emborio is a town in Santorini that will give you a peek into the local way of life. You will find the town deserted most of the day as many locals head to Oia or any of the commercial towns for work.
There are old churches here too and the deserted lanes make for great pictures. It was one of my favorite locations in Santorini.
OIA – Pano Meria or Oia is what everyone prioritizes when they visit Santorini. Due to a large number of crowds here and it being the most popular due to the sunsets, Oia also has many cafes and restaurants.
Many of the pictures you see on postcards of Santorini are located here making it all the busier.
The Naval Maritime Museum is located in Oia and at the bottom of the village is Ammoudi Bay which we shall visit later in this itinerary.
Salt and Pepper located in Thira (Fira) was the best restaurant I visited during my 2 days in Santorini. The hostess was welcoming, friendly and the food excellent.
My favorites were the lamb chops, fava beans and the fresh fish. The restaurant is also vegetarian friendly. If you're staying in Fira or nearby and are exploring the towns in the area, Salt and Pepper is definitely a place you won't regret visiting.
---
DETAILS
Address: 25is Martiou 405, Thira 847 00, Greece
Timings: Lunch 1.30 PM – 3.30 PM, Dinner 7 PM – 11 PM
---
HEAD TO SANTO WINES OR GO FOR A WINE TOUR
Santorini isn't huge yet there are more than 10 wineries on the island. We visited Santo wines and did not do a wine tour ourselves, however, it is a great item to include in your 2 days in Santorini.
Santo wines have some of the best views on the island and also has a small selection of food you can order. They also conduct wine tours which you can book in advance.
Santo wines are committed to preserving local traditional cultivation methods.
This combined with the mild Mediterranean climate ensures the wines produced here are unique and have a distinct flavor. You'll get to taste some wines on the tour which will also be accompanied with cold cuts, cheese, and local olives.
Vinsanto is their signature wine but they also have Aidani and Mavrotragano which are grape varieties local to Santorini.
Santo wines is also a stunning location to have a destination wedding but you'll definitely need more than 2 days in Santorini to do so!
---
DETAILS
Address: Pyrgos Santorini ZIP CODE 84701
Timings: Four tastings daily, 10 AM, 1 PM, 2 PM, 5 PM
Price: They have about 6 tour options, prices vary depending on your selection. Details can be found here
---
CATCH THE SUNSET AT AKROTIRI LIGHTHOUSE
The sunset at Akrotiri was the best on the island and should be included in your 2 days in Santorini. There was sufficient space for everybody to watch the sunset in peace without any commotion.
While it isn't necessary to get there in advance, the location itself is beautiful and it is worth spending a couple of hours here.
The lighthouse here, known as 'Faros' by the locals, although white originally, gets colored in different shades as the sun sets and looks splendid. The whole setting with the stillness around and the seagulls circling is what made this spot perfect for me (I'd actually rate it the best in my 2 days in Santorini) to watch the sunset in Santorini.
---
HIKE FROM THIRA (FIRA) TO OIA
If you've been looking at location guides to the best photography spots in Santorini, chances are this hike will cover most of them.
The total distance is about 10 kilometers and roughly takes about 3 to 5 hours depending on how many stops you take for pictures or rest.
If you take the road between the two towns, it isn't the right route. If you're starting in Fira, in-between George's Snack Corner and the Pelican travel agency, you need to go left, in the direction of the caldera.
Or you could take the walk starting from Hotel Atlantis in Thira, continue via the walk that looks over the caldera via Firostefani to get to Blue note restaurant in Imerovigli and down the same route till Oia.
It isn't possible to get strollers with you on this hike and no matter how fun and picturesque it is, it may still get tiring especially in summer, so start early.
There aren't many cafes on the way so make sure you carry water and a hat when sunny. Descend to the little harbor of Ammoudi in Oia at the end of the hike in time for lunch.
Note that if you're looking to spend more time in Oia to look at the different things to do in Oia, you will need an entire day or at the most half a day, depending on what your preferences are.
---
LUNCH AT AMMOUDI FISH TAVERN
Known for its charming taverns specializing in fish, it won't be wrong to say that you'll find the freshest fish at Ammoudi fish tavern.
You may also find some squid and octopus kept to dry outside some of the taverns which sit right on the water. People also visit Ammoudi Bay for its famous cliff jumping spots.
If you don't get to Ammoudi Bay in time or have picked up an alternate activity, it is still a good spot to have dinner.
---
WATCH THE SUNSET ON A CATAMARAN CRUISE
Sunset cruises are one of the best ways to see the island, away from the island.
Cruises leave throughout the day from Ammoudi Bay and there also small boats can take you to the opposite island of Thirassia if required.
It isn't just an incredible view of the sunset that's on offer when you opt for a cruise in your 2 days in Santorini. You're taken to the red beach, volcanic hot springs, around Akrotiri lighthouse and then out to sea to watch the sunset as you've never seen it before.
What you do on your cruise depends on what you're looking for from your cruise. You can pick something that offers an active day and hike to Nea Kameni, the volcanic crater that erupted to create Santorini.
While catamarans are the most viable, there are other options you can also choose to sail on a yacht or a speedboat. If you book a private tour, you can even pick what attractions you'd like to visit during the tour.
The sunset cruise in Santorini lasts for about 6 hours and includes dinner. Dinner mostly consists of grilled meats, Greek salads and accompaniments.
---
DETAILS
Address: Santorini, Oia, Ammoudi 847 02, Greece
Timings: Vary depending on the cruise chosen. Check the tour operator for additional options
Price: Vary depending on the cruise you pick. Prices usually start around 60 Euros.
---
This brings you to the end of an epic Santorini 2 day itinerary, however there are several other things to do in Santorini.
If you're looking to extend your stay, you can spend 3 days in Santorini by going on a beach-hopping tour either by yourself or with a guide. You can visit the Red beach located at Akrotiri or the Black beach in Perissa.
If you like history, you can pay a visit to the Bronze age settlement at Akrotiri. The Minoan civilization was a Bronze Age Aegean civilization from the island of Crete that called Akrotiri home which was buried in a volcanic eruption.
The remains of this city are found at this settlement.
Santorini also has a buzzing nightlife and Koo club is popular with tourists and locals alike.
If you'd like to see Santorini in a day, pick sections that entice you the most.
No matter what you choose to do on this remarkable island, chances are you won't leave without being spellbound. The sunsets here (or almost all the islands in Greece) are out of this world, even if you choose to watch the sunset from Oia.
---
WHERE IS SANTORINI
Santorini is approximately two hours away from Mykonos. and around an hour's flight from Athens. Santorini is part of a group of islands in the Mediterranean Sea that includes, to name a few, the islands of Ios, Paros, Naxos, Sifnos, and others.
WHAT IS THE BEST TIME TO VISIT SANTORINI
Shoulder season from March – May and end of September – November is the best and the most budget friendly duration to visit Santorini.
No matter when you visit, the country has pleasant weather however it can get colder during the winter months and many cafes and restaurants may also be shut.
Peak season is during summer from June – August during which it can get quite expensive.
HOW TO GET AROUND SANTORINI
HIRING A CAR/QUAD/BIKE/2 WHEELER
Hiring a rental car is the most convenient method to get around Santorini. You can do this easily by asking for the rates at the hotel, online, or by simply walking into any of Thira's businesses.
Do remember that summers can get very busy so it is advisable to book in advance.
TAXI
In Santorini, taxis are available, but they are hard to find since there are so few of them. The majority of them may be found in Fira, but if you want to travel to Akrotiri, you might not find one there, and you don't want to wait for a tax till the sunset!
PUBLIC TRANSPORT
Buses only connect Thira/Fira to popular tourist destinations including Perissa (Black Beach), Kamari Beach, Akrotiri (Red Beach), Oia, Athenios port, and the airport. They do not travel from one end of the island to the other.
All buses depart from the same station in Fira, and because the timetable changes regularly, they can all be unpredictable. Ticket prices would vary according to the location.
FROM THE AIRPORT
Getting from the airport to Oia will cost around 30 to 40 Euros, to Fira around 20-30 Euros, and 25-35 euros to reach the ferry port.
WHERE TO STAY IN SANTORINI
HOTELS
As I mentioned earlier, the cities that offer a view of the caldera are the best places to stay in Santorini, which are Oia, Fira, Imerovigli, and Firastefani. From hostels to five-star resorts, there are a variety of options available for you. Each will have its own benefits, but nothing beats treating yourself to a night at a five-star hotel or resort.
One of the best hotels in Imerovigli was where I stayed, the Cocoon Suites.
AIRBNB
If you'd rather use Airbnb, a private room can cost between £20 and £30. Use this link to get £30 off your first booking when signing up for Airbnb.
---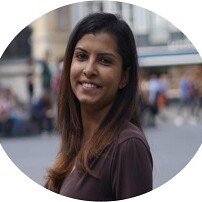 Award-winning Analyst, multi-nominated digital content creator and photographer Lavina Dsouza's words capture stories about culture and tradition mainly through its food and people. She has written and contributed to publications such as The Washington Post, Lonely Planet and Matador Network, to name a few. She is the editor of UntraditionalHumans.com, a non-profit created to share inspiring stories from women of colour who break free from traditions and choose happiness.
She's also a speaker passionate about DEI and champions solo travel. She has collaborated with numerous renowned brands such as Intrepid Travel, TripAdvisor, Travel and Leisure and Adobe, to name a few.
She can be found on Twitter and Instagram.
---
---
Do you avoid or prioritize touristy destinations? Have you visited any?
Let me know in the comments below!
---
---
Some of the links on this post are affiliate links. These do not cost you extra to use, but will help provide Continent Hop with a small commission if/when you purchase through them, to recover some of the costs of running this website and providing free content to help you plan your travel. I appreciate your support!
---