I travelled to Thailand with my parents a few years ago. We were looking to get a taste of Thailand and spent 7 days in Thailand being tourists, visiting the most popular spots as this was the first time we saw an international destination as a family. This 7 days in Thailand itinerary will help you get the most of your family holiday if it's your first time here! Can be used as a 5 day Thailand itinerary too.
While growing up, I realised Thailand was one of the first countries to get famous as an international holiday destination.
The country had become famous as a backpacking paradise (long before Hanoi, or Luang Prabang); however, it had also started to get recognised for its accessibility as a people-friendly destination due to the locals' warmth.
The locals were welcoming and didn't make visitors feel out of place. This was perfect for people visiting an international destination for the first time, especially for ones with kids and parents above a certain age.
Having one of the best cuisines in the world also helped, as no matter who the traveller, there was something to cater for everyone's taste.
I visited with my parents, and I wanted to make sure our first time in Thailand was about introducing them to a culture that was different from theirs yet similar in many ways was the ideal way to ensure they didn't experience culture shock.
Many travel agencies were advertising the perfect Thailand family itinerary to many. However, I was keen to put together an itinerary that was bespoke to our needs. This itinerary shares details of our 7 days in Thailand (not including the days we flew in and out of the country).
During this time, we visited Bangkok, Kanchanaburi and Phuket (including Phi-Phi and James Bond island). I hope this family itinerary for Thailand for 7 days helps you plan your ideal one-week getaway to Thailand.
---
The latest travel advice for travel to Thailand can be found here. Please ensure you check updates for your country before you travel.
---
7 days in Thailand Itinerary
A family itinerary for Thailand
---
HOW TO GET TO BANGKOK
Most international airlines fly to or via Bangkok. The Suvarnabhumi airport (which in Hindi translates to 'Land of gold', but Thailand is called the 'Land of smiles') is the central hub and one of the busiest in Asia, so getting flights to Bangkok shouldn't be an issue.
Bangkok city is located about 30 minutes (32 kilometres) away. However, keep in mind that traffic in Bangkok is unpredictable, and you may be stuck in traffic for a while, especially during the evenings.
Thai Airways, the flag carrier of Thailand, has one of the best services I've experienced, and Thai Smile is their budget-friendly option for travel within the country or to neighbouring destinations.
It's worth spending at least 2 days in Bangkok; however, we spent 3 days in Bangkok as getting some rest and starting with a new day was much needed.
BEST TIME TO VISIT THAILAND – Best to visit during winter which is between November to April when most of the country experiences dry spells and temperatures are pleasant. However since the country is big, there can be spells of rain and depending on where you're planning to visit the weather can vary.
---
DAY 1 – Bangkok
Spend three days in Bangkok on your 7 days in Thailand Itinerary
Bangkok might remind many Indians of Mumbai with its bustling city life speckled with traditions and culture. The traffic might be a stark reminder too!
Once refreshed, the first spot anybody should visit on arrival in Bangkok is the Grand Palace, where the Royal family of Thailand resides and the nearby complex of Wat Pho, which houses Thailand's most extensive collection of images and statues of Buddha.
Visiting the palace grounds and the many open temples in the early morning when the crowds are sparse while admiring the architecture is fantastic.
Next, take a stroll across the street towards the Wat Pho complex to admire the reclining Buddha's famous statue and the surrounding temple grounds.
End your first morning, enjoying heavenly views of Bangkok city, from the top of the Wat Arun Temple, situated by the Chao Phraya river. If you get here just before sunrise, the setting is picture-perfect from the opposite side of the river.
Spend the afternoon riding up and down from the central pier point on the Chao Phraya river in a water taxi.
Not is it relaxing and inexpensive, but you get a good description of the important sites as you pass them. Spend the evening on Khao San road, the 24×7 activity hub of the city.
DAY 2 – Bangkok
Start your day with a mix of relaxation, culture and adventure! Head out as early as possible to the famous Khlong Lat Mayom floating market in Taling Chan, about 10 km east of downtown Bangkok.
Eating here is easily the highlight of your visit to Bangkok, as visitors can order dishes like boat noodles and oyster omelette cooked fresh on a tiny wooden boat stationed besides your table.
You could also head off on a boat tour yourself and order while on it, then continue enjoying your meal as your guide takes you around explaining the floating market's history and culture and why it is an essential livelihood for the people here.
Other things sold at the floating market in addition to fresh vegetables, food and fruits are fresh flowers, home decor, toys and clothing.
Exploring the floating markets takes about three-quarters of your day, so once done, head to your hotel to get some rest before heading out to grab dinner.
Bangkok is also well-known for its party scene so even if you aren't looking to dance the night away at a club, look for a place with good views like the Vertigo and Moon Bar to sip on some excellent cocktails while enjoying an incredible unobstructed 360-degree view of the city.
---
DAY 3 – Bangkok
In the earlier days, the Grand Palace area used to be where Chinese traders usually traded; they then moved to Yaowarat Road, which is where the heart of Chinatown is located.
Whether you are travelling alone or with friends and family, a stopover at Chinatown is a must.
The smells and sounds of this captivating neighbourhood is an outstanding sensory experience. For anyone visiting Bangkok for the first time, a full day spent in the labyrinth of alleys and street food vendors in this buzzing place makes for a memorable last day in Bangkok.
If spending the whole day here isn't something you're keen to do, and if your visit coincides with you spending the weekend (Friday to Sunday) in Bangkok, you could spend part of your day exploring Chatuchak Market.
One of the biggest markets in the country, it is a shoppers paradise, and you should be able to find everything you're looking for here!
Once you've shopped to your heart's' content, head off to grab a nice traditional meal to wrap off the first leg of your 1 week in Thailand.
---
WHERE TO STAY IN BANGKOK
If you're looking to stay in the heart of the city (which is convenient if you're gonna be opting for day trips or move around a lot) these are a few of the best options:
Luxury: Mandarin Oriental Bangkok
Located by the Chao Phraya river, even if this is a hotel, it takes away the hustle and bustle of the city and provides a feeling of calm and zen. It provides a free shuttle boat to Taksin BTS Skytrain Station, City Shopping Complex, ICONSIAM Shopping Mall, River and Sala Rim Naam Restaurant. It is about 2.2 miles from Chinatown and Wat Arun.
Mid-range: Villa Phra Sumen Bangkok
Located a mile away from the Grand Palace, Villa Phra Sumen Bangkok boasts of a private balcony for each room. The lighting across the villas is warm and the place is very welcoming. Worth a stay!
Budget-friendly : Tim Maison Bangkok
Located about 1.3 miles from the Grand Palace, each room is spacious, done brightly and has its own ensuite, private bathroom and air-conditioning.
DAY 4 – Kanchanaburi
Spend 2 days in Kanchanaburi on your 7 days in Thailand Itinerary
Kanchanaburi is located about 150 kilometres away from Bangkok. Despite it being home to the famous WWII Death Railway, built by prisoners of the war and pleasant riverside retreats, few people visit Kanchanaburi, even though it is a little over two hours by road from Bangkok.
As this Thailand 7 day itinerary has Phuket next on the list, it is best to visit Kanchanaburi and return to Bangkok as it's easier to fly to Phuket from Bangkok.
Many prioritized Kanchanburi due to its proximity to the Tiger Temple, a controversial place where visitors could take pictures with tigers and pet them. However, over the years, many now are aware that it's inhumane to have animals treated this way and hence prefer to visit Kanchanaburi now for its rich history and culture.
If you have the budget, depending on how many people you have travelling with you, you should hire a private car to get around or opt for a day trip.
Head straight for a relaxed lifestyle lunch by the riverfront The Village Farm To Cafe once you get here for a hearty meal.
Next, take yourself back in history and visit the Bridge over the River Kwai. Some of you may have watched the movie of the same name, the inspiration for which was this very site. The Bridge is equally mesmerizing at night when lit up. While there isn't much to do around it, there are sometimes some street-food stalls you can grab a bite at here.
If you're looking to learn more about the conditions here during the war, the Bridge and the dreadful conditions of the Allied prisoners of war while building the Bridge, the Death Railway Museum is an interactive way to do so.
Suppose you still have time to spare and aren't tired of visiting museums already. In that case, the Hell Fire Pass Interpretative Museum, which focuses on the creation of the pass by the Allied prisoners of war and local labourers, is a good option.
Enjoy the rest of the evening at the gorgeous open-air Dejtosapak Restaurant for a memorable dining experience amidst green sights.
Later, you can also opt for a raft ride offered by the restaurant to wrap the day up. Once done, head to your preferred resort to spend your first night in Kanchanaburi.
If you're looking to spend just the day here, you probably will have time just to prioritize these two sights.
---
---
DAY 5 – Kanchanaburi
Once you've had your breakfast and are ready to start the day, you could opt to climb the 157 steps to get to the top of the stunning Wat Tham Suea temple. Once you're at the top, you will be rewarded with spectacular panoramic views of the rural Kanchanaburi.
If hiking isn't your thing (is it worth it though), head directly to the JEATH War Museum, which shed light on the state of Kanchanaburi before World War.
The museum is open from 8:30 AM to 6:30 PM.
The rooftop of the museum offers a great view of the River Kwai Bridge from above.
Spend the second half of the day exploring the touristy, recently opened Mallika R.E 124. Perfect if you're tired or have kids, this city put together to showcase people's way of life during King Rama's V's reign; it brings life to the architecture from those times. You can also indulge in street food, local fruits and even buy souvenirs to take back from here.
OR
If spending another day at the museum isn't to your liking, the Erawan waterfalls are located about an hour away and are among the best waterfalls in Thailand.
A waterfall with 7 tiers, the sea-green waters may remind one of Laos's Kuang Si waterfalls. As with Kuang Si, you can swim in the waters here, depending on when you visit.
Return to Bangkok the same day or the next morning, depending on how much you've enjoyed the place and would like to rest.
---
WHERE TO STAY IN KANCHANABURI
If you're looking to stay by the river or enjoy some relaxing time after an intense couple of days here are a few of the best options:
Luxury: U Inchantree Kanchanaburi
U Inchantree Kanchanaburi is a 5 minute walk from the River Kwai, and is on the north bank. It also provides a free shuttle from Bangkok airport and has a pool.
Located 450 yards from The Bridge of the River Kwai, this stunning property features a garden, sun terrace, air conditioning and is very close to most museums.
Budget-friendly : Baan Ma Feung GuestHouse
Located in the heart of Kanchanaburi, just 30 meters from the bus station. It has air-conditioned rooms and a coffee corner.
---
DAY 6 – Phuket
Spend 2 days in Phuket on your 7 days in Thailand Itinerary
The next city on your 7 day trip to Thailand is in southern Thailand; the island territory of Phuket. Since this is a quick trip, the flight+taxi option will take about four hours to reach Phuket. travel optionsHere's if you're looking to book.
Spend your first time away from the buzzing city at Karon beach and then visit the island's most well-known attraction and an excellent viewpoint for Big Buddha.
If you can't keep away from exploring, visit the historical area of Phuket Old Town, which has not just great architecture but many cute cafes and boutiques where you can spend hours on foot. If temples are your attraction of choice, Wat Chalong is the biggest Buddhist temple in Phuket that supposedly houses a bone fragment from Lord Buddha. These attractions help one get away from the beach and taste the island's culture.
If you want to get a taste of the nightlife in Phuket, head to Bangla Road, where you can visit any of the clubs here to spend an enjoyable evening.
First-time visitors must set aside one full day to visit the Phi Phi Islands, located about 50 kilometres away from Phuket. This enthralling group of six islands tower high above the water displaying their incredible limestone cliffs.
To save time, hire a speedboat to get a glimpse of all the islands rather than the slow ferry. If you want a relaxing trip, select one island of your choice and spend the day snorkelling and swimming on that island.
---
---
DAY 7 – Phuket
It's almost the end of your 7 days in Thailand, so it seems ideal to spend the day relaxing in the Pearl of the Andaman Sea and discover the dramatic coast on your own terms.
Hit the Kata Beach or the Nai Harn Beach to spend some time under the shady palms with just a scattered few vendors to keep you company.
If island-hopping is why you're in Phuket, hire a speed boat or opt for a tour that will take you island-hopping around Phang Nga Bay. James Bond Island (of Kaho Na Pyaar Hai and James Bond fame) is located here.
Coconut Island, Ko Lon and Ko He are some other islands you can choose to visit if you'd like to keep away from James Bond (officially Khao Phing Kan or Ko Khao Phing Kan) and Phi Phi.
If you've missed seeing elephants and love wildlife, the Green Elephant Sanctuary Park is the most ethical way of seeing these gentle animals in their natural habitat. You can not only swim with them here but also feed and clean them too.
---
---
WHERE TO STAY IN PHUKET
If you're looking to stay by the river or enjoy some relaxing time after an intense couple of days here are a few of the best options:
Luxury: The Westin Siray Bay Resort and Spa
The property has panoramic views, is located by a peaceful coastline, has a spa and a private balcony with many free classes on offer
Mid-range: The Memory at On On Hotel
Patong Beach is 20 minutes away and the hotel is located in the Old Town that's worth a explore itself. Each room has air conditioning and ensuite private bathrooms.
Budget-friendly : The Rommanee Boutique Guesthouse
Tastefully done rooms, each with a private bathroom and located in the old town, one of the best options for a budget-stay!
---
After spending two days in Phuket, you may fly to Bangkok and get a connecting flight to your destination from the Phuket International Airport or spend some additional time in Bangkok itself.
Thailand may seem like a place to tick off your bucket list but this place has such varied weather, food and sightseeing options available to suit every type of traveller that one visit isn't enough.
Destinations like Chiang Mai, Chiang Rai, Ko Samui, Pattaya, Ko Lanta, Sukhothai and Krabi are just some of the other places worth considering if you have more than 7 days in Thailand.
Thailand may entice you with its food, wildlife and value for money but I'm sure the warmth of its people will have you visiting this paradise more than once in your lifetime!
---
WHAT CAN YOU DO IN THAILAND IN 7 DAYS?
Quite a lot actually yet not too much! You can choose to spend your 1 week in Thailand in many ways. As mentioned above there's so many other non-touristic cities you can pick. There's Ayutthaya, Thailand's Gulf islands, Northern Thailand like Chiang Rai. The options are endless! This Thailand trip itinerary gives you a taste of the cities that are most popular to ease you in.
CAN YOU DO IN THAILAND IN A WEEK?
Absolutely, yet to enjoy this beautiful, friendly destination I'd recommend at least a month! Since that isn't feasible to most, 7 days to 2 weeks is a good amount. Spend at least 3 day in Bangkok and then divide the rest amongst how you'd like to spend it – either island hopping or exploring more cities.
HOW MUCH MONEY DO I NEED FOR 1 WEEK IN THAILAND?
I'd say depending on what your budget is, it can range a lot however for mid-budget travel, about 50 – 70 pounds a day for a family of two including all meals should suffice.
CAN YOU USE TAP WATER IN THAILAND?
Only for showering and brushing your teeth. Drinking it isn't advised but it's best to confirm at your resort.
IS THAILAND SAFE?
Very much so, however, as with each country and city anywhere in the world, be wary of certain areas and ask for recommendations to areas and pubs from your resort/hotel before staying out late pubbing. Be street smart for shopping and it's all right to haggle if done respectfully!
---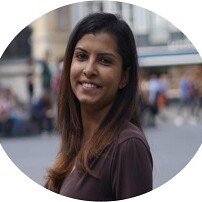 Award-winning Analyst, multi-nominated digital content creator and photographer Lavina Dsouza's words capture stories about culture and tradition mainly through its food and people. She has written and contributed to publications such as The Washington Post, Lonely Planet and Matador Network, to name a few. She is the editor of UntraditionalHumans.com, a non-profit created to share inspiring stories from women of colour who break free from traditions and choose happiness.
She's also a speaker passionate about DEI and champions solo travel. She has collaborated with numerous renowned brands such as Intrepid Travel, TripAdvisor, Travel and Leisure and Adobe, to name a few.
She can be found on Twitter and Instagram.
---
---
Have you ever visited a destination with your family? Where did you visit and how was the experience?
---
---
Some of the links on this post are affiliate links. These do not cost you extra to use, but will help provide Continent Hop with a small commission if/when you purchase through them, to recover some of the costs of running this website and providing free content to help you plan your travel. I appreciate your support!
---