Prague may be popular for its beer gardens and stag parties, but this city comes with a bountiful helping of culture and architecture. There are numerous quirky monuments and statues scattered around Prague that give one a taste of its history and culture. Here are some you should visit!
While heading to my hotel, after an amazing day of trying some of the most scrumptious dishes in Czech cuisine in Prague 7, I watch with a grin on my face as a bunch of drunk Brits on a beer bike pass by.
However, what makes my heart skip a beat are super lean humans with blank expressions on their faces climbing down the stairs, in the background.
It's almost dark and it takes me a few seconds to realise that it's not humans but monuments (or statues) that are placed at the base of Petřín hill, Újezd street in the Malá Strana or the Lesser Town area.
A little shaken with the encounter, I decide to speak to the concierge at the hotel I'm staying at, ask for more info and return the next day to take a closer look at the monuments.
The concierge at the hotel tells me that Prague is rife with such quirky monuments.
They're scattered all around the city, some in the more common spots, others located in areas not frequented by many. Each either tells a story or showcases a piece of art by a famous sculptor.
These silent statutes demonstrate a different side to Prague, one which also prioritises culture and history and makes sure it isn't forgotten easily.
I started my journey to explore this side of Prague by first visiting The Memorial to the victims of Communism.
---
A few monuments in Prague that you shouldn't miss
---
#1 Memorial to the victims of Communism
The super lean statues that startled me earlier are a series of bronze statues by noted sculpture artist Obram Zoubek and architects Zdenek Holzel and Jan Kerel.
The seven bronze statues represent male figures and are broken in several areas, one more than the other, till only a couple of legs remain. These are symbolic of the horrors faced by the victims of Communism in the Czech Republic.
More than two hundred thousand people were persecuted between the years 1948 and 1989 here, when it was formerly Czechoslovakia, for their political crimes. It is difficult for many to understand the symbolism as the statues seem to have undergone wear and tear over the years as well, which is why a metal strip which explains this better has been placed here and runs through the centre of the stairs between the victims.
While it is one of the few monuments that isn't appreciated much due to its troubling state, it is one that conveys the most about the complex history that the Czech Republic has been through over the years.
---
#2 The Lennon Wall
While the victims of Communism are easy to miss, the bright wall full of graffiti which is the legendary Lennon Wall is not.
The only place in Prague where graffiti is legal, it enters a state of disrepair numerous times however looks exemplary after some quick maintenance. It served as an area of protest in the 1960's and was referred to as the Crying Wall. However as soon as the authorities covered the graffiti with paint, new ones were put out almost immediately.
Since John Lennon's songs praised freedom, after his murder in 1980 he became a hero to the locals and his pictures were painted on the wall despite the order of the police and threat of prison. Today the wall not only acts as a memorial to John Lennon but also as a monument towards free speech and non-violence.
---
#3 Man Hanging Out
In the heart of the Old Quarter of Prague, no matter what time of day, you're bound to pass a group of travellers straining their necks to look upwards, to catch a glimpse of the 'hanging' man.
Sigmund Freud, an Austrian neurologist and the founder of psychoanalysis, is the seven foot tall hanging man of bronze, contemplating whether to hold on or let go. It is widely believed that Sigmund Freud suffered from a number of phobias, one among which was his fear of death.
This is one of the many works by artist David Cerny and while there's many conflicting reports on what might possibly be running through Freud's mind at the given time, it surely depicts Freud's internal struggles as the psychoanalyst suffered from anxiety as well.
The Czech capital has an array of sculptures of Sigmund Freud scattered all around the city but the man hanging out seems to be the most popular possibly due to it being very lifelike and its location; on a pole over Husova Street.
---
#4 Babies by David Cerny
Another of David Cerny's masterpieces, these babies which may not seem cute to many, are located across the river in Kampa Park just outside the  Mala Strana Museum grounds.
Some babies are also installed on the Zizkov Television Tower in the eastern area of the city where people sometimes are shocked to see the little ones crawling up and down the pillars of the tower.
About ten babies are located on the tower and were supposed to be a temporary installation, however due to the response they garnered, they were replaced with more durable ones. The ones crawling on the ground were created much later as a means for viewers to see them from up close. However, doing so doesn't make them any less creepy due to their blank garbled faces.
---
#5 The statues of Charles Bridge
The Charles Bridge connects the Prague Castle area with the Old Town. It was erected in place of another existing bridge under the orders of King Charles IV, from where it gets its name and is a great place to take a walk (albeit a very crowded one).
The construction of Charles Bridge started in 1357 and ended almost fifty years later in 1407. It possibly took this long because of the number of Baroque statues which were made, numbering thirty in total, which line up either side of this historic bridge.
The bridge is the only place in the city with such a high density of statues and a must-do for someone who admires architecture and history. These statues ranging from slaves, dogs and numerous saints, clearly depict the effort put in by the artists.
One of the statues is of Saint John of Nepomuk. It is believed that touching the statue brings good luck and helps visitors return to Prague. However, I would advise against it as this causes erosion and may even cause a bacterial infection to the person touching it.
Three bridge towers are also located here which help you see a bird's-eye view of Prague. You can climb to the top of one of these for a nominal price.
---
#6 Franz Kafka's Head
This piece of art which looks like a giant head made up of many layers is used to symbolize the many thoughts and struggles the writer faced throughout his life.
Another one of David Cerny's creations, the 42 layers contained in this statue, moves independently and you have to wait for a couple of minutes for it to reform again, to get an Instagrammable picture!
What's interesting is that these layers can be reprogrammed, so they tend to move differently if so done.
The location of the monument is important too as it is located near a shopping centre in Downtown Prague, near the bustling Wenceslas Square, where Kafka used to head for work.
---
#7 The Embryo
The Embryo is one 'statue' you'd easily miss as it isn't mounted/placed anywhere on the floor.
It is very easy to miss if you aren't leisurely walking through the centre of Prague and paying close attention, as it is mounted on a drainpipe on the facade of the Divadlo Na Zábradlí theatre. It only looks like an embryo when it is lit up faintly at night. During the day it may seem like an abstract installation.
Installed to celebrate the theatre's 50th anniversary, it is again, one of David Cerny's works, however the purpose behind this piece is unclear.
---
---
#8 Proudy (The Piss Sculpture)
For many who aren't aware of the details, it may seem like a monument to dismiss as how could two men urinating be worth visiting when visiting a place such as Prague, however, this is one of David Cerny's more 'advanced' creations and is quite interesting.
This is because, while it may seem like its just two bronze men peeing inside the map of Czech Republic, they are actually spelling out Czech literary quotes with their 'pee'.
Many may not be able to figure this out due to the pool of water inside the map, and it doesn't end here! The messages are customisable and on sending a text to the contact number located near the plaque, these statues will spell out the message sent to it.
---
#9 Upside down King Wenceslas (Prague's upside down horse)
Wenceslas Square is easily the most favourite meeting point in Prague and it reflects the turbulent history of violence and deception faced by Prague, which often remains unknown to visitors to this city. The area can be recognised by the famous statue of King Wenceslas here.
The upside-down horse, which is a reference to this monument, took me a couple of tries to find, as it was located inside the Art Nouveau Lucerna Palace in Prague. It depicts King Wenceslas sitting on an upside-down dead horse and is yet again, one of David Cerny's works.
David Cerny refrained from putting out what his thoughts were behind the piece.
However, many who are aware of the history of this piece believe that it possibly mocks one of the Czech Republic's former presidents and hence provokes outrage in some. This is again one of the many interpretations.
---
#10 The Brown Nosers
Erected in 2003, the Brown Nosers are gigantic sculptures with the top half of their body missing. The bottom half of these sculptures is bent over, exposing a gaping hole in their backsides.
There's ladders propped here, leading one to the butts of this interactive exhibit.
A television screen placed inside these gaps, repeatedly plays a video of two Czech politicians spoon feeding each other to "We Are the Champions" by Queens.
These permanent sculptures being another of David Cerny's works, are supposedly a metaphor to the state of the politics in the Czech Republic.
The Brown Nosers are a little difficult to locate as they're hidden in the garden at the back of the Futura museum, away from the center of the city, but are worth a visit if you're looking to take a look at most of David Cerny's work in Prague.
---
It had been a tiring day but one filled with an immense understanding and appreciation of the history and culture of Prague.
There were quite a few other ones that dotted the city like the Parable with Skull, the London Booster and the In Utero sculpture that I decided to check on my next visit as clearly this city had a lot more going on and food and architecture were just the start.
---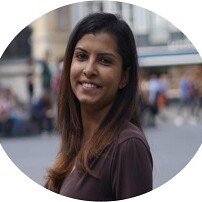 Award-winning Analyst, multi-nominated digital content creator and photographer Lavina Dsouza's words capture stories about culture and tradition mainly through its food and people. She has written and contributed to publications such as The Washington Post, Lonely Planet and Matador Network, to name a few. She is the editor of UntraditionalHumans.com, a non-profit created to share inspiring stories from women of colour who break free from traditions and choose happiness.
She's also a speaker passionate about DEI and champions solo travel. She has collaborated with numerous renowned brands such as Intrepid Travel, TripAdvisor, Travel and Leisure and Adobe, to name a few.
She can be found on Twitter and Instagram.
---
---
This post has been created as a partnership with Visit Czech Republic. As always, all views are my own.
---
HERE'S MORE ARTICLES TO INSPIRE YOU TO VISIT THE CZECH REPUBLIC
---
Some of the links on this post are affiliate links. These do not cost you extra to use, but will help provide Continent Hop with a small commission if/when you purchase through them, to recover some of the costs of running this website and providing free content to help you plan your travel. I appreciate your support!
---