Count Dracula wouldn't have ever existed if it wasn't for Whitby! The moody weather here was perfect for Bram Stoker who penned Dracula in this seaside town. If you're wondering what to do in Whitby, read on to find the Whitby things to do you shouldn't miss, Whitby attractions and things to do near Whitby that are great too!
The clouds slowly start coming in from the sea as it starts getting darker.
The weather has been pleasant so far with intermittent winds. The children continue to build sand castles on the beach while the elders grab some fish and chips in Whitby.
The sea gulls do their best to grab a bite through their hands.
It starts to look ominous as Whitby Abbey and its ruins look almost unrecognisable and it starts to pour. It isn't a surprise that the fictional Gothic character Count Dracula was born here!
While enjoying the atmosphere of the town is a must-do, fossil hunting and a ride in the North Yorkshire Moors Railway are some of the Whitby things to do you should not miss out on! There's quite a few things you can do even on a rainy day!
Here's a comprehensive guide of the things to do in Whitby and things to do near Whitby featuring towns like York, Scarborough and even waterfalls!
---
Whitby – things to do in the town and North Yorkshire
---
Aim for the airports closest to the Yorkshire Coast like Leeds, Durham or Newcastle to reach Whitby by flight.
Whitby operates on the Northern Trains service and it is easily accessible by both London and York (with changes).
Buses are the most affordable way to reach Whitby and there are plenty of buses that run to Whitby regularly. Look for the Coastliner Bus for the most convenient trip while soaking in the sweeping views of Yorkshire. The bus Whitby to Scarborough is convenient and known for its mesmerizing landscapes you can look out of your window, as you pass time.
---
Bagdale Hall Hotel is one of the best places to stay in Whitby. Located right at the heart of the town, this hotel once used to be a Tudor Manor House back in 1516 and is just 750 yards from the beach!
Ellerton Cottages are perfect for those looking for cottages in Whitby to rent. Just a few miles from Captain Cook Memorial Museum and Sneaton Castle, these luxurious cottages offer many facilities, with a view of the sea!
---
---
---
Whitby Beach is the most popular beach in the town and is a hotspot for family vacationers. Some of the best Whitby fish and chips can be found here.
One can indulge in swimming or surfing here on a bright sunny day, or take a hike up the cliffs if that's what you fancy more. If you'd like to explore the local marine life, Whitby Beach also has interesting rock pools to look out for, making for a fun experience with kids in Whitby.
---
Entry fee: None
Address: Whitby Beach
Visiting time: Open all day
---
The 199 Steps is one the most stunning sunset points in Whitby. This is one of the most popular things to do in Whitby – and rightfully so! Though believed to be much older, the first record of this historical site comes from 1340, back when these steps were made of wood.
It was only in 1774 that the wooden steps were replaced with stone. The trying 199 Steps are considered as a measure of faith for those who wished to worship at the St. Mary's Church. The steps connect the Whalebone arch to Whitby Harbour.
---
---
From atop the 199 Steps, one can go further and explore the ruins at the famous Whitby Abbey. Situated on the East Cliff overlooking the North Sea, this Benedectine Abbey once used to be a Christian monastery back in the 7th century.
In popular culture, Whitby Abbey shot to fame when the 1897 novel 'Dracula' written by gothic writer Bram Stoker was set here. After passing down a long passage of history, the Abbey today remains mostly in ruins but is still one of the top things to do at Whitby.
Truly, nothing can compare the vantage view of the coastline and the town one can get from up there while taking in its English heritage and checking things off your Whitby things to do list!
---
Entry fee: Member: Free, Adult: £7.90, Child (5-17 years): £4.70, Family (2 adults, 3 children): £20.50
Address: Abbey Lane, Whitby
Visiting time: 1 Apr-30 Sep: daily 10am-6pm, 1-28 Oct: Thu-Mon 10am-4pm, 29 Oct-2 Nov: daily 10am-4pm, 3 Nov-17 Feb: Sat-Sun 10am-4pm, 18-22 Feb: daily 10am-4pm, 23 Feb-28 Mar: Sat-Sun 10am-4pm, 24-26 Dec and 1 Jan: Closed
---
Fossil Hunting at Saltwick Bay Beach
Saltwick Bay is located about 2 miles west of Whitby and makes for a beautiful short walk not only for its splendid views of the rugged North Sea but mostly for the many fossils one can look for and collect on this trail.
There are several ammonites, and shell and reptile fossils that can be found in Saltwick Bay. Of these, the ammonites can be split from rocks easily and are found by the shore aplenty.
Jet, another kind of fossil found here in abundance, is considered a gemstone and is popular in jewellery making – some of which can be seen and bought from the Whitby Heritage Jet Centre.
---
Entry fee: None
Address: Saltwick Bay, Whitby
Visiting time: Open all day
---
The Whitby Harbour is located in the estuary of River Esk that flows through Whitby before draining into the North Sea. Whitby Harbour is one of the most beautiful places to visit in Whitby – especially for a late evening stroll.
Walking through the harbour, at Scotch Head Bandstand, you will find several musicians playing for passers-by – making it quite a romantic evening in Whitby with your loved ones.
---
---
Have or buy the catch of the day
Fortune's Kippers is a historically important site in Whitby. This smokehouse was first opened in 1872 by William Fortune and still operates at the same site by the Fortune family's fifth-generation!
They are best known for their kippers – a way to smoke Herrings using only beech, oak and softwood. If you like seafood don't miss out. Or you could just buy some for later!
Located over River Esk, the Swing Bridge at Whitby Harbour is a fascinating place to be – especially during the two-hour-long bridge opening that takes place on whether sides of the high tide.
Before the bridge opens, the bridge men ring a handbell to mark the event and one can see the 75 feet long roadway opened up, with its street lights on!
---
Address: Bridge Street, Whitby
Visiting time: Opens two hours before high waters and two hours after high waters
---
The Whalebone Arch is a testament to an era when sailors used to brave the waters of the North Sea in the hunt of these great marine creatures for their whale oil which brought in great fortune for those who managed a successful catch.
In 1853, the Whalebone Arch was erected on the town's West Cliff to honour its whaling culture. In 2003, the original arch was replaced by the jawbones of a Bowhead whale which was legally hunted by Alaskan Innuit's.
The original bones of the arch are now housed at the Whitby Archive Heritage Centre. Today, this place is one of the most popular 'Instagrammable' spots in Whitby, offering awesome photo ops for visitors.
---
Entry fee: None
Address: North Terrace, Whitby
Visiting time: Open all day
---
The Cinder Track Biking Trail
The Cinder Track is a popular biking trail between Whitby and Scarborough that once used to be a railway line between 1885 and 1965.
This off-road route is beautiful and scenic and passes by some quaint bays like Cloughton Wyke and Crook Ness for a short, relaxing break. This trail is named after its unique cinder track ballast, instead of the commonly used crushed stone ballast.
The distance between Scarborough and Whitby through the Cinder Track is about 21.5 miles, which now forms a very popular cycling track in the North York Moors National Park and popular with Whitby things to do.
Entry fee: None
Visiting time: Open all day
---
If you're wondering about what to do in Whitby that's a little offbeat, the 6-mile-long walk from Robin Hood's Bay to Maw Wyke Hole is one of the most popular hiking trails in town, and also one of the most fun things to do in Whitby.
Passing through Ness Point, one of the very treacherous headlands along the Yorkshire coastline, this trail is equal parts adventurous and fun. Along the route are patches of wildflowers and hedgerows that make for good rest points and great photo ops!
The Maw Wyke Hole is a sheltered inlet that becomes a common nesting place for many kittiwakes during the season. The trail has more avifauna on offer including the Herring Gull, Lesser Black-Backed Gull and Black-Headed Gull.
Entry fee: None
Visiting time: Open all day
---
North Yorkshire Moors Railway Ride
The North York Moors Railway Trust is a not-for-profit heritage railway organization that is run purely by volunteers and works towards railway conservation.
Running through the vast, beautiful landscapes of North York Moors National Park, this railway line was first opened in 1831 to open up new trade routes to and from the seaport of Whitby.
This is a unique ride because the trains on this line still work on a steam engine. There are six stations on this line and with each, the sweeping views of the English countryside only seem to be getting prettier!
If you have the time and are looking for some Instagrammable opportunities, this unusual Whitby tourist attraction is worth checking out and adding to your itinerary.
---
---
The River Esk and its valleys are some of the most unspoilt in all of England. At Whitby, the river also forms an estuary before draining into the North Sea, attracting a very diverse avifauna and seafood in the region.
Several boating and cruise services run up the Esk River, some even passing through the mesmerising Larpool Viaduct. There is also the option of renting your kayak and paddling away to glory as you spot the area's local wild and marine life, making your Whitby things to do experience worth it!
---
Entry fee: Varies, depending on boating service
---
Best Places to visit near Whitby
---
Robin Hood's Bay is a tiny fishing village located close to Whitby – just about 6 miles south of Whitby. This sleepy little village falls on the Cleveland Way Train Line and is also the last point on the Coast to Coast walking route.
The history of the village's name goes back to an English legend that recounts French pirates coming to plunder the fisherman boats who eventually surrendered to Robin Hood, who then distributed the loot to the village's poor.
This sleepy little village makes for a great day trip that almost transports its visitors to a time long forgotten. The traditional fisherman's pubs, cobbled streets and a swim at Robin Hoods Bay Beach during low tide are some of the best things to do near Whitby.
---
The Falling Foss Waterfall is a 30 feet drop waterfall located about 6 miles from Whitby, in an ancient forest of the North York Moors National Park, that also houses a massive tea estate by the same name.
One can soak in the views of this magical waterfall from the tea garden itself, before heading down to take a dip! The trail begins from the tea gardens, down to the 18th century Hermitage Cave carved out of a single, massive boulder.
From here, you will eventually find yourself at a small footbridge at the bottom of the hill before having to clamour your way through a fallen tree to reach the other end of the stream and finally the waterfall!
The route is long but is fairly doable apart from the last bit which makes it a real challenge. A challenge well worth it, at that – making it one of the best places to visit near Whitby.
---
Entry fee: None
Address: North Terrace, Whitby
Visiting time: Waterfall is open all day, however the cafe is open 10 AM – 4 PM, details can be found here
---
Scarborough is a quaint seaside English town located about 20 miles south of Whitby. Its perfectly sandy beaches are best known for donkey rides in the summers, making it a favourite for family vacationers! Scarborough Fair is another one of this town's prime attractions.
Traditionally in the Middle Age, this fair was a massive 45-days long event in which traders from as far as the Byzantine Empire, Baltic states, Norway and Denmark made their way to the important port town of Scarborough and participated in trading activities.
This fair also finds a mention in the traditional English ballad titled 'Scarborough Fair'. Today, the traditional fair no longer exists but the town still hosts it annually in September to showcase English heritage.
Other places of interest in Scarborough include the seaside Scarborough Castle perched atop a cliff and the Sealife Sanctuary where you can see marine life including whales and sharks up close.
---
---
York is a town located in the heart of the historical Yorkshire county. This place holds a special place in English history and is known for its Roman and Viking heritage, Tudor houses, medieval architecture and its grand, imposing cathedral.
Not only is this town historically important, but is also the centre point for some of the best English pubs and shopping opportunities. On top of your list on York should be The Shambles Street which used to house butcher shops in the Old English era, but now has some of the fanciest pubs and boutiques to check out!
Other things to do in York include checking out the York Minster, the largest medieval cathedral in Northern Europe, and a stunning Gothic site for architecture buffs. Walking along the medieval city walls of York is also an activity in itself, giving you all the perfect photo ops for those Instagram shots!
---
North York Moors National Park
If there's one thing North York Moors National Park is known for, is its massive expanse of heather moorland – the largest in all of the United Kingdom! This vast national park is known for a variety of landscapes.
To the east is the coast running along the North Sea with its rugged landscapes and awe-inspiring cliffs dotted with sleepy little fishing villages.
The natural history of the park varies from vast moorlands of cotton grass, peat moss, heather, bilberries etc. to limestone valleys that attract a variety of birds like wagtails, swallows, flycatchers, dippers and kingfishers.
North York Moors National Park makes for a perfect place for outdoor and nature enthusiasts with plenty of hiking, running, horseback and biking trails.
---
Entry fee: None
Address: North Terrace, Whitby
Visiting time: Open 24 hours, more details and trails can be found here
---
Best places to eat and drink in Whitby
Magpie Cafe
It is often said that Whitby and fish and chips are synonymous with each other. This classic British dish goes a long way in this tiny port village, and Magpie Cafe is renowned for its fish and chips Whitby best and other seafood. Another place to try out is the Fisherman's Wife, known for its traditional fish and chips in Whitby.
Whitby Brewery
While urban breweries have taken up cities like London by a storm, one can still experience the good ol' traditional English ales at the Whitby Brewery. With an open courtyard setting and their taphouse, this finds a top spot on your Whitby places to visit list!
Rusty Shears
Rusty Shears is a vintage cafe and tearoom that is known for an incredibly vast menu – especially that of its 100 different kinds of gin! This is also a great place for vegan food in Whitby and their brunches which feature smoked bacon from Fortune's are worth every penny!
Trillo's of Whitby
Trillo's is a small ice cream truck located on Spring Hill in Whitby. It was first founded in 1912 by the Trillo brothers when the Trillo family moved here from Italy. Their ice creams are award-winning and the cinder-toffee flavour makes a mark on one's taste buds! Trillo's 'Whitby Gothic' ice cream, flavoured mainly with blackcurrants, is also a great Whitby tourist attraction.
---
Is Whitby worth visiting?
The vast, endless landscapes of the Yorkshire coast – the river Esk, the North Sea, the cliffs, piers, lighthouses, beaches and the old world charm of its little fishing villages like Whitby, all make the visit worth every while. Its cobbled streets, traditional English legends, food and beer make for some of the best Whitby attractions.
What is there to do in Whitby on a rainy day?
Though Whitby can be best enjoyed on a bright sunny morning, rainy activities in Whitby are equally fun. Checking out the many museums in Whitby like Captain Cook Memorial Museum, Victorian Science Museum, Cleveland Ironstone Mining Museum and Whitby Museum can be all explored for their various charms and learning experiences.
But if you're not too much a museum person, perhaps try the Pannett Art Gallery, catch a play, a movie or a musical performance at Whitby Pavillion, or treat yourself to a nice, big meal at one of Whitby's many restaurants, cafes and pubs.
What is Whitby famous for?
Whitby has always been an important part of the Gothic Age, especially thanks to the novel, 'Dracula'. The Gothic architecture of Whitby Abbey is yet another example of that.
The Whitby Goth Weekend is an annual local festival that celebrates the village's Gothic history. Apart from this, Whitby is known for its long history of fishing, whaling, and legends surrounding it, like that of Robin Hood's Bay.
Did Dracula come to Whitby?
Though the novel 'Dracula' written by Bram Stoker is set in Austria, much of the novel was inspired by Stoker's own holiday to Whitby. Some might even have you believe that Count Dracula was buried in Whitby, though people often forget that Count Dracula is, in fact, a fictional character!
---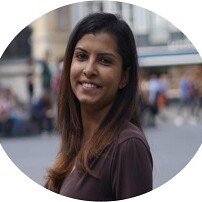 Award-winning Analyst, multi-nominated digital content creator and photographer Lavina Dsouza's words capture stories about culture and tradition mainly through its food and people. She has written and contributed to publications such as The Washington Post, Lonely Planet and Matador Network, to name a few. She is the editor of UntraditionalHumans.com, a non-profit created to share inspiring stories from women of colour who break free from traditions and choose happiness.
She's also a speaker passionate about DEI and champions solo travel. She has collaborated with numerous renowned brands such as Intrepid Travel, TripAdvisor, Travel and Leisure and Adobe, to name a few.
She can be found on Twitter and Instagram.
---
---
---
Some of the links on this post are affiliate links. These do not cost you extra to use, but will help provide Continent Hop with a small commission if/when you purchase through them, to recover some of the costs of running this website and providing free content to help you plan your travel. I appreciate your support!
---