Getting from Limassol to Larnaca isn't too tiring and takes less than an hour. Both Limassol old town and Larnaca old town are beautiful and worth visiting. Larnaca is also a good pit stop enroute to Ayia Napa. Read on for more details.
Limassol promenade was refreshing. Not only was a balmy sea-breeze blowing, locals and visitors were engrossed in enjoying some of the freshest seafood by the beach.
The Prokymea (Molos) Sculpture Park which had sculptures by Cypriot, Greek and other international artists was also located here.
Limassol, known for its castle had numerous historic attractions with the Cyprus medieval museum being home to a collection of pottery and tombstones which was centuries old.
After spending a day in Limassol I was excited for the next pit stop on my Cyprus itinerary, Larnaca.
Larnaca was another town on the coast and was popular for its beaches lines with palm trees. Its promenade was as pretty as Limassol if not prettier.
Another shipwreck MS Zenobia, a popular dive site was located close to Larnaca and while I don't dive myself I was excited to see the location and compare it to the Edro III shipwreck.
If you've got Larnaca on your itinerary too, here's how to get from Limassol to Larnaca.
---
How to get from Limassol to Larnaca
---
The best thing about getting to Larnaca is its easy accessibility and connectivity. Here are some ways to cover the Limassol to Larnaca distance –
The Limassol to Larnaca airport bus

From Limassol to Larnaca by renting a car

From Limassol to Larnaca by bus

From Limassol to Larnaca by taxi
---
From Limassol to Larnaca by using the Limassol to Larnaca airport bus
The airport bus from Limassol to Larnaca airport is convenient if you need to get from one airport to another. However, this option is the most suitable if your end destination is Larnaca and you're not on a road trip and keen to explore the sights on the way.
The Limassol Larnaca airport express connects both the airports, so if you're looking to head to Larnaca town, you will have to take a cab or an alternate means of transportation.
Timetables for the service can be found here and there's one service that also takes you to Paphos airport as well.
If you're planning to go from Limassol town please refer to the 'Limassol to Larnaca by bus' as another bus leaves from Agios Georgios Chavouzas Church 1 to Larnaca Airport.
The total duration takes about 50 minutes to an hour depending on traffic. Buses leave every 30 to 45 minutes so the wait isn't too long.
If you're a little unsure about tickets and need to get to Larnaca at a specific time you can arrange private transfer that start from 80 Euros over here.
---
Limassol to Larnaca airport bus tickets
Tickets for the Limassol to Larnaca airport bus cost about 10 Euros per adult and 5 Euros per child ages 3 – 12 one way. Free for kids below 3 years of age. This price is applicable to get to Larnaca as well as Paphos.
Tickets can't be purchased online and need to be purchased from the driver directly from the bus stop.
---
From Paphos to Limassol by renting a car
Getting from Limassol to Larnaca by renting a car is a good option if you're planning to spend some time in the country on a road-trip and have quite a few stops on your Cyprus itinerary.
While public transport isn't too bad in Cyprus, it can get quite hot in the country especially in summer with temperatures reaching above 40 degrees at times thus renting a car makes it very convenient at such times.
You can rent a car directly from the Limassol airport however there are many places in Limassol town too where you can rent a car.
If you have your dates booked and know exactly when you're visiting Cyprus, booking a car in advance is recommended especially in summer as families tend to book cars as it is convenient when beach hopping.
It takes about 45-50 minutes to cover the Limassol to Larnaca distance which is about 68 kms.
Hiring a car is also preferred if you have a lot of luggage and need to get to the airport in Larnaca and want to make sure you don't miss your flight!
Private cars, including mini vans can be hired to seat 2 – 15 people. You could also choose to head to town and explore it once you arrive, then hire a car a few days later.
Car rental prices vary a lot depending on the size of the car and the days it is needed for, however for 2 people, it can start anywhere from 50 Euros for a day.
Where to Stay in Limassol
There are many types of accommodations in Limassol which cater to the choices of all kinds of travelers.
I suggest staying for a couple of nights in Limassol before traveling to Larnaca. This will give you some time to explore the wonderful city and relax around its pristine beaches.
Luxury hotels in Limassol  – Consider staying at the Alasia Boutique Hotel if you are travelling with children or are looking for hotels in Limassol that are good for families. This hotel is close to the city's centre and is only a 20-minute walk from the beach. It has all the amenities you might want for a peaceful stay.
I highly advise staying at Crowne Plaza Limassol if you don' mind being a little outside of the city centre. Over the years, visitors have left a tonne of positive reviews for the spa and wellness centre here.
Apartments in Limassol – Darlex Apartments near Galatex Beach is my choice and recommendation as the location is just perfect, just minutes away from Galatex beach.
These Limassol apartments are reasonably priced and come with all the essentials, such as TV and a kitchen.
Budget hotels in Limassol – If you're on a tight budget, there are many affordable hotels in Limassol, with excellent accommodations as well as basic amenities.
I stayed at the La Village Hotel since it is close to Limassol Beach and the staff can assist you in planning a variety of local excursions and water sports. Also helpful is the free parking area! Book here.
---
From Limassol to Larnaca by bus
If you'd prefer not taking the direct Limassol to Larnaca airport bus that takes travellers from one airport to another, then opting for the shuttle bus is an option especially if you're looking to alight someplace else in town.
The buses are comfortable and usually have a small washroom on board. They're also air-conditioned which helps when it is quite hot in summer. Luggage price is included in the price of the ticket and isn't charged extra.
The tickets cost about 9 Euros for an adult and about 4 Euros for children aged 3 – 12. Kids below 3 go free.
Buses start as early as 4 AM and run till 11.30 PM every day. Frequency is every 30 to 45 minutes with more buses running during peak hours. Buses leave from the Agios Georgios Havouzas Church to Larnaca Airport in Limassol and take about 50 minutes to get to Larnaca depending on traffic. A few routes and return journey details can be found here.
How to get from Limassol to Larnaca – Via day tour
Day tours are the most convenient way of exploring a town if you'd prefer to relax and not drive yet enjoy the sights around.
There's many tours that run from Limassol that cover not just Larnaca but many other exciting destinations around Cyprus. If you're a little unsure about tickets and need to get to Larnaca at a specific time you can arrange private transfer that start from 80 Euros over here.
If you're keen on trying what Cyprus has to offer, this day tour that takes you to the Blue lagoon is highly recommended and includes the highlights for Akamas as well.
If you're a foodie like me, then heading off on a flavours tour is great as you can try some of the best traditional Cyprus food at the best restaurants. Cypriot food is some of the tastiest out there!
---
Getting from Limassol to Larnaca via taxi
The best option if you're not looking to drive, need to get to Larnaca just once or are facing issues hiring a car.
Taxis at both the airports are charged by the meter and are not fixed price. As such prices vary a little depending on where you need to get from the airport or town.
Prices start from 50 Euros and it takes about 40 minutes depending on traffic to get from Limassol to Larnaca and Larnaca to Limassol as well.
Taxis are available as soon as you step out of the arrivals terminal
---
Attractions / Things to do around and on the way from Limassol to Larnaca
---
Ancient Kourion
Limassol holidays are incomplete without visiting ancient Kourion which has some well-preserved archaeological ruins. Full of dramatic structures that date back to the 2nd century B.C the amphitheatre and the mosaics are worth visiting inside Kourion.
From here you will also find panoramic views that stretch to the sea!
---
DETAILS
Ancient Kourion
Address: Kourion, 19km west of Lemesos on the road towards Pafos (Paphos)
Timings: September 16 – April 15, daily: 08.30 – 17:00, April 16 – September 15, daily: 08:30 – 19:30
Cost: About 2 Euros, 1.70 to be precise
---
Kolossi Castle (Limassol Castle)
This fortress was built by Guy de Lusignan in the 1120's and has seen the growth of Limassol throughout the years. It houses the Limassol Medieval Museum which features a number of exhibits featuring Byzantine-era silver plates, coins, and tombstones as well as medieval pottery.
An hour long visit here is one of the top things to do in Limassol because of the combination of the castle and the museum.
---
DETAILS
Limassol Castle
Address: M2CR+WJV, Limassol, Cyprus
Timings: 8 AM – 5 PM from Monday to Saturday, from 10 AM to 1 PM on Sundays
Cost: The entry fee for Limassol Castle is €4.50
---
The Sanctuary of Apollo Hylates
The Sanctuary of Apollo can easily be visited from Kourion as it is a quick 6 minute drive from Kourion. It is a temple site with a small but clean park and some well-preserved ruins.
Built in the late classical or early Hellenistic period, it was a single construction and is't too vast. Over the years it has undergone many modifications for preservation. It was first destroyed substantially by the earthquake of 364 AD.
---
DETAILS
The Sanctuary of Apollo Hylates
Address: MVF7+6G3, Episkopi, Cyprus
---
Molos and Limassol's marina
You have to visit Molos if you are on a budget and looking for free things to do in Limassol. The area is filled with small parks and playgrounds and is lined with cafes and shops, making it into a vibrant waterfront for everyone.
Want to try your hand at fishing? Or tryout some skateboarding? Or all you want is to relax under a tree and feel the cool ocean breeze?
Visit Molos.
---
Limassol Marina
Address: Limassol Marina St 3601, Limassol, Cyprus
Cost: Free
Church of Saint Lazarus
The Church of Saint Lazarus is one of the most impressive structures in Larnaca and can be easily found in the center of town in Larnaca.
Apparently according to legend, Lazarus lived in Larnaca at this spot, after he rose from the dead and was buried here after his death. Due to this many religious people tend to visit the Church often.
There's quite a few paintings here of the Virgin Mary and Child and across the Church the Byzantine Museum is located that contains many religious relics.
---
DETAILS
Address: Ayiou Lazarou, Larnaca, Cyprus
Timings: 8 AM – 6.30 PM everyday, except Sundays. On Sundays 6.30 AM -12.30 PM and 3.30 PM to 6.30 PM
Cost: Free
---
The beaches in Larnaca
The beaches tend to get more stunning and less busy the further you head to the East in Cyprus. While it is said that Ayia Napa has some of the best beaches, Larnaca has some great ones too.
Some of the best beaches in Larnaca are:
Perivolia beach

Cape Kiti beach

Mackenzie beach
As with most European destinations, most beaches will be busy when the waters are warm from May to August. Visiting Cyprus in September is recommended for this reason as waters still tend to be warm yet the crowds are almost half.
---
Diving around Larnaca
Cyprus is one of the best places for diving in the world as in addition to natural shipwrecks like the Edro III shipwreck, many trawlers are sunk on purpose and maintained properly to ensure that they do not cause any harm to the environment.
The MS Zenobia is located close to Larnaca and is suitable for all levels of divers.
Many diving organisations offer tours that take you from Paphos and Limassol directly to the dive sites so you can spend the whole day in the company of marine life, relaxing and without worrying about logistics. They also provide equipment if needed.
---
Kamares Viaduct
Kamares viaduct is easy to miss if you're not paying attention however it is quite an impressive structure and provided Larnaca with water till the 1930s. Constructed in the Roman era style, the viaduct was built using the latest engineering techniques at the time.
Definitely a good spot if you're looking for some Insta pictures without the crowds!
---
Cyprus isn't massive however there's much to do in the country especially if you like history and architecture.
This country should be included in your European itinerary as even though it isn't unknown it still has some of the best beaches and attractions that many don't tend to visit!
---
Limassol to Larnaca frequently asked questions
How much is a bus from Larnaca to Limassol?
A trip from Limassol airport to Larnaca airport costs about 5 – 8 Euros. The distance between the two is about 67 km and will take about 2 hours to reach your destination.
Is there a bus from Paphos to Larnaca?
There is a direct bus from the Municipal Market station which arrives at the Municipal Library 2 from Paphos. This bus runs once daily and operates everyday. It takes about 1 hour 44 min to reach your location.
Is Limassol worth visiting?
Limassol is definitely worth visiting on a day trip. Once you get here, you are sure to come across the marina, which is worth a walk. Ample parking and refreshments can be found here.
---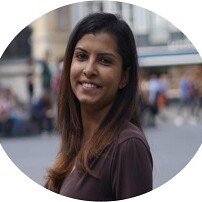 Award-winning Analyst, multi-nominated digital content creator and photographer Lavina Dsouza's words capture stories about culture and tradition mainly through its food and people. She has written and contributed to publications such as The Washington Post, Lonely Planet and Matador Network, to name a few. She is the editor of UntraditionalHumans.com, a non-profit created to share inspiring stories from women of colour who break free from traditions and choose happiness.
She's also a speaker passionate about DEI and champions solo travel. She has collaborated with numerous renowned brands such as Intrepid Travel, TripAdvisor, Travel and Leisure and Adobe, to name a few.
She can be found on Twitter and Instagram.
---
---
---
Some of the links on this post are affiliate links. These do not cost you extra to use, but will help provide Continent Hop with a small commission if/when you purchase through them, to recover some of the costs of running this website and providing free content to help you plan your travel. I appreciate your support!
---