Switzerland in spring is quite refreshing as while it may be colder than summer time it means you get to see spring in Switzerland without the crowds. While you may still need to layer up, it also means budget-friendly stays, even in places like Lucerne and Zurich! Here are the best places in Switzerland in spring you shouldn't miss!
Switzerland has been and will always be one of the most romantic places that people tend to pick for honeymoons. Yet, this beautiful and rugged region is home to the best hikes and outdoor activities on the planet.
Switzerland also boasts some of the freshest air in the world.
All of this comes at a price of course as Switzerland is one of the pricier destinations in the world, not just Europe. This is why Switzerland in spring is one of the best times to travel to Switzerland.
Switzerland in April may not be one of the warmest places in Europe in April, but it definitely is refreshing.
Sure, Switzerland is a place which is a great choice even in winter, especially for skiing and winter sports, however, if you're not someone who loves the cold and bundling up, are looking to avoid the insane crowds that fly to places like Lucerne and Matterhorn, then spring in Switzerland is an ideal time to visit.
Lush fields and cattle everywhere, stunning sunrises and sunsets and if you choose to go on hikes, hazy mornings full of drama in the Alps. Here's all you need to know to plan a trip to Switzerland in spring.
---
Switzerland in spring: the best places to see, things to do and pack!
---
When is it spring in Switzerland?
---
Switzerland experiences the spring season from the end of March to the beginning of June.
Switzerland in spring is chilly and dry at the beginning, i.e., in March. But it gets warmer as the season proceeds towards summer after May. The climate is more than pleasant in the spring months, April and May.
Hence, these months also make it the best time to travel to Switzerland. Though the weather is warm in most parts of the country, some areas in Switzerland have snow-covered mountain peaks, making Switzerland's springtime a bit more exciting!
---
Spring in Switzerland in March
---
Weather in Switzerland in March
March in Switzerland marks the end of the winter season and the beginning of spring.
The average temperature at the start of the season ranges between 8 to 11 degrees Celsius. Spring begins to pick up from the southern regions keeping the northern part of Switzerland still covered in blankets of snow. Southern Switzerland in March has beautiful stretches of lush greenery and astonishing landscapes, making it the best time of year to visit Switzerland for sightseeing.
If you are looking forward to skiing, heading north is the perfect thing to do. Because it is the end of winter, you may expect a less chilly climate, making it more enjoyable for ski rides!
Monthly rainfall averages for March: 33-97 mm (1.3-2.8 in), which varies a lot from North to South, the highest is 255 mm in Santis and 150 mm in Mount Pilatus
Daily temperature averages (High) for March: 11°C
Daily daytime temperature averages (Low) for March: 8°C
Daily daylight hour averages for March: 8-9 hours
---
Things to do in Switzerland in March
Be a part of Basel Fasnacht
Basel Fasnacht is one of the most significant events in Switzerland. It is celebrated between February and March.
This UNESCO-recognized festival lasts three days, starting Monday after Ash Wednesday. The carnival participants dress in bright clothes and masks and march in parades with an orchestra.
So, if you are going to be present in Switzerland in spring anytime between the end of February and the beginning of March, you must witness the vibrancy of Basel Fasnacht.
A traditional spring festival is marked to wave goodbye to the winter season and welcome warmth for prosperity and well-being.
Celebrated on March 1st, Chalandamarz takes place in most places in Switzerland by ringing bells, wearing beautiful costumes, singing songs, playing instruments, and enjoying delicious traditional food. It is an experience you should not miss if you are visiting Switzerland in spring.
---
Places to see in Switzerland in March
The Switzerland spring season is a good time to visit places that need more time exploring, especially cities that tend to get crowded in summer. Here are the best places to visit in Switzerland in spring especially if you are going to Switzerland in March.
Located in the south, Zermatt is a mountainous region with some of the best picture-postcard views of Switzerland in its natural beauty. Located just below Matterhorn, this place is a must-visit in March since it is famous for various adventure activities. You can explore nature's abundance as you go skiing, hiking, climbing, and sightseeing.
Apart from that, you may also want to enjoy food at some great restaurants in the vicinity, go shopping in the stores nearby or even have fun ice-skating.
Lake Geneva is beautiful year-long, but spring makes it prettier. If you are a water baby, you can enjoy activities like skiing, boating, scuba diving, and windsurfing near Lake Geneva.
You probably shouldn't miss visiting Swiss National Park. The territory is known as a World UNESCO Biosphere Reserve and has brilliant natural beauty.
The park is home to magnificent views of snow-covered mountaintops and rare wildlife. Swiss National Park is one of the best places to visit in Switzerland in March, for it gets covered with greenery once spring arrives making it quite pleasing to take a walk here.
---
---
Spring in Switzerland in April
---
Weather in Switzerland in April
Spring is at its best in Switzerland in April. If you are looking for the best places to visit in Switzerland in April, you won't be disappointed. If you are wondering what the weather would look like in Switzerland during April, here's everything you must know.
The average temperature during April in Switzerland is 15 degree Celsius. However, the temperature may drop to 6 degrees Celsius at night. In some cases, expect light rainfall.
But an average day in April in Switzerland consists of at least six hours of sunshine; if you are lucky, you can also catch rainbows!
Monthly rainfall averages for April: 40-85 mm (1.6-3.3 in)
Daily temperature averages (High) for April: 15°C (56°F)
Daily daytime temperature averages (Low) for April: 8°C (42°F)
Daily daylight hour averages for April: 8-9 hours
---
Things to do in Switzerland in April
If you are looking forward to visiting Switzerland in April, here are some of the festivals and events you should not miss.
Attend Lucerne Festival

It is one of the most famous events in Switzerland in the world of classical music. Lucerne festival hosts a series of music shows that attract a worldwide audience.

You will find world-famous orchestras and famous artists if you plan on visiting the Lucerne Festival.

The event takes place between the end of March and the beginning of April and is one of the most-visited places by tourists who come to Switzerland in spring.
Attend Zurich Spring Festival

Also called Sechseläuten, the third Monday of April marks the celebration of this festival. Easter has its roots in Christ's Resurrection and is celebrated to welcome summer.

People gather from different parts of the world to join their friends and families on the day of celebration. The locals go to a Church for service followed by a traditional meal.

As a tourist, if you are visiting Switzerland around Easter, you can get a chance to enjoy Zurich city breaks with live music, fireworks, tasty food, flower decorations, flags, and so much more.
Caprices Festival

This internationally recognized festival, Caprices is known for its Modernity stage. If you have always dreamed of having a musical weekend up on a scenic mountaintop, this is for you.

Set up on the top of the Swiss Alps in the ski resort of Cras Montana, it is an experience filled with lots of excitement for tourists. So if you are present here in April, take the chance to party in the mountains with electrifying music.
---
---
Places to see in Switzerland in April
There are great places to visit in Switzerland in April.
Located on the border of Zurich and Schaffhausen, Rhine Falls are one of the best and most powerful waterfalls in Europe. Rhine Falls are a must-visit spot if you visit Switzerland in spring.
The high volume of water makes it a stunning site to be at in April in Switzerland. You can take a boat to reach the falls or even take the adventure trail. You could also watch the waterfalls from the viewing platforms.
Situated to the North of the Alps, in Bern, this lake is one of the five deepest lakes in Switzerland. Surrounded by tall and beautiful mountains, waterfalls and lush greenery, the lake looks surreal. The colours of spring make the place come alive thus making Lake Brienz a spectacular site.
Apart from relaxing in nature, you can also spend time here indulging in adventure activities.
Placed between the Jura mountains, and the Alps, Geneva is a city located in the south of Switzerland.
The city is known for its breathtaking views of Mont Blanc. Geneva could be one of the cities you could start your Switzerland itinerary if you are visiting Switzerland in spring.
It is a place to see if you are fond of history, culture, knowledge, nature, and modern architecture.
---
Spring in Switzerland in May
May in Switzerland is regarded as the start of the shoulder season meaning there are more tourists in May than in March and April. But there are still plenty of places to stay around the country and a tonne of exciting things to do and places to go on weekends in Switzerland in May.
---
Weather in Switzerland in May
The climate in Switzerland in May is more pleasant, making it the best time of the year to visit Switzerland. The average temperature in May ranges from 7 to 20 degrees Celsius.
Furthermore, May experiences only a few cold days as compared to the other months in spring. Many regions in Switzerland start experiencing hotter climates by the end of May. However, travellers and adventurers from different parts of the world start arriving in this month making it one of the busiest months to visit Switzerland in spring.
Monthly rainfall averages for May: 52-81mm (2 – 3.2in)
Daily temperature averages (High) for May: 20°C (50°F)
Daily daytime temperature averages (Low) for May: 7°C (40°F)
Daily daylight hour averages for May: 9 hours
---
---
Things to Do in Switzerland in May
Consider yourself lucky if you are visiting Switzerland in May. It is one of the best times of year to visit Switzerland, as there are lots of opportunities to capture landscapes lit up by sunlight, the weather is comforting for those who do not enjoy cold weather but like going on hikes. Here's a list of the best things to do in Switzerland in May:
Cheese festival in Gruyères
This festival is hosted every year in spring in May on the main street of Gruyères. Many cheese-makers and enterprises come together to present hundreds of cheese varieties at the show.
If you are a cheese lover or a passionate chef, you will enjoy watching people making cheese. You can also watch artisans make regional artefacts like laces, jewellery, wooden spoons, etc.
---
Top places to see in Switzerland in May
Located in Zermatt, Matterhorn is known as the king of Swiss mountains. The tooth-shaped mountain is one of the most visited places in the Swiss Alps in April and May.
If you are an avid trekker, Matterhorn offers unparalleled opportunities to go trekking and glacier hiking. If you visit Switzerland in May, take advantage of the cable car rides that give you panoramic views of the mountain range. Fun fact – It is the mountain that you will find on the wrapping of the iconic Toblerone.
If you love snow and have always imagined Switzerland as a snow-covered destination, Mount Titlis is so for you! One of the most popular tourist locations in Switzerland, this place is covered in snow throughout May.
So you can play your heart out in the snow, do ice skating, hike, and take a cable car ride to enjoy the stunning landscapes this spot has to offer.
Known as one of the best skydiving locations in the world, Interlaken is an ideal place to visit if you love adventure sports. If you plan on taking this up, know that it'll be one of the best things you'll ever do!
At Interlaken, you can also take up other adventure activities like bungee jumping, mountain biking, paragliding, and hiking.
---
---
What to wear in Switzerland in spring
---
Spring in Switzerland is tricky. The temperature changes quite frequently. While some days may be warm and cosy, others can be pretty chilly.
Furthermore, while some days start with the perfect sunrise, they tend to get quite cold later during the day, and vice versa. So, depending on which areas of Switzerland you wish to visit, you will need to be extra thoughtful about what you choose to wear in Switzerland in spring.
Here's a quick list of essential items to carry to Switzerland.
Consider wearing bright and fresh-coloured outfits for spring in Switzerland as it makes for great pictures against the Alps as a backdrop! Trousers and long-sleeved shirts, comfy spring dresses paired with leggings or jeans are a good choices.
Though it is spring, and you may not expect cold weather, but having some underlayers, warmers, and sweaters handy is a good idea. Also, consider carrying additional winter wear, especially if you are on a trip with your little ones in the North or are keen to hike.
Choose comfortable footwear. Also, carrying a pair or two of waterproof walking shoes is recommended since you might need to walk a great deal if you're planning to go hiking.  You should also carry your hiking shoes if you prefer the outdoors.
Switzerland's climate fluctuates a lot during April and May, so you can consider carrying all-season jackets, overcoats, or windcheaters that make you feel comfortable almost anywhere. It is necessary to consider the weight of these jackets. The lighter, the better and ones that help against the wind, help.
---
Spring hikes in Switzerland in spring
---
Switzerland is synonymous with hiking. So, if you are heading to Switzerland for a spring vacation, you should know about the best spring hikes in Switzerland.
While many options are available, it is essential to understand that some are shut down until June sometimes due to unpredictable weather. So, if you are visiting Switzerland in April or May, keep reading and mark these paths.
Located in central Switzerland, this region has spectacular natural beauty filled with greenery, snow-capped peaks, and blue skies. You also get to experience the beauty of waterfalls, rivers, forests, rocks-filled pathways, open fields, etc.
If you are visiting Switzerland in May, Furenalp Engelberg is a must-go. However, if you want something more adventurous, consider going up by cable car to Mount Titlis.
Nafels Obersee is an Alpine lake and one of the best places to go spring hiking in late May. Located in the Obersee Valley, the lake has a 21 km stretch and is best known for its beautiful landscapes day-long.
The lake turns blue-green in May and is a fab hiking spot for picnics with friends and family, where you can enjoy magical views while keeping yourself warm around a campfire.
Feeding into Lake Brienz, Giessbach Falls is a beautiful hiking place in Switzerland. You can easily reach the falls by getting on a ferry that leaves you at the base of the falls. From here you can start hiking or take a historic funicular to the top.
Hiking here is fun as the path has a few spots you could eat at coupled with amazing views of the waterfalls and the lake! The best time to visit the falls is after mid-May when the ferry service is up and running. Ferry timings can be found here.
I went to Wasserauen for a hike and while I'm not much of an active person, this has been one of my favourite hikes ever. Do consider it if you're in the area. All details in this article.
---
Switzerland in Spring by Region: 5 Spots To Visit In Switzerland in Spring
Spring is undoubtedly one of the best times to visit Switzerland. It is that time of the year when you can finally explore the Alps without freezing. Here are the top five places to visit in Switzerland in spring.
This famous city is also the largest in Switzerland and is not the capital of Switzerland although many get confused and assume it to be, Bern is the capital of Switzerland. However, it is one of the top city getaways in Switzerland as there's much to do here, especially for art lovers.
Kunsthaus Zurich has numerous masterpieces as does Rietberg Museum, Switzerland's biggest for non-European cultures. Fraumunster Church is also quite famous as are the twin towers of the Grossmunster where you can climb to the top of the Karlsturm and enjoy panoramic views of the city. In addition to this the town centre and the parks are worth visiting if you're with family.
The Alps are incredible almost any time of year. And so, Zermatt is one of the best places to visit in Switzerland in spring. While there are numerous activities you can do here there are many attractions you can visit as well.
Matterhorn is the most famous with it having the highest cable car station in Europe accompanied by restaurants and views of Italy too; Gornergrat is also quite popular due to its mountain panoramas. You'll also find a village tour here and the 5 lakes walk where the views are picture-perfect.
Lauterbrunnen is a small town in the centre of the Swiss Alps located only an hour from Bern.
Staubbach waterfall is a must-visit for hikers and nature lovers. You can also consider visiting Mount Schilthorn, the highest mountain in Lauterbrunnen.
There are lots to do in Lauterbrunnen. You can go paragliding here, visit the pretty Church, or go on the Trummelbach Falls hike. Interlaken is close by and worth exploring as well.
A tiny city based on the borders of Lake Lucerne, this stunning city is by far one of the most visited places in Switzerland. It is famous for its unique architecture and beautifully decorated lake-side cafes that provide views of snow-covered mountains all around.
While in Lucerne, apart from enjoying your favourite drink sitting in a lakeside restaurant, you can also explore the town. The best things to see in Lucerne in spring include the Chapel bridge, Spreuer bridge, Needle Dam, Bourbaki Panorama, and Glacier Garden.
If you are going to be in and around the Jungfrau region, visiting Jungfraujoch in spring is a must-do.
Jungfraujoch is less crowded in spring and stunningly beautiful. Out of the many things you can do here, a few important ones include a train ride from Kleine Scheidegg to Jungfraujoch, riding up the Sphinx Terrace, hiking at Monchsjochhutte, visiting the Ice Palace and the Glacier Plateau.
---
I visited Switzerland in May and it was chilly but a couple of layers and it was all good! Afternoons were hot and quite summery. In terms of prices, it was cheaper than summer and even with it being May, the crowds were increasing.
So yes, it may be chilly at times but irrespective of the weather, the countryside is fabulous in Switzerland. No matter when you go, you're bound to have the perfect holiday!
---
---
Spring break in Switzerland: Things to do in Switzerland in spring
If you are looking forward to taking a spring break this year in Switzerland, here are the top things to do in Switzerland in spring:
If adventure sports in the Swiss Alps were on your bucket list, there is no better place than Interlaken to tick it off. From cruising, hiking, sightseeing, riding jetboats, paragliding, and riding on cable cars to witnessing the miracles of nature all around, there's much to do in Interlaken.
A spring break in Switzerland is complete only when you've tried some of the traditional delicacies on offer. If you are a foodie, you certainly cannot miss trying dishes like Fondue, Raclette, Zurcher geschnetzeltes, Tartiflette, lekerlis biscuits with hazelnuts, etc. The food in Switzerland is mouth-watering, and you should make sure to give it a try, even the pizzas!
The outdoor baths in Bern
The thermal baths at Marzili are one of the oldest and free, located right in front of the Parliament building making it a fun activity especially if you're on a budget.
The castles of Bellinzona
The castles of Bellinzona are some of the oldest medieval monuments in Ticino, North of Lugano. Castello di Montebello and Castello di Sasso Corbaro are located by the Murata ie the defense wall. The location is a UNESCO World Heritage site.
---
Now that you know how beautiful Switzerland in Spring can be, and you have some of the best recommendations to plan your itinerary, make sure you pick the best spots as it can be quite a budget-friendly visiting during this time of year.
However, irrespective of when you plan to visit, the landscapes here and the cheese (and meat) will definitely keep you hooked and make it one of the most memorable trips of your lifetime!
---
---
Switzerland in Spring – FAQs
Is spring a good time to visit Switzerland?
Spring in Switzerland is a good time to explore the country. The months of April, May, and the first 2 weeks of June are considered to be the shoulder season where tourists are few, accommodation is cheap, and flights are low-priced.
You will still find snow-clad mountains and that too without crowds before the summer begins.
Is April a good time to visit Switzerland?
April can be an ideal time to visit Switzerland as it will allow you to enjoy plenty of outdoor activities without the interference of touristy crowds.
You will find snow on the mountain peaks but the winter air is starting to disappear. You will find sunny days but summer is still weeks away.
Where to go in Switzerland in spring?
Some of the popular destinations in Switzerland in Spring are Interlaken for its adventure activities, Geneva for its popular tourist sites, Lugano for its natural beauty, and Bern and Zurich for their historic attractions.
Is it better to visit Switzerland in April or May?
Between the months of April and May, it is better to visit Switzerland in April. This month will allow you to enjoy adventure activities but there will be fewer tourists.
If you visit Switzerland in May, the chances of coming across travelers are higher as summer tourists start arriving in June.
---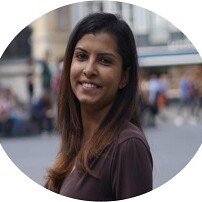 Award-winning Analyst, multi-nominated digital content creator and photographer Lavina Dsouza's words capture stories about culture and tradition mainly through its food and people. She has written and contributed to publications such as The Washington Post, Lonely Planet and Matador Network, to name a few. She is the editor of UntraditionalHumans.com, a non-profit created to share inspiring stories from women of colour who break free from traditions and choose happiness.
She's also a speaker passionate about DEI and champions solo travel. She has collaborated with numerous renowned brands such as Intrepid Travel, TripAdvisor, Travel and Leisure and Adobe, to name a few.
She can be found on Twitter and Instagram.
---
---
EXPLORE MORE OF SWITZERLAND
---
Some of the links on this post are affiliate links. These do not cost you extra to use, but will help provide Continent Hop with a small commission if/when you purchase through them, to recover some of the costs of running this website and providing free content to help you plan your travel. I appreciate your support!
---