Autumn in Switzerland is the perfect time to find lesser crowds but get a glimpse of winter without the cold! Switzerland in fall is colourful and full of fun activities! Here's how to go ahead and plan!
Switzerland is an excellent destination throughout the year. It has stunning natural landscapes, a rich history, and a remarkable culture. Most people prefer travelling to Switzerland in spring or summer but autumn in Switzerland may be a little chilly but comes with the best of all season!
The country is covered in hues of autumn and the leaves changing their colours make for an exceptional landscape which you do not want to miss.
I found Switzerland in autumn extremely beautiful as it is neither too cold nor too warm. The mild weather and fewer crowds make it a perfect time to explore this beautiful country. Fall in Switzerland is full of captivating views of the Alps and the countryside – especially on a train!
Switzerland in autumn also comes with a plethora of cultural festivities and traditional autumn celebrations.
Here's detailed info I've put together to plan your trip to Switzerland in autumn – Be it 2 days in Switzerland or a week!
---
Quick resources to help make planning easier!
Planning a trip isn't an easy task and it can sometimes be a little overwhelming to do it all by yourself. Here are links to a few stays and tours which will make your task simpler.
Best places to stay in Switzerland:
Tours and things to experience in Switzerland in autumn:
---
---
Switzerland in Autumn- what to expect
---
When is fall in Switzerland?
Fall in Switzerland lasts from September to the end of November. September is more on the warmer side and temperatures start to drop gradually till November.
September has ample daylight and warmth while in October, the high-altitude regions can have temperatures below the freezing point.
November marks the last days of autumn in Switzerland and the beginning of winter. Elevated regions experience snowfall which gradually covers the entire destination.
Autumn in Switzerland is beautiful as the landscape goes through a magical transitional phase with trees shedding their lush green canopies and getting into the vibrant hues of reds, oranges, and yellows.
What is the weather like?
The weather in Switzerland in autumn varies throughout the three months. Temperatures in September can reach 20 degrees Celsius, and the days are mostly bright and dry.
In October the highest temperature will be around 15 degrees Celsius while it reaches 1 to 8 degrees Celsius. Additionally, you might also experience rainfall during October so it is advised to check if the trail routes are open to experience an autumn hike Switzerland. October is a great time to experience fall foliage in Switzerland.
However, by November, snowfall can arrive in the mountains and the high-altitude regions. The weather is colder and the temperatures drop down to almost -3 degrees Celsius. The days are short and the weather is also very unpredictable.
What to wear in autumn in Switzerland?
Layering is your best friend while travelling in Switzerland in Autumn. The weather is quite unpredictable and varies vastly between locations. I would recommend dressing according to the activities you're planning to do.
If you are planning to go for an autumn hike Switzerland, you will have to layer well and carry waterproof jackets as it may rain suddenly.
The weather is especially cold in the mountains so wearing warm clothes is ideal. However, if you are exploring the towns and countryside, you can skip a few layers as it isn't that cold.
Fall foliage in Switzerland
Fall foliage in Switzerland is a spectacular sight and one of the best in Europe. People from all around the world travel to Switzerland in Autumn to witness the fall foliage in Switzerland.
The dense forests and wide landscapes transform into a bright display of colours. The entire country becomes a canvas, painted with so many shades of gold, crimson, and amber.
Popular areas like the Swiss Alps, Lake Geneva, and the Jura Mountains offer excellent viewing areas for this spectacle. There's no better way to enjoy yourself than to take a nice walk or go for a drive while surrounded by all of these colours that make up the spirit of autumn in Switzerland.
Autumn in Switzerland also enjoys the luxury of fewer crowds. The peak summer season has passed and there are fewer tourists which means you can explore all the lovely attractions without thinking twice about crowds and queues.
---
---
Fall in Switzerland- things to do in Fall in Switzerland
---
Fall in Switzerland is a great time to see the natural beauty and cultural wonders. As the summer heat starts to fade cool breezes pass through the air, and the country is filled with a cosy atmosphere.
The autumn season in Switzerland gives you every reason to take long walks amidst golden forests, filling your lungs with fresh cold air as you hear leaves crunch beneath your feet. And it will be something you can't forget.
In addition to its beauty, Switzerland also offers a chance for you to enjoy the flavours of fall. Treat yourself to the taste of fresh fruits that were just picked off their trees, warm soups that fill your stomach with comfort, and hot drinks that'll make you want a second cup.
You also have an opportunity to experience local traditions and festivities — taking part in Swiss hospitality and enjoying all the joys of celebrations during this time of year.
Autumn in Switzerland has a plethora of things to do and places to visit. You won't fall short of natural landscapes or beautiful views while exploring this destination. Whether it's enjoying nature's artwork or experiencing cosy cultural atmospheres, you won't be disappointed.
.
---
Autumn in Switzerland in September
---
Things to do in Switzerland in September
Hiking in the Swiss Alps
September is an ideal time for hiking in the magnificent Swiss Alps. The weather is mild and there is still ample daylight. The perfect temperatures and clear blue skies provide excellent conditions for hiking.
You can enjoy lovely trails in Zermatt, such as the Five Lakes Walk which passes through the five lakes of Stellisee, Grindjisee, Grünsee, Moosjisee and Leisee or the Gornergrat Ridge hike. Enjoy the stunning views of the Matterhorn and neighbouring peaks, as well as the calmness of the alpine landscapes covered with the fiery hues of autumn.
You can also consider visiting trails such as the Matterhorn Glacier Trail or the Grindelwald-First Cliff Walk for stunning views.
---
---
Wine Harvest Celebrations in Lavaux
Lavaux is heaven for wine lovers. The vineyards are UNESCO-protected and offer some of the most exhilarating views of Switzerland in autumn.
The wine harvest season is vibrant and full of new experiences. This takes place every year in September and many people gather together for this communal experience.
You can take part in these local grape-picking events and festivals and also taste some delicious wine made from fresh, local produce which is known to be the finest in the region.
---
Attend the famous Zurich Film Festival
The Zurich Film Festival takes place every year in September and is a wholesome experience, especially for film enthusiasts.
This festival features a wide variety of films from all around the world along with thrilling discussions with renowned filmmakers and industry professionals. You may also get a chance to catch a glimpse of your favourite celebs and filmmakers.
---
Places to see in Switzerland in September
---
The Matterhorn, Zermatt
September offers the perfect weather to visit the Matterhorn, also known as the king of the Swiss mountains, which is in Zermatt. The clear skies offer the most stunning panoramic views of the Matterhorn.
You can also take part in various outdoor activities such as hiking, mountain biking and much more. The fall foliage in Switzerland makes this landscape even more beautiful.
You can also take a cable car ride to witness even more gorgeous and thrilling views of the majestic mountain range. There are various cable car rides available which you can book in advance.
.
---
---
Visit the Swiss National Park
The Swiss National Park is located in Zernez and the beginning of autumn in Switzerland fills the park with vibrant fall foliage. This makes it a perfect time to explore the natural landscape of the park along with a wide variety of flora and fauna. You can watch some extraordinary species of animals here like chamois, deer and marmots.
The park also has some well-marked trails and you can take advantage of the perfect September weather to take a leisurely walk along some of these trails.
---
DETAILS
Address: 7530 Zernez, Switzerland
Timings: Monday to Sunday – 8:30 am to 6:00 pm
Price: Adults: 7 CHFs
Children: 3 CHFs
Family tickets: 15 CHFs
---
Autumn in Switzerland in October
---
Things to do in Switzerland in October
Attend the Basel Autumn Fair
The Basel Autumn Fair is one of Switzerland's oldest and most traditional fairs. It covers the entire city and this fair shows the spirit of autumn in Switzerland in the most perfect manner.
You will get to experience a vibrant atmosphere filled with various amusement rides, entertainment and of course, delicious local cuisine. You can enjoy some really tasty food and wine during the course of this fair.
Explore Swiss Museums
The cool October weather is perfect for exploring various Swiss Museums and getting a peak into the history and culture of Switzerland. Switzerland has an abundant heritage and rich culture, and its museums offer a number of exhibitions and collections for a wide range of interests.
The Swiss National Museum is a must-visit for your Switzerland autumn itinerary. It is the best way to explore Swiss history and culture. The museum has various unique artefacts, artworks and exhibits.
---
DETAILS
Address: Museumstrasse 2, 8001 Zürich, Switzerland
Timings: Tuesday to Wednesday- 10 am to 5 pm, Thursday- 10 am to 7 pm, Friday to Saturday- 10 am to 5 pm, Closed on Sundays
Price: Adults: 10 CHFs
---
If you are into sports, the Olympic Museum located in Lausanne is the place to be! The museum displays the history of the Olympic Games with exhibits, mementoes, and interactive displays. These displays highlight the stories of renowned athletes as well as the development of the Games over time.
---
DETAILS
Address: Quai d'Ouchy 1, 1006 Lausanne, Switzerland
Timings: Tuesday to Saturday- 9 am to 6 pm
Price: Adults: 14 CHFs
---
The Kunsthaus Zurich is one of the most significant art museums in Switzerland. It holds not only Swiss but various prominent international artworks and pieces as well. It contains works from many periods, as well as works by prominent artists such as Picasso, Monet, and Giacometti, making it a paradise for art aficionados.
---
Places to see in Switzerland in October
Explore the Aletsch Glacier, Jungfrau-Aletsch
The Aletsch Glacier is the largest glacier in the Alps and it is also a UNESCO World Heritage Site. It is located in the Jungfrau-Aletsch region and the clear October days offer perfect views of the majestic glacier.
You can take a cable car to all the viewpoints to explore the captivating beauty of this glacier and the landscape around it. You also have the option to hike to the viewpoints if you are in for some adventure.
Visit Château de Chillon, Montreux
Autumn in Switzerland is the perfect time to visit this destination because there are fewer crowds as compared to the peak summer season. You will have the quiet to explore this stunning castle. The castle holds a rich history and is known for its unique architecture. It is surrounded by Lake Geneva which makes it the perfect aesthetic for your Switzerland in autumn photos. The colours of autumn make the surrounding landscape look absolutely gorgeous
---
Autumn in Switzerland in November
---
Things to do in Switzerland in November
Have fun at the Montreux Jazz Festival
The Montreux Jazz Festival is popular all around the world and is quite a unique thing to do in Switzerland in autumn. This is a festival that celebrates various musical genres due to which popular artists have been a part of it for many years.
Enjoy the lively performances and lose yourself in the lively atmosphere of this event where hundreds of music enthusiasts come together for a fabulous community experience.
Experience tradition at the St. Catherine's Fair in Zurich
The St. Catherine's Fair is a traditional celebration which takes place in Zurich. The city is buzzing with a lively atmosphere and the Fair is full of bustling markets, lively entertainment, and a ton of good food. This is a great way to dive into the cultural and local heritage of Switzerland in autumn.
Visit the fascinating Swiss Christmas markets
Christmas markets in Switzerland are unmissable. You will find various Christmas markets and each will have something special to offer. You will find varieties of traditional handicrafts, wine, food and much more.
Various destinations such as Zurich, Basel, Lucerne etc. have some of the best Christmas markets in Switzerland.
Even though Christmas markets begin in late November, they are definitely a sight to behold and a must-visit for fall in Switzerland. Everything is bedazzled with beautiful lights and it just looks magical.
The Christmas markets are also a great place to indulge in some local cuisine and taste some great wine.
---
---
Places to see in Switzerland in November
The Old Town, Basel
The Old Town is known for its well-preserved medieval architecture, charming cobblestone streets, and historic landmarks. Autumn in Switzerland has fewer crowds so you can explore this destination at your own pace.
Don't forget to explore the art scene here while taking a peaceful walk in the perfect autumn weather. This is the best place for sightseeing in Switzerland in autumn.
---
Must visit places in Switzerland in Autumn
Lucerne
Lucerne is a fabulous destination for fall in Switzerland. Visit the Chapel Bridge which is one of the most iconic sites in Lucerne. It is one of the oldest wooden bridges in Europe and is adorned with artworks from the 17th century. I would recommend taking a good look at the roof of this bridge to see the art that covers it. There are several places to eat in the vicinity of the Chapel Bridge where you can have lunch or a hot cup of coffee.
You can take a boat tour to explore Lake Lucerne. It is a wonderful site with the backdrop of the Swiss Alps. You can also head up to Mount Pilatus by taking a gondola ride to enjoy a scenic view of the lake and the mountains.
You can also explore the Old Town to get a taste of traditional alpine houses and colourful artwork. I recommend visiting the Musegg Wall which is one of the most well-preserved medieval walls in the country.
Zurich
This is another great destination for fall in Switzerland. You can head to Lake Zurich to enjoy the serene autumn landscape. You can walk along the lakeside or take a boat ride to admire the picturesque scenery.
Head to Bahnhofstrasse for an endless shopping spree. This is the place for a luxurious shopping experience in Switzerland in autumn. You will find a number of high-end shops, designer stores, and luxurious shopping centres that offer a unique selection of fashion, jewellery, and Swiss-made products. This destination will surely satisfy your shopping needs.
Bern
Bern is the fifth most populated city in Switzerland and a fabulous destination for fall in Switzerland. Visit the Zytglogge, the famous clock tower which dates back to the 13th century. It is known for its medieval heritage and intricate design. The clock has figurines that perform every hour which is something to marvel at.
You can also visit the Aare River Promenade and take a stroll along the river. It is surrounded by the fascinating architecture of Bern's old town and natural beauty. This is a nice and quaint escape from the busyness of the city.
---
---
Where to stay for autumn in Switzerland
---
Switzerland offers an array of choices when it comes to accommodations, from luxurious to low-cost. It is usually a good idea to plan your trip ahead of time to make sure you get the most suitable accommodations for your money's worth.
Luxury
Mandarin Oriental Palace, Luzern
This hotel is located in Luzern. This is a 5-star property which offers comfortable rooms and a great location which is close to many popular attractions. Lion Monument, KKL Culture and Convention Centre Lucerne and Chapel Bridge are some attractions located near the property. BOOK HERE
The Grand Resort Bad Ragaz is a wonderful spa hotel located at the base of the Alps in Eastern Switzerland. It is approximately an hour's drive from Zurich. It is surrounded by a breath-taking alpine landscape with scenic hiking paths and ski resorts. The 5-star luxury resort has its own thermal spring as well. The property also boasts 6 restaurants which serve delicious cuisines and a bar. BOOK HERE
Mid-range
This accommodation is located in the heart of Basel making it ideal for autumn in Switzerland. Marktplatz Basel, Blue and White House and the Jewish Museum of Basel are some popular attractions located near the accommodation. BOOK HERE
The Renaissance Lucerne Hotel is located in a historic city palace. It is located at a distance of 200 metres from Lake Lucerne. It has a South American Restaurant as well as a Bar where you can try a wide range of foods and drinks. BOOK HERE
Budget
This budget accommodation offers the perfect location for Switzerland in autumn. The Chapel Bridge is a 3-minute walk away and Glacier Garden Lucerne is a 10-minute walk away. KKL Culture and Convention Centre Lucerne and Lion Monument are some other popular attractions that are located near the property. BOOK HERE
---
Some fun experiences for Switzerland in Autumn
Visit Engadin
Engadin Valley is one of the best places to witness the fall foliage in Switzerland. It is a beautiful valley located east of the Swiss Alps. the natural scenery here will completely blow your mind
This is the perfect destination for nature lovers or if you are for some adventure and fun in the mountains.
Visit Valposchiavo
Valposchiavo is a beautiful valley in Switzerland near the Italian border. Poschiavo, the valley's principal town has some wonderful sights and activities.
Valposchiavo is adorned in a beautiful yellow colour during fall making it a special destination to visit during fall in Switzerland. You can choose from various hiking options in the valley or you can even have fun riding a bike down the slopes.
Witness an Alpine Descent
An Alpine descent is one of the most unique things that happens in fall in Switzerland. Watching an Alpine descent was the most unexpected and wonderful experience for me in Switzerland in fall.
Swiss farmers send their livestock to the mountains to feed on fresh green grass and the animals stay there the entire summer. When autumn in Switzerland arrives, these animals have to descend from the mountains which is known as an Alpine Descent.
Try the Swiss Cuisine
Swiss cheese fondue is something you must try no matter which season it is. It is a comforting dish perfect for the cool autumn evenings. Taste the traditional Swiss plum tart made with juicy plums and a buttery crust.
When the weather gets colder, the locals indulge in a variety of soups. In Switzerland, fall marks the beginning of the "Suppeziit" (soup season). Älplermagronen, Kürbissuppe and Rahmsuppe are some fantastic soup dishes to try in Switzerland in autumn.
Ride the Bernina Express
Apart from the stunning natural landscape, Switzerland is known for its breathtaking train rides. The train rides feel like something out of a movie and you will keep looking out the windows for hours at length without getting tired.
The Bernina Express also offers one such wonderful train journey. This journey will take you through Switzerland's beautiful valleys and majestic glaciers. A must-see for everyone who wants to learn more about Switzerland's glaciers and valleys. From Chur to Tirano (located near Italy) the railway travels over 55 tunnels and 196 bridges, taking passengers through many landscapes and civilizations.
Walk the Bieler Rebenweg
This is a lovely trail located to the north of Lake Bieler where hills are covered with vines. The trail goes through some enchanting vineyards and is quite an easy trail. You get to stop several times along the trail for a wonderful wine-tasting experience. The trail will take one to four hours depending upon the route you choose.
There are multiple villages along the trail. You can stop in one of these to learn about how the local wine production works.
---
How to get around in autumn in Switzerland
---
Train travel in Switzerland
The extensive network of trains in Switzerland covers the majority of the country, making it the easiest way to get around without burning a hole in your pocket. The best part about Swiss trains is you don't have to buy tickets and pay the full amount every time you decide to use this mode of transport. There are different passes available, depending on the routes you choose and how many days you are spending in the country.
The most popular option is the Swiss Travel Pass which can be bought for 3, 4, 6, 8, or 15 days. You do not have to buy tickets at the station. Get on the train and show this pass if and when needed. You will still get discounted rates when you have a Swiss Travel Pass for most excursions and entry to almost all museums is included.
If you are spending more than 15 days in Switzerland, then consider buying a Half Fare Card. As the name suggests, this card will give you a flat 50% off on all the train journeys as well as buses, boats and mountain transport. It is valid for 30 days and you will need to buy tickets before boarding a train. Carry the card every time you use public transport as you have to show it with a ticket when asked.
I recommend opting for train travel in Switzerland as it takes you to so many beautiful landscapes. Be it the snow-capped mountains or scenic valleys, you will truly get to soak in the natural charm of Switzerland when travelling by train.
The train announcements are often made in English and signs are usually in English, German, French, and Italian. You can carry your luggage with you without paying any extra baggage fee or you can use luggage lockers that are available on several Swiss stations.
Please visit the official website of Swiss Federal Railways (SSB) where train timings, fares, routes, and all the information about saver passes are mentioned.
---
Switzerland honestly is a year-round destination, however if winter feels too cold for you but you'd still like to see snow in Switzerland, then Autumn is the perfect season for it!
It isn't too cold, the winter crowd is yet to arrive and the peaks are starting to look white – perfect for pictures!
---
---
Switzerland in Autumn– FAQs
Is autumn a good time to visit Switzerland?
Autumn is a great time to visit Switzerland. It is a transition period between summer and winter so the weather is neither too warm nor too cold. It is the perfect time to explore the beauty of Switzerland.
What do you wear in autumn in Switzerland?
The key to dressing right in autumn in Switzerland is layering. The weather is quite unpredictable but opting for warmer clothes in general is a good idea. Carry hats and scarves to protect yourself from the cold and a waterproof jacket just in case it starts to rain.
Is September a good time to visit Switzerland?
September is one of the best months to visit Switzerland in autumn. The weather is on the milder side which makes it perfect for exploring all the destinations with ease. It is also less crowded during this month as the summer crowds have disappeared by now.
Can I see snow in Switzerland in October?
October is just the beginning of winter in Switzerland but the high-elevated alpine regions may get light snowfall by the end of October.
---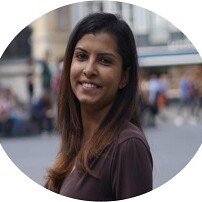 Award-winning Analyst, multi-nominated digital content creator and photographer Lavina Dsouza's words capture stories about culture and tradition mainly through its food and people. She has written and contributed to publications such as The Washington Post, Lonely Planet and Matador Network, to name a few. She is the editor of UntraditionalHumans.com, a non-profit created to share inspiring stories from women of colour who break free from traditions and choose happiness.
She's also a speaker passionate about DEI and champions solo travel. She has collaborated with numerous renowned brands such as Intrepid Travel, TripAdvisor, Travel and Leisure and Adobe, to name a few.
She can be found on Twitter and Instagram.
---
---
EXPLORE MORE OF SWITZERLAND
---
Some of the links on this post are affiliate links. These do not cost you extra to use, but will help provide Continent Hop with a small commission if/when you purchase through them, to recover some of the costs of running this website and providing free content to help you plan your travel. I appreciate your support!
---