Heading from Paphos to Limassol isn't too tedious as it makes for the perfect day trip from Paphos. Located just an hour away, sights like Aphrodite's rock and Kourion are on the way making it even more ideal. Here's info on how to get from Limassol to Paphos as well.
It was a warm October morning when I hopped in a car and left behind the quirky street art in Paphos. Where was I headed, you wonder?
I was eager for my ride from Paphos to Limassol while on my Cyprus Itinerary as it promised famous tourist spots like Aphrodite's rock, good food, and of course, breathtaking Cyprotic vistas on the way.
Less than an hour away and yet, with vibes different from Paphos, Limassol is one of the best places to visit in Cyprus. It is only 68 kilometers from Paphos and takes 45 minutes to an hour to reach.
This tiny city has a heart that beats for its 14th-century Lemesos Castle and cobblestone lanes. The same historic lanes are lined with modern restaurants, cafes, and bars to treat your taste buds.
It has stayed among the underrated cities in Cyprus for several years now. And I guess that has helped in maintaining its historic charm.
---
How to get from Paphos to Limassol
---
The best thing about this city is its easy accessibility and connectivity. Want to know how to reach from Paphos to Limassol?
Here are some ways to cover the Paphos to Limassol distance –
From Paphos to Limassol by renting a car

From Paphos to Limassol by bus

From Paphos to Limassol by taxi
---
From Paphos to Limassol by renting a car
If you enjoy traveling at your own pace and exploring different sights along the way, then the Paphos to Limassol road trip by renting a car is the best option. The car rental may start from £100 and will increase depending on the number of days and the car model.
You can stop by Aphrodite's rock and the ruins of ancient Kourion. You can spend an hour or two at each of these sites and then be on your way to Limassol. So, set aside half a day in your itinerary and you get to explore two top tourist attractions in Cyprus and reach the new city.
Or if you are in a hurry, you can also consider heading straight to Limassol. You can always stop by these attractions if time permits while coming back from Limassol to Paphos.
---
From Paphos to Limassol by bus
You can easily find a bus from Paphos to Limassol that can fit into your itinerary and budget. The intercity Paphos-Limassol runs every hour or two. If you are planning to head straight to Limassol from Paphos airport, then the bus stop that's located right in front of Paphos airport will be convenient for you.
You can catch the first Paphos to Limassol bus at 5.55 am whereas the last bus leaves Paphos at 8 pm. A one-way ticket is €4 and the return ticket for Limassol to Paphos bus is €7.
It is advisable to check the departure times for all the buses from Paphos to Limassol before planning your itinerary. It will give you a clear idea about the intercity timings, fare, and frequency.
---
From Paphos to Limassol by taxi
You will find plenty of Paphos to Limassol taxi services online as well as at the Paphos airport. Keep in mind that the price will depend on the distance when it comes to taking a taxi from Paphos airport to Limassol. There are no fixed fares for this journey and the same applies to the taxi Limassol to Paphos airport.
Paphos to Limassol taxi costs may start from around €90 to €100 depending on your pick up and drop point as well as the number of stops.
I was looking forward to covering Paphos to Limassol distance by car by myself.
As I was used to driving on the left side of the road, this journey from Paphos to Limassol was a comfortable experience for me. But if you are someone who is used to driving on the right side, I would suggest hiring a taxi or taking a bus from Paphos to Limassol.
---
Where to Stay in Limassol
The city caters to a wide variety of travelers and offers different types of stays.
When you are traveling from Paphos to Limassol, it will be good to stay at least a couple of nights here. You will get to explore the city and also laze around the beaches to make the best of your time here.
Luxury hotels in Limassol  – If you are traveling with kids or interested in family-friendly Limassol hotels, then consider going with the Alasia Boutique Hotel. Located near the central part of the city and yet only a 20-minutes walk from the beach, this place has everything you may need for a relaxing stay.
If you are okay with staying a little away from the city center, then I will strongly recommend Crowne Plaza Limassol. I chose to stay at Crowne Plaza Limassol because I was looking for a beachfront property (you know my love for sunsets!) and the sea-view terrace here is something that I liked.
The spa and wellness center here has gathered many great reviews from the guests over the years. This Limassol beach resort has kid's play equipment as well as a kid-friendly buffet if you are here with kids.
Apartments in Limassol – Darlex Apartments near Galatex Beach. This is my pick as it is only a minute away from Galatex beach.
Well equipped with basic amenities including a kitchen and a TV, these Limassol apartments will not burn a hole in your pocket. Free Wi-Fi, an airport shuttle, non-smoking rooms, and a large parking area ensure your stay is a pleasant one.
Budget hotels in Limassol – La Village Hotel. You will come across several budget hotels in Limassol if you are traveling on a budget. Almost all the places are equipped with basic facilities and offer rooms that are elegant.
I decided to add The La Village Hotel to the list as it is only a few minutes away from Limassol beach and they will also help you with arranging different local tours and sea activities. If you are traveling from Paphos to Limassol by car, then the free parking here is an added perk.
Book here.
---
Day tours from Paphos to Limassol
Choosing a pre-planned day tour offered by a trusted travel company ensures you have a seamless experience and can focus on exploring the destination without worrying about logistics. So, here is one of the preferred day tours from Paphos to Limassol –
Day Trip: Limassol and Kourion from Paphos
This tour will help you cover ancient Kourion and the historic city center of Limassol. And then on your way back from Limassol to Paphos, you get to stop by the popular Aphrodite's rock.
---
Attractions / Things to do on the way from Paphos to Limassol
---
Why is Aphrodite's Rock so popular?
The Aphrodite's rock is known as Petra Tou Romiou in Cyprus and is a place steeped in mythology. Believed to be the birthplace of Aphrodite, the Goddess of love, this is one of the underrated beaches in Cyprus.
I had planned my day in such a way that I got to spend a couple of hours at Aphrodite's Rock in the evening. Believe in mythology or not, this tourist destination will surprise you with its mesmerizing sunsets.
If you leave from Paphos early in the morning, then stopping at Aphrodite's Rock may not be that useful. Then I would suggest exploring this site when you are traveling from Limassol to Paphos. You can plan your day in such a way that you get to stop here for the sunset.
---
Is Ancient Kourion worth visiting?
I love places with a touch of history. Places that hold the secrets of the past and stand weathering the storms for centuries.
Spend some time at the Kourion archaeological site and you will find these ruins have several stories to tell. Be it the panoramic views that stretch to the sea or the dramatic structures that date back to the 2nd century B.C., this stop on your way from Paphos to Limassol will not disappoint you.
The entry ticket for Ancient Kourion is €4.50 and the ruins are open throughout the year.
---
DETAILS
Ancient Kourion
Address: Kourion, 19km west of Lemesos on the road towards Pafos (Paphos)
Timings: September 16 – April 15, daily: 08.30 – 17:00, April 16 – September 15, daily: 08:30 – 19:30
Cost: About 2 Euros, 1.70 to be precise
---
Things to do in Limassol
When I decided to travel from Paphos to Limassol, I was a bit skeptical about this city and what it has to offer.
But boy, did Limassol prove me wrong! Wander along the marina, learn about its historic Limassol castle, or catch some tan on Dasoudi beach. The quirky Cyprus Motor Museum is also one of the best things to see in Limassol.
Here's the list of some interesting things to do in Limassol that I have curated after my trip –
Step back in time at the Limassol Castle (Kolossi Castle)
Erected by Guy de Lusignan and dating back to the 1120s, this castle has witnessed how Limassol has developed over the centuries. It is home to the Limassol Medieval Museum where you will get to see several displays dedicated to medieval pottery, silver Byzantine era plates, coins, and tombstones.
The combination of the castle and the museum has made this among the top things to do in Limassol, worth spending around an hour here.
---
DETAILS
Limassol Castle
Address: M2CR+WJV, Limassol, Cyprus
Timings: 8 AM – 5 PM from Monday to Saturday, from 10 AM to 1 PM on Sundays
Cost: The entry fee for Limassol Castle is €4.50
---
Spend an evening around Molos and Limassol's marina
If you are traveling on a budget and looking for free things to do in Limassol, a visit to Molos is all you need. Small parks and playgrounds along with cafes and shops have turned this into a vibrant waterfront for all.
Want to go fishing? Interested in trying skateboarding? Looking forward to sitting in the shade and enjoying the cool ocean breeze?
Molos is the place to be.
---
DETAILS
Limassol Marina
Address: Limassol Marina St 3601, Limassol, Cyprus
Cost: Free
---
Stop by the Cyprus Motor Museum
Housing more than 120 rare cars under one roof, Cyprus Motor Museum is among the top sights in Limassol. The automobile enthusiast in me was pleased to read the descriptions of each vehicle and it definitely kept me entertained throughout the visit.
---
DETAILS
Cyprus Motor Museum
Address: Epimitheos, Limassol 3056, Cyprus
Timings: 9 AM – 5 PM weekdays, from 10 AM to 6 PM on weekends
Cost: The ticket prices for Cyprus Motor Museum are €13 for adults and €11 for senior citizens above 65 years old, €9 for teenagers, and for €7 kids
Try water sports at the Dasoudi Beach
Popular for being awarded the blue flag certification, Dasoudi is a refreshingly peaceful site amidst all the hustle and bustle. Be it kayaking, parasailing, or jet ski riding, you can do it all here.
I visited this beach before going from Limassol to Paphos and spent a couple of hours soaking in the vibes. And if you are looking for some peace, then a tiny nature trail that goes through the forested area awaits you here. So, when you are picking out beaches in Limassol to visit, add the sandy beach of Dasoudi right away.
---
DETAILS
Dasoudi Beach
Address: M3VP+52X, Germasogeia, Cyprus
Timings: 8.30 AM – 10 PM everyday
Cost: Free
---
Visit the Limassol Municipal Gardens
Looking for things to do in Limassol for families?
Visit the education center on the premises or take a guided tour of the zoo here if you wish to make the most of your time here. And when your feet ache from all the wandering around, relax in the garden and breathe in some fresh air.
---
DETAILS
Limassol Municipal Gardens
Address: Vyronos Avenue, Limassol 3105, Cyprus
Timings: 9 AM – 4.30 PM everyday
Cost: €5 per person
---
Have some fun at the Fasouri Watermania 
Located a little away from the central Limassol, this is the biggest waterpark in Cyprus with more than 30 slides. You will find everything from black holes extreme slides, lazy river, black cannons, paddle boats, and kamikaze slides. If you are traveling with kids, then the kiddie pool and rainbow splash ensure they can have all the fun safely.
If you are traveling from Paphos to Limassol and have some time to spare, then part from the ones mentioned in the list, you can also check Aiya napa Cathedral, Pissouri Beach, and Kolossi Castle. If you do not mind going a little away from the city, then you can also add Akrotiri Salt Lake to your itinerary.
---
DETAILS
Fasouri Watermania
Address: Fasouri 3311, Cyprus
Timings: 10 AM – 6 PM everyday, except Mondays. Closed on Mondays
Cost: Tickets start from 20 Euro onwards for adults and 15 Euro onwards for kids
---
Cyprus in September is one of the best times you can visit this Mediterranean destination. If you're wondering if you should spend more time in Limassol, I'd certainly suggest doing so, especially if you're on your way to Ayia Napa via the coastal route.
Reach out via socials if you have more questions about your journey from Paphos to Limassol and I'll do my best to help!
---
Paphos to Limassol frequently asked questions
What are the Covid-19 restrictions in Paphos and Limassol, Cyprus?
Cyprus decided to lift almost all the travel restrictions placed due to the pandemic from 18th April 2022. Even though the use of masks is compulsory in public places, all the tourist attractions are open now. You can keep an eye on the official Cyprus website to know the updates.
Can you get a bus from Limassol to Paphos?
Yes, if you choose to travel by bus, then you will find frequent intercity Limassol to Paphos. The earliest intercity is at 6 am whereas the last bus leaves from Limassol at 7.30 pm.
Is Limassol safe?
Absolutely! Limassol is bustling with tourists throughout the year and is safe for every type of traveler. You can be a solo traveler or someone who is exploring Limassol from Paphos with a large group, you will find it pretty safe. But that does not mean you can be careless. Follow all the travel precautions as always.
What language is spoken in Limassol?
Even though the official languages of Cyprus are recognized as Greek and Turkish, you will find almost everyone can speak English up to some extent. At least, that's the case in popular cities in Cyprus. So, even if you cannot speak Greek or Turkish, you will find it easier to navigate from Paphos to Limassol if you speak English.
---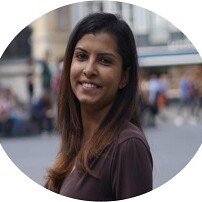 Award-winning Analyst, multi-nominated digital content creator and photographer Lavina Dsouza's words capture stories about culture and tradition mainly through its food and people. She has written and contributed to publications such as The Washington Post, Lonely Planet and Matador Network, to name a few. She is the editor of UntraditionalHumans.com, a non-profit created to share inspiring stories from women of colour who break free from traditions and choose happiness.
She's also a speaker passionate about DEI and champions solo travel. She has collaborated with numerous renowned brands such as Intrepid Travel, TripAdvisor, Travel and Leisure and Adobe, to name a few.
She can be found on Twitter and Instagram.
---
---
---
Some of the links on this post are affiliate links. These do not cost you extra to use, but will help provide Continent Hop with a small commission if/when you purchase through them, to recover some of the costs of running this website and providing free content to help you plan your travel. I appreciate your support!
---