If you're wondering what to do in Northern Ireland, the Causeway Coastal Way also known as the Causeway Coastal Route is the best way to experience this country! Read on to know the best things to see and do on the route + Game of Thrones info and locations.
I had initially decided to stay in a remote location in Ballycastle in Northern Ireland.
Getting to Ballycastle and back from Belfast would take up precious 2 days unless I drove around. Since that plan seemed unreasonable, I decided to do a road trip around Northern Ireland, starting from Belfast and covering the most scenic parts of the country.
The Causeway Coastal Route covered most of these areas and irrespective of weather, these destinations were worth visiting.
So here's the best spots on the Causeway coastal route, perfect for every type of traveller with all the details you'd possibly need.
Have fun planning!
You can print off a detailed map HERE.
Day 1 of your Causeway Coastal Way Itinerary
---
Fly to Belfast
We opted for a morning flight as the flights were cheap. Do note that there are 2 airports within Belfast. The international one is on the outskirts of Belfast and the George Best City airport is 4 miles from the city centre.
If your flight lands at the international airport, its best to take the Airport Express 300 bus transfer to the city centre. Latest details and prices are available here.
If it's the George Best City airport you are landing at, it's not too expensive to take a taxi to your place of accommodation. The best app to get a quick taxi is Value Cabs. Their service is great however nowadays Uber is also available.
The best part: If you do use their services, each receipt entitles you to a discount at a list of attractions throughout the city!
---
Stay in Belfast
Most travellers prefer staying in the Cathedral Quarter due to the vibrant nightlife and the arts scene. Also due to the numerous pubs that are full of life. The Queens Quarter is also a preferred location by many.
If you decide to stay in Belfast, then The House Belfast is a good choice. A boutique spot, it has a good bistro and is located near the leafy Botanic area. The Opera is close by and the hotel is preferred by couples. Book here
If you are interested in staying near the Titanic museum, then the Titanic Hotel Belfast is a good choice. The hotel boasts of an art-deco theme, a bar and some great views of the Titanic Quarter. Located just a mile from town, it is good to stay not too far from town but away from the traffic! Book here
Things to do in Belfast
Belfast is an amazing city to explore! Here are some places that you must visit as part of the Causeway Coastal Route itinerary:
Cathedral Quarters locality
This part of the city is home to some of the most beautiful and oldest buildings and streets. It also boats of a wide variety of pubs and restaurants.
While it is popular for the night life, it is a good place to visit post lunch also. Discover some of the finest street art of the city, along with impeccable architecture and scrumptious foods. You will love the atmosphere here!
Titanic museum and a ride of the locality via the Wee Tram
The Wee tram is a lovely way to quickly get familiar with Titanic quarters. Tickets can be purchased on board and the train leaves the Titanic Museum every half hour.
It is always advisable to purchase tickets in advance for the newly renovated Titanic Museum. Prices vary depending on the experience chosen. You could opt for a combined ticket to the Museum and SS Nomadic.
The Titanic Belfast Museum tour has interesting history about the process used to build the Titanic, its maiden voyage and the unfortunate events that occurred leading to the disaster.
It also provides glimpses of Belfast in the early 1900's. The best part is a video of the actual deep sea exploration that discovered the remains of Titanic, at the end! Completely worth it!
---
DETAILS
Titanic Museum
Address: 1 Olympic Wy, Queen's Road, Belfast BT3 9EP
Timings: 9 AM – 6 PM everyday
Price: Adult – £21.50, Child (5-15) – £10.00, Child (under 5) – Free, Family Pass (2 adults, 2 children) – £53.00, Essential Carer – Free, Student/Unemployed [Mon-Fri Only] – £17.00, Senior (60+) [Mon-Fri Only] – £17.00
If you prefer skip the tour tickets, it is best to book tickets in advance as they are limited
---
Shankill road
The Shankill road is an important part of Northern Ireland's history. A walk down Shankill Road is a must when in Belfast. You will definitely get tired walking and clicking pictures but I'm pretty sure you will still have loads of murals to check out and appreciate. You could take the route that leads to the Peace wall and end your walk there. Approx. a 1-2 mile walk.
It isn't a bad idea to have a guide explain the events and history of The Troubles. If you'd prefer a guided tour, this one is highly recommended!
Tea at The Merchant hotel
One of the best ways to spend an afternoon is have tea at the Merchant Hotel. The hotel itself has its share of history and the tea does not disappoint.
---
DETAILS
Address: 16 Skipper St, Belfast BT1 2DZ
---
The Big Fish
A modern art piece with an exterior of tiles. Each tile has a story about the city and is fascinating. Located near the Europa Bus Centre.
St. George's Market
An amazing place to sample local produce and enjoy the vibes of the city on Friday, Saturday & Sunday. A foot inside the market and you will hear your stomach grumble as the aroma of the foods fills your nostrils!
Interesting fact: there has been a Friday market here every week since 1604 with more than 240 traders displaying their products.
---
DETAILS
Address: St George's Market, East Bridge St, Belfast BT1 3NQ
Timings: Friday 8am – 2pm Saturday, 9am – 3pm, Sunday 10am – 3pm. closed Monday – Thursday
Price: Free
---
Other things to do in Belfast
Although I did not get a chance to visit the following, you could give it a try if interested.
Crumlin Road Gaol
Crumlin Road Gaol dates back to 1845, it acted as a prison and closed its doors in 1996. Currently, it is a major tourist attraction that is a great way to experience what life was like for those imprisoned in 'The Crum'.
Walking through the building, it is normal to fill a chill. And it is most prominent when standing at the tunnel that connected the prison to the Crumlin Road Courthouse.
---
DETAILS
Crumlin Road Gaol
Address: 53-55 Crumlin Rd, Belfast BT14 6ST
Timings: Monday – Thursday 10.30 AM – 3 PM, Friday and Saturday 10.30 AM – 12 AM, Sunday 10.30 AM – 3 PM
Price: Adults – £12.00, online £10.80, Children 5 – 15 yrs, £7.50, online £5.00, Concession Senior citizens 60 + & students – £10.00, online £9.00, Family 2 Adults & 2 Children £30, online £27
---
Ulster Museum
Offering a great collection, Ulster Museum is heaven on earth for art and history lovers. Embark on a journey across Ireland and other corners of the world while getting close with dinosaurs, facing Egyptian mummies and diving into discovery zones.
---
DETAILS
Address: Botanic Ct, Belfast BT9 5AB
Timings: 10 AM – 5 PM everyday except Mondays. Closed Mondays
Price: Free
---
Belvoir Park Forest
One of the most overlooked places in Belfast, it is a working forest within the city, which is connected to Lagan Valley park. Walk the shorter 1.5 mile stroll here. But for a longer walking tour, combine it with a visit to the Lagan Valley regional Park.
Here's all the free things to do in Belfast in a day if you're looking for more info.
---
Day 2 of Causeway Coastal Way Itinerary
After exploring Belfast, it's time to head off to the Causeway Coastal Route, described as one of the best drives in the world by National Geographic!
If you'd rather skip Belfast, you can start your Causeway Coastal route trip directly on Day 2 and directly head to Carrickfergus Castle, one of the first stops worth visiting on the Causeway Coastal Way.
---
Things to do on day 2 of Causeway Coastal Route road trip
Day 2 of your Causeway Coastal Route drive takes you from Belfast to Ballycastle. For a self-drive, here are the best spots:
Carrickfergus Castle
Built in 1177, this is one of Ireland's best preserved medieval structures. Make sure you wander around and explore the roof levels, find your way to the walls whilst taking in the great views of the sea and the Carrickfergus town. Dedicate an hour for your visit.
---
DETAILS
Address: Marine Hwy, Carrickfergus BT38 7BG
Timings: 9 AM – 5 PM Tuesday – Friday, 9.30 AM – 4.30 PM Weekends, Closed Mondays
Price: Guide prices: Adult £6.00, Child 5 – 17 years £4.00, Child Under 5, 65+, Students (18+with official student card), disabled, unemployed citizens £4.50, Family (5 or more) £18.00, Group rate available for 15 adults (+1 tour guide free) £4.50 pp
---
Carnlough
Carnlough is a typical quaint Irish coastal village located at the foot of Glencloy. A quick walk around and you will be able to see the curvature of the Causeway coastal route. It has a beautiful harbour that was built by the Marchioness of Londonderry. Also, if you have time walk to Cranny Falls.
---
Glenariff Forest Park
Glenariff Forest Park caters for many outdoor activities including walking, caravanning, camping, and horse riding. The waterfalls are exceptional!
Apart from that the drive to the forest park is a different experience in itself. Surrounded by tabletop mountains that drop off to the ocean before, witness spectacular waterfalls as you near the forest. Entry is free.
---
Carrick-a-Rede
One of the scariest rope bridges in the world but also one of the most fun. Anybody below 5 feet is not permitted to cross the bridge. The bridge is closed only if the weather conditions are terrible
It is recommended to book tickets in advance if you want to cross this bridge. If you'd prefer confirmed bookings then this tour from Belfast sorts all bookings and is highly recommended.
---
DETAILS
Carrick-a-Rede
Address: County, 119a Whitepark Rd, Ballintoy, Antrim, Ballycastle BT54 6LS
Timings: 9.30 AM – 5 PM everyday, however can be closed on short notice if weather is bad, especially winds
Price: Walking in the area is free, crossing the bridge is 6.50 Euro per person
Giant's Causeway
A geological feature that consists of 40,000 hexagonal basalt columns, which were formed by a volcanic explosion millions of years ago, Giant's causeway is truly a miracle. Do dedicate at least 2 hours to the place, a UNESCO World heritage site.
A bus goes every 30 minutes right to the formations at a nominal price of £1 per way.
---
DETAILS
Giant's Causeway
Address: Bushmills BT57 8SU
Timings: 9 AM – 5 PM everyday. Closed 24, 25, 26 December
Price: £13 for adults, £6.50 for children (5-17), Free for National Trust members and children under 5
---
Old Bushmills Distillery
All the whiskey aficionado's would definitely want this to be on their radar. The oldest licensed, working distillery in the world, Bushmills is ideal for home-cooked lunches and for tastings of smooth, rich whiskies. Tickets need to be purchased only if you opt for the whiskey tour.
---
DETAILS
Address: 2 Distillery Rd, Bushmills BT57 8XH
Timings: 10 AM – 4 PM everyday. Closed on weekends
Price: £9 for adults, children £5 and seniors £8
---
Dunluce Castle
The roofless ruins of Dunluce Castle are breath-taking. While the castle has been at this spot since the 13th century, the ruins today have been standing from the 15th century. This is ideal for a quick pit-stop.
---
DETAILS
Dunluce Castle
Address: 87 Dunluce Rd, Bushmills BT57 8UY
Timings: 9.30 AM – 5 PM everyday
Price: £6 for adults, £4 for children (5-17), Free seniors over 65 and children under 5
---
Mussenden Temple
A picturesque temple, Mussenden Temple was built as a replica of Italy's Temple of Vesta. It is settled atop a cliff surrounded by the Mussenden Temple gardens. It is a great spot for picnics.
---
DETAILS
Mussenden temple
Address: Seacoast Rd, Coleraine BT51 4RH
Timings: 10 AM – 5 PM everyday
Price: Parking costs £5
---
If you are driving around a great place to stay would be at Ballycastle at Ardaghmore Bed & Breakfast. Located by the sea, this charming place over looks Rathlin Island.
And if you have opted for a day trip, it's time to get back to Belfast. If not then spend the night in Ballycastle.
---
Where to stay in Ballycastle
As there are plenty of hotels in Ballycastle, I suggest staying in this lovely town.
Carnately Lodge is the perfect place to stay during your road trip around Northern Ireland. The Salthouse Hotel is also a good choice if you are looking for a luxury hotel in Ballycastle.
---
---
Day 3 of Causeway Coastal Way Itinerary
A trip to Northern Ireland would be incomplete without a Game of Thrones tour. Or you could opt for an Ireland tour that would take you to these anyway.
So day 3 of your Causeway Coastal Way road trip starts in Ballycastle and heads to the Dark Hedges in Ballymoney.
Even if you are not smitten with the GOT bug, it is a great idea to visit the locations where these epic series were filmed as they are quite picturesque.
It will take you by surprise to discover locations which may have gone unnoticed had it not been for Game of Thrones, but now attracts many visitors. If visited early morning or evening, the crowds have left and you tend to have most places to yourself!
---
Things to do on day 3 of your Causeway Coastal route drive
Here's a list of what you could take up if you drive by yourself:
The Dark Hedges
A location abundant with charisma, this is a photographer's delight.
While these are not exactly on the Causeway Coastal Route, it has become famous worldwide because of the Games of Thrones TV Show. It is the location where Arya escapes via the King's road. There's no entry fee.
---
Ballintoy [Pyke] Harbour
This little harbour is beautifully built and will give you a glimpse into medieval Irish times.
One of the prettiest locations, it hasn't changed a great deal over the years. The rock formations, sandy beaches and the large cave are really impressive.
GOT trivia: Theon Greyjoy arrives back in the Iron Islands at this location. There's no entry fee.
---
Cushendun Caves
One of the top locations for a Game of Thrones tour, Cushenden caves was formed more than 400 million years ago. The Caves can be found right along the coast, next to the Bay Hotel.
Walk into the imposing cliff face and look around at the intricate rock formations. Then, wander right till the end of the caves, to find a house still in use!
GOT trivia: This is the place where Melisandre giving birth to the shadow assassin. There's no entry fee.
---
Murlough Bay
Murlough Bay is known for its untouched surroundings, as it is exceptionally beautiful and remote.
It provides views of the Mull of Kintyre, peaks of Arran and Rathlin Island. There are many walks to take around Murlough Bay, though the shorter 4.4km hike is recommended.
GOT Trivia: This is place where Davos Seaworth was shipwrecked and rescued after the Battle of Blackwater Bay.
---
Fair Head Cliffs
Soak in stunning coastal views and soaring clifftop walks at Fair Head. It offers views of Vallycastle and Rathlin Island along with ancient archaeological sites adding to the allure of the cliffs.
There are also several marked hiking trails for anyone interested.
GOT Trivia: The cliffs were a backdrop when John Snow negotiated with Tyrion Lannister on dragon glass.
Spend the night in Ballycastle.
---
---
Day 4 of Causeway Coastal Way Itinerary
Day 4 of your Causeway Coastal Way itinerary starts from Ballycastle, explores a few more areas around the vicinity and heads from Ballycastle to Ballystruder to the Gobbins.
It takes almost three quarters of a day to explore the walk so day 4 is dedicated to the Gobbins.
Gobbins Cliff Walk
The Gobbins Path is not entirely 'new'. It was originally opened in 1902. However, due to many reasons, mostly natural, the path had to be closed down.
Recently restored and now fully functional since August 2015, it is a must-do in Northern Ireland. For as low as £8.50 for an adult, it's an amazing way to connect with nature. The biodiversity around will put a smile on your face. If you're luck you might even spot puffins in summer.
All details can be found on the official Gobbins Website. Once you're done its best to drive back to Belfast for a well earned rest.
---
DETAILS
Address: 66 Middle Rd, Ballystrudder, Islandmagee, Larne BT40 3SL
Timings: 8.30 AM – 5 PM everyday
Price: Adults: £20, Children, Seniors, students: £14.50, free for registered carers
---
Getting to Gobbins Cliff path
Ulsterbus No. 263 goes from Belfast to Whitehead. Ensure you call the Gobbins visitor centre if you need transport between Whitehead and the visitor centre.
They ensure a taxi is arranged for you for as low as £8 one way. Once at the visitor centre you will be taken with the group via a minibus to the start of the walk with your guide.
Day 5 of Causeway Coastal Way Itinerary
Day 5 of your Causeway Coastal Route itinerary is optional if you'd still like to explore the outskirts of Belfast or you're a Game of Thrones fan.
I chanced upon Castle Ward due to Game of Thrones as season 1 was filmed here. You would easily understand why this location was chosen in the first place. Untouched nature, vast grounds, castles, lough's, seals…..This place has it all!
We opted for the Archery experience at Castle Ward.
After a rigorous archery session we set off for a walk of the grounds. Maintained in excellent condition by the National Trust, it is definitely an offbeat piece of paradise. Well worth dedicating an entire day for something offbeat.
---
Getting to Castleward/Strangford
Ulsterbus no. 15 goes to Downpatrick, the nearest bus stop to get to Castleward near Strangford.
Discuss with Castleward about the possibility of a pick-up from Downpatrick and they will be more than glad to help. Do ensure you check the latest bus timings from the Translink website.
---
DETAILS
Castle Ward
Address: Castle Ward, Strangford, Downpatrick BT30 7BA, United Kingdom
Timings: 10 AM – 5 PM everyday
Price: £10 for adults and £5 for children, however the Game of Thrones tours are priced differently and are limited
Causeway coastal route in Ireland is famous for many reasons and if you are a GOT fan, then it has so many surprising moments for you!
No matter how many days you decide to spend on this route, it will seem less by the end of the trip. So, plan your causeway coastal route itinerary carefully to make the best of your vacation!
---
FAQs for Causeway Coastal Route Itinerary
Where does the causeway coastal route start and finish?
The causeway coastal route starts in Belfast city and ends in Derry. It runs along though the nine Glens of Antrim, reaching the Giant's Causeway before following to its final destination.
How long does it take to drive the Causeway Coastal Route?
The entire 313km route will take between 3-5 days if you want enough time to soak up all that it has to offer. But you can also see it is 1-2 days by cutting short the causeway coastal route itinerary mentioned above. Belfast to Giants Causeway is 60 miles.
What is the best time to visit the Causeway coastal route?
We went in November. The days are shorter and it is pretty cold and windy. Although it was November, we got some great days, however I would suggest you visit somewhere between March and September.
What are some of the festivals you could attend on the Causeway coastal route in Northern Ireland?
March: St. Patrick's Day
May: Classic Fishing Festival
August : Heart of the Glens Festival
October: Northern Ireland Potato Festival
Northern Ireland has an interesting line-up of great events too. do check the official tourism website for the latest info.
What will be the total cost of the Causeway coastal route trip?
Expect to pay about £50 on average for accommodation in an AirBnb and about £70 in a mid-range hotel per night. Public transport is cheap, but is sparse. A multitude of options for food in every range. Seafood is great and fresh!
What are the options for public transport?
Bus transport is sparse and the frequency reduces drastically in the evening. Trains are convenient although there are few routes they traverse on. Both modes are practically priced.
Taxis are convenient and are suitably priced. It could get expensive in the evenings due to traffic congestion in Belfast. There are fewer taxis in the villages.
What are some of the souvenirs to buy in Northern Ireland?
Irish fudge

Pottery items

Whisky marmalades

Marble ornaments

Tea

Linens

Whiskey!
---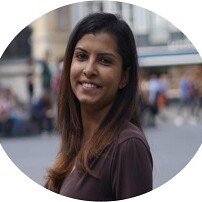 Award-winning Analyst, multi-nominated digital content creator and photographer Lavina Dsouza's words capture stories about culture and tradition mainly through its food and people. She has written and contributed to publications such as The Washington Post, Lonely Planet and Matador Network, to name a few. She is the editor of UntraditionalHumans.com, a non-profit created to share inspiring stories from women of colour who break free from traditions and choose happiness.
She's also a speaker passionate about DEI and champions solo travel. She has collaborated with numerous renowned brands such as Intrepid Travel, TripAdvisor, Travel and Leisure and Adobe, to name a few.
She can be found on Twitter and Instagram.
---
---
EXPLORE MORE OF NORTHERN IRELAND
---
Some of the links on this post are affiliate links. These do not cost you extra to use, but will help provide Continent Hop with a small commission if/when you purchase through them, to recover some of the costs of running this website and providing free content to help you plan your travel. I appreciate your support!
---