Morocco isn't just about tagines! Traditional Moroccan food includes so much more and includes a wide range of spices. Moroccan street food has some exotic items on the menu as well which includes snails! Here's some dishes in the Moroccan cuisine you should try when you're on a road trip through here.
From sweet and minty flavours to traditional tangy and spicy tastes – Moroccan dishes are among the top best cuisines in the world. Its intense and diverse flavours are influenced by its rich heritage, multi-ethnic background, and tumultuous history.
Food is an integral part of Moroccan culture. The cuisine is a combination of French, Berber, Arabic, and Andalusian traditions that arouse your taste buds with every bite. Enter chicken Bastilla topped with cinnamon and ground almond served with mint leaves. Or a stuffed msemen enriched with onion, peppers, and tomatoes with an aroma like blue cheese.
They say if you haven't tasted Moroccan street foods and traditional dishes, you are missing out on the sweet and savory dishes.
Are you planning a trip to Morocco? Here are 13 Moroccan dishes to treat your taste buds!
---
Traditional Moroccan food not to be missed
---
Harira soup
Harira is a must-try traditional Moroccan soup. It is a tomato-based soup enriched with chickpeas, lentils, dried spices, fresh spices, and meat such as lamb, chicken, or beef. It is often served with lemon slices/juice, chebakia, figs, and crusty bread.
It is taken as an appetizer or a fulfilling main meal. It is predominantly popular during Ramadan to break the fast.
---
---
Couscous
Couscous is one of the main course dishes in Moroccan cuisine. It consists of small steamed balls of crushed durum wheat semolina served with vegetable stew or meat. Traditionally, it is prepared on Friday, Muslim holy day, and special occasions such as funerals and weddings.
But, you can find it in most restaurants in Marrakech. Just like most Moroccan dishes, couscous is eaten from a super-sized communal plate.
---
Bastilla
Bastilla/Pastilla is the perfect sweet and savory combination of Moroccan street food. It is pie stuffed with either pigeon or chicken meat and topped with cinnamon and toasted almonds, then dusted with powdered sugar to cover the top. Other fillings may include fish and lamb.
Traditionally, it is served as an appetizer, especially before the tagine with meat.
---
Tagine
Tagine is the most famous Moroccan dish available in most restaurants, including top-notch restaurants and roadside stalls. It is named after the conical clay pot "tajine", in which it's cooked.
It is a savory stew of tender meat, poultry or fish, vegetables or fruits, and nuts enriched with spices slow-cooked to infuse bold flavors. You can try to cook this savory stew, preferably chicken with preserved lemon and olives, at home by slow-cooking it in a tagine (if you don't have one, you can just opt for a dutch oven like this one) and serve with khobz (bread) like true Moroccans.
---
---
Mint tea
Popularly referred to as "Moroccan whiskey", mint tea is the national drink of Moroccans. Gunpowder green tea is infused with sprigs of mint and heavily dosed with sugar chipped off a sugar cone.
Shebakia
Shebakia is probably the most popular Moroccan sweet, especially during the Islamic holiday of Ramadan. It is quite a simple dish: flower-shaped deep-fried sweetened sesame twisted then dipped in honey. This is a must-try.
---
---
Tangia/Tanjia
Tangia is a rich-flavored local dish in Marrakech. Just like tagine, it is named after the urn-like pot that it is cooked in. The pot is filled with chicken, lamb, or beef steeped with lemon, garlic, salted butter, and plenty of herbs, then slow-cooked.
---
Khobz
Are you a fan of pieces of bread around the world? Khobz is a round type of white bread in Morocco that is served alongside various Moroccan cuisine. It perfectly fits the traditional Moroccan method of eating various dishes by hand using bread to scoop tagines, Moroccan salads, and other dishes.
---
Brochettes
Brochettes are popular Moroccan street foods. They are simply Moroccan versions of kebab or meat skewers. Chunks of lamb sausage, liver, beef, fish, or chicken are speared and grilled on sticks. It involves alternating the cubes of meat with cubes of fat. They are often grilled during Eid al Adha when families make brochettes or qotban from the sacrificial animal.
---
---
Steamed sheep head
Steamed sheep head, sheep's brain, and sheep's testicles on a plate seem weird, but the taste is super delicious, especially when served with some spicy sauce. Charred sheep head is steamed in a cook pressure over low heat. The tongue and cheek meat are our favorite parts!
---
Moroccan zaalouk
Before taking main Moroccan foods like couscous and tagine, khobz and vegetable salads will spice up your appetite.
Zaalouk is a Moroccan-cooked vegetable salad of tomatoes and smoked eggplants seasoned with paprika, chili powder, cumin, garlic, and herbs. It is eaten as a dip with khobz.
---
---
Stuffed fried sardines
Stuffed fried sardines are among the typical Moroccan street foods. Butterflied sardine fillets are stuffed with chermoula, a marinade of fresh herbs and garlic, bringing out an irresistible taste as part of starters or alongside fresh salads.
---
Snail soup
Moroccan food is not complete without the mention of the real, local delicacy: snail soup. Snail soup is served with a toothpick and a spoon to pluck the snails from the shells and taste the broth, respectively. Before you have your reservations, snail soup is actually tasty and good for your digestion.
---
Are you a fan of Moroccan cuisine? Can you spot your favorite? These Moroccan foods are just some of the delicious dishes in Morocco. And remember, if you are offered food for free in Morocco – never say no. It is regarded as rude!
---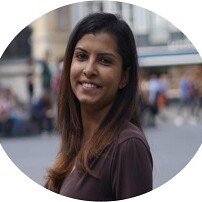 Award-winning Analyst, multi-nominated digital content creator and photographer Lavina Dsouza's words capture stories about culture and tradition mainly through its food and people. She has written and contributed to publications such as The Washington Post, Lonely Planet and Matador Network, to name a few. She is the editor of UntraditionalHumans.com, a non-profit created to share inspiring stories from women of colour who break free from traditions and choose happiness.
She's also a speaker passionate about DEI and champions solo travel. She has collaborated with numerous renowned brands such as Intrepid Travel, TripAdvisor, Travel and Leisure and Adobe, to name a few.
She can be found on Twitter and Instagram.
---
---
EXPLORE MORE READY-TO-GO ITINERARIES
---
Some of the links on this post are affiliate links. These do not cost you extra to use, but will help provide Continent Hop with a small commission if/when you purchase through them, to recover some of the costs of running this website and providing free content to help you plan your travel. I appreciate your support!
---