Hanoi is a delightful city and while you can happily spend a week here and stay busy, you should spend at least 2 days in Hanoi. There's street food and shopping to enjoy in addition to the hustle and bustle! Here's a detailed 2 days in Hanoi itinerary to help you plan better and get a good taste of Hanoi!
I head out to find a Banh Mi – it's the Vietnamese word for bread but a Banh Mi is actually a baguette.
It is also the word synonymous with a sub-sandwich specific to Vietnam, one that is tasty, fresh and full of delightful goodness. Perfect to start my 2nd day in Hanoi.
Chomping on it, on the way to Cafe Trung for my fixed dose of egg coffee, I take a picture with a colorful mural as the background, something that's popped up overnight.
I spent one day in Hanoi stuffing myself with delicious street food, taking a walk around the West Lake and Tran Quoc pagoda and getting a glimpse into the night life here.
Day 2 of my 2 days in Hanoi, Vietnam was to be more spaced out and spontaneous.
That being said, there were numerous options to pick! I decided to interact more with the locals and buy directly from them aka spent most of the day shopping with a little touch of history.
---
However, I've detailed all the options here for you to pick what you'd like.
You could also skip spending an entire day here and head off to Halong Bay if you like; the options are endless.
I, however, decided to head to Pho Gia Truyen Bat Dan again, for some steaming Pho and explore more of the city!
---
Getting a visa for Vietnam
If you're planning to visit Vietnam, the first thing you will need is a visa.
Citizens from most countries are required to have one and the quickest way to get a visa is to get it in advance, online.
To apply for a visa, you will need a passport that is valid for at least 30 days and bookings sorted for flights/ferries and stay. Please check if you require to get one, before applying.
---
A 2 days in Hanoi itinerary
Here's what to do in Hanoi in 2 days
---
Day 1 of your 2 days in Hanoi itinerary
---
Start the day with Pho at Pho Gia Truyen Bat Dan
Breakfast needs to be hearty and Vietnam, just like many other Asian destinations makes sure there are numerous options for a filling meal, mostly served fresh and hot.
As soon as I stepped out of the hotel, I was surrounded by appetizing smells wafting through the air and people slurping through their bowls of Pho.
The Pho in Vietnam (and especially in Hanoi) is unforgettable and something you should not miss out on! I made sure I had a little everyday although it was difficult as there were so many dishes to pick from.
Pho Bo (Beef Pho) or Pho Ga (Chicken Pho) are the 2 main types of Pho available at most stalls. Pho Bo is a 'must-try' on your 2 days in Hanoi itinerary.
The intense broth is made from stock by simmering bones and meat, with flavorful spices, onion and ginger. Once done meat is thinly sliced and served in the Pho.
Irrespective of whether you pick Pho or Bun (thin noodles used in the soup) will be served with fresh coriander, mint, thinly cut chili peppers, lemon and chopped onion.
Pho Gia Truyen Bat Dan has been around since the 1960s and sells only Pho Bo. Make sure to try the Pho at different spots as each one has a secret recipe!
---
DETAILS
Address: 49 Bat Dan, Cua Dong, Hoan Kiem, Ha Noi, Vietnam
Timings: 6 AM – 10 AM, 6 PM – 8.30 PM
Approximate price: Starts from VND 35,000 per bowl
---
---
Then get some egg coffee
Egg coffee is exactly what it sounds. Due to a shortage of milk caused by the first Indochina war, Nguyen, the owner of Cafe Giang, who was bartending at the Sofitel Legend Metropole Hotel at this time, used eggs as a substitute for milk.
Robusta coffee is famous in Vietnam and is mostly used to make the egg coffee.
The coffee is topped with creamy, whipped egg and is quite a nice experience! I had two to finish off breakfast and then went on a hunt for the train that sped inches away from houses in Hanoi!
You can also try the egg coffee at Cafe Dinh.
Both spots are located at an 8-10 minute walk from Pho Bat Dan and are good to get a taste of the cafe culture on your 2 day Hanoi itinerary.
---
DETAILS
Cafe Giang
Address: 39 Nguyen Huu Huan, Hang Bac, Hoan Kiem, Ha Noi, Vietnam
Timings: 7 AM – 10 PM
Approximate price: About VND 25,000 per cup
Website can be found here
—————
Cafe Dinh 
Address: 13 Dinh Tien Hoang, Hang Trong, Hoan Kiem, Ha Noi, Vietnam
Timings: 7 AM – 9.30 PM
---
Watch the train speed inches away from houses
When I lived in Mumbai, (and maybe people from other metro's can identify too) it was common to find apartments located really close to the train station.
However, this location takes it a little further.
If these houses were to have a patio, it would be on the train track, that's how close these houses are squashed next to each other.
I wouldn't advise finding this location, just to click pictures but to see how the locals live their day to day lives.
Make sure to buy a beer at one of the mini-stores by the train track to support them. You'll also find the timings mentioned at most of these stores. If not, the locals usually retreat to their houses when the train is to pass by.
The train track is located about 3 kilometers from Cafe Giang. The walk is about 30 minutes and is a good way to get to see Hanoi. Hiring a taxi costs about £2.5 one way. Grab Taxi is the most convenient to use via their app.
---
DETAILS
Anywhere where the train track passes through Hanoi. However, this may be used as a location in Google Maps
Address: Hanoi train track cafe, So 47 Ngo 224 Le Duan, Kham Thien, Dong Da, Ha Noi, 100000, Vietnam
Timings: 10.30 AM – 8 PM
---
Take a walk through the Old Quarters of Hanoi
When Hanoi was made capital for the very first time, various hawkers and craftsmen gathered around the capital to sell their wares, leading to a concentration of traders on certain streets in the old quarters of the city.
Once you've seen how locals live by the railway tracks, start walking towards the old quarters to explore this area better.
Saint Joseph's Cathedral – Also called Hanoi Cathedral, it is the oldest Church in Hanoi, built in the Neo-Gothic style with stained glass windows and tall arches.
The courtyard has gigantic metallic paintings from the life of Christ adorning the walls.
The Cathedral is also a hub of many cafes and restaurants making it a great spot to relax for an hour or so and people watch!
---
DETAILS
Address: 40 Nha Chung, Hang Trong, Hoan Kiem, Ha Noi, Vietnam
Timings: Monday – Saturday 8 AM – 11 AM, 2 PM – 5 PM, Sundays 7 AM – 10.30 AM, 3 PM – 9 PM
Cost: Free
Website can be found here
---
Temple of Literature – One of the best places to visit in Hanoi, you'll see three pathways, once you enter through the main gate.
If you look up you'll notice the big bronze bell at the top of the arch in the center, indicating it was reserved for the monarch.
The temple of literature is just a 15 minute walk from the Prison Memorial, has 5 courtyards, a temple and small lake full of Koi fish. It is worth a visit as it brings a sense of calm from the hustle and bustle of the city.
Also called Van Mieu, the Temple of Literature/Temple of Culture which is a Confucius temple and hosts Vietnam's first national university. You'll find the Temple of Literature featured on the back of the 100,000 VND banknote!
---
DETAILS
Address: 58 Quoc Tu Giam, Van Mieu, Dong Da, Ha Noi 100000, Vietnam
Timings: April to October – 7.30 AM – 5:30 PM, October to April 8 AM – 5 PM
Cost: VND 30,000 adults, VND 15,000 students
---
One Pillar Pagoda – The One Pillar Pagoda is a small Buddhist temple that sits in the architecture complex of the Ho Chi Minh Mausoleum.
It represents a blossoming lotus flower from the waters and has a statue of Quan Am, the Goddess of Mercy as legend claims that the Emperor built the pagoda in gratitude to the Goddess and the Bodhisattva Avalokiteshvara; as they helped him become a father.
Dressing appropriately from head to toe is advised if you'd like to pay a visit. Shorts aren't allowed.
---
DETAILS
Address: Chua Mot Cot, Doi Can, Ba Dinh, Ha Noi 100000, Vietnam
Timings: Open everyday 7 AM – 6 PM
Cost: Free
---
Ho Chi Minh Mausoleum – One of the busiest touristic sites in Hanoi, the mausoleum is the resting place of the Emperor Ho Chi Minh.
Located in front of the Ba Dinh Square, the mausoleum is where the former president of Vietnam, Ho Chi Minh is laid to rest. It was him that led Vietnam to victory against the French and helped devised strategies and lead the war against the U.S. during the AMerican War.
His body is embalmed and put on display at the mausoleum.
Best time to visit is early morning when the queues are smaller.
Also located within the complex are the Presidential Palace, the Ho Chi Minh stilt house and the One pillar pagoda. It is worth walking past these attractions if you're short on time and spending only 2 days in Hanoi, Vietnam.
---
DETAILS
Address: 2 Hung Vuong, Dien Ban, Ba Dinh, Ha Noi 100000, Vietnam
Timings: Tuesdays, Wednesdays and Thursdays 7.30 AM – 10.30 AM, Saturdays and Sundays 7.30 AM – 11 AM, Closed Mondays and Fridays. Closed for a few months every year when the remains are sent for maintenance
Cost: VND 40,000
---
Dong Xuan Market – The market was the last stop on our walking tour of Hanoi through the old quarters.
It is the largest indoor market in Hanoi and a greta buy to buy keepsakes, upholstery and souvenirs. You can bargain here however be mindful of how interested you are in the item before you start, just like in the Marrakech souks.
The old quarters have shops, temples, pagodas, traditional food stalls in addition to interesting architecture, greta cafes and bars. You can easily spend more than 2-3 hours here. Adjust according to your preference.
I'd decided to spend more time at the markets on the 2nd day so I just took a quick walk here on the 1st.
If you're more of a slow traveler, you can spend your whole one day in Hanoi exploring only this area.
---
DETAILS
Address: Dong Xuan, Hoan Kiem, Hanoi 100000, Vietnam
Timings: Open every day 6 AM – 6 PM
Lunch at Bun Cha Hang Quat
Bun Cha was made famous when Anthony Bourdain and Barack Obama had this dish in Hanoi. While the restaurant where they had it is located on the outskirts of the city, the one at Hang Quat is equally popular and worth a try.
Slices of grilled pork belly are served in a steaming, tasty broth served with thin rice noodles and accompaniments similar to ones served with Pho.
Like Pho, you will find Bun Cha almost everywhere. Try it with some crispy spring rolls if you're really hungry!
---
DETAILS
Address: 74 Hang Quat, Hang Gai, Hoan Kiem, Ha Noi, Vietnam
Timings: Open everyday 10.30 AM – 2 PM
Location can be found here
---
West Lake and Tran Quoc pagoda
If you're looking to get more out of your 2 days in Hanoi, hire a taxi to take you to West Lake. Hoan Kiem lake is a good location to catch the sunset and end the first day of your 2 days in Hanoi itinerary with some quiet!
Tran Quoc Pagoda, the oldest pagoda in Vietnam sits on the east side of the lake. The pagoda, (also called 'Khai Quoc') has many small temples located inside and it's quite peaceful and picturesque here.
After this you could head off for dinner or if you'd like to do more, catch a water puppet show. Ideal to do if you have kids!
---
DETAILS
Address: Thanh Nien, Yen Phu, Tay Ho, Ha Noi 100000, Vietnam
Timings: 8 AM – 4 PM every day
Cost: Free
---
A Walk around Hoan Kiem Lake and Ngoc Son temple
Hoan Kiem (Lake of the Restored Sword) is where you'll find most locals every morning and evening and it is one of the best things to do in Hanoi.
You could even start your itinerary here by visiting the lake before your bowl of Pho!
The turtle temple (Thap Rùa), is located in the center of the lake. You'll occasionally find large endangered soft-shell turtles lying around here. Over the lake is the Red Huc (Morning sunlight) bridge which connects the temple to the Ngoc Son (Jade Mountain) temple located over Jade island.
The temple busy during the day but is lit up at night, making it magical!
During weekends the area is prohibited from traffic so the area is full of children playing, hawkers selling their wares and artists performing.
---
DETAILS
Address: Dinh Tien Hoang, Hang Trong, Hoan Kiem, Ha Noi 100000, Vietnam
Timings: 8 AM – 6 PM
Cost: VND 30,000 to cross the bridge to visit the temple
---
6.30 PM / 8 PM
---
Thang Long Water Puppet Theatre
Attend a water puppet show conducted entirely over water at the theater located right next to Hoan Kiem lake if you're keen to watch a traditional performance by the local artists.
The show starts off with the orchestra played using local Vietnamese instruments. The puppet show then follows, which narrates a legend that covers local activities like farming, fishing and herding buffaloes.
The puppeteers conduct the whole show by using large underwater rods from behind a screen.
---
DETAILS
Address: 57b Dinh Tien Hoang Street, Hoan Kiem District, Hanoi – Vietnam
Timings: 4 shows daily, 3 PM, 4.10 PM, 5.20 PM, 6.30 PM, 8 PM. More details can be found here
Cost: Tickets start VND 100,000
---
Dinner at Cha Ca Va Long / Cha Ca Thang Long
This Northern Vietnamese speciality was one of my favourite dishes in Vietnam. It is one that I haven't found anywhere else in the world so it is a must-try if you like seafood!
Cha Ca or pan-fried fish is a Northern Vietnamese specialty that was one of my favorites while in Vietnam. Chunks of lightly seasoned, semi-grilled fish marinated in turmeric are placed on a pan on your table while you fry it yourself!
Accompaniments like peanuts, chopped coriander are also provided making it a super tempting meal.
Cha Ca Va Long is a century old making it one of the oldest eateries in Hanoi!
---
DETAILS
Address: 21 – 31 Duong Thanh, Cua Dong, Hoan Kiem, Ha Noi, Vietnam
Timings: Open everyday 10 AM – 9.30 PM
More info can be found here
---
Fresh beer at Bia Hoi junction
The abundance of nightlife is one of the perks of having a city break. Hanoi is another city that doesn't sleep and hence you will find many bars, pubs and a bustling nightlife here, which will keep you highly entertained.
Little Hanoi is a great spot to grab dinner on a busy street and mingle with locals and tourists.
You'll also find the freshest beer in Hanoi Bia Hoi (Vietnamese draught beer) at Bia Hoi junction, to be had immediately by sitting on the tiny stools on the side!
Quantities are limited and once over, the vendors call it a day!
Bia Hoi junction is located at the corner of Ta Hien and Luong Ngoc Quyen streets in the Hanoi Old Quarter. There are also many nightclubs you'll find in the old quarter but unfortunately, I can't recommend any.
Once you're happy with the time spent here, it's time to call it a night and get some rest for your day 2 in Hanoi!
---
Day 2 of your Two days in Hanoi Itinerary
---
Thang Long Imperial Citadel
After grabbing breakfast and egg coffee again (if you're a big fan of this unique coffee like me!), you can start your day by visiting Thang Long Imperial Citadel.
The Imperial Citadel of Thang Long, a UNESCO world heritage site, has historical importance due to its old palaces, excavated sites and artefacts. A display room has mock-ups of the Citadel and artefacts that can help you know about the ancient culture in Vietnam and other Southeast Asian countries.
Remember to collect a map from the visitor's information centre at the entrance so that you know which route to take and do not miss out on anything as this is a vast complex with many buildings.
A fascinating place to see here is the Bunker D67, the underground war bunker built in 1967. This bunker was the headquarters of the North Vietnamese Armed forces during the war against American invaders. The underground bunker is in a building that looks ordinary from the outside but is soundproof and has a layer of sand on the roof for protection from shrapnel.
---
DETAILS
Address: 19C Hoang Dieu, Dien Ban, Ba Dinh, Ha Noi 100000, Vietnam
Timings: 8 AM – 5 PM from Tuesday to Sunday. Closed on Mondays
Cost: VND 30,000, free for children aged 15 or below  (VND 15,000 for students or Vietnamese citizens above 60)
More info and updated ticket prices here
---
Vietnam Military Museum
If you're looking to start the day late pick either the Citadel or this, depending on preferences. If you visited the Citadel, your next stop should be the Vietnam Military history museum or the Army Museum, a few metres away from the Citadel's complex.
This museum has a collection of war relics, weapons, soldiers' accounts and propaganda videos from wars against China, the United States and France.
The highlights of the museum are, in fact, outside the museum – the flag tower and aeroplanes. Climb up the Flag Tower in the museum's complex to get a picturesque view of the city. The tower was built in 1812 and remains undamaged despite the wars. The Vietnamese flag has flown at this tower's top since October 1954.
Tourists love the museum due to its display of captured American aeroplanes and the wreckage of an American B-52 bomber used to bomb Hanoi in December 1972.
If you are looking to save money, you should see some of the exhibits through the outside glass displays. Many tourists who visit through tours see the museum only from outside.
---
DETAILS
Address: 28A Dien Bien Phu, Dien Bien Phu, Dien Ban, Ba Dinh, Hanoi
Timings: 8 AM – 11.30 AM, 1 PM – 4.30 PM on all days except Monday and Friday. Closed on Mondays and Fridays
Cost: VND 40,000 for foreigners, VND 20,000 for Vietnamese visitors, VND 30,000 for a camera (15% discount for children under the age of 15, elderly and students)
---
Presidential Palace and Ho Chi Minh Stilt House
The Presidential Palace is a beautiful three-storeyed yellow building built in a French architectural style surrounded by lush gardens, a carp pond and a boulevard.
This building, built by 1906, was constructed to create an official residence for Vietnam's revered leader, Ho Chi Minh. Minh, however, preferred to live in the simple, traditional stilt house that you can visit within the palace's compound.
The palace is only used for political gatherings now, and tourists cannot enter the palace. You can only see the colonial building from the garden, for which you would have to pay an entrance fee of 25000 VND.
You can, though, enjoy the tranquil gardens and their surrounds – Mango street (a street lined with mango trees), the orchard and the carp pond. Behind Mango street lies Minh's traditional house that has simple, wooden interiors. This house is open for visitors to enter.
---
DETAILS
Address: So 2 Hung Vuong, Ngoc Ho, Ba Dinh, Hanoi – 118708
Timings: 8 AM – 11.30 AM, 1 PM – 4.30 PM on all days except Monday and Friday. Closed on Mondays and Fridays
Cost: VND 25,000
---
Quan Thanh Temple/Hanoi Botanical Garden
Quan Thanh Temple, located at the edge of Tru Bach lake, is one of the four 'sacred temples' built to protect the city from evil spirits. The other three sacred temples are – Kim Liem (South), Bach Ma (East) and Than Linh Lang (West).
Quan Thanh, a Taoist temple built in the eleventh century to honour 'Tran Vo', the 'God of the North', is known for its four metres tall bronze statue of Tran Vu. The temple is also known for its kanji poems and art carved on its doors and beams.
Alternatively, you can also visit the Hanoi Botanical Garden nearby, though whether this timing is right to spend time in a garden would depend on the season.
It's a good idea to skip this if you happen to be in Hanoi during the hot, humid summer season when temperatures are in the range of 25-30°C or even higher. The garden is only 700 metres away from the presidential palace.
---
DETAILS
Quan Thanh Temple 
Address: Thanh Nien, Quan Thanh, Ba Dinh, Hanoi – 118810
Timings: 8 AM – 5 PM, on all days
Cost: Approx. VND 10,000
Hanoi Botanical Garden
Address: 3 Hoang Hoa Tham, Ngoc Ho, Ba Dinh, Hanoi
Timings: 5.30 AM – 10 PM, on all days
Cost: Approx. VND 2,000
---
Lunch at Pho Cuon Huong Mai
Serving some of the best Pho Cuon (Beef Pho wrapped in rice noodles) in the city, Pho Cuon Huong Mai is about a 10 minute walk from Quan Thanh.
Fried beef, served on Pho 'pillows' is another dish you could try here that's a customer favourite. The place is clean and budget-friendly, but don't expect great service.
---
DETAILS
Hanoi Botanical Garden
Address: 25 Ngũ Xã, Trúc Bạch, Ba Đình, Hanoi, Vietnam
Timings: 9 AM – 11 PM, all days
---
Shopping or Museums
Post lunch, you can choose to visit any of the museums in the city. Alternatively, you can choose to shop in the different markets in Hanoi's local markets, a shopping haven for affordable silk, clothes, leather goods, clothes and handicrafts.
---
OPTION 1: Shopping
Hang Gai street – Old quarters
Silk Street or Hang Gai street is in the Old Quarter area. Visit this market for fashionable, good quality silk, home furnishing and traditional Vietnamese clothes. You can also get tailor-made clothes in as little as 24 hours here!
When in Hanoi, one must explore the local markets, bargain hard and buy local.
You can find exquisite, unique local goods this way. But if you are looking for branded products, you can visit malls such as Lotte Center Hanoi/Trang Tien Street/ Hang Da Market.
Trang Tien Street, located at the beginning of the French Quarter, is the place you should head to if you are looking for luxury and international designer brands.
If you are willing to travel some distance, you can also go to Van Phuc Silk village, about 11 km away, southwest of the city.
This village is not only popular amongst tourists but also exports its silk products across the world. You can find reasonably priced silk clothes, souvenirs, and handicrafts here.
---
OPTION 2: Museums
Hanoi is a treat for history buffs. If you are one, there are a plethora of museums you can visit. If you want to see all of them, one afternoon is possibly not enough for all of them, and you should consider planning a more extended stay in the city.
Here are a few of the museums that you can visit in Hanoi –
Vietnam Museum of Ethnology 
This museum documents the history and culture of the different ethnic groups of Vietnam. The museum's outdoor area also has replicas of traditional Vietnamese homes with exhibits through which tourists can know more about the lifestyle and culture of these ethnic groups.
DETAILS
Address: 34 Chau Long, Truc Bach, Ba Dinh, Hanoi – 100000
Timings: 8.30 AM: 5.30 PM from Tuesday to Sunday. Closed on Mondays
Cost: VND 40,000; 50,000 VND for a camera (Discount for students or people aged above 60, free for children under 6)
---
Vietnamese Women's Museum

The Vietnamese Women's Museum, run by the Women's Union of Vietnam, highlights women's contribution to Vietnam's history and culture. The museum has more than 25,000 items, artefacts and photos that chronicle women's lives and their contribution to the military, economy, and family.

DETAILS 

Address: 36 Ly Thuong Kiet, Hang Bai, Hoan Kiem, Hanoi
Timings: 8 AM: 5 PM, Monday – Sunday
Cost : VND 40,000 (VND 20,000 for students; VND 10,000 for children). Website can be found here
---
Hanoi Police Museum 

This museum takes visitors through a chronological history of the country's police force from the time they made efforts to expel the French in 1946 to their modern-day stories of fighting cybercrime and drugs. Exhibits here include uniforms, weapons, motorcycles, photographs, newspaper articles and various other artefacts.

DETAILS 

Address: 67 Ly Thuong Kiet, Tran Hung Dao, Hoan Kiem, Hanoi
Timings: 8 AM: 4.30 PM from Tuesday to Sunday. Closed on Mondays
Cost: Free admission
---
Lotte Observation Deck
The Lotte Observation Deck is the best place to get a panoramic view of the city. The deck is on the 65th floor of the Lotte Center building, which also has shops, restaurants, a gym, spa, hypermarket, and the five-star Lotte Hotel.
The prices vary depending on the time of the day. It is cheaper to visit in the evening than during the day. I suggest visiting the deck in the evening as this is an excellent spot to watch the sunset.
There are four different zones here – Attraction Zone, Welcome Zone, Experience Zone and Romantic Zone.
The most enjoyable (or challenging – for those who have a fear of heights) part of the visit here is walking on the Sky Walk, a glass-bottomed floor where you take off your shoes and walk right into clouds/night sky – depending on the time you visit.
---
DETAILS
Address: 54 Lieu Giai, Cong Vi, Ngoc Canh Ba Dinh, Hanoi – 117000
Timings: 9 AM – 12 PM (Ticket counter closes at 11 PM)
Cost: Ticket prices vary on the time of the day and age of the visitor. Details available here – http://observationdeck.lottecenter.com.vn/en/ticket. Discounts available during ongoing promotions, and if you book online
---
Dinner
The Lotte Observation Deck has a few cafes that offer affordable options. Alternatively, the Lotte Center has some great restaurants that you can visit after spending enough time at the deck.
If you want to have a late dinner, you could also enjoy the food at the small, local eateries in the Old quarters night market.
---
Old quarters night market
If your second day in Hanoi happens to be a Friday/Saturday/Sunday, spend the night at the night market in the Old quarters.
The streets come alive due to the colourful lights illuminating the streets, live cultural performances, and tourists who come here.
You can buy souvenirs, handicrafts, leather handbags, clothing (but you must know how to bargain to be able to get a good deal!) or grab some local dishes or beer at one of the stalls here. Be careful of your belongings, as pickpocketing is rampant here.
If you are in Hanoi on a weekday other than Friday, you can visit the Opera House at this time.
Hanoi opera house, situated close to Hong Kiem Lake, was built over ten years by the French colonial rulers over 1901-1911. The building's eclectic renaissance architecture resembles the Opera House (Palais Garnier) in Paris. You can also watch a play, attend a concert or listen to opera here.
The Opera House is worth the visit to admire its architecture. If you plan to watch a play or listen to opera –  these may begin earlier in the evening, and it's best to check the website, book tickets in advance and plan your day accordingly.
---
DETAILS
Old quarters night market 
Address: 8 Hang Dao, Hoan Kiem, Hanoi Vietnam
Timings: 8 PM – 11 PM only on Friday, Saturday and Sunday
Hanoi Opera House 
Address: 01 Trang Tien, Phan Chu Trinh, Hoan Kiem, Ha Noi 100000, Vietnam
Timings: 8 AM – 11 AM on all days
Entry Fees: 400,000 VND (50 % discount for student)
Tickets for performances: VND 300,000 – 1,000,000 (Ticket price varies for different performances)
---
If you don't like spending time in bustling, noisy cities, you can also plan a day trip for the second day to either of these places – Perfume Pagoda, Duong Lam ancient village, Ba Vi National park, Ninh Binh village and the nearby Van Long nature reserve.
Here's some info for Ninh Binh village, which is my recommendation!
Ninh Binh city, about 95 km from Hanoi, is a must-visit if you love nature. Ninh Binh is the province's name, which consists of many small villages and the city's name, which is the capital of the province. Situated in the Red River delta, this city is a delight with its lush greenery, limestone cliffs and temples.
This region has the Trang An Landscape Complex, a UNESCO cultural heritage site and a spectacular landscape of limestone peaks and caves amidst the valley, renowned for its limestone peaks similar to Halong Bay and boat tours.
If you visit Ninh Binh, do not miss the Van Long Nature Reserve, a wetland reserve, half an hour away from the city. Van Long, home to the endemic Delacour langurs, is known for its scenic views and is popular with birdwatchers.
---
Vietnam is a massive destination and irrespective of whether you choose to travel and see more of it or spend a few days in Hanoi, it'll leave you asking for more.
It isn't just the food though, the warm friendly locals, the atmosphere…there's something about the place that'll definitely make you come back!
---
Hanoi is considered safe for tourists. However, petty crimes like pickpocketing, bag snatching, and taxi scams occur frequently. Here are a few ways you can be cautious –
Take metered cabs from reliable companies or apps such as Uber/Grab. Rigging taxi meters, adding extra 0s to rickshaw fares, taking longer routes, taking tourists to the wrong hotel from the airport have been reported in the city.

Pre-book the hotel you'll head to from the airport and carry the address. Unsuspecting tourists have been scammed by local cab drivers at the airport who offer to take them to a 'budget hotel.'

Be wary of locals who offer food or drinks together, especially at Hoan Kiem Lake or Old quarters. Locals who work in nexus with the bars have tried scamming tourists of money in this way.

 Practice caution while walking around the streets since pickpocketing or bags being snatched by people riding on a bike is often reported.
HOW MUCH MONEY DO YOU NEED PER DAY IN HANOI?
If you choose to go to the places suggested in this itinerary, it'll cost you around £40 / VND1349400 for a day. This does not include lunch, dinner, and accommodation costs.
A budget hotel in Hanoi will cost you £13 for a day, or a four-star-one would cost you 36-37£ per day.
WHAT IS THE BEST TIME TO VISIT HANOI
Since the country is huge, temperatures and weather varies greatly across the country. In northern Vietnam it can get quite cold in the mountainous regions with intermittent showers. In the cities the weather is mostly humid.
The best time to visit Ha Noi is Spring from February to April and autumn from October to November.
Many attractions and markets in Hanoi are situated very close to each other to the extent that you can reach them by walking on foot.
In some parts of the city, like the Old quarters or near the Imperial Citadel of Hue, you can also take a ride in a cyclo. This bicycle rickshaw can seat two people, which the driver pedals through the streets.
HIRING A CAR/BIKE/SCOOTER
I wouldn't suggest hiring a car as you're bound to get stuck in traffic most of the times. The lanes in Hanoi are very narrow which leads to traffic jam most of the times.
Ask at your hotel for some good prices. You might get a chauffeur as part of the price which will be more convenient.
You can also rent a bike or scooter for as little as about £5 a day.
TAXI
Taxi's are easily available in Hanoi and you need to discuss the price before you get in to a taxi if you hire one off the street. I'd highly recommend Grab Taxis as they have an app and are priced reasonably.
Motorcycle taxis, also known as Xe Oms, are also a cheap option.
PUBLIC TRANSPORT
It is difficult to get public transport easily in Hanoi and since I didn't use it myself and got around the city by walking, unfortunately I can't recommend any services.
HOTELS
Anywhere close to the old quarters is convenient as most of the attractions in Hanoi are located within walking distance in the old quarters.
I stayed at Church boutique hotel, 49 Hang Trong and it was a good location with equally good amenities.
---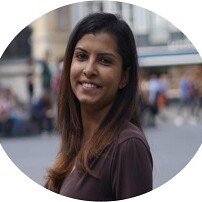 Award-winning Analyst, multi-nominated digital content creator and photographer Lavina Dsouza's words capture stories about culture and tradition mainly through its food and people. She has written and contributed to publications such as The Washington Post, Lonely Planet and Matador Network, to name a few. She is the editor of UntraditionalHumans.com, a non-profit created to share inspiring stories from women of colour who break free from traditions and choose happiness.
She's also a speaker passionate about DEI and champions solo travel. She has collaborated with numerous renowned brands such as Intrepid Travel, TripAdvisor, Travel and Leisure and Adobe, to name a few.
She can be found on Twitter and Instagram.
---
---
EXPLORE MORE READY-TO-GO ITINERARIES
---
Some of the links on this post are affiliate links. These do not cost you extra to use, but will help provide Continent Hop with a small commission if/when you purchase through them, to recover some of the costs of running this website and providing free content to help you plan your travel. I appreciate your support!
---