Taking a road trip to Normandy is the best way to explore this stunning French region. To make the most of your time, you need a well-planned Normandy itinerary. This one has beaches, some of the best regions and city attractions; get ready to witness beautiful French landscapes!
Normandy is a French region that is blessed with breath-taking natural beauty and at the same time, cursed with a cruel past.
Be it the Norman invasion in 1066 or the D-Day landings in 1944 during the Second World War, Normandy has been a part of the turbulent history.
But instead of turning it into a bitter land, Normandy has succeeded in preserving its elegance through sandy beaches, towering cliffs, churches, museums, and art centres.
And the best way to travel to Normandy is by road so that you can witness the rugged land frozen in time. When you plan a road trip to Normandy, you will realize this sprawling region cannot be fit into a number of days.
It deserves weeks if not months to fully immerse yourself in the charm of Normandy.
Your Normandy itinerary can include everything from Rouen to Caen or only the cliffs of Etretat or towering Mont-Saint-Michel depending on how many days you spend here.
This article includes how your trip to Normandy can include different fascinating sights without making it fast-paced.
---
Cliffs of Etretat with a Church on a road trip to Normandy itinerary
---
Best time to visit Normandy
---
Summer is the best time to visit Normandy as the weather is mild. Thanks to its proximity to the Atlantic Ocean, the climate is usually humid.
The months from May to October are considered the peak tourist season. Especially in June around the D-Day celebration, you will find everything packed and booked.
This month also witnesses higher rates for flights and accommodation. So, not an ideal time if you are travelling on a budget.
You can consider the months of May and October for your road trip to Normandy when tourists are fewer and all the museums, beaches, and attractions are also open.
If you are looking for a shoulder season for planning trip to Normandy, consider the months of autumn or winter. But remember that autumn usually brings in the rain and winter months mean many local businesses are closed for the holiday season.
If you're looking to visit D-Day beaches in Normandy this may not be the best time to visit, summer may be the best time.
---
How to reach Normandy
---
Normandy is well connected to Paris as well as the rest of the country by different modes of transport.
By car : If you want to start your road trip to Normandy from Paris, then you can rent a car and drive to the region of your choice.
You will need around 2.5 hours from Paris to reach Normandy, but depending on which region you decide to explore, you might need an additional hour or so to reach your destination.
By train : Travelling by train to Normandy is preferred if you are interested in reaching large towns or cities. There are several trains every day from Gare Saint-Lazare in Paris to Caen, Rouen, Granville, Cherbourg, and more.
It takes around 2 hours by train to reach Normandy from Paris. Check train tickets, prices to Normandy and the detailed timetable to book your tickets via SNCF.
---
---
Road trip to Normandy – where to go and essentials
---
The best way to explore Normandy is to divide it into sub-regions and then decide which parts you can visit, depending on your interests.
If not, you will need weeks to cover the entire region. You can decide which cities you want to visit and then plan your Normandy itinerary around them. This article should help for a South of France road trip that does not include the cities listed below.
Here are the major communes and cities that are mostly covered in Normandy road trips.
Caen

Rouen

Le Havre

Cherbourg

Étretat
You can check the itinerary and decide which cities suit your interests best.
Makes sure you have car essentials you may need on a road trip with you to avoid any hassles in addition to your personal list. Some of these that tend to be forgotten are:
---
---
Normandy itinerary 3 days
For those spending limited time in this region, this 3 day Normandy itinerary can work well.
It will give you enough time to understand history, get a glimpse of local culture, soak in the beauty of beaches, and visit the famous sites around.Your Normandy France itinerary includes Rouen, Étretat, Le Havre and Honfleur.
---
Road trip to Normandy itinerary Day 1 – Rouen
Start your 1st day of the Normandy itinerary with Rouen as it is only 1.5 hours away from Paris.
The city that dates back to the 1st century has rightfully earned the right to be the capital of Normandy.
The old town of Rouen has successfully preserved its historic charm. You will find plenty of sights to explore in Rouen during your Normandy road trip.
Cathédrale Notre-Dame de Rouen, popularly known as Rouen Cathedral, is one of the must-visit places. This cathedral dominates the skyline of Rouen with three towers, each one carrying a different architectural style.
This towering structure adorned with sculptures, statues, and artworks will need at least an hour.
Spend some time wandering along Le Gros Horloge as this busy street in Rouen is full of quirky shops and cafes. The main attraction here is the 14th-century astronomical clock of Gros Horloge which uses the oldest mechanism in France.
The old market square known as Place du Vieux-Marché is also a great place to add to your 3 day Normandy itinerary.
It has a sombre history as this is the place where the patron saint of France Joan of Arc was executed in 1431. You will find a church dedicated to her at Place du Vieux-Marché.
This whole area is dotted with historic buildings, elegant restaurants, and lively bars.
Rouen Museum of Fine Arts is a treat for art lovers. This place proudly displays a fine collection of paintings, sculptures, and drawings that date back centuries.
Check all the useful information regarding ticket prices and how to get there before planning your trip.
Keep at least an hour for Rouen Botanical Garden on your Normandy trip. This 8-hectare garden has thousands of plants and is open every day without any entry fee.
---
Where to stay in Rouen?
Holiday Inn Express is a 3-star hotel in Rouen where private parking is offered making it a perfect place for your Normandy road trip. It has air-conditioned rooms and breakfast here includes gluten-free options as well.
Mercure Rouen Centre Cathédrale is located in the heart of the city and is less than 200 meters from Notre Dame Cathedral. With free Wi-Fi, free parking, family rooms, a restaurant and a bar on the premises, this makes for a good stay option in Rouen.
---
Road trip to Normandy itinerary Day 2 – Etretat
Head to Étretat on your 2nd day in Normandy and you will find the true essence of this region.
A commune blessed with rising white cliffs, pebbly beaches, and breath-taking landscapes, you can spend weeks in Étretat without getting bored of the views.
But alas, you only have a day and this is how you can spend it to make the most of your trip –
Head to Etretat Beach first thing in the morning and you will find everything from lingering fishing boats to adrenaline-rushing adventure sports here.
On one side of the sprawling seawall you will find fishermen getting ready for the day and on the other side of the beach are spectacular Falaise d'Amont cliffs.
You can climb the cliffs and there is a walkway for most of the area. But you can decide if you want to hike the cliffs and spend half a day around here or if you want to have a relaxed vacation on the beach.
Either way, your Normandy itinerary must include a visit to the white cliffs to soak in the stunning natural beauty. If you want to hike a simple trail, then there are some parts that can be covered in an hour or so.
---
---
Next, stop by Chapelle Notre-Dame-de-la-Garde. This beautiful chapel was originally built in the 1850s but couldn't survive the Second World War. When it was rebuilt after the war, even though small, it gained attention for its historic importance.
Etretat Gardens are located nearby and are proud to be the neo-futuristic garden. It has living sculptures on the cliffside along with interesting installations and artworks all merged into nature.
It is open every day from 10 am to 6 pm and its seven gardens attract thousands of nature enthusiasts every year.
Musée du patrimoine d'Étretat is located near the gardens. It is a great place if you want to learn about the history of Étretat. It will be interesting to know how this sleepy fishing town played an important role in World War Two.
After you are done stepping back in time at the museum, head to the beach for a stunning summer sunset.
There are several areas around the cliffs that are away from touristy crowds and offer peaceful evenings. But it is recommended not to wander off to unknown beach sections as high tide makes it unsafe.
---
Where to stay in Étretat?
Dormy House is a must if you want to be welcomed by the view of the cliffs of Etretat and the sea. With 4-hectare gardens surrounding the property, this hotel ensures you get to stay in the heart of nature and relax during your trip.
For those travelling on a budget, Hotel Des Falaises is a good option. It is only 2 minutes away from the Etretat beach and is known for its cosy rooms and modest décor.
---
Road trip to Normandy itinerary Day 3 – Le Havre and Honfleur
When you have limited time in Normandy and still want to explore as much as possible, it is recommended to club Le Havre and Honfleur together.
These two towns are located only half an hour away. You can spend the first half of the day in Le Havre and reserve late afternoon and evening for Honfleur.
Your Normandy road trip itinerary in Le Havre can begin with Hanging Gardens. This is a 19th-century fortress with sprawling lawns and a variety of flowers and plants. You will also get to enjoy sea views while walking around here.
You can next head off to Le Havre Beach as it is located nearby. This sandy beach has a variety of eateries around that offer tasty local cuisine.
St. Joseph's Church and the interesting sculpture of Catène de Conteneurs can also be included in your Normandy itinerary.
When you reach Honfleur in the afternoon, you can relax for some time in Jardin des Personnalités. This peaceful garden along the sea is a perfect place to catch your breath after all the wandering around.
Spend some time in the evening along Port of Honfleur and be a part of all the hustle and bustle. You will find charming roads and a plethora of bars and restaurants ready to pamper your taste buds here.
---
Where to stay in Honfleur?
Hôtel L'Ecrin is a place that's transformed from an old period house. Its luxurious rooms maintain the historic charm and offer a comfortable stay.
After a tiring day of your Normandy road trip, you can relax at the spa, equipped with a sauna, hot tub and hammam on the premises.
If you are looking for simpler yet historic, then Hotel Le Dauphin Les Loges is your place to be. It has combined three 17th-century wooden houses and has family rooms, free Wi-Fi, and Spa and wellness centre.
---
Road trip to Normandy itinerary 4 days – Add Caen
If you are spending 4 days in Normandy, then adding Caen to your trip is a must.
The most popular things to do in Caen are Mémorial de Caen, L'Abbaye-aux-Hommes, Caen Castle, Caen Botanical Garden, Museum of Fine Arts, and The Abbey of Sainte-Trinité.
It is recommended to book this Caen Like a Local: Customized Guided Walking Tour as this city has many things in store. This guided tour will give you a chance to understand what you can further explore in a day.
---
Where to stay in Caen?
Located in the historic city centre, Campanile Caen Centre Gare is a place of elegant decor and homey vibes.
This fully air-conditioned hotel is known for its hearty breakfasts, ensuring you are good to continue your road trip to Normandy with good food.
Wondering where to find a pet-friendly hotel in the Normandy region? Ace Hôtel Caen Nord Mémorial is your answer. The Botanical Garden of Caen is only 2.4 kilometres from this hotel.
---
Road trip to Normandy itinerary 5 days – Add Mont Saint Michel
You will need at least 1.5 hours to reach Mont-Saint-Michel from Caen. this magical island looks straight out of fairy tale books and is known for its Gothic-style Benedictine abbey.
It is recommended to Entry Ticket to Mont-Saint-Michel Abbey in advance to avoid waiting in line
---
Tips for a road trip to Normandy
You will need a driver's licence, and a passport to rent a car. Vehicle insurance and vehicle registration documents are a must while driving.

Driving is on the right side of the road in France.

Tolls are common on motorways and you can avoid them by travelling through small connecting roads. But it may take more time.

Country roads are narrow and public transport is not easily available.

Free parking slots are limited and hard to get. Search for parking areas in advance to avoid the last-minute hassle.

It is necessary to carry layers of clothing while travelling to Normandy. This region has a little unpredictable weather and you may need an umbrella and a light coat on the same day.

Traffic is heavy on weekends. So, calculate more driving time even for short distances.
If you are planning a road trip to Normandy in summer, then it is recommended to book your flights and accommodation at least 2 months in advance to avoid summer price surges.
---
When you will be done with your Normandy trip and head back to Paris, you will realize how much more this region has to offer and how you need to visit this place again.
Normandy has such charm that it will call you back and hopefully, you will pack your bags and leave for another Normandy road trip someday. Just like I am waiting to go back to Normandy soon!
---
Road trip to Normandy itinerary FAQs
Is it difficult to drive in Normandy?
Driving around in Normandy is not at all difficult as it has good roads and easy-to-find, well-connected towns and communes.
How much time do you need in Normandy?
You need at least 3 days to explore the natural beauty and interesting history of Normandy. But many people usually opt for day trips to Normandy from Paris or a weekend getaway. If you can manage to spend a week in Normandy, it will give you enough time to be a part of the local canvas.
Is day trip to Normandy from Paris worth it?
Yes, day trip to Normandy from Paris is worth all the hassle as it will give you a chance to drive through ancient towns and beautiful landscapes. You will get to see sandy beaches, towering white cliffs, churches, monuments, museums, and gardens all in one day.
Is Normandy worth seeing?
Yes, Normandy is worth seeing due to its D-Day beaches, brutal history, stunning land, historic towns, and a number of sights that adorn this region.
---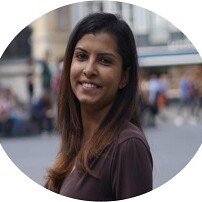 Award-winning Analyst, multi-nominated digital content creator and photographer Lavina Dsouza's words capture stories about culture and tradition mainly through its food and people. She has written and contributed to publications such as The Washington Post, Lonely Planet and Matador Network, to name a few. She is the editor of UntraditionalHumans.com, a non-profit created to share inspiring stories from women of colour who break free from traditions and choose happiness.
She's also a speaker passionate about DEI and champions solo travel. She has collaborated with numerous renowned brands such as Intrepid Travel, TripAdvisor, Travel and Leisure and Adobe, to name a few.
She can be found on Twitter and Instagram.
---
---
---
Some of the links on this post are affiliate links. These do not cost you extra to use, but will help provide Continent Hop with a small commission if/when you purchase through them, to recover some of the costs of running this website and providing free content to help you plan your travel. I appreciate your support!
---