Ireland in spring is quite refreshing as while it may be colder than summer time it means you get to see spring in Ireland without the crowds, revel in the festivities for St. Patricks Day and enjoy Ireland in a budget-friendly way. Here's why you should visit Ireland in the Spring, complete with what to see and what to wear!
Its fun when snowdrops and daffodils quietly make an appearance and catch you by surprise. Spring has arrived and its time to plan events that take you out of the house more often, without worrying too much about the cold or wind, at least when in Europe.
The air in Ireland in the spring is among the freshest in Europe since it comes directly from the Atlantic Ocean in spring. The hazy early mornings in Ireland in spring provide some of the most stunning sunrises (and sunsets) of the year.
Even better, if you get to planning early in the year you get to avoid most of the tourists as spring in Ireland is fun with all the festivals on offer.
Here's all you need to know, from packing to the best places to visit Ireland in spring to find the best wildflowers. This will help you put together an amazing itinerary as spring is just around the corner!
---
Top reasons to visit Ireland in the spring: Tips for visiting Ireland in spring
---
The best time to go to Ireland is in the spring. Because
In Ireland, Easter and St. Patrick's Day are both big holidays that are celebrated with much enthusiasm. It's the perfect opportunity to get a glimpse of local traditions

There aren't as many tourists in town, there are more places to stay and eat

The weather is nice in Ireland in the spring even if you experience a few spells of rain on some days, the scenery is beautiful, and the food is delicious

There are also innumerable lambs, wildflowers and puffin season later in spring which is exciting especially if you're a wildlife enthusiast!
---
When is it spring in Ireland?
---
Seasons in Ireland: Months of spring in Ireland
---
In the past, March was thought to be the start of spring, and April and May were thought to be its end. The Gaelic calendar, on the other hand, has a very different idea of what spring is in Ireland.
Spring in Ireland is hard to pin down, just like the other times of year on the Emerald Isle. The Gaelic New Year, called Earrach, starts on February 1, which is the feast day of St. Brigid.
She is honoured for her role in marking the end of the winter. On the same Gaelic calendar, Ireland spring starts on May 1st.
---
Spring in Ireland in March
March in Ireland is a particularly beautiful season. The cold of winter has passed, and the green shoots of spring have begun to emerge. The days are growing longer, but the temperatures are staying the same, and the landscape is becoming more vibrant with life and colour.
---
Weather in Ireland in March
The weather in Ireland in March is mild and there are fewer people around in the spring, making it an ideal time to go hiking or biking. Ireland in March weather includes rain.  As a result of spring showers, visiting Ireland in March is the perfect time of year to see rainbows. Even if days aren't as long as you'd find them in summer, it's still a bonus as the shorter days allow you to see more beautiful dawns and dusks, sometimes hazy, casting a magical glow over the countryside.
Monthly rainfall averages for March: 31-63 mm (1.2-2.4 in)
Wind speed averages for March: 18 kph (11 mph)
Daily temperature averages (High) for March: 11°C (49°F)
Daily daytime temperature averages (Low) for March: 4°C (39°F)
Daily daylight hour averages for March: 12 hours
---
---
Packing + What to Wear in Ireland in March
If you're wondering what to wear in Ireland in March, it isn't too complicated as spring weather makes for a little predictable climate. Wearing light, airy layers with a waterproof outer garment is critical for dealing with spring weather in Ireland. Be sure to include it when packing for Ireland in March. So you can enjoy the sun while still being prepared for rain.
It isn't a bad idea to carry an extra jumper or two for when temperatures drop by a few degrees without warning. If you planning to visit Ireland in March here's a short, must-have packing list that is considered essential while travelling.
Hiking boots or shoes

Jacket (lightweight and waterproof)

Trousers (waterproof or water repellent or quick drying)

Fleece

Cotton t-shirts, both short and long sleeved

Thermal insulation

Scarf, and gloves

Socks (as many as you can pack)
In general, Irish people dress smart but informally. If you want to wear anything nice, saving it for evenings for a night out in a pub with some wonderful Irish music isn't a bad idea!
---
Top things to do in Ireland in March
March will always be connected with St. Patrick's Day in Ireland. There are, however, many more amazing activities taking place this month that do not require shamrocks, parades, or patron saints. Check out this list of events and festivals in Ireland in March for more details –
Saint Patrick's Day – Worldwide, March 17th
St. Patrick is the patron saint of Ireland, having converted the country to Christianity some 1500 years ago. The 17th of March is his customary feast day.
Saint Patrick's Day is celebrated worldwide by the Irish diaspora and anybody who is interested in Irish culture (and/or beer).
Saint Patrick's Day has developed into a week-long holiday in Ireland. The Dublin Saint Patrick's Day parade, a festival of colour and pomp, is a highlight for many.
Don't worry if you can't make it to Dublin on St. Patrick's Day. Almost every little town and hamlet in Ireland has its own parade.
Finding Your Voice – Clonmel, March 8th – 12th
Róisn and Clona Maher present a music festival by and for women. Includes outstanding music performed by extraordinary ladies from top Irish and worldwide musicians, including Irish composer Gráinne Mulvey.
Children's Festival in Belfast – Belfast, March 4th – 13th
A fun-filled festival in Belfast with local, national, and international theatre, dance, music, art, interactive events, and exhibitions, as well as free family activities. If you have some free time, check out this list of free things to do in Belfast.
Festival International de la Francophonie – Dublin, March 1st – 31st
The Francophonie Festival in Dublin is a month-long celebration of the French language and culture, with film screenings, literature discussions, seminars, and debates. The Francophonie Film Festival takes place from March 8th to March 11th.
---
---
Spring in Ireland in April
April in Ireland is when spring in Ireland is at its peak, the weather has gotten warmer and tourists start trickling in however it still isn't crowded. If hidden attractions and a lack of tourists are high on your list, then Ireland in April can be a wonderful choice.
---
Weather in Ireland in April
The April showers provide a nice break after several months of greyer, wintery weather. While you may still get a taste of all four seasons in one day, Ireland weather in April is normally calmer at this time of year.
Monthly rainfall averages for April: 40-48 mm (1.5-1.8 in)
Wind speed averages for April: 16 kph (10 mph)
Daily temperature averages (High) for April: 13°C (56°F)
Daily daytime temperature averages (Low) for April: 6°C (42°F)
Daily daylight hour averages for April: 14 hours
---
Packing + What to Wear in Ireland in April
Visiting Ireland in April when the weather has warmed up a little is always a good idea. Make sure all of your outerwear is waterproof and has a hood if the weather forecast calls for rain.
What to wear in Ireland in April? A waterproof coat with enough space to accommodate layers is good. Be sure to wear thick inners, long sleeves, and socks. The use of a beanie and gloves is still recommended.
Are you planning to visit Ireland in April? Check out this essential packing list for Ireland in April.
Hoody

Jeans

Lightweight rain jacket/windcheater

Hiking socks

Sunglasses

Shirts

Socks

Swim shorts

T-shirts

Trainer socks

Thermals if you're someone who gets cold easily!
---
---
Top things to do in Ireland in April
There are great places to visit in Ireland in April. Even though April is rather quiet for Irish events, here are a few events that do take place and are definitely worth seeing.
Cuirt International Festival of Literature – Galway, April 17th – 23rd
Cúirt is one of Europe's oldest book festivals, as well as a significant literary voice both worldwide and in Ireland. Expect plenty of debate from Irish and worldwide authors as they celebrate writing, books, and reading in all forms.
New Music Dublin – Dublin, April 20th – 23rd
The New Music Festival provides a platform for performers and music-makers from all areas of Irish new music to share their work with a large audience. The National Concert Hall is one of the venues.
Cathedral Quarter Arts Festival – Belfast, April 27th – May 7th
Belfast's annual music, comedy, theatre, art, and literature festival. Over 60,000 people attend over 100 events in Belfast's Cathedral Quarter due to the innovative combination of known stars and rising performers.
Galway Theatre Festival – Galway, April 28th – May 6th
The Galway Theatre Festival, one of Ireland's largest arts events dedicated to independent theatre and performance in 2023, spans nine performance-packed days and includes theatre, circus, spectacle, and narrative.
---
Spring in Ireland in May
May in Ireland is considered the beginning of the shoulder season. As a result, there are more visitors than in March and April yet plenty of accommodation is still available all around the nation. A vacation in Ireland in May is jam-packed with opportunities for fun and weekend getaways.
---
Weather in Ireland in May
How is the weather in Ireland in May? The weather in Ireland in May is similar to that of the busiest tourist season (June through early September), so you should take advantage of it despite the fact that it is not the high season.
Monthly rainfall averages for May: 40-49mm (1.5 – 1.9in)
Wind speed averages for May: 17 kph (10.5 mph)
Daily temperature averages (High) for May: 16°C (50°F)
Daily daytime temperature averages (Low) for May: 8°C (40°F)
Daily daylight hour averages for May: 16 hours
---
---
Packing + What to Wear in Ireland in May
If you are visiting Ireland in May, expect the days to be longer, brighter, and warmer, although the northern coastal regions will still see bursts of cold air.
What to wear in Ireland in May? Rather than wearing fluffy warm clothing, opt for a light shirt or top instead. Make sure there is enough space in your lightweight jacket so you can always wear layers if needed.
If you are prepping for packing for Ireland in May, this packing list for Ireland in May should help.
Shorts

Hiking Socks

Jeans

Travel trousers

Light jacket

Lightweight rain jacket

Dresses

Playsuit

T-shirts

Swimsuits

Trainer socks

Travel trainers

Flip flops

Sunglasses
---
Top things to do in Ireland in May
May has a similar amount of Irish festivals as April, with four major events taking place across Ireland.
Bealtaine Festival – Various, May 1st – 31st
A month-long festival involving performances, exhibitions, conversations, seminars, and readings by artists from all across Ireland working in various creative disciplines. Bealtaine is unique in that it seeks to foster creativity in older individuals and communities.
Dublin Dance Festival – Dublin, May 16th – 28th
A 12-day festival exhibiting the greatest Irish and international dance acts to a growing and enthusiastic audience in venues throughout Dublin, celebrating the transformational power of dance.
Dublin International Literature Festival – Dublin, May 19th – 28th
Dublin is a superb literary city, and its famed festival features readings, dialogues, debates, movies, guided tours, events, podcasts, and broadcasts. Attending the Dublin International Literature Festival is a great opportunity. The winner of the coveted Dublin Literary Award will be revealed on May 25th.
West Wicklow Chamber Music Festival – May 17th – 21st, Russborough / Blessington
A music festival that will bring a wealth of excellent performers from Ireland and outside to West Wicklow in elegant surroundings. This year's performers include saxophonist Jess Gillam and vocal group Apollo 5.
---
---
Pros and cons of visiting Ireland in spring
---
Pros of visiting Ireland in spring
---
Ireland's gorgeous countryside
In spring, Ireland's landscapes are full of greenery and lambs grazing away as far as the eyes can see!
The green of the Emerald Isle comes to life with rolling hills full of wildflowers and cattle. Puffins come back for the breeding season later in spring, around May, and the fields and gardens are filled with flowers of every colour of the rainbow.
May is a great time to go hiking in the woods because the famous bluebells and garlic flowers are in bloom, and other places have beautiful wild buds all along the coasts.
Boasting the cleanest air in Europe, spring in Ireland comes with lesser crowds in general especially at the coast, so taking a trip to any of the islands is particularly refreshing. A trip to the Aran islands is essential especially when it also includes the famous Cliffs of Moher.
Puffins in Ireland in the Spring
Who doesn't like puffins? One of Ireland's most adored species are these short, colourful birds that make an appearance for a short duration to breed and feed before they disappear again.
Spring and early summer are ideal times to watch puffins. Puffins began to arrive on Ireland's coasts in April to breed. Islands often function as bird havens due to their remote character and coastal locations.
Visit the Skellig Islands in Kerry, the Saltee Islands in Wexford, or Rathlin Island in Northern Ireland to see these incredible birds. If you'd prefer not to go looking for these yourself, a trip to the Aran islands is highly recommended.
Catching a pot of gold at the end of rainbows
Rainbows are a common and beautiful sight in Ireland. It's true that the country witnesses a lot of rainbows, so the cliché isn't completely off base.
Ireland has high amounts of precipitation and low atmospheric pressure, the two conditions essential for the formation of rainbows. Therefore, combine them, and you end up seeing rainbows everywhere you turn! While rainbows aren't something that are forecasted, they occur rather often, so there's a decent chance you'll find a beautiful one over the countryside in a huge arch!
Will you find a pot of gold at the end? You'll have to check for yourself!
---
---
Cons of visiting Ireland in Spring
---
Some hotels and attractions might be shut
Due to it being off-season in March and shoulder in May, you may find certain establishments in the smaller towns closed without notice (unless booked in advance).
While this isn't a guarantee and you can always check availability online, it may prove difficult to find lodging if you're looking to go off the grid to a countryside spot.
More often than not, it's usually restaurants than hotels that tend to be closed.
There may be fewer chances to spend time in nature
During spring in Ireland, the best places to go on vacation are major cities as usually, everything tends to stay open, it's ideal to opt for city breaks if you're concerned the weather will be unpredictable and it may get windy on the coast.
But if your idea of a perfect vacation in Ireland is a hike through the countryside or a slow walk through a National Park, you may find that the weather may not always be favourable in Ireland in spring if you're planning on doing just that.
It's possible that the hiking trails you want to use are closed until summer. Some places might be completely inaccessible because of unpredictable weather, it's always good to check the forecast if you plan on going ahead with the same.
---
Where to see spring flowers in Ireland
Parks and woodlands in Ireland in spring become a dazzling shade of green as new leaves emerge. Travelling to Ireland in the spring will allow you to see the country in bloom!
Flowers, both wild and cultivated, blanket the landscape in Ireland with vivid hues as spring arrives. For a brief period each spring, the forest floor is carpeted in a stunning display of brilliant bluebells and pure white wild garlic blooms.
Primroses, bluebells, wood sorrel, cowslip, orchids, violets, and many more wildflowers bloom up on ancient stone walls in the spring. There is a plethora of flora to be found in the grounds of Ireland's stately homes.
Burren National Park is one of the top spots in Europe that has a wide range of wildflowers existing in a single space. Wicklow, Sligo, Roscommon, Mayo, and more counties with Bluebell Woods are worth exploring.
In County Cork, you may visit Garnish Island and its beautiful gardens. Lismore Castle in County Waterford along with Connemara's Kylemore Abbey which has a Walled Victorian Garden. You can also consider Gardens and Estate of Powerscourt in County Wicklow if you're chasing after spring blooms in Ireland!
---
---
Ireland in Spring by Regions: 5 Spots To Visit In Ireland During The Spring
Wicklow for its wild beauty
Edward Dubois, an English author, used the phrase 'God's Country' to describe Ireland for the first time in 1807. He was talking about the Wicklow Mountains in particular.
Wicklow, while being one of Ireland's most beautiful regions, is frequently disregarded by tourists. Wicklow is a must-see in springtime if you wish to experience the country's renowned wild beauty. This trip to Wicklow from Dublin that covers all the essential spots is worth considering!
Donegal for its stunning cliffs
Donegal is home to the 'Appalachian route' on the Slieve League Cliffs, thanks to some clever advertising. The cliffs are among Ireland's tallest sea cliffs at 601 meters in height and provide breathtaking panoramas in the spring months. This trip to see the cliffs of Moher is worth hopping on if you're in Galway!
Sligo for surfing opportunities 
This is the greatest surfing spot in Ireland, and you can try it out during the spring months; all you need is a wetsuit.
Connemara for natural attractions 
Also wonderful during spring in Ireland is the county of Connemara. Exercising in the national park, seeing the Killary fjord by boat, or trying out the extreme activities at the Killary Adventure Centre are all great ways to break a sweat and get your heart racing.
Doolin for its raw charm
The village of Doolin is a picture-perfect representation of the Irish countryside, complete with winding country lanes that pass by picturesque vistas of the Atlantic Ocean lashing up against the west coast and rolling green fields enclosed by stone walls.
---
Best Places to Visit in Ireland in Spring
---
Dublin in spring
About 2 million people call Ireland's capital city home, yet the majority of them reside in the city's sprawling suburbs rather than its lively, tight downtown.
It is no secret that Dublin is a bustling metropolis full of expats, students, and successful businesspeople from all over the world.
Stephen's Green and Phoenix Park, the biggest urban park in Europe, are only two examples of Dublin's wonderful open recreational areas and botanic gardens you can visit in Spring. You can also check the guided walking tour of Dublin to understand what this city has to offer.
Jameson Whiskey Distillery Tour with Tastings is also a popular choice amongst visitors.
Where to stay in Dublin?
Budget: Generator Hostel, located on Smithfield Square, is a great choice for young travellers due to its convenient location and low rates. Accommodations have both shared and private bathrooms.
Luxury: The Merrion is a five-star hotel that skillfully blends classic elegance with contemporary comfort. It's more like a museum than a hotel since it has the most extensive private collection of Irish art from the 19th and 20th centuries.
The hotel's Drawing Rooms are perfect for afternoon tea, and both the Cellar Bar and Restaurant Patrick Guilbaud, which has a Michelin star, are great options for supper.
---
---
Ring of Kerry
The Ring of Kerry is a beautiful drive that goes around the Iveragh Peninsula in County Kerry in the southwest of Ireland. If you have time, check out Skellig Michael, a rocky island with a Christian monastery from the 7th century that has been abandoned. If you're in Killarney, this tour of the Ring of Kerry is budget friendly and covers the top spots!
Where to stay while visiting Ring of Kerry?
Budget: Stay at the Alaind Lodges in Castlecove, a mountain getaway about a 10-minute drive from Sneem Church.
Luxury: Stay at the Park Hotel Kenmare, a legendary establishment and one of Ireland's grand dames, located in the heart of Kenmare County and surrounded by some of the country's most beautiful natural landscapes.
---
Dingle Peninsula
To think that this little area in the southwest of the Emerald Isle was once called 'the most beautiful location on Earth' by National Geographic is a huge compliment. To say that a trip to Dingle and the surrounding Kerry coast is picturesque is an understatement. The dolphin Funghie is a beloved wild resident and many tours are conducted here to catch a glimpse of it.
Where to stay while exploring Dingle Peninsula?
Budget: Stay at Seaview Heights to take in the breathtaking vista of the famed Dingle Bay.
Luxury: Stay at Dingle Benners Hotel, a boutique hotel in the centre of Dingle. With a long tradition of excellence, friendly service, and award-winning cuisine.
---
Cork
Cork, a city on an island in the middle of the River Lee, is known for its positive energy, which can be felt throughout the city's cool cafes, lively art galleries, unusual museums, and excellent watering holes. Despite its urban status, this place offers all the comforts of a small village. If you're looking for adventure this trip to the Fastnet rock lighthouse and Cape Clear island is worth checking out.
Where to stay in Cork?
Budget: Stay at Maldron Hotel Shandon, which is a short walk from Saint Fin Barre's Cathedral. A variety of stores surround the site as well.
Luxury: Stay at Inchydoney Island Lodge & Spa and experience its stunning setting overlooking the Atlantic on Ireland's spectacular south coast, surrounded by West Cork's natural splendour.
---
Cliffs of Moher
These beautiful Irish treasures were featured in some of the most thrilling sequences of J.K. Rowling's 'Harry Potter and the Half-Blood Prince', which was released in 2009, they're truly a stunning marvel especially during spring in Ireland as the whole countryside gets enveloped in a blanket of green. This trip from Dublin to see the cliffs is perfect if you'd like everything taken care of, for you!
Where to stay while exploring the Cliffs of Moher?
Budget: Stay at the Cliffs of Moher Hotel and look forward to a hearty Irish breakfast in the morning and a pint and a healthy dinner at the Bloody Cranesbill Gastrobar, the hotel's restaurant.
Luxury: Stay at the Falls Hotel & Spa, which is set in a wooded valley next to the rushing waters of the River Inagh in County Clare, right in the middle of the Wild Atlantic Way and only 10 minutes from the Cliffs of Moher.
---
---
Spring break in Ireland: 5 unique things to do in Ireland / Activities in Ireland in Spring
Coast Causeway
Since the 1970s, everyone who goes to Ireland has to see the Giant's Causeway. Giant's Causeway is the only UNESCO World Heritage Site in Northern Ireland. It is on the Antrim Coast.
Thousands of people from all over the world visit the area every year during spring break to see the amazing rock formation. Here is the detailed travel guide about the Causeway Coastal Way to help you plan your trip.
Malin Head 
The most northern point of Ireland is Malin Head. Since it is surrounded by the wild waves of the Atlantic, this mountainous area on the Inishowen peninsula is best known for its beautiful coastline and birds. It is a popular scenic destination during spring break.
Visit Galway
Galway is the festival capital of Ireland. It has a lively music, literary, and nightlife scene. Be careful, because you might not want to leave once here. With its long history in the visual and performing arts, this city is one of a kind in Ireland.
Castle Ashford
This Irish castle from the Middle Ages is one of the most beautiful ones. This building, which has been there for almost 800 years, was once owned by the Guinness family.
Over the years, the large grounds have grown and blossomed, and now they have beautiful gardens, ponds, and lakes. Guests of the huge castle complex can play tennis, clay pigeon shooting, archery, and golf, among other sports and leisure activities during spring break.
Blarney Castle 
This castle is in the small town of Blarney. It was built in the early 1500s by Cormac McCarthy, who was King of Munster at the time. Even though the castle is falling apart, people from all over the world have been coming to see the famous Blarney Stone for more than 200 years.
Many spring breakers visit this castle to kiss the stone. It is widely believed that if you kiss the stone, you might get the 'gift of the gab', or the ability to talk well.
---
Now that you know how breathtaking Ireland in Spring can be, when are you booking your flight and accommodation? Which month will you prefer to visit Ireland during the spring season and why?
No matter when you plan to visit, the Irish are some of the friendliest people in Europe and will make sure they take good care of you when you visit!
---
---
Ireland in Spring – FAQs
Is spring a good time to visit Ireland?
Yes, spring makes for an excellent time to visit Ireland. It can be considered shoulder season as fewer tourists arrive during spring, ensuring you get to explore some of the popular sites without crowds.
The weather starts getting warmer and you can consider outdoor activities as well.
Is there a spring break in Ireland?
There is a spring break in Ireland, although locals refer to it as Easter break since it occurs around the Easter festival each year.
There is still a sizable Catholic population in Ireland, and because of Easter's significance, students there are given two weeks off each spring.
Should I spend my spring break in Ireland?
Yes! If you're looking for a fantastic spot to spend spring break, look no further than Ireland. The sun is staying out later and the temperature is gradually rising, although it is still rather chilly.
Taking a trip to Ireland in the spring might save you money on airfare and lodging since it is not yet the busy tourist season. As a result, you may also be able to dodge the throngs of tourists visiting the most popular sites.
Is April a good month to visit Ireland?
April is a great month to explore Ireland as the weather is warm and the days are longer. You will be able to cover outdoor sites without worrying about extreme climate. As April is considered to be late spring and shoulder season, you will also meet fewer travellers.
---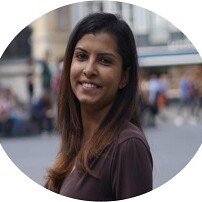 Award-winning Analyst, multi-nominated digital content creator and photographer Lavina Dsouza's words capture stories about culture and tradition mainly through its food and people. She has written and contributed to publications such as The Washington Post, Lonely Planet and Matador Network, to name a few. She is the editor of UntraditionalHumans.com, a non-profit created to share inspiring stories from women of colour who break free from traditions and choose happiness.
She's also a speaker passionate about DEI and champions solo travel. She has collaborated with numerous renowned brands such as Intrepid Travel, TripAdvisor, Travel and Leisure and Adobe, to name a few.
She can be found on Twitter and Instagram.
---
---
---
Some of the links on this post are affiliate links. These do not cost you extra to use, but will help provide Continent Hop with a small commission if/when you purchase through them, to recover some of the costs of running this website and providing free content to help you plan your travel. I appreciate your support!
---