The Blue Lagoon should be on your to-do list when visiting Malta. Getting from Gozo to Comino for a boat trip to Comino is easy! Here are all the options with info for ferries to Comino, including things to do on your Comino trip!
An island surrounded by breathtaking azure-coloured water, an island that is almost inhabited, an island so tiny that you can walk everywhere in less than a few hours, and also an island where you stay the night and get away from all the chaos of city life.
All this and more is true when you start planning your trip to Comino!
Call it a bird sanctuary, home to the famous Blue Lagoon, or a perfect spot for a day trip, the tiny Comino is perfect for all types of travellers.
Most of the tourists travel from Gozo to Comino, spend half a day exploring an island and enjoying water sports, and then go back to Gozo for spending a night.
So, if you are planning a Comino trip, read on to know all the necessary details including where to stay on Comino, what to eat, and what to do apart from Blue Lagoon.
---
How to get from Gozo to Comino – here's all info including ferries to Comino
---
---
How many options will there be when you are travelling from one island to another?
Of course, only one – by water. But that doesn't mean you do not have options to choose from here. Even when you opt for a boat trip to Comino, here are different ways to go about it.
---
Boat trip to Comino
Taking a boat tour from Gozo to Comino where the famous Blue Lagoon is included can be the most convenient way to explore this tiny island.
You do not have to worry about any logistical details, a tour guide will ensure you get to see the best of Comino, and it will need hardly 5 or 6 hours.
There are several tour operators around Malta arranging half-day and full-day tours that include the Gozo Comino Blue Lagoon tour, this one is highly recommended and includes sun loungers.
Even though these tours may cost more than a ferry, it offers pick-up and drop-off, making them convenient. Also, if you are not staying on Gozo, many of these tours depart from Sliema or Bugibba.
If you are interested in spending some relaxing time around Blue Lagoon, then these boat tours come in handy. As Blue Lagoon is the most popular attraction on Comino, it is crowded during the peak tourist season.
So, when you take a Comino boat tour, you can stop worrying about finding a spot. If it is crowded, you can soak in the vibes of Comino from the boat deck as well for which catamarans are great and this tour does exactly that.
If you'd prefer a full-day tour with drinks and Gozo included, this tour is perfect and loved by travellers.
---
Hop-on hop-off ferry to Comino from Gozo
If you want to plan your trip by yourself, then taking a ferry to Comino is the best option. There are several ferries to Comino that depart from Gozo as well as Sliema and Bugibba.
If you are a budget traveller, then opting for a ferry to Comino will be light on your pocket. It only costs around €20 for adults and €15 for kids between 4 to 12.
You can check the details of these ferry operators before finalizing your itinerary. You will have to confirm the departing ferry timings and stick to the schedule, but taking Gozo to Comino ferry will allow you to spend more time on Comino. More details in the next section.
---
Small ferry services from Gozo to Comino
When you decide to take a ferry to Comino from Gozo Island, you will find a couple of ferry services that depart from Mgarr Harbour.
The charges for the ferry from Gozo to Comino are around €12 for adults for a round trip and €5 for kids for a round trip.
The rates depend on how many stops you choose during your trip. All the ferry services are from Mgarr to Comino with stops like Blue Lagoon, caves, and coves.
The only issue with these ferries is some of the operators depart only from Malta island, go to Comino, and then proceed to take you to Gozo. So, many choose to opt for the Comino Gozo ferry. But if that's not what you are looking for, then you will have to ensure you get a ticket for the right ferry in advance.
Remember that the ferry between Gozo and Comino depends on weather conditions. So, if you are travelling during the off-season, then it is recommended to check the weather forecast beforehand.
Refer to the timetable here if required. Ensure you return the same day as the island empties of travellers in the evening unless you're staying at the only hotel on the island (which is closed temporarily.)
---
Best time to visit for a Comino trip
The best time to visit Comino largely depends on the activities you are aiming for.
If you are visiting Comino only for the Blue Lagoon, then the peak tourist season of summer from July to August is for you.
But that also means having to deal with the crowd. You can either consider planning your Gozo Comino tour either early in the morning, preferably around 8 am, or late in the afternoon when most of the boats depart from Comino.
Even though Blue Lagoon is not a sunset spot, you will still find it spectacular in the evening.
If this is not possible, then you can think about the weekday ferry to Comino when Blue Lagoon sees lesser tourists as compared to weekends.
If you are on Comino for hiking and outdoor activities, then the months of May and October are ideal for you.
Malta is one of the warm places in Europe in October even during the winter months. The early winter sun makes for a pleasant day where you can go from Gozo to Comino for an entire day.
---
Is it worth travelling from Gozo to Comino on your Malta trip?
Honestly?  It depends on what your interests are and how much tolerance you have for the touristy crowds.
If you are visiting Comino only for Blue Lagoon and that too during the peak tourist season, then you will have to put up with the crowded beach.
If you are adding Comino to your itinerary for its natural charm and outdoor activities, then it is definitely worth your time.
Away from all the Malta Game of Thrones locations, exploring this small island on foot is a unique experience.
Of course, it limits the months you can visit Comino as summer is usually too hot for walking around a whole day. And winter months mean less Blue Lagoon charm. But all in all, no matter when you take a ferry Gozo to Comino, you will find it a memorable trip.
---
From Gozo – Comino tours that are highly recommended
With a plethora of tour operators between Gozo and Comino, finding a tour that suits your needs and preferences will be easy. Many tours also cover a few activities on Gozo and then go to Comino for spending a day. Here are the few Gozo to Comino tours that are popular amongst tourists –
Comino: Blue Lagoon, Crystal Lagoon, and Sea caves Tour – the best part of this tour comes with flexible pick-up and drop-off spots. Depending on how much time you have, you can either opt for a 7-hour tour or go for a 4.5-hour tour. Keep in mind that Crystal Lagoon is covered only from June to October and it depends on the weather conditions. This Gozo Comino blue lagoon and caves tour is likely to sell out. So, book your tickets in advance.
Apart from the ones mentioned above, you can also find different tours while wandering around Gozo. The only drawback is almost all the best-selling tours fill out fast and you may find spots available only for less-popular tours.
---
Places to stay on Comino
Now, this is the tricky part when it comes to staying on Comino. There is only one hotel on the entire island of Comino and only 2 people actually stay on the island.
No homestays, no service apartments, nothing! So, if you are willing to spend a night on Comino, you will have to book your room way in advance.
The Comino Hotel & Suites is located overlooking the crystal clear water of San Niklaw Bay.
This 4-star property ensures you get everything under one roof. They have their own ferry service to Malta and Gozo which proves useful for arranging airport transfers.
The hotel staff will also help in arranging night cavern diving, diving, and snorkelling if you are interested in water sports.
The only problem is this hotel may not be operational during the off-season. You may find it closed from November to April, though the dates are not mentioned on the official site of the property.
It is recommended to call the property directly before finalizing your trip plan for the Comino tour. Because if The Comino Hotel & Suits is closed, you will not have any other place to spend the night and you will have to go back to Gozo.
Impromptu plans are strictly off-limits when it comes to staying on Comino.
---
Camping on Comino Island
If you are not the one for luxurious stays and spa retreats, then Comino may work out perfectly for you.
Camping on Comino is allowed, but only on the dedicated Tal Ful camping site as the island is a protected nature reserve.
You can use the toilets and showers around Blue Lagoon when staying here, but they are a little away from the campsite.
Keep in mind that this is not exactly a popular choice and the site is not always well-kept. Carry insect repellants, follow guidelines, and do not leave any garbage behind after you are done camping on Comino.
---
Where to eat on Comino?
Again, this is a tricky part when it comes to Comino travel.
As it is a small island with only one restaurant of The Comino Hotel and a few food kiosks around Blue Lagoon and San Niklaw Bay, you can expect only basic food items on Comino.
And that too, if the weather conditions are favourable for setting up kiosks and if the hotel is not closed during the off-season. The prices are usually higher and options are limited.
One way to handle this is to pack as much food as you can before travelling from Gozo to Comino. But whatever you do, do not forget to buy that refreshing pineapple drink, and do not forget to click photos for your Gram!
---
Things to see on your Comino trip
---
Of course, the list must start with the most popular Blue Lagoon which has rightfully earned its place in the Maltese tourism industry.
With its turquoise water and sandy beach, the lagoon attracts thousands of tourists during the peak season. And that makes it extremely crowded during the day.
You can plan your ferry to Comino early morning or late afternoon and you will be able to avoid some of the crowd. But if you are taking a boat trip to Comino, then you will have to stick to the timimgs.
Do not let other travellers stop you from visiting this stunning cove on Comino for it will be the highlight of your trip.
The water here is great for swimming and snorkeling with plenty of marine life around. A perfect excuse to go underwater and away from everyone! All details can be found here for the Blue Lagoon Malta.
---
Crystal Lagoon
Crystal Lagoon stands true to its name with crystal clear water with limestone cliffs protecting it from many travellers.
As beautiful as Blue Lagoon and still a lesser-known place on Comino, visiting Crystal Lagoon will take you away from all the touristy hustle and bustle.
You can reach this by only boat and you will have to opt for tours that include this in their itinerary. If time permits, definitely add Crystal Lagoon to your trip to Comino.
---
Tunnel Cave
Comino has some interesting cave structures along its coastline and you will be surprised by how beautiful these structures are.
With different caves to explore, Tunnel Cave gathers more visitors as it is a natural tunnel connecting Blue Lagoon and Crystal Lagoon.
You can either rent a kayak or go swimming. But, keep in mind that currants can be unpredictable and it is not recommended to swim in the caves on Comino if you are not a seasoned underwater explorer.
Lover's Cave and Popeye Cave are located nearby and are also visited by many. Read more about Malta's safety flag system for beaches here.
---
Santa Marija Bay
A perfect alternative to Blue Lagoon, Santa Marija Bay on Comino is all about laid-back vibes.
Opt for sun loungers and catch some tan or go swimming in blue water. You can also take a walk on a white sandy beach, but some people have noticed seaweed during the off-season.
Showers and toilets are available here and you will also find a couple of food kiosks around.
---
DETAILS
Address: 284H+QW2, Ghajnsielem, Malta
Timings: Friday to Wednesday from 10.30 am to 3 pm from April to October
Price: €2 for everyone
---
---
St. Mary's Chapel
Situated above Santa Marija Bay, St. Mary's Chapel may be one of the oldest structures on Comino.
It was first mentioned in 1296 and even though the chapel we see today was built after 1618, it is interesting to visit the place of worship in a faraway corner of the world with so much history to share.
It is a simple building where you stop for some time while wandering around the island.
---
Santa Marija Tower
Santa Marija Tower is also commonly known as Comino Tower. dating back to 1618, this watchtower was in use as recently as 2002.
After that, it was handed over to Din l-Art Helwa and is well-restored today. With so much history to share, this tower is visited by many. It can also be seen from the ferry to Comino.
But keep in mind that you will have to walk to Santa Marija Tower as there are no vehicles on Comino. Even if the tower is closed to the public, you can still climb up a little and get to view an entire island from above.
---
Santa Marija Battery
Santa Marija Battery on Comino is another historic attraction. Even though it was built by the Order of Saint John in 1716, it is said to be abandoned by 1770.
But, after it was restored twice by Din l-Art Helwa in 1997 and 2004, gun carriages were reinstalled and cannons were mounted.
Even though it is far from being restored to its former glory, one can see the impressive structure it once was. It is open to all throughout the day and entry is free of cost.
DETAILS
Santa Marija Tower
Address: 284H+QW2, Ghajnsielem, Malta
Timings: Friday to Wednesday from 10.30 am to 3 pm from April to October
Price: €2 for everyone
---
---
---
Practical details for your trip from Gozo to Comino
If you are visiting Comino on your own and intend to walk around, make sure you are carrying plenty of water. The shade is hard to find and with no vehicles to drive you around, you must keep yourself hydrated.
The same goes for sunscreen. Even if you stick to Blue Lagoon, the chances of renting an umbrella are slim during peak season. And good sunscreen will come in handy when you explore Comino on foot.
If you are interested in mountain biking, then a few areas of Comino will make for a great adventure. You can enquire at the only hotel on this island and they will help you with arranging the necessary gear.
Make sure you are wearing a sturdy pair of shoes as the island is rocky and uneven in many parts. You will need comfortable footwear if you decide to go on a small hike or simply walk around a bit.
Go for scuba diving and snorkelling during your Comino trip. But avoid cliff jumping and swimming near caves. It may not look risky, but Comino witnesses cliff-jumping gone wrong every year. Stick to the designated swimming zones as well.
---
It is surprising that a small island like Comino is packed with so much history, natural beauty, and interesting sights to explore, isn't it?
All you have to do is hop on a ferry to Comino and get ready to spend a day (or even night) on Comino soaking in everything it has to offer.
---
---
From Gozo to Comino – FAQs
How do I get from Gozo to Comino Island?
You can either opt for a boat tour that will take you from Gozo to Comino or you can check small ferry services that depart from Mġarr Harbour.
Hop-on Hop-off ferry to Comino is another option. While boat tours are preferred if you want to spend only a few hours on Comino, it is recommended to go from Gozo to Comino by ferry if you are interested in hiking around the island.
How long is the ferry from Gozo to Comino?
A one-way ferry takes around 20 to 25 minutes to reach Comino from Gozo and boats leave usually every hour. But during the peak tourist season, that is in summer, you will see the increased frequency of ferries.
How do I get from Gozo to Blue Lagoon?
The easiest way to reach Blue Lagoon from Gozo is to book a boat trip to Comino. You will find several tour operators with regular services between these two islands.
With a boat tour, you will have some space on the beach if it gets too crowded. It will also be easier to explore Blue Lagoon during peak tourist season. You can also check the ferry service between Gozo and Blue Lagoon that departs from Mgarr Harbour.
Is Malta Blue Lagoon worth it?
Yes, Blue Lagoon in Malta on Comino Island is worth your time! This beautiful cove with turquoise water and a beautiful shore has become an Instagrammable sight in the last few years.
Even though it gets crowded during the peak tourist season, you can arrive early in the morning or late afternoon to avoid most of the hustle and bustle.
---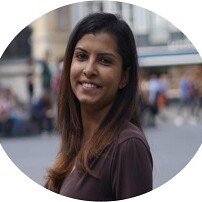 Award-winning Analyst, multi-nominated digital content creator and photographer Lavina Dsouza's words capture stories about culture and tradition mainly through its food and people. She has written and contributed to publications such as The Washington Post, Lonely Planet and Matador Network, to name a few. She is the editor of UntraditionalHumans.com, a non-profit created to share inspiring stories from women of colour who break free from traditions and choose happiness.
She's also a speaker passionate about DEI and champions solo travel. She has collaborated with numerous renowned brands such as Intrepid Travel, TripAdvisor, Travel and Leisure and Adobe, to name a few.
She can be found on Twitter and Instagram.
---
---
---
Some of the links on this post are affiliate links. These do not cost you extra to use, but will help provide Continent Hop with a small commission if/when you purchase through them, to recover some of the costs of running this website and providing free content to help you plan your travel. I appreciate your support!
---