A Malta weekend break is one of the best quick getaways in Europe! Malta is such an underrated destination as its perfect for some winter sun and a budget getaway! Here's how to have the best time in 2 days in Malta and see the best things to do in Malta!
Sometimes the smallest of countries have the potential to steal a piece of your heart more than any continent can – of course, said no one ever.
But, it is so true when it comes to Malta – a small island country located a stone's throw away from Italy. It makes for the perfect destination for those who want to spend 2 days in Malta no matter the time of year! Yes, even in winter!
It is never possible to visit a country only for a couple of days and understand its culture and history. But a Malta weekend break can do wonders.
You will get a glimpse of this archipelago and be a part of the local canvas in as little as 48 hours.
So, here's info for a short break to Malta – A 2 days in Malta itinerary to make sure you get the best out of this destination!
---
A Malta weekend break itinerary for 2 days in Malta
---
How to get around Malta on your Malta weekend break
---
There are several options to choose from when it comes to getting around Malta.
Depending on your budget and how extensive your Malta weekend break itinerary is, you can opt for these transportation modes.
The network of public buses in Malta is expansive and connects most of the tourist destinations.
You can check the routes and timetables of Malta buses while finalizing your trip plan. The bus ticket during the day is €2 and it is €3 for night travel.
With such cheap ticket rates, travelling by bus when spending 2 days in Malta can be a good option to better understand local ways.
However, do keep in mind that buses can be erratic and do not always stick to timetables so opting for a self-drive to save time and see more in a short duration is worth considering.
Other transportation options in Malta
You will find white taxis in Malta, but those are a little on the expensive side. You can also use different ride-sharing apps like Bolt to save while in holiday.
Renting a car and driving around yourself is easier and cheaper. It will give you a chance to reach areas that are not connected by bus.
If you are planning on exploring Malta in 2 days, then driving around by car is recommended. If you are travelling from one island to another, then there are multiple ferry and boat operators between Malta and Gozo.
You can also use the ferry service for going to Comino.
Traditional Maltese boats known as 'dghajsa' are also available and are highly recommended to make the most of your Malta weekend break.
---
Day 1 of your Malta weekend break
Wondering what to see in Malta in 2 days? You may have to opt for a fast-paced itinerary to cover important tourist attractions and interesting activities.
You can start with Valletta and spend the second half in Mdina and Rabat.
Valletta, the capital of Malta, has several places that draw tourists from around the world. Mdina and Rabat are the cities where you will find many Game of Thrones filming locations.
---
Valletta
Consider starting a day in Malta with this Valletta City Walking Tour.
It will take around 2 hours and help you understand how to best explore this capital city to make the best of your Malta weekend break.
Or if you decide to plan your itinerary, you can add St. John's Co-Cathedral as the first stop in your trip.
You can visit this stunning co-cathedral that was completed in 1577.
It was gifted with numerous artefacts by famous artists throughout the centuries and carries a beautiful art collection today. For those who are spending only one day in Malta, this cathedral is a must!
Then head towards Upper Barrakka Gardens and Lower Barrakka Gardens.
Created in 1661 as private gardens, and opened to the public after some 150 odd years only to suffer heavy damages during the Second World War, Barrakka Gardens hold a special place in the past of Malta.
Today, it offers beautiful views of the harbour and is a lovely place to spend some time in the heart of nature.
Reserve a couple of hours for Fort St Elmo in the afternoon.
A place seeped in history, this fort played a vital role in the Great Siege and also withstood the bombings during the Second World War.
It also houses National War Museum on the premises where you will get to see different military equipment. Fort St Elmo has become an essential stop for each Malta weekend break.
---
Finish the tourist attractions in Valletta before lunch and then book this Rabat, Mdina, & San Anton Gardens Tour.
This is a popular choice when you are spending only 2 days in Malta and want to cover as many places as possible. The tour will take 5 hours and involves a lot of walking. So, do not forget to wear comfortable footwear.
Are you planning to skip the tour and explore Mdina on your own? Then this article will tell you how to reach Mdina from Valletta and what to see there.
And of course, do cover these popular Malta Game of Thrones filming locations when you are visiting Mdina and Rabat, if you are a Game of Thrones fan.
If you do not want a fast-paced itinerary, you can skip the tour of other cities and opt for a Street food and culture tour in Valletta.
Maltese food is delicious and not too spicy thus suitable for all tastes.
---
Day 2 of your Malta weekend break
---
Gozo
There are a couple of options when you are covering Malta in two days.
You can dedicate the entire 2nd day to Gozo island. A weekend break Gozo attracts many from around the world as the island is dotted with beautiful tourist attractions and is lined with picturesque beaches.
Or you can choose from different smaller attractions that can be combined in a day tour.
When it comes to Gozo island, you can book this popular Gozo Tour with a Difference. This tour will take you from the megalithic Ggantija Temples to the unique rock formation of Il-Gebla tal-General.
You can also explore Gozo without any tour.
Many people opt for 2 days in Gozo and 1 day in Valletta. Depending on how much time you have in this country, you can switch the sequence of the cities.
There are several ferry services between Malta island and Gozo and the ride takes around half an hour. After reaching Gozo, you can cover the famous Citadel in Victoria and Ggantija Temples outside the city.
Here's a few things to see and do in Gozo:
Natural pools near Dwejra

Wied il-Ghasri

The Salt pans at Zebbug

Our Lady of Ta' Pinu Basilica
You can also choose from any of the beaches to catch some tan. Refer to this detailed travel guide about things to do in Gozo to get additional information and plan your trip in detail.
---
Comino and the villages
If not Gozo, you can opt for a Full-Day Cruise to Comino & Blue Lagoon with Food & Drinks.
This is a popular option if you are a water baby and want to do something different during your weekend break Malta. You'll find all info about the Blue Lagoon here. You will definitely find it worth your time even if you dedicate to spend an entire day here or have just one day in Malta.
If you are not looking for a full-day tour, then Marsaxlokk, Blue Grotto, and Qrendi Guided Tour can be considered. This tour takes only 5 hours and will allow you to relax in the evening.
If you'd like to do this yourself then head to the fishing village of Marsaxlokk, a colourful and cute fishing village full of character. Take a stroll and grab some fresh seafood while you're here depending on the time of day.
If you've hired a car and used the ferry to get it to the islands then you'll be able to save time and visit the Blue Grotto and Qrendi by yourself. Else Marsaxlokk makes for a good spot to spend a couple of hours.
If you're still wondering how many days in Malta you should spend then this article explains how many days in Malta are perfect for travellers.
---
Where to stay in Malta?
It is recommended to stay in Valletta when you are spending only 2 days in Malta.
This capital city is less than half an hour away from Malta International Airport and is full of interesting tourist attractions. You can book a stay at Osborne Hotel as this is located within the city walls and is minutes away from St. John's Co-Cathedral.
Grand Harbour Hotel is a popular choice as it is only 200 meters from the lovely harbour-view promenade. Staying here means staying in proximity to several cafes, bars, and restaurants.
You can check the list of hotels in Valletta to explore more options.
How to reach Malta for your two days in Malta trip
Flight to Malta
The best way to reach this island country is to take a flight from Italy or from one of the other European or Mediterranean countries.
There is only one airport serving the country and it is Malta International Airport. The airport is located in Luqa and is well connected with the rest of the island.
You will find airlines like Ryanair, Wizzair, Easyjet, Lufthansa, Jet2, and British Airways.
Ferry to Malta
You can also take a ferry to Malta from Pozzallo in Italy. It takes around 2 hours to reach the island and is preferred by many. If you are in Italy and want to spend a weekend in Malta, you can also consider taking a ferry.
However, there aren't many ferry operators between these two ports and the number of ferries is also limited. So, it is recommended to book your Malta ferry in advance.
---
So, with this detailed 2 days in Malta itinerary, you are set for your weekend Malta break as not only does it cover the 3 main islands but you get a taste of what the country has to offer.
It is best to visit Malta in spring as the crowds are fewer and it is budget-friendly although many even visit Malta in March for some winter sun.
No matter when you visit, the Maltese locals and the food will definitely make you come back for more!
---
Malta weekend break – FAQs
Is Malta good for a weekend break?
Yes, Malta is the perfect destination for a weekend break.
There are cities like Valletta, Sliema, Mdina, and Rabat that can be explored in a day or two.
The island of Gozo is an ideal spot for spending a beach-y day. And as Malta is located near several European cities and yet, is known for its Mediterranean climate, it is recommended for your weekend away in Malta.
Is Malta good for a city break?
Malta is absolutely perfect for a city break!
The Maltese cities are all about medieval buildings, historic churches, fortified walls, and to top it all, interesting museums and appetizing restaurants making it an interesting combination for a city break.
Is Malta a luxury holiday?
Malta can be the best luxury holiday.
Malta has several fishing villages that are now turned into resort towns.
You will find different grand hotels dotting the islands of Malta and Gozo. From the spas that are waiting to pamper you and chic restaurants ready to serve scrumptious food, making it a holiday you can customise as per your needs.
Which area to stay in Malta?
If you are interested in exploring cities and are okay with a fast-paced itinerary, then cities like Valletta and Sliema are perfect to stay in Malta.
But if you are looking for a laid-back holiday, then head off to Gozo and choose one of the sea-facing resorts. There are multiple resort towns on Gozo where you can stay and relax.
---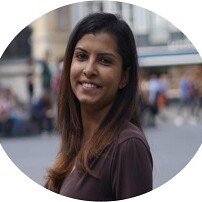 Award-winning Analyst, multi-nominated digital content creator and photographer Lavina Dsouza's words capture stories about culture and tradition mainly through its food and people. She has written and contributed to publications such as The Washington Post, Lonely Planet and Matador Network, to name a few. She is the editor of UntraditionalHumans.com, a non-profit created to share inspiring stories from women of colour who break free from traditions and choose happiness.
She's also a speaker passionate about DEI and champions solo travel. She has collaborated with numerous renowned brands such as Intrepid Travel, TripAdvisor, Travel and Leisure and Adobe, to name a few.
She can be found on Twitter and Instagram.
---
---
---
Some of the links on this post are affiliate links. These do not cost you extra to use, but will help provide Continent Hop with a small commission if/when you purchase through them, to recover some of the costs of running this website and providing free content to help you plan your travel. I appreciate your support!
---