The Blue Lagoon Malta also known as Comino Blue Lagoon is Malta's smallest island. A perfect day trip full of Azure waters and lots of activities it is one item you shouldn't miss doing when in Malta. Read on for details on a Blue Lagoon boat trip and the ferry to Comino
I wanted to visit a country I could explore in a few days. This was when I picked Malta for a quick trip and spent time at Blue Lagoon Malta, also called Comino Blue Lagoon.
I knew there were at least a handful of countries in the world which I could explore in a limited time. After a quick search about the smallest countries in the world, I realised Malta had all we needed, including a beach, and it was just a couple of hours away.
The fact that Malta had quite a few Game of Thrones shooting locations as well made it a must-visit destination for me.
Malta is an archipelago between Sicily and the North African Coast.
In fact, Malta is a 20-minute flight ride from Catania Airport in Sicily. Or you could take the ferry from Sicily, which will take anywhere between 1.5 to 4 hours to reach Malta. So, visiting Malta from Sicily is very easy. If you're visiting Sicily, you can extend your Italy itinerary to see Malta.
Malta consists of three islands – Malta, Gozo and Comino. While the nation-state has been officially named the Republic of Malta, it's generally called just 'Malta', which can be confusing as it's also the name for one of the three islands constituting the nation-state.
---
All info for the Blue Lagoon Malta trip
---
The island of Malta is the largest of the three islands. Tourists visit Comino island, the smallest island in Malta, to reach Blue Lagoon Malta/Comino Blue lagoon.
Malta has had a turbulent history. It has been controlled by centuries of foreign rule by Romans, Greeks, Arabs, Normans, Sicilians, Phoenicians, Swabians, Aragonese, Hospitallers, French, and the British. It became independent from Britain in 1964 and became a part of the European Union in 2004.
The Maltese islands are known for their breathtaking landscapes and beaches, which are ideal for tourists for most of the year, except in winter. Summer temperatures go up to 34°C; summers are hot but comfortable. The island is warm and pleasant during the summer and autumn. Winters aren't too cold, but fewer tourists visit due to long periods of precipitation.
Malta Blue Lagoon should be a place you must visit on your trip to the island state. Read on to find out more about Comino island , options for a blue Lagoon Malta boat trip, the only Blue lagoon Malta hotel and everything you need to know for planning your trip
---
Basic Info
WHEN TO VISIT THE BLUE LAGOON, MALTA | We visited in April, but the waters were still a little chilly. To avoid the summer crowds the best time would be May, June and September, October. If you don't mind the water being a little chilly, then April and November could work too! More details below.
HOW LONG |  A week to 5 days in Malta is an ideal time to get a glimpse of this beautiful country. Even locals plan a day trip to the island as it is quite difficult to stay here
HOW TO REACH THE BLUE LAGOON, MALTA | As the island is a car-free zone, the best way to do it is to opt for a day-trip, another option is to get to the ferry terminal in Cirkewwa, hop on a ferry and do it yourself.
You will have to ensure you don't miss the last ferry out. More details below.
HOW DEEP IS THE BLUE LAGOON | The water around the lagoon is relatively shallow reaching depths of 1.5 meters. Some places may be deep, reaching more than 10 meters.
These spots are ideal for diving. The waters in the lagoon are safe and there are no sharks or jellyfish in the Maltese waters.
---
Tourist Visa requirement for Malta
British citizens do not need a visa to visit Malta.
Malta is a member of the European Union. So, citizens from countries that are a part of the European Union also need not apply for a visa. They must carry only valid identification cards such as a passport to visit Malta.
Citizens of Switzerland, Iceland, Liechtenstein, and Norway, which are not a part of the European Union, but have signed the Schengen Agreement, can also enter Malta without a visa.
Except for citizens from the UK, EU and non-EU Schengen countries, others need to apply for the Schengen Visa, also called the 'Short stay C Visa'. If you have this visa, you can stay in Malta or any other Schengen country for up to 90 days within a period of 180 days.
Along with the Schengen visa, you will also need travel and medical insurance, which will cover costs up to €30,000.
---
How to reach the Blue Lagoon Malta/How to reach the Comino Blue Lagoon
Wherever you are on Malta or Gozo island, you'd have to get to a harbour and travel by boat/ferry to get to Comino island, where the Comino Blue Lagoon is located.
Comino is a car-free zone, and apart from the Comino hotel (which is closed right now) and a camping site, there's no other place to stay on the island. So plan how long you want to spend on the island accordingly.
Malta International Airport, on Malta island, is the only airport serving the three Maltese islands. When you land at Malta airport, you can take a bus or direct transfer to Cirkewwa, Mellieha. From Cirkewwa, you can take a ferry or private boat to Comino Blue Lagoon.
Cirkewwa is 31 km away from Malta international airport. If you take the bus, you can take bus X1, and you'd need about an hour to get to Ċirkewwa from the airport.
You can get from Malta to Comino through the public transport ferries, a private ferry, a private boat or by paying for a day trip package. Here are more details about getting from Malta to Comino –
i) Public ferry –  Take the public transport ferry Malta Comino from Cirkewwa (or even from Marfa)
From Ċirkewwa, a ferry runs every 30 minutes to Comino. It is a 30-minute ride to the stop, which will drop you just a few metres away from the blue lagoon. You must ensure you don't miss the last ferry from Comino to Malta.
ii) Private ferry – There are also private ferry companies like Comino ferries Co-Op ltd and Ebsons Comino ferries which run small ferries to the Blue lagoon. A round trip for an adult by a private ferry costs 12 to 15 euros.
iii) Day trip through boat for Blue Lagoon Malta Comino
Departure locations for boat tours are from the Bugibba Jetty, Sliema Harbour, or St. Julian's, some of Malta's most touristy parts. You can get to these locations from most areas through the bus.
Some tour operators provide transport from the hotel to the start location at an extra, nominal cost. If your tour operator doesn't do that, you could also ask your hotel to arrange transport for you, which can be arranged at an extra cost.
Most tours stop at multiple locations, including caves, snorkelling spots and sights around the Blue Lagoon. So if you'd like to spend most of your time swimming or relaxing by the lagoon, taking a tour may not be the best option for you.
However, you should consider tour options if you would like to spend limited time in the lagoon water and quickly visit various stops around the lagoon in one trip.
Different tour options are available for different budgets. The most expensive option is a charter boat, and the cheapest is a ferry boat.
Be aware that some of the smaller tour boats don't have much shade or space on board. They are packed, especially on peak days, and can be slightly inconsistent with timing.
iv) Private boat 
A private boat from Malta to the Blue Lagoon will cost anywhere between 150 to 250€ for 2 to 5 hours. This tour for upto 6 people costs 200 pounds and is highly recommended as it takes you not just to the Blue Lagoon but also Gozo.
This one is a little expensive but is a sunset cruise for 6 people sailing around the island for about 3 hours.
Gozo to Comino/Gozo to Comino Blue lagoon
There is no direct Gozo Comino public ferry. So, the best way to get from Gozo to Comino island is to take a direct ferry from Mgarr, Gozo, by private service providers such as Bella Comino Ferry. The ticket for this trip costs €7.
---
Planning your Blue Lagoon boat trip
For us, the most convenient option to get to Comino Blue Lagoon was to sign up for a day trip which let us spend a good 5 – 6 hours on the island, inclusive of lunch, transportation and the best part of our cruise was  — unlimited beer.
A lot of local operators organise trips to the blue lagoon every day. It is sufficient to make a booking a day or two in advance. It does get busy in summer, and it is better to book in advance during this time.
Enquire at your hotel or in the surroundings if you'd instead leave it for later. There are many operators around the Sliema or Bugibba/St. Paul's Bay areas competing to provide the best price.
After being collected from the assembly point and taken to the Cirkewwa ferry terminal, we were all off to Mgarr Harbour, Gozo. If you're staying in Valletta, some tour operators have cruises leaving from Marsamxett Harbour, which then get to Cirkewwa to pick up passengers.
If you plan on doing it yourself, you must get to the Cirkewwa ferry terminal, the northernmost point on Malta, as this is from where all ferries and cruises leave.
Some ferries may start from Sliema; however, ferry timings for these ones would have to be checked in person.
You'd have to use public transport or a cab to get to Cirkewwa as cars aren't allowed on the island.It costs a Euro for a day ticket to use the bus. But using public transport in Malta can be exhausting, with most buses filled to the brim with passengers and unreliable timings.
Although we were staying in St.Paul's bay, it still took us an hour to get to the terminal! Once at the terminal, it takes about 30 minutes to get to Comino, and sometimes the ferry first drops passengers to Gozo and then heads to Comino on the way back.
A ferry to Comino departs from from Mgarr/Cirkewwa at frequent intervals. Refer to the timetable here if required. Ensure you return the same day as the island empties of travellers in the evening unless you're staying at the only hotel on the island (which is closed temporarily.)
There are no restaurants on the island. A few food trucks and kiosks sell fast food and juices. These are the only options available here to buy food or drinks. You could carry packed lunch for a picnic.
Locals usually pack lots of food when they visit Comino due to the limited food options. If you go to Comino through a cruise or day tour, your tour operator may provide lunch on board.
Deckchairs and umbrellas can be hired if required on the island.
It is possible to do a Comino – Gozo tour as well on the same day, but you won't get enough time to spend at the Comino Blue Lagoon, and it would be rushed to do both in a day.
It was marvellous to laze around in shorts on the ferry and have the sea breeze mess my hair in the short time we got to the lagoon.
After docking and having a hearty lunch served on the cruise, we were off to find a spot to laze.
Being April, the water was still chilly, and there were a few fish around, but that did not deter us from getting a couple of hours of fun in the crystal-clear turquoise waters.
---
How safe is it to swim in the Blue Lagoon Malta?
The water around the lagoon is relatively shallow, reaching depths of 1.5 metres. Some places may be deep, reaching more than 10 metres. These spots are ideal for diving.
The water is not too deep and crystal clear, making it an excellent place for swimming. Lifeguards are posted at the Blue Lagoon Malta to ensure the safety of swimmers. Like any other beach in Malta, the Blue lagoon's water could have jellyfish.
However, many tourists are unaware of the presence of jellyfish in the Comino Blue Lagoon. There have been incidents of jellyfish stings.
The Mauve Stinger is the most common type of jellyfish spotted here. It is pink, mauve or light brown in colour, and its sting is not lethal but can be very painful. Other types of jellyfish which have been spotted in the lagoon's water do not have fatal bites as well.
In fact, around 40 species of jellyfish have been spotted around Malta's beaches, but most of them do not sting.
If you are at the Blue Lagoon Malta or any beach in Malta and see a purple flag put up there, it indicates the presence of marine pests like stinging jellyfish in the seawater.
Unfortunately, there have been incidents of jellyfish stings despite the flags and between the transition time when guards discover the presence of jellyfish and put up the purple flags.
Read more about Malta's safety flag system for beaches here.
---
Where to stay near the Blue Lagoon Malta
Comino Hotel and Bungalows is the only hotel on Comino island. It is only 800 metres away from the Comino Blue Lagoon and situated by San Niklaw Bay.
However, it is not possible to stay at Comino Hotel Malta since the property has been closed for redevelopment, according to local newspapers.
The only option for staying back on Comino island is setting up a tent at Tal Ful campsite. It is only a 10-minute walk away from the Comino Blue Lagoon. You would have to bring your own camping gear to be able to stay here.
Campers are expected to follow the rules set by the Environment and Resources Authority for setting up the camp and staying on the site. Public toilets are available near the campsite.
I wouldn't recommend camping here since there is no facility available here other than the public toilet and showers.
Some tourists who have camped here have had negative experiences due to rats that enter tents and loud music from nearby parties that go on until morning.
There was another campsite overlooking Santa Marija Bay for those visitors who wanted to spend the night near the Comino Blue Lagoon. But officially, it has not been in use since July 2019.
Things to do near the Blue Lagoon Malta on Comino island
While at the Blue Lagoon, we spent a while trying to figure out how to get over to the tiny island (Cominotto) opposite Comino's main island, which was secluded and had a huge white sand beach. We later realised that the only way to get there was to place our belongings over our heads and wade through the water.
The water wasn't too deep, but I would have certainly drowned midway as I'm not too tall. So I pushed that thought aside and watched some folk diving off the cliff on Cominotto while a few luxurious yachts sailed past a few times.
The April sun wasn't too benevolent in warming the water to a pleasant temperature. So, after a couple of hours, I found a small cave to spend the noon in.
If you'd rather not spend the entire day in the lagoon, the tiny island has a few attractions you can visit :
SANTA MARIJA BAY AND SAN NIKLAW BAY | Located on the island's North side, both the bays are ideal for swimming and having a picnic.
The Comino hotel is in San Niklaw Bay, and the self-catering bungalows are in Santa Maria Bay. The hotel also has its own shuttle service to Malta and Gozo. It's the only hotel on the island and is temporarily closed for redevelopment.
CRYSTAL LAGOON | The other lagoon on the island, with equally azure waters, is quite rocky, thus attracting more marine life, making it ideal for diving and snorkelling.
SANTA MARIJA (ST. MARY'S TOWER) | One of the watchtowers used to defend the island from pirates and the Ottomans, the tower has an impressive backdrop which is a great spot to take good photos.
CHAPEL OF OUR LADY'S RETURN FROM EGYPT | Mass is still conducted in the chapel on Saturdays at 4.30 pm, and Sundays at 5.45 am.
II-BATTERIJA TA SANTA MARIJA (ST. MARY'S BATTERY) | This historical landmark is also known as Comino battery and built as a series of fortifications along the coast; you'll find a few cannons still intact here.
SANTA MARIJA CAVES AND JULIA CAVES | The caves are another ideal spot for snorkelling and scuba diving, as the water here is crystal clear. Some cruises will take you around these caves to give you a glimpse.
LANTERN POINT | A picturesque location on the island to enjoy the sunsets here.
ABANDONED ISOLATION HOSPITAL | The British built this hospital in the 1890s. It was built in this remote location so they could use the hospital to isolate plague-stricken returning soldiers. It is now private property but can be viewed from the outside. A quirky detail about the hospital is that there is a cannon pointing at the hospital!
If you're visiting Comino, especially for diving, the diving centres in Malta and Gozo prioritise this spot. There is abundant marine life here due to the secluded location of the caves.
Depending on the time of year, it can be pleasant to take a walk, hike or go biking along the cliffs in Comino. The endless views of the ocean are lovely, even though there are fewer trees on the island. If you go for a hike, you'll be able to view the Santa Marija tower from most parts of Comino.
In summer, the severe heat can get quite tiring and dehydrating. It is best to avoid indulging in activities around the island in summer. If you're visiting Blue Lagoon Malta in summer only to relax in the lagoon, it is advisable to carry plenty of water, sunscreen and a hat.
---
---
Is the Blue Lagoon Malta worth it?
You must have come across photos of the scenic, clear blue water of Blue lagoon Malta, which attracts thousands of tourists to the island every year.
One of the most interesting facts about the Blue Lagoon is that it is impossible to get lost here. The island is 2.5 by 1.5 kilometres, and you can get from one part of the island to the other in 30 minutes by foot.
The official population of the island is 3 residents!
The island of Comino is full of herbs and flowers. The island was used by pirates as a base, then in the defence against the Ottoman Turks and later to isolate patients with the plague in the 19th century; Comino (Kemmuna in Maltese) is called so due to the abundance of the cumin plants here.
You can smell thyme in the air in some parts of the island!
There are no roads on the island. There are cliffs, a couple of sandy beaches, a blue lagoon and caves around the coastline.
All the above reasons make it the perfect setting away from the busy city life in Gozo and Malta.
Even though the waters were a little chilly when we visited, it was worth spending a day in the sun and seeing Comino island to get a taste of Malta's diverse landscape.
However, keep in mind that while there are just a few other things to do in Comino, the Blue lagoon is the island's main attraction, and it can get quite busy in summer (July and August). The water and nearby spots by the water get very crowded during this time. You can visit super early in the morning to have a better experience during the peak season.
If you'd rather not compete for a spot to relax and prefer other options in Gozo for hiking, then a peak season visit to the Comino Blue lagoon is probably not for you!
---
Best time to visit the Comino Blue Lagoon Malta
We visited in April, but the waters were still a little chilly. Visit between March to May if you'd like pleasant temperatures but avoid the summer crowds. May, June, September and October are the best months to spend time at Blue Lagoon Malta.
If you don't mind the water being a little chilly, then April and November could work too.
May-June would be a good time because it's warm enough to enjoy a day at the beach. It's just before summer, and the international tourists haven't arrived yet. July and August is the peak season. Maximum tourists visit at this time in summer.
So if you visit Comino Blue Lagoon in these months, expect large crowds. I don't recommend visiting during July-August.
During the high season, it is pretty crowded between 10 am to 4 pm. The people who visit early take up a few patches with sand.
If you visit during this period, wake up early in the morning and get to the lagoon as early as possible. This way, you can have a better experience than many tourists who visit later in the day.
Weekends usually mean more visitors. Locals come to the lagoon with their families. So see Blue lagoon Malta on a weekday, especially if you visit during the peak season.
---
---
How much time is enough for the Comino Blue Lagoon Malta?
Depending on where you are, you'd need to see how much time it takes by bus and/or ferry to reach Blue Lagoon Malta.
An hour should be enough for clicking photos and a quick dip in the lagoon water. You'd need more time if you'd like to eat from one of the food stalls here. If you want to snorkel or swim for longer, plan your trip so that you get at least 2 to 3 hours at the lagoon.
---
How much time is enough for Malta?
You certainly need to spend more than a week in Malta to explore all it has to offer, but it is possible to see the highlights in a few days.
You can spend half a day or an entire day at the Comino Blue lagoon. For Comino, most tourists plan a day trip as there are no accommodation options to live near the Blue Lagoon Malta, on Comino island.
If you'd like to see more of the country and relax at other places in Malta, plan a 6 or 7 day holiday. You can do either of these things –
See the capital Valletta and nearby Mdina.

There are so many things to do at St. Paul's Bay, which is just half an hour away by car from Valetta. This budget-friendly place is a tiny fishing town at heart with many accommodation options like rental apartments, hotels and beachfront houses and all-inclusive resorts.

See archaeological remains in Rabat.

Spend time at the best sandy beaches like Golden Bay and Ramna Bay

See the Dingli cliffs, the highest part of the island.

Go to St Peter's Pool in Marsaxlokk for those who love cliff diving.
If you're confused about how much time is enough for Malta, check out more detailed information about what's worth seeing in Malta here: How many days in Malta.
---
The water at the Blue Lagoon is azure, the pictures above should speak for themselves and the water is pleasant most times of year, unless it is peak winter.
Definitely a great spot if you'd like to visit a whole island but relax and have fun while doing so, when in Malta!
---
FAQs for the Blue Lagoon Malta
Is the Blue Lagoon Malta worth it?
The Blue Lagoon Malta is exceptional for swimming and snorkelling. There are also excellent diving spots nearby. If neither interests you, you should still visit the Lagoon to relax by the clear blue water and see the island's natural beauty.
It's worth taking at least a half-day trip to the Blue Lagoon if you're visiting Malta. However, plan your trip in a way that you can avoid crowds, especially if you visit during the peak season (July-August).
How do I get from Malta to Blue Lagoon? 
You can get from Malta to Blue Lagoon through the public transport ferries, ferries run by private companies, a private boat/charter boat or by paying for a day trip package. The public transport ferries run at an interval of 30 minutes to an hour throughout the day.
Many tourists visit Comino Blue Lagoon through a half-day or day tour package. For those travelling in large groups, affordable options are available for private boats.
Does Malta have a Blue Lagoon?
Yes, Malta has a blue lagoon with clear, shallow water, which makes it a spectacular swim spot. You can see different shades of blue in the lagoon's water. Blue Lagoon Malta is on the virtually uninhabited Comino island, located between Gozo and Malta island.
Is Blue Lagoon Malta shallow?
The water around Malta's blue lagoon is relatively shallow, reaching depths of 1.5 metres. Some places may be deep, reaching more than 10 metres.
---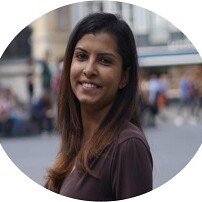 Award-winning Analyst, multi-nominated digital content creator and photographer Lavina Dsouza's words capture stories about culture and tradition mainly through its food and people. She has written and contributed to publications such as The Washington Post, Lonely Planet and Matador Network, to name a few. She is the editor of UntraditionalHumans.com, a non-profit created to share inspiring stories from women of colour who break free from traditions and choose happiness.
She's also a speaker passionate about DEI and champions solo travel. She has collaborated with numerous renowned brands such as Intrepid Travel, TripAdvisor, Travel and Leisure and Adobe, to name a few.
She can be found on Twitter and Instagram.
---
---
---
Some of the links on this post are affiliate links. These do not cost you extra to use, but will help provide Continent Hop with a small commission if/when you purchase through them, to recover some of the costs of running this website and providing free content to help you plan your travel. I appreciate your support!
---