The Philippines is a favourite destination for tourists from all around the world. It is known for its stunning landscapes, rich cultural heritage, and warm hospitality. It is also famous for its pristine beaches, crystal-clear waters and unique food.
The Visayas region of the Philippines is a treasure trove of natural beauty and cultural wonders. Cebu and Boracay are two of the Philippines' most sought-after destinations, with diverse landscapes and vibrant cultures.
While Cebu offers an excellent blend of history and natural beauty, Boracay offers an exceptional tropical paradise. This makes both of these top tourist destinations in the Philippines.
Cebu is a province located in the Visayas region of the Philippines. It is famous for its rich past, breath-taking natural beauty, and vibrant city life. It is a mix of architecture, cuisine, and traditions from the Spanish and Filipino regions.
---
Cebu offers many attractions ranging from its chaotic city life to its tranquil coastline surroundings. This makes it a must-visit destination in the Philippines.
Boracay is located in the western region of the Visayas and is a beautiful tropical paradise. It is known for its pristine beaches and buzzing nightlife.
Boracay is also one of the top beach destinations in the world. Boracay offers stunning views, a ton of water activities and a delicious variety of food. It is perfect for a beach holiday or relaxation.
---
Cebu vs Boracay – Location and distance
---
Cebu: Cebu is located to the southeast of Manila, which is the capital of the Philippines.
The distance from Manila to Cebu is 570 kilometres (354 miles) by air. You can take a flight from Ninoy Aquino International Airport (NAIA) in Manila to Mactan-Cebu International Airport in Cebu.
How to get to Cebu: You can easily reach Cebu from Manila by air as it is the most preferred option. Multiple domestic airlines offer several daily flights.
However, if you are seeking a more picturesque journey, ferry services are also available. Ferries depart from the Port of Manila to Cebu on a regular basis and you can hop in one of those.
Boracay: the distance between Manila, the capital of the Philippines and Boracay is 315 kilometres (196 miles).
You can take a flight from Manila to reach either Caticlan Airport or Kalibo International Airport.
How to get to Boracay: The fastest option is to take a flight from Manila to Caticlan Airport or Kalibo International Airport. After landing, you will have to take a short boat ride to the island. This journey is filled with lovely views of the island's crystal-clear waters and white-sand beaches.
Cebu vs Boracay : Best things to do in Cebu
---
Cebu has a plethora of activities and attractions for everyone. It ranges from magnificent jungle waterfalls to beautiful snorkelling and diving opportunities.
Visit the historical landmark of Magellan's Cross
Magellan's Cross is located in Cebu City.  It is a historic and symbolic landmark that holds great value. It serves as a striking reminder of the arrival of Christianity in the Philippines and the beginnings of a rich cultural legacy. It is one of the most recognisable monuments in Cebu.
The cross is planted in a small chapel which looks extremely beautiful. The dome of this structure is also something to take a look at.
Head to the epic Kawasan Falls
Kawasan Falls is a spectacular three-tiered waterfall located in the town of Badian. The waterfall has this unique emerald-green water and a lovely natural landscape surrounding it.
You can take a dip in the pools or take part in canyoneering if you are looking for an adventure. It is one of the most famous activities in Cebu. you can also indulge in other activities such as trekking, and bamboo rafting.
Enjoy thrilling views from the Osmena Peak
Osmena Peak is the highest mountain range in Cebu and it is at 1013 meters above sea level. You will get some absolutely thrilling panoramic views from up here of the nearby islands and hills.
This is also a popular hiking spot and you can hike up here for some refreshing adventure.
Visit Moalboal to swim with sea turtles 
Cebu has a huge population of sea turtles and a majority of them can be found on Moalboal's Panagsama Beach. You can visit the Moalboal Marine Sanctuary to participate in various water activities such as snorkelling, scuba diving, and freediving. You will be able to witness the beautiful underwater life along with colourful fish, and sea turtles.
Panagsama Beach in Moalboal also provides front-row seats to the fiery spectacle in the sky as the sun bids farewell, making it a must-visit destination for sunset aficionados.
Visit Malapascua Island
Malapascua Island, off the northern coast of Cebu, is a diver's paradise. Monad Shoal is a popular diving site where you can witness majestic thresher sharks in their natural habitat.
It's also a haven for sunset enthusiasts. As the sun sets over the calm waters, the sky is painted in warm hues, casting a soothing spell over all who witness it.
The island also offers opportunities for island hopping and you can visit neighbouring destinations such as Kalanggaman Island.
Kalanggaman Island is a hidden gem in Leyte. Its long sandbar jutting into the clear turquoise waters provides an extraordinary stage for the setting sun. This remote paradise offers an unspoiled and breath-taking sunset experience.
---
Cebu to Boracay: Journey and Attractions
The journey from Cebu to Boracay is enchanting and filled with various beautiful attractions.
How to travel from Cebu to Boracay: To reach Boracay, you will have to take a domestic flight from Mactan-Cebu International Airport which is located in Lapu-Lapu City and fly to either Caticlan Airport or Kalibo International Airport in Aklan.
After reaching the airport, you can take a boat or a ferry to Boracay Island. It's an easy boat ride of about 15 minutes from Caticlan to Cagban Jetty Port, the main access point to Boracay. If you arrive in Kalibo, you can take a bus or van to Caticlan Jetty Port and then a boat journey to Boracay.
---
Some attractions to stop at on the journey from Cebu to Boracay
Iloilo City is a destination known for its rich history and vibrant culture. You can explore the city's history by visiting the Jaro Cathedral which is a stunning historical site with Baroque architecture or the Molo Church, which is known for its Gothic-inspired architecture and religious importance.
You can visit Guimaras Island which is also known as the 'Mango Capital of the Philippines'. It has lovely beaches and beautiful natural landscapes.
You can stroll along the untouched shores of the island or take part in various water activities. Don't forget to get a taste of the delicious Guimaras mangoes which are known to be one of the sweetest in the world.
Guimaras, famous for its sweet mangoes, also offers a sweet sunset experience at Alubihod Beach. The sky here transforms into a mesmerizing palette of colours, reflecting on the calm sea and leaving visitors in awe.
---
Cebu vs Boracay: The Best things to do in Boracay
The Visayas region of the Philippines is a treasure trove of natural beauty and cultural wonders. One of the most magical and memorable experiences on the Cebu to Boracay Visayas tour packages is witnessing the breath-taking sunsets that grace this region. The Visayas are known for their stunning sunset views.
Boracay is the perfect blend of calm and thrill. It offers a wide range of activities like relaxing at the beach, exhilarating water sports and a lively nightlife. It has a beautiful natural landscape and its beaches are absolutely stunning.
Relax on White Beach
White Beach is one of the most popular beaches on the Boracay island. It has a beautiful stretch of powdery white sand and crystal-clear waters. You can sunbathe or take a refreshing dip in the water. You can also engage in various water activities for some adrenaline rush.
As the sun dips below the horizon, the sky above White Beach transforms into a canvas of fiery oranges and purples. Couples often stroll hand in hand along the shoreline, making this a romantic spot to witness the sunset. You will also find many bars, restaurants and clubs here where you can enjoy some drinks in this beautiful setting.
Engage in various water sports and activities
Boracay has endless options when it comes to water sports and activities. You have a lot to choose from including swimming, snorkelling, kiteboarding, parasailing, diving, sailing and jet skiing.
You can also go on island-hopping tours, snorkelling excursions, and scuba diving expeditions to explore the island's diverse marine life and coral reefs.
Visit Mount Luho
Mount Luho is the highest point on the Boracay island and the Mount Luho viewpoint offers thrilling panoramic views of the beautiful azure waters. You can also hike up to the viewpoint or rent a bike.
You will witness a beautiful shoreline, lush green landscape and Boracay's beauty from a completely different angle.
Puka Shell Beach
The Puka Shell Beach is another beach you must visit in Boracay. It is known for its stunning natural landscape and puka shells, from where it has derived its name.
Overall, the beach is quite spacious and does not have a lot of people. The far left side of the beach is mostly untouched and offers a tranquil escape from the rest of the crowd.
You can also take part in various beach activities such as Kayaking or paddleboarding. The sunsets here are out of this world. As the place is not as busy as the white beach, you can watch the sunset peacefully which makes it an even better experience.
---
Cebu vs Boracay: must-try dishes
Cebu and Boracay both boast vibrant culinary scenes and your experience isn't complete in both of these destinations without trying some of the local cuisine.
---
Cebu
Cebu Lechon: This is a roasted pig dish known for its crispy skin and flavourful, tender meat. It is pretty famous all around the world.
Chorizo de Cebu: This is a traditional Spanish sausage that has been transformed into the flavours of Cebu.
Stuffed Squid: This is a beloved seafood delicacy in Cebu which is stuffed with ground pork, vegetables, and local spices. This dish has a unique and delicious flavour.
Boracay
Chori Burger: you must taste the famous Boracay Chori Burger. It has a crispy chorizo patty with flavorful sauces and fresh vegetables.
Calamansi Muffins: Calamansi Muffins are a local speciality which is made from the Philippine Calamansi fruit. These muffins offer a perfect balance of sweet and tangy flavours.
Mango Float: This is a popular local dessert that combines juicy mangoes, graham crackers, and creamy condensed milk. It is a refreshing sweet treat.
---
Cebu vs Boracay: crowds and peak season
The peak season in Cebu is from December to April due to which the place is quite crowded and the rates get much higher for accommodations and other activities.
If you want to avoid crowds and save some money, you should consider visiting Cebu in the months of May or November. The weather is pleasant and you will find everything at cheaper rates minus the crowds and the waiting time.
The peak season in Boracay is from November to April due to the dry season and international holidays. The beaches are quite crowded during this time and the rates for accommodations and other activities also increase significantly.
For a more relaxed vacation, you should consider visiting Boracay during the off-season which is in the months of May to October. There are fewer tourists and apart from the occasional rainfall, these are the best months to avoid crowds.
---
Cebu vs Boracay: tips and final verdict
Consider the tropical environment while packing for your trip to Cebu and Boracay, and bring lightweight, breathable clothing. Also, carry comfortable footwear which is ideal for beach activities and exploration.
Dress modestly while visiting religious places and don't forget to ask for permission while clicking pictures. Make sure to remove your shoes before entering homes, temples, or any place of worship.
If you want to visit a place that is buzzing and full of people, then Boracay is the place for you. You can relax at some of the most beautiful beaches, enjoy sunsets and also party all night with people from all around the world.
Cebu is a perfect blend of both urban life and a serene beach escape. It also has a plethora of historical landmarks to explore and some stunning waterfalls.
---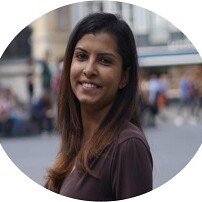 Award-winning Analyst, multi-nominated digital content creator and photographer Lavina Dsouza's words capture stories about culture and tradition mainly through its food and people. She has written and contributed to publications such as The Washington Post, Lonely Planet and Matador Network, to name a few. She is the editor of UntraditionalHumans.com, a non-profit created to share inspiring stories from women of colour who break free from traditions and choose happiness.
She's also a speaker passionate about DEI and champions solo travel. She has collaborated with numerous renowned brands such as Intrepid Travel, TripAdvisor, Travel and Leisure and Adobe, to name a few.
She can be found on Twitter and Instagram.
---
---
---
Some of the links on this post are affiliate links. These do not cost you extra to use, but will help provide Continent Hop with a small commission if/when you purchase through them, to recover some of the costs of running this website and providing free content to help you plan your travel. I appreciate your support!
---