Phuket in June may not be appealing to many however even though the region receives rainfall for half the month, the showers are quick with lots of sunshine in between. Perfect for a good deal as Phuket in June is quite uncrowded. Read what to do when travelling to Phuket in June!
Phuket is a traveller's paradise, with its white sands, crystal clear waters, and lively neighbourhoods. Imagine a tropical wonderland where lush greenery meets pristine beaches, and the scent of exotic spices fills the air.
June in Phuket means a captivating island that beckons you with its natural beauty and uncrowded tourist spots.
Visiting Phuket in June may not be an ideal time, but the Phuket June weather will charm you as the island comes alive with a symphony of colours with the advent of monsoon.
So, Phuket in June is not a bad idea if you want to skip the crowds yet have a good time.
Thailand itself has a more or less similar climate in June. So, if you are planning a trip to Thailand in June, check out my 7 days in Thailand itinerary. Planning to stay on longer? Then this 1 month in Thailand itinerary should help!
For now, read on to find out more about what to do in Phuket in June!
Travelling to Phuket in June
---
Phuket weather in June – Is June a good time to visit Phuket?
June in Phuket heralds the advent of the monsoon season!
Typically a low season, Thailand weather in June is marked by the beginning of the monsoon season. June is also the wettest month in Phuket with lots of rainfall and occasional thunderstorms.
Note that this does not mean that it will rain all the time; you can also expect plenty of sunshine between downpours as it tends to rain in the evenings.
The average temperature is around 32 °C / 25 °C with high humidity and sea conditions can be a little rough, meaning it may not be an ideal time for water activities, though other attractions continue to remain open.
If you plan on hitting the beaches of Phuket June, make sure to keep an eye on the red flags, which indicate rough seas.
---
What to wear in Phuket in June?
Since rainfall is going to be a constant companion in June in Phuket, a durable raincoat and umbrella are the most basic necessities if you are visiting Phuket in June.
Apart from this, carry a set of light breathable clothes and trousers and, if you are lucky, beachwear for that occasional leisurely stroll along with the beach.
Additionally, carry mosquito repellent since dengue is a common disease in June in Thailand, so it's best to prepare. It is not a bad idea to get the necessary vaccinations if needed before travelling to Phuket in June.
---
Things to do in Phuket in June
---
Places to visit in Phuket in June
In spite of the monsoon season, there are lots of things to do in Phuket in June.
In the midst of glistening raindrops in June in Phuket, you can learn more about the history and culture of the island, enjoy some indoor activities, relish delectable Thai cuisine, or simply relax on some of its pristine beaches.
Keep reading to find out what you can do when travelling to Phuket in June.
---
Explore the Old Town of Phuket
Phuket's Old Town is known for its well-preserved Sino-Portuguese architecture, colorful streets, and vibrant arts scene.
Take a stroll through the narrow alleys, visit the local museums, art galleries, and cafes, and immerse yourself in the town's rich history and culture.
While walking through Thalang Street and Phang Nga Street, you will be greeted by some old architectural marvels lined on both sides, which is sure to leave you mesmerized
Visit the Thai Hua Museum to get a history lesson on the immigration of Chinese people to Phuket and the Chinpracha House, a vintage mansion featuring exotic personal collectables.
---
Enjoy the exquisite Phuket Baba Wedding
June in Phuket also witnesses the annual Phuket Baba Wedding, a celebration that exudes charm, tradition, and cultural richness!
Baba (male) and Nyonya (female) are the terms that are used to describe the descendants of mixed marriages between Chinese immigrants and locals of Phuket.
The Baba people assimilated local customs and created their own unique heritage. Baba weddings are an elegant affair that spans over two days!
The setting for this wedding is often a grand mansion or a historic Sino-Portuguese shophouse in Old Town, adorned with ornate decorations, auspicious symbols, and auspicious colours.
The wedding ceremony is a captivating display of customs passed down through generations, with the bride and groom dressed in elaborate Baba and Nyonya attire, adorned with exquisite jewellery and accessories.
The highlight of a Phuket Baba wedding is the vibrant and colourful procession known as the 'Sai Mon Goh' or 'Romantic Road.' in which the bride and groom, accompanied by their entourage, parade through the Thalang street of the Old Town in ornate palanquins or 'sia' adorned with flowers, lanterns, and auspicious symbols.
The best part of these weddings? The food! You will be greeted by a sumptuous feast of flavours and delicacies, from mouth-watering dim sum to traditional Nyonya kuih to spicy Thai curries and aromatic soups, the banquet is a true gastronomic delight!
Chasing waterfalls!
June in Phuket brings the waterfalls life with a roaring cascade of crystal-clear water. Trek through the rainforest, breathe in the petrichor-scented air, and be mesmerized by the natural beauty of waterfalls like Bang Pae, Ton Sai, and Kathu.
---
Dive into Phuket's history and culture
Rainy days provide the perfect opportunity to delve into Phuket's rich history and culture. Visit the Phuket Thai Hua Museum, and Thalang National Museum, to learn about the island's heritage, customs, and traditions.
Head to the Wat Chalong temple, the largest temple in Phuket and a captivating sanctuary that embodies the spirit of Thai Buddhism in a mesmerizing blend of architecture, spirituality, and culture.
The temple complex is a sprawling masterpiece of Thai design, with gilded roofs, intricate carvings, and graceful statues.
Admire the holy relic of the temple, a bone fragment of Buddha in a glass case!
Next head to the Big Buddha nearby, a monumental marble statue perched atop Nakkerd Hill that exudes an air of tranquillity and spirituality that captivates the soul.
You will also be treated to mesmerizing views of the entire city below, along with the backdrop of glistening rain, a beautiful sight of Phuket in June!
---
---
Stroll along sandy beaches
The beaches of Phuket are one of its main attractions, which have their own charm during June and are one of the best things to do in Phuket Thailand in June.
Phuket has many beaches but there are some which are better than others when travelling to Phuket in June.
The best beach in Phuket in June would be Paradise Beach as it has decent swimming conditions and is close to the more famous Patong Beach.
You can also try the Tri Trang Beach or the Ao Yon Beach, which are a little off-beat but are nevertheless beautiful. Subject to conditions, you can also take a dip in the water.
---
Experience surfing on the waves
You can also try your hand at surfing when visiting Phuket in June since the waves are pretty good due to the monsoon season.
For this thrilling ride, you can head to Kata Beach and Nai Harn Beach where seasoned surfers are sure to enjoy. Beginners can head to Patong and Kamala beaches where you can get guides to help you with this riveting experience!
---
Indulge in a world-renowned Thai Spa
Let the pitter-patter of raindrops be your soundtrack as you indulge in a luxurious spa treatment.
Unwind with a soothing massage, feel your senses come alive with aromatic oils, and let the rain add an extra layer of relaxation to your pampering session.
---
Experience the ancient art of Muay Thai or join a Cooking Class
Embrace the spirit of Thailand by immersing yourself in the ancient art of Muay Thai. Join a Muay Thai training camp and learn the techniques of this traditional martial art form.
Feel the adrenaline rush as you train in the covered training rings, embracing the intensity of the rainy season in Phuket June.
Alternatively, learn the art of Thai cuisine at this Authentic Thai Cooking Class and create flavourful dishes with local ingredients guided by expert chefs.
---
A ferry ride to scenic islands and bays around Phuket
Phuket is surrounded by many islands and bays that offer beautiful natural beauty, stunning beaches, and incredible marine life.
Exploring these islands and bays is a must for anyone visiting Phuket in June. Phi Phi Islands are a group of six islands known for their crystal-clear waters, white sandy beaches, and lush greenery.
These islands, including Phi Phi Don and Phi Phi Leh, offer excellent snorkelling and diving opportunities and are a must-visit for their breath-taking scenery.
Near Phi Phi Leh, Maya Bay is a picturesque bay surrounded by towering limestone cliffs covered in lush greenery.
Known for its distinctive limestone karst formations rising dramatically from the emerald-green waters, Phang Nga Bay is a natural wonder.
One of the most famous spots in the bay is James Bond Island, named after its appearance in the James Bond movie 'The Man with the Golden Gun.'
You can explore the islands on a traditional long-tail boat or speedboat and witness its unique beauty up close.
I recommend this Maya, Phi Phi and Bamboo Island with Buffet Lunch tour for a complete experience!
A note here: make sure that you check in advance before booking these tours due to rough seas which may prevail owing to Phuket weather in June.
---
Catch cultural shows around Phuket
Are you still thinking is June a good time to visit Phuket? The city has so much to do and see, that you will never feel gloomy even during the rain!
One of the more off-beat things you can do is watch a cultural show. Phuket is rich in cultural heritage and a rainy June in Phuket does not dampen this culture!
You can catch traditional Thai cultural shows that showcase dance, music, and theatre performances.
Phuket FantaSea, a popular cultural theme park, offers a spectacular show with elaborate costumes, live animals, and special effects!
Another famous show is the Simon Cabaret which showcases dazzling performances by talented performers in glamorous costumes and features a variety of performances.
The show is known for its stunning costumes, elaborate makeup, and impressive choreography. The performers are talented transgender artists who put on a mesmerizing performance that is both glamorous and entertaining.
---
Pamper your tastebuds with relishing Thai cuisine
Exploring in June in Phuket still gives you lots of chances to try out some of Phuket's legendary cuisine!
Indulge in the delicious local Thai cuisine that Phuket has to offer.
Explore the local markets and street food stalls to savour authentic Thai dishes such as Pad Thai, Tom Yum, Green Curry, and Mango Sticky Rice, sure to leave you licking your fingers.
---
Exploring Phuket's nightlife and pub scene
No matter how rainy Phuket weather in June may be, there is nothing that can you stop you from enjoying the vibrant nightlife of Phuket, which is replete with a wide range of entertainment options.
Bangla Road is the epicentre of Phuket's nightlife scene! It's a bustling and energetic street lined with bars, nightclubs, and entertainment venues and comes alive after sunset, with bright lights, booming music, and a lively atmosphere.
Phuket is home to numerous nightclubs and bars that cater to different tastes and preferences. You can find a variety of venues, from high-energy dance clubs to relaxed rooftop bars, beach clubs, and sports bars.
The beaches of Phuket are also wildly popular nightlife spots with the many beach clubs offering a unique party experience, with a relaxed vibe, music, cocktails, and comfortable beachside seating.
You can also check out some of Phuket's night markets which offer an energetic atmosphere in the evenings. Markets like Phuket Weekend Market and Chillva Market are known for their trendy stalls, live music, and socializing opportunities.
---
Reconnect with nature at Phuket's many national parks and sanctuaries
Phuket has several national parks, such as Sirinat National Park, Khao Phra Thaeo National Park, and Ao Phang-Nga National Park, offering opportunities for hiking, wildlife spotting, and enjoying the natural beauty.
Also on your list of things to do in Phuket in June should be a visit to the Phuket Elephant Sanctuary which is Phuket's first and most ethical elephant sanctuary, providing old elephants with a final home where they can freely roam, bathe, and forage.
You will get a chance to see these elephants up close in their natural habitats.
---
---
Activities in June in Phuket
---
Famous festivals in Phuket in June
Laguna Phuket Marathon
One of the highlights of Phuket in June, the Laguna Phuket Marathon is one of the largest marathon events in Southeast Asia, attracting over 5000 runners from all over the world!
You can either participate in the marathon itself which takes you through the beautiful scenery of Phuket's west coast, passing by lush greenery, sandy beaches, and turquoise waters, or simply join the festive atmosphere which involves many celebrations, live music, and entertainment.
---
Phuket in June stay options
---
Where to stay in  Phuket in June
Phuket has many accommodation options catering to different budgets and preferences. I have provided some accommodations which you can choose based on your preference.
Trisara is a luxurious boutique resort set on a private bay with a stunning beachfront in the north-western part of Phuket.
It features private pool villas and suites, a spa, multiple dining options, a private yacht, and other top-notch amenities.
Amari Phuket is a 4-star beachfront resort located at Patong Beach, offering a range of rooms and suites with modern amenities, multiple swimming pools, a spa, a fitness centre, and dining options.
BYD Lofts – Boutique Hotel & Serviced Apartments is a popular accommodation located in the heart of Patong Beach, offering stylish and spacious rooms and apartments with modern amenities, including a kitchenette, living area, and private balcony.
If you're looking for more options on where to stay in Phuket, this post should help!
---
Phuket in June offers a unique blend of natural beauty, cultural experiences, and a festive atmosphere.
While it is the rainy season, there are still plenty of things to do and see in Phuket during this time of the year. Despite the occasional rain showers, June in Phuket can still be an enjoyable and memorable experience for travellers who are prepared for the weather conditions.
So pack your rain gear, embrace the tropical ambience, and get ready for an adventure in Phuket in June!
---
Phuket in June FAQs
Is June good time to visit Phuket?
While visiting Phuket in June may not be ideal due to the monsoon season, nevertheless Phuket in June has its own charm! The only thing you may lose out on if you are travelling to Phuket in June is some beach time; rest all attractions continue to remain open and you can explore the beauty of the city.
Is June good time to visit Thailand?
June in Thailand is generally part of the rainy season and you can expect frequent showers and high humidity levels. Seas can get rough so may not enjoy Thailand's exquisite beaches.
However, June can be a good time to visit Thailand as it falls during the low season, so you can expect fewer crowds. Hotels and flight prices are also comparatively lesser, making it a budget-friendly time to visit Thailand.
Check out my 7 days in Thailand itinerary to help you in planning your ideal vacation to Thailand in June!
Is June a rainy month in Thailand?
Yes, June is the wettest month in Thailand with plenty of rain and occasional thunderstorms. Humidity levels are also pretty high.
How hot is Phuket in June?
Phuket in June is not so much hot as it is humid. High humidity levels due to rains would make you feel as if it is exceedingly hot. Apart from the humidity and rainfall, the weather is generally pleasant enough and the main attractions of the island remain undisturbed by the crowds.
Yes, you can expect occasional rainfall in Phuket in June. But this does not mean that it rains the entire day. It tends to rain in the late afternoon in Phuket, so during the day you can expect a good amount of sunshine
---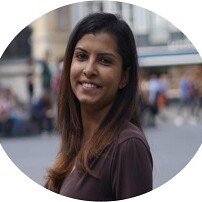 Award-winning Analyst, multi-nominated digital content creator and photographer Lavina Dsouza's words capture stories about culture and tradition mainly through its food and people. She has written and contributed to publications such as The Washington Post, Lonely Planet and Matador Network, to name a few. She is the editor of UntraditionalHumans.com, a non-profit created to share inspiring stories from women of colour who break free from traditions and choose happiness.
She's also a speaker passionate about DEI and champions solo travel. She has collaborated with numerous renowned brands such as Intrepid Travel, TripAdvisor, Travel and Leisure and Adobe, to name a few.
She can be found on Twitter and Instagram.
---
---
What's a mystical destination you love?
I'd love to hear them in the comments below!
---
---
Some of the links on this post are affiliate links. These do not cost you extra to use, but will help provide Continent Hop with a small commission if/when you purchase through them, to recover some of the costs of running this website and providing free content to help you plan your travel. I appreciate your support!
---