Singapore is a thriving city that blends contemporary culture with old traditions.
From enchanting old temples and traditional markets to contemporary high-end restaurants and bars, as well as a wealth of history and culture to absorb; Singapore offers an exciting experience for all who visit.
Here's some of the different areas in Singapore that will appeal to every type of holidaymaker.
---
Best areas to stay on your Singapore holiday by Districts
---
Singapore is divided into 28 districts according to its old postal code system. Each district covers a general area in Singapore, some associated with the city centre and business districts whilst others cover residential or suburban areas.
Although zones aren't used for formal administrative and postal services, they're a great way to get a sense of the different types of areas, which is particularly helpful when booking your holiday.
---
Singapore Changi Airport is the main airport that serves the city and is one of the busiest airports in the world so getting your hands on airline tickets to Singapore shouldn't be too difficult! The airport is in District 17 which comprises Changi and Loyang so if you don't want to travel after touchdown, look for hotels in these areas.
Although there are plenty of bars and restaurants and some facilities, such as the iconic urban indoor park, you are still a little way from the main attractions in this district so it's definitely worth traveling a little further to be the heart of things.
Singapore's transport system is second to none, so whichever district you choose you won't have an issue getting there from the airport.
---
District 1: Marina Bay, Raffles Place, Boat Quay, Suntec City, Chinatown
---
For those who like to holiday in the heart of things
If you're someone who likes to be in the very heart of all the action then don't mess around and head straight for District 1. From historic temples and traditional markets to the trendiest of contemporary bars and restaurants, you've access to a whole host of different activities and experiences without even leaving this district!
It's also the financial hub of Singapore so if you're flying in for work and want to easily mix your business with pleasure, it's a great place to be.
For a bit of modern luxury and opulence head to Marina Bay where the scenic waterfront promenade, decorated with artistic sculptures, is lined with some world-class bars and restaurants.
If you want to get away from shops and bars, a trip to the Gardens by the Bay, a breath-taking indoor garden, is an absolute must. There are also several historical places of interest in the district including ancient temples, art galleries, and museums.
---
District 3: Tiong Bahru, Redhill, Queenstown, Alexandra
---
Perfect for hipsters and trendsetters
District 3 is a lovely contrast to the glaring lights and shiny contemporary buildings of District 1, with older more established residential areas and neighbourhoods such as Tiong Bahru.
This lovely little neighbourhood is famed for its art deco architecture and pretty white-washed buildings with rounded balconies and artistic detail, giving off charming old-school retro vibes!
District 3 has become one of the hippest places to be seen and is choc-full of edgy cafes, famous eateries, and trendy places to enjoy a drink.
You'll also find plenty of independent boutiques and quirky little art galleries tucked away too.
---
District 9: Cairnhill, Killiney, Leonie Hill, Orchard, Oxley
---
For those who love their luxury
District 9 is home to Singapore's rich and famous and is synonymous with wealth and luxury living. It's incredibly central and has every modern convenience you could possibly need!
Perhaps the most famous part of District 9 is Orchard Road. This is a major hub for shopping and entertainment and is home to numerous upscale shops and designer boutiques.
Connoisseurs of fine spirits should pay a visit to The Grande Whisky Collection, a museum that boasts 4,500 of the world's rarest and oldest whiskies. For another premium drinking experience head to the Manhattan, a grand hotel bar that is considered to be one of the finest bars in Singapore.
South of Orchard is the prestigious area of River Valley, an exclusive area where you'll find high-end restaurants, bars, and residences overlooking the Singapore River.
---
District 10: Balmoral, Bukit Timah, Grange Road, Holland, Tanglin
---
For those who enjoy a slower pace of life
District 10 is perfect for those looking for a much more laid-back vibe but don't want to sacrifice accessibility and convenience.
Even the eateries and watering holes have a more serene vibe with plenty of glass-fronted bars and cafes surrounded by greenery.
The Bukit Timah area is renowned for its green space and is home to the Bukit Timah Nature Reserve. Take a hike or a bike ride via one of the many trails through the park and spot plenty of wildlife including long-tailed macaques and a variety of bird species.
The Singapore Botanical Gardens, located at the edge of Tanglin also offers the perfect environment for a relaxing walk, away from the bright lights of the commercial areas.
---
There's a reason why Singapore is constantly cited as being one of the best places to visit in Asia. The city's diversity and dynamism never fails to impress and it's possible to come away feeling like you've visited several countries in the space of a single visit.
Whether you're a partygoer, culture vulture, or just want a quiet peaceful retreat, there's certainly a district for every type of traveller.
---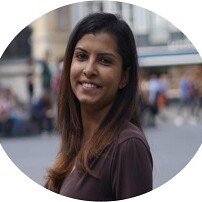 Award-winning Analyst, multi-nominated digital content creator and photographer Lavina Dsouza's words capture stories about culture and tradition mainly through its food and people. She has written and contributed to publications such as The Washington Post, Lonely Planet and Matador Network, to name a few. She is the editor of UntraditionalHumans.com, a non-profit created to share inspiring stories from women of colour who break free from traditions and choose happiness.
She's also a speaker passionate about DEI and champions solo travel. She has collaborated with numerous renowned brands such as Intrepid Travel, TripAdvisor, Travel and Leisure and Adobe, to name a few.
She can be found on Twitter and Instagram.
---
---
---
Some of the links on this post are affiliate links. These do not cost you extra to use, but will help provide Continent Hop with a small commission if/when you purchase through them, to recover some of the costs of running this website and providing free content to help you plan your travel. I appreciate your support!
---