The Dunluce Castle Game of Thrones filming location even if in almost ruins, is quite popular with Game of Thrones fans! This guide will tell you exactly where to go, what to see and what to do at this Dunluce Castle GOT location!
One of the most popular medieval castles in Northern Ireland, the dramatic ruins of Dunluce Castle will take you back in time.
Spread over steep cliffs, overlooking the sea, and standing strong for centuries, Dunluce Castle has become one of the famous tourist attractions in Northern Ireland.
Call it romantic or call it eerie, you cannot deny how picturesque these ruins are!
That is one of the reasons that Dunluce Castle Game of Thrones was used as Greyjoy Castle in the series. One look at the ruins and you will realize how striking this location is.
Is it the one where the castle kitchen fell into the sea? Is it the castle where the screams of a banshee can be heard after sunset? Or is it the one that carries the tragedies of shipwrecks in its heart?
Feeling intrigued?
Read on to learn the fascinating history of the Game of Thrones Dunluce Castle and lend an ear to listen to the stories it has to tell.
---
Dunluce Castle Game of Thrones all info
---
---
One of the most powerful Irish nobles, Richard Óg de Burgh, 2nd Earl of Ulster, first built Dunluce Castle in the 13th century.
The first documented reference states that in 1513 the castle was in the hands of the McQuillan family. But after losing two important battles with the MacDonnell, this spectacular castle became home to the MacDonnell family.
It stayed in the MacDonnell family until their impoverishment in 1690. After the Battle of the Boyne, Dunluce Castle slowly started to deteriorate and was never fully restored.
You can see how strong the castle was and how it weathered all the storms through centuries. When you stand among these ruins and look over the sea, you cannot help but wonder about the turbulent times these walls have witnessed.
The small town was also constructed by Randall MacDonnell around the 1610s near Dunluce Castle.
It was destroyed in less than 50 years during the Irish uprising of 1641. But archaeological excavations in 2011 managed to find evidence of its existence.
The town is still more than 90% underground and more information will come up in the future.
---
Dunluce Castle Game of Thrones scenes
---
Do you remember seeing the impressive, cliff-top castle of House Greyjoy, the great castle of Pyke?
We caught a glimpse of this beautiful Dunluce castle Game of Thrones scene when Theon Greyjoy first returned to the Iron Islands and was heading home with Yara.
But when you see Dunluce Castle today, all you will come across are ruins spread over the cliff. Then how is it possible for the House Greyjoy Dunluce Castle Game of Thrones to look so royal, you wonder.
Thanks to CGI, Dunluce Castle was used mainly as an inspiration and the ruins were converted into a grand structure.
Even if you will not find the exact locations and filming scenes to relive the grand series, you will easily recognize the similarities Dunluce Castle and Castle of Pyke carry and the differences CGI was able to add.
So, when you want to know if there was Dunluce Castle in Game of Thrones, then yes. This historic point of interest in Northern Ireland was an important part of GOT series.
Even if it is not the impressive structure it once was, the views this site offers and the history it carries in its heart are enough to make your visit worth all the time.
---
Things to do while exploring Game of Thrones Dunluce Castle
---
Dunluce Castle historical and archaeological exhibitions
You will find historical and archaeological exhibits on display on the grounds of Dunluce Castle.
These will help you understand the past of the castle as well as how the significant remains of the lost town of Dunluce were found during excavations in 2011.
The exhibition has several artefacts telling the story of an era gone by. You can also watch a video that covers everything from the history of the castle to how and when it fell into the ruins.
Take the tour of Dunluce Castle and you will be struck by how stirring the deteriorating walls and doors are. The infamous kitchen that fell into the sea still has the oven, fireplace and entryways.
---
DETAILS
Dunluce Castle
Address: 87 Dunluce Rd, Bushmills BT57 8UY
Timings: Open everyday 9.30 AM – 5 PM
Price: £6 adults, £4 children (5-17 years), children under 4 – Free
---
Dunluce Castle Viewpoint
One of the interesting things to do in Dunluce Castle actually lies a little away from the castle grounds.
Almost all the tour buses take visitors to a viewpoint that offers panoramic views of the castle as well as the sea.
Stand at this point looking at Dunluce Castle and you will find it believable that the kitchen may have collapsed into the sea from steep cliffs.
To reach this viewpoint, you can park your vehicle first and then walk back to the main road. You will find a small left turn from the main road. Follow this turn and you will reach over the cliffs in no time.
When you look up at the Dunluce Castle GOT ruins, you will be able to find similarities with the structure in the series.
Keep in mind that Dunluce Castle viewpoint is a private land and you will need permission to enter this area. All you have to do is find a sign that has the contact number of the property owners, message them, and you are good to go.
---
Dunluce Castle Mermaid Cave
Near the entrance of the castle, there are steps to take you down to the sea.
These steps, though a little steep, are well maintained. It offers spectacular views of the coastline and rising cliffs from the sea.
Follow the steps and it will take you to the hidden Mermaid Cave located directly under Dunluce Castle. It is safer to visit the cave during low tide.
But even with that, you will have to be careful walking around as the Mermaid cave is also steep and rocks are usually wet with seawater. Make sure you are wearing good footwear when walking around Dunluce Castle and the cave.
---
Dunluce Castle Banshee
The story of any good ruins cannot be completed without a touch of a ghost.
And so here is a myth (if you want to say so) that surrounds the ruins of Dunluce Castle.
With the castle's dramatic history spanning several centuries, it is unsurprising that these walls have witnessed sorrows and heartbreaks.
One such tragic story turns out to be of Maeve Roe who was the only daughter of Lord MacQuillan. It was decided by her father that Maeve would be married to Richard Oge.
But, life took a turn and she found her love in Reginald O'Cahan.
That of course did not go down well with Lord Macquillan and he imprisoned her in the Northeast Tower of Dunluce Castle. Maeve longed to be reunited with Reginald and waited for him to rescue her from the tower.
Reginald somehow managed to get her out of prison and they both had decided to run away to Portrush using a small boat.
But fate had something else in store for this lovestruck couple. The night Reginald and Maeve hopped in a boat and sailed away from Dunluce Castle, the sea was stormy and it was heading for the worst.
A small boat carrying this pair could not fight against the raging thunder and was finally swallowed by the sea.
Their bodies were never found and the couple who could not be together in their lifetime found a place to be with each other underwater.
The years erased the intensity of injustice that was done to Maeve, but when you explore Dunluce Castle after sunset and hear crying and screaming sounds, know that it is Maeve trying to fight off the thunder to be with Reginald.
At least, that's what the legend says! Do you not believe it? Then, there is nothing like a trip to Dunluce Castle after the sun sets to confirm the story.
---
Where is Dunluce Castle?
Perched on top of basalt outcroppings in a picturesque corner of Northern Ireland, Dunluce Castle is between the villages of Portballintrae and Portrush. It is part of County Antrim.
Considered to be one of the popular tourist attractions in Northern Ireland, Dunluce Castle is well-connected and easily reachable.
Dunluce Castle is less than 100 kilometres from Belfast and can be reached in a little over an hour via A26.
If you visit the famous Carrick-a-Rede Rope Bridge, you can include Dunluce Castle in your itinerary as it is 16 kilometres away. You can reach Dunluce Castle from Carrick-a-Rede Rope Bridge in 15 minutes if you are driving a car.
Many people who are exploring Giant's Causeway also visit Dunluce Castle as the distance between these two is only 8 kilometres.
---
How to reach Dunluce Castle Northern Ireland
The best way to reach Dunluce Castle is by car. You can rent a car from Belfast and reach Dunluce Castle in a little more than 1 hour.
It is located only 10 minutes away from Giant's Causeway and has become a popular stop on Giant's Causeway road trip.
You can also catch a train from Belfast to Dunluce Castle, but it increases the travel time and you will have to depend on different modes of transport to explore the castle ruins.
---
Recommended Game of Thrones Dunluce Castle tours
There are travellers who love exploring off-beat destinations, but do not want to drive a car or are looking for groups to travel with.
So, if you are one of those tourists interested in a company, then here are a few Dunluce Castle tours that will make the best of your time.
For a true Game of Thrones enthusiast, this Game of Thrones Locations Tour starting from Belfast is an ideal option.
Along with Dunluce Castle, this tour covers all the other GOT filming locations in Northern Ireland.
(You can also read all the fascinating information about Northern Ireland's Game of Thrones filming locations.)
Giants Causeway, Dark Hedges, Dunluce & Belfast Tour is a good option for those travelling from Dublin. It will help you cover Belfast and will also take you on GOT journey in Northern Ireland.
If you are in Belfast and want to visit Dunluce Castle, then this Giant's Causeway Fully Guided Day Trip is perfect for you.
---
Where to stay for the Dunluce Castle tour
Portrush Atlantic Hotel is the best place to stay when visiting Dunluce Castle.
Overlooking the Atlantic Ocean, this hotel is known for its airy rooms, traditional restaurant, and free Wi-Fi.
It is also only 10 minutes away from Dunluce Castle, 5 minutes away from Royal Portrush Golf Club, and a few minutes away from Blue Flag Whiterocks Beach.
Many people also prefer staying in Ballintoy as there are several Game of Thrones filming locations in Ballintoy. You can check The Fullerton Arms as this family-run Inn is ideal for all types of travellers.
This hotel is located near Ballintoy Harbour Game of Thrones filming locations, making it an interesting place to stay at.
---
Dunluce Castle opening hours and ticket prices
Dunluce Castle is open to the public throughout the year except on Christmas and New Year's.
As it is one of the off-beat destinations in Northern Ireland, it attracts numerous tourists and it is recommended to confirm its visiting timings before planning your trip.
Dunluce Castle opening hours from February to November are 9.30 am to 5 pm.
If you are visiting in December and January, then the castle will be open from 9.30 am to 4 pm.
The last visitor is allowed half an hour before closing. Dunluce Castle admission can be booked on the spot and tickets are available throughout the year.
But keep in mind that as some refurbishment work is going on the premises, visitor toilet facilities are not offered at the moment.
Dunluce Castle ticket prices are £6 for adults, £4 for kids between 5 to 17, £4.50 for those above 65, students, disabled, unemployed citizens and kids under 5 are free.
---
So, when are you planning to visit this Game of Thrones Dunluce Castle?
Are you visiting the castle early in the morning to get photos of ruins shining in golden light? Do you want to visit Dunluce Castle around sunset to check if there actually are screams of a banshee?
Share your experience in the comments below of touring Dunluce Castle Game of Thrones to inspire others to explore these picturesque ruins!
---
Dunluce Castle Game of Thrones FAQs
Was Dunluce Castle used in Game of Thrones?
Yes, Dunluce Castle was used in Game of Thrones as Castle Greyjoy. Even though the castle is mostly in ruins, the parts of the castle were modified with CGI and you can barely recognize Dunluce Castle in Game of Thrones.
What has been filmed at Dunluce Castle?
Even though Dunluce Castle was recently used as one of the Game of Thrones filming locations in Northern Ireland, it was always used in TV series and movies. An episode of Great Railway Journeys, Derry to Kerry was filmed here in 1994. Dunluce Castle also appeared in The Medallion movie starring Jackie Chan in 2003.
Why is Dunluce Castle famous?
Dunluce Castle is one of the most visited ruins in Northern Ireland. Perched on top of the cliffs and known for offering panoramic views, these two things make Dunluce Castle ruins famous.
Where is the Greyjoy castle Game of Thrones?
The Dunluce Castle is used as the Greyjoy Castle in Game of Thrones. It is located in County Antrim and is in between Portballintrae and Portrush villages.
---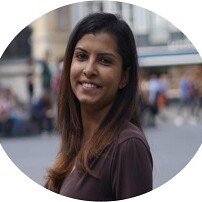 Award-winning Analyst, multi-nominated digital content creator and photographer Lavina Dsouza's words capture stories about culture and tradition mainly through its food and people. She has written and contributed to publications such as The Washington Post, Lonely Planet and Matador Network, to name a few. She is the editor of UntraditionalHumans.com, a non-profit created to share inspiring stories from women of colour who break free from traditions and choose happiness.
She's also a speaker passionate about DEI and champions solo travel. She has collaborated with numerous renowned brands such as Intrepid Travel, TripAdvisor, Travel and Leisure and Adobe, to name a few.
She can be found on Twitter and Instagram.
---
---
EXPLORE MORE OF NORTHERN IRELAND
---
Some of the links on this post are affiliate links. These do not cost you extra to use, but will help provide Continent Hop with a small commission if/when you purchase through them, to recover some of the costs of running this website and providing free content to help you plan your travel. I appreciate your support!
---