If trying out street food is your way of getting to know a country, then this guide of the best Mauritian street food which also includes traditional Mauritian dishes is your to-go guide!
She smiled at me as she beckoned me in.
I'd been in an 'Indian' kitchen before (my roots are Indian) so the smells of a chapati being roasted and spices being ground wasn't new to me. Neither was the hospitality.
Armed with my DSLR, I'd stepped on to the streets in the North of Mauritius, in the Grand Baie area and was met with curious stares. People weren't sure as to why a local was suddenly interested in Mauritian street food and their daily lives.
Only when they made an effort to ask did they realize I wasn't a local, which in turn got me wide smiles and invites to kitchens to see the food being made.
I'd stopped at a street food stall near the Grand Baie Bazaar to try Dhal (Dhol/Dholl) Puri. If Mauritius had a national dish, it would be this, considering how locals and visitors equally love it for its simplicity.
Yet, this dish is anything but simple. It is a great amalgamation of flavours and cultures, just like Mauritius is.
The next few hours I spent in Mauritius, I gleefully tried some childhood favourites that are hard to come by in Europe, like sipping fresh coconut water and freshly squeezed sugarcane juice!
I also made sure to pick an assortment of tropical fruits and try all the traditional Mauritian street food I could in the limited time I had.
---
Mauritian cuisine is steeped in Indian, European, Creole, African, and Chinese ethnicities…..
---
…..to name a few!
The Mascarene Islands or Mascarenes or Mascarenhas Archipelago got formed about 8-10 million years ago due to volcanic eruptions that created Mauritius, Reunion and Rodrigues.
Mauritius was first called Dinarobin by the Arabs who were apparently the first to record their discovery of the island in 975 AD but left without any traces.
The Portuguese landed here in 1505 and called the island Ilha do Cerne (Island of the Swan). Till then, the island did not draw attention. However, they left too after leaving some livestock behind.
The Dutch followed in 1598 and named it Prince Maurice but colonized it only in 1638.
Years later, they left too, to be followed by the French in 1715 who now called it Ile de France and introduced slavery.
Mauritius was last colonized by the British in 1803 who abolished slavery and introduced Chinese, Malay, African and Malagasy labourers to work in the sugar-cane fields, but ultimately, it was India which supplied the much-needed labourers to Mauritius.
All the above ethnicities lend their taste to the food in Mauritius.
If you believe having street food is the best way to satisfy your tummy, get a peek into the culture and taste the best dishes in a destination then read on to know more about Mauritius street food.
If you're still curious about what to eat in Mauritius, then keep reading further to learn more about authentic Mauritian dishes!
---
Some great Mauritian dishes you have to try!
---
Mauritius Street food
Dhol Puri / Dhall Puri / Dholl Puri
Possibly the most favourite in Mauritian cuisine, Dholl Puri may seem simple to many when it is being assembled but is a burst of flavours.
Dholl puris would remind Indians of the 'paratha' as they were derived from it! The Dholl puri was the replacement to the paratha by Bihari Indian labourers to Mauritius who couldn't find flour exactly the way they needed it to make parathas.
The puri is unlike the puri you would usually find in an Indian restaurant as it is thick and is similar to the flour you'd use while making cakes and not bread.
While rolling the puri, it is then stuffed with split-peas aka 'Dhal' or 'Dholl' seasoned with turmeric and cumin, by hand (like Puran-Poli for Indians).
I watched as the lady roasted the thick puri, (now containing the split-pea mix) and then passed it on to be stuffed with Cari gros pois (lima / butter bean curry) and Mauritius' famous rougaille / rougail (a sauce made with tomatoes, onions, thyme, garlic, chilies, coriander, curry leaves, ginger, etc.)
Served in pairs, it was individually wrapped in paper and served hot. Achard (Achhar for the Indians) i.e. pickled vegetables, coriander satini (chutney) and Mazavaroo Paste (green chilli paste) was also added to the puri.
The puri seemed like a mix of the texture of a puri and a paratha to me and could work as a snack or a meal for any time of day!
Gato Pimentes
Gateaux Piment or chilli cakes / bites is the Mauritian version of the falafel. Pimentes may sound similar to pimento to some who are familiar with Spanish cuisine and that's exactly what this dish contains.
Similar to 'Bhajia' or 'Bhajji' in Indian cuisine, Gato Pimentes are deep-fried dough balls, crispy on the outside and fluffy in the center.
Yellow split peas are soaked overnight then ground till chunky for the batter or sometimes gram i.e. chickpea flour is used. This is then mixed with chopped spring onion, turmeric, chillies, cumin and cilantro.
The batter then is shaped into balls using hands and deep-fried to perfection. Gato pimentes can be had by themselves or sandwiched inside local bread called 'pain maison' with a helping of hot sauce!
---
Roti Chaud
Chaud means 'warm' in the local language and 'Roti Chaud' is fresh warm roti or chapati slathered with Rougaille, Satini and then served as a wrap.
Just like the Indian version of the roti, oil, flour, salt and water are kneaded together to make a soft dough. Tiny balls of the dough are then rolled before being roasted on a tawa to make the roti.
It can also be served with a variety of Mauritian curries, chutneys or pickles too and is easy to find at a street food stall.
---
Gajak
The umbrella term of 'Gajaks' is used in Mauritius for anything that's deep-fried and is served as an accompaniment to drinks, alcoholic or otherwise.
Gajaks includes but is not limited to Samosa's, Gateau aubergine (eggplant fritters), Manioc goujons (cassava chips), Gato patate (sweet potato cakes), Gato fruit a pain (deep-fried breadfruit) and Gato arouille (taro root fritters).
Samosas can contain any stuffing of choice just like it does in India. They are very versatile and can even be stuffed with chicken or lamb mince.
The fritters or chips, however, are usually vegetarian which makes Mauritius one of the best places for vegans and vegetarians. Vegetables being used for the fritters are roughly cut, dipped into chickpea batter and then deep-fried in big vats of oil.
The Gato patate reminded me of 'Karanji' or 'Gujia', crescent-shaped dumplings popular during Diwali that are stuffed with shredded coconut, sugar syrup, vanilla and cardamom.
The only difference in the ones made in Mauritius is the addition of Vanilla and the casing that is made with sweet potato and not refined wheat flour.
---
Tropical Fruit (especially Anana confit)
As with most countries in the Indian Ocean, with good weather comes great produce and Mauritius is just another notable destination that showcases this.
Locally grown mangoes, watermelons, tamarind, lychee, pineapples, papaya, palm, soursop, jackfruit and breadfruit are just some examples of the variety of tropical fruits available in the country that can be easily found at almost every corner.
Victoria pineapples are a special sweet variety found only in Mauritius and Reunion and these are carved by street vendors who leave the top on for something to hold on to. They are then dipped in a bag of tamarind sauce, salt and chilli powder and are called 'Anana confit', which makes for one of the best snacks while strolling the streets.
The same is applicable for mangoes too but without the tamarind sauce.
As Mauritius is in the southern hemisphere, seasons here are reversed, so if you're travelling here while it is winter in Europe, it is summer in Mauritius.
So if you missed out on any of these fruits, you can still find them here, even in December. They're reasonably priced but you may sometimes need to haggle!
---
---
Boulet (Boulettes)
Chinese inspired Boulet is the Mauritian version of Dim Sums / Dumplings as they are popularly known.
Just like Samosa's, Boulet can have a variety of fillings like chicken, shrimps, fish (Boulet Poisson), Niouk Yen (steamed meat and chayote dumplings) or vegetables and once steamed are mostly served in a broth infused with spring onion, chillies with a side of Mazavaroo sauce.
Unique to Mauritian street food is Boulet Chou Chou containing chayote aka mirliton squash, a tropical vegetable belonging to the squash family.
A Mauritius street food best had hot, most locals have a quick bite at the stall itself.
---
Mithai
Any Indian or Asian would instantly recognize Mithai as being small pieces of sweets containing a variety of ingredients like nuts, condensed milk, grated fruit, etc.
Mithai encompasses desserts like Gulab Jamun, Balushahi, Laddoo, Jalebi which are extremely sweet and can be found all under one roof at a few places in Mauritius.
---
Mauritian Curry ( Cari )
It isn't surprising that the presence of the Indian community in Mauritius has translated into the existence of curries here.
However, Mauritian curries taste a little different than the usual fare you're accustomed to and you won't just find Indian curries her but also Creole curries.
Indian curries mostly have a base of onion, ginger, garlic, turmeric and fresh curry leaves. In Mauritius, I noticed that mustard was also used abundantly in addition to these condiments and coconut (shredded or milk) wasn't added.
Cari poule (Chicken curry) can be easily found at most restaurants. The curries are served with rice, faratha, dhal (lentils), Mine Frite (fried noodles), achard (pickles), Mazavaroo paste and chutneys.
Creole curries are more tomato-based and chilli is used sparsely. Rougaille is a type of Creole curry that is stuffed inside Dholl Puri.
In addition to the usual curries I'm accustomed to, I was surprised to find some unusual ones here like octopus curry, duck curry and wild-boar curry, all traditional Mauritian curries.
While I quite liked the deer curry made with an addition of nuts and pearl onions, the octopus curry was a little chewy for my liking.
Carri Sauve Souris (bat curry), is also a local delicacy which I, unfortunately, did not get to try.
---
Salad Palmiste
I'd never heard nor tried palm hearts before and after having a palm heart salad, it has now become my favourite!
What are palm hearts, you ask? They are the inner core of certain palm trees. Harvesting these hearts from multi-stemmed plants does not kill them.
Palm hearts are high in nutrition if you ignore them being high in sodium. They're soft and crispy, similar to a water chestnut, are very versatile.
Just like water chestnuts they can be had raw or in a variety of ways like in salads, soups and even curries!
My favourite way of having them while in Mauritius was in a crunchy vegetarian salad. However, shrimps or smoked marlin is also sometimes added to the salad.
---
Briani / Briyani
Briani is what Mauritians call Biryani and in Mauritius, it tastes just as delicious.
Biryani like its Indian version can be made with meat, chicken or with vegetables. It is a celebration dish, made on special occasions as it takes a while to make it.
Meat or vegetables are marinated in spices, yoghurt and onion and then layered with rice. This is then topped with fried onions and saffron and then the cooking pot is sealed with dough to preserve the moisture and fragrance so that the rice turns out fluffy and the meat juicy.
What makes Mauritian briani different is the accompaniments that come with it. Mazavaroo paste, chutneys, chillies are served with the briyani, which can be found on the streets of Mauritius and in restaurants alike.
---
---
Seafood (especially Fish Vindaye)
The warm waters of the Indian ocean are great for the growth of a wide range of tasty species of fish which can be found only in certain countries.
Fish like Bombay duck, Seer fish and Butterfish can only be found in the Indian ocean and I was surprised to see them in Mauritius.
Fish like these work well in curries and gravies as boiling them does not make them disintegrate. However, fish in Mauritius is not just had in curries but also grilled, baked, fried or sauteed.
Fish Vindaye is a traditional Mauritian fish curry that is popular throughout the island due to its tangy flavours and abundance of mustard.
Fish is first fried before the mustard seeds, turmeric, garlic, chilli and onions pickled in vinegar are added to it. The fish needs to be firm as it is twice cooked and hence tuna, barracuda, kingfish which have firm meat are usually used in Vindaye de Poisson.
The pickled onions (and the name Vindaye) may remind many who are aware of Goan food (Indian) cuisine of vindaloo, meat marinated in vinegar and garlic which is the inspiration for this dish.
---
---
---
Vanilla and other exotic tea's
One of the best things to do in Mauritius if you like tea is head out on Mauritius' tea route!
Black tea has been an integral part of the culture of Mauritius after it was introduced here in the 1880s from Sri Lanka. The climatic conditions in Mauritius are ideal for the growth of good quality tea and tea here is grown without the use of pesticides.
Chartreuse, Bois Chéri, and Corson are the 3 main tea producers in Mauritius and the tea route in the South usually starts with a visit to the 'Domaine des Aubineaux' and its gardens. The colonial house built in 1872 has a museum dedicated to the history of Mauritian Tea.
The next stop is a visit to the Bois Chéri tea factory where you get to see the process of manufacturing tea, from plucking leaves to packaging.
Here, you can also opt for a tea tasting which includes unlimited tea-bags of all flavours on offer including herbal teas and exotic teas such as Vanilla tea, moringa, coconut and caramel!
The tea route ends with a visit to the Saint Aubin house where you can have a rum tasting and pay a visit to the greenhouse where if you're lucky, you'll be able to see vanilla orchids, from which vanilla pods are generated.
If you're short on time, you will find 'Chai' almost everywhere in Mauritius and it makes for a refreshing drink in the mornings or at tea-time!
---
DETAILS
Address: Bois Cheri Tea Factory, Bois Cheri Road, Bois Cheri, Mauritius
Timings: 9 AM – 5 PM daily, except Sundays and public holidays
Approximate price: 15 Euros per adult and 9 Euros per child
---
---
Sugarcane Juice
Sugar has been an important commodity in the history of Mauritius, so much so that it was a highly prized product while trading for goods.
The vast sugarcane fields here prove that Mauritius produces some of the best sugar in the world! The various types of sugar produced here can be tried via sugar tastings at L'Aventure du Sucre in Pamplemousses.
Once a sugar factory, it is now a museum that offers tastings for about nine types of sugar.
Sugar tastings may sound attractive but sugarcane juice tastes better! Another drink that can be found only in tropical countries, it was refreshing to have a freshly-squeezed glass with some ice shavings!
---
DETAILS
Address: L'Aventure du Sucre, B18 Pamplemousses MU, Pamplemousses 21001, Mauritius
Timings: 9 AM – 5 PM everyday
---
Coconut Water
Coconuts deserve a special mention! If you're like me who thinks you'll easily find coconuts as long as there's a coastline, you're mistaken!
When I moved to England about 5 years ago, little did I know I would be missing out on this treat as unfortunately, it isn't easily available here as it is in Asia.
Growing up in India, coconuts were a staple, not only in a lot of the recipes I make at home but also for skin care and maintaining healthy hair!
Western countries are slowly getting acquainted with the miracles of coconut oil but as someone who saw them almost every day while growing up, the excitement I felt when I saw coconut water available on the streets of Mauritius was unparalleled!
---
Alouda
Alouda is a light pink coloured milky beverage that contains agar-agar, basil seeds and tapioca balls. Vanilla or almond flavour and colour is also added to the drink.
Derived from Indian 'Faluda', the difference between Alouda and Faluda / Falooda is the addition of agar-agar to the drink. Topped with ice shavings it is another drink that helps alleviate the heat!
---
Delo Tamarin
Delo Tamarin is what the locals call tamarind juice made with fresh tamarind paste, lemon and sometimes a dash of orange juice.
Mint leaves and maybe even adding some vanilla and cumin give this drink a medley of delish flavours thus adding yet another drink to the list of revitalizing options available in Mauritius to try on a hot summer day!
---
---
Some other beverages that you can try when in Mauritius are Phoenix Beer, one of the most popular beers in Mauritius and Rhum Arrangè – local sugar cane rum steeped with local fruits and some chilli!
Production of craft beer is on the rise on the island, so you may find some if you're lucky, depending on which part of the island you're staying at. Flying Dodo is one of them.
The day had started with me resolutely making my way to the market.
It took me two hours to get there after walking for about 2 kilometres because I kept stopping for snacks! When I finally did get to the market, it was chaotic and wonderful just like the markets back home and the sight brought back wonderful memories.
There were sacks of Indian spices, Chinese herbs, vendors selling African sauces, fruits and vegetables and fish-mongers, fish
The smells and sights were proof that this was cultural fusion and Mauritius knew how to set an example.
---
WHERE TO EAT MAURITIAN STREET FOOD
Anywhere on the streets! I had most of it near the Grand Baie Bazaar but you can find this anywhere, especially near food markets or general bazaars. You may also find vendors selling dishes near the beach!
However, Port Louis, is an excellent location to try some of the best Mauritian street food.
It's a 5-minute walk from the Waterfront or the bus terminal to the central market and Chinese quarters where you'll find almost all of the above Mauritian dishes on offer.
TIPS AND PRECAUTIONS WHILE HAVING STREET FOOD
Many might be skeptical about having street food in an unknown location and your fears are warranted.
The best way to enjoy street food is by keeping these tips in mind:
Opt for a guided tour with a local who knows and picks spots that are hygienic and authentic

Pick places that are busy and full with locals

Pick places that are busy and always cooking to restock food

Avoid drinking water if possible unless you're sure about the place

Opting for a cooking class is the best way to try the food and even learn some secret family recipes!

Learn some terms in the local language like 'No chili' i.e. 'pah for' or 'not not' if you'd rather not have it spicy, if you plan on doing a tour by yourself

Keep in mind what to do if you do have something spicy! Eat bread or plain rice!
WHAT ARE THE BEST FOOD MARKETS IN MAURITIUS
Port Louis Central Market
Corderie Street, Port Louis, Mauritius. Go early morning before 9 am to avoid the crowds
Rose Hill Market
Beau Bassin-Rose Hill, Mauritius
Flacq Market
Central Flacq, Mauritius. Best days to visit are Wednesdays and Sundays
WHERE IS MAURITIUS LOCATED
The island of Mauritius, officially the Republic of Mauritius, is located to the East of Madagascar in the Indian Ocean. A small island, it takes about 2-3 hours to get from the North of Mauritius to the South.
The country includes the islands of Mauritius and Rodrigues, and the outer islands of Agaléga and St. Brandon. The capital of the country is Port Louis.
WHEN TO GO TO MAURITIUS AND WHEN NOT TO GO
When it's winter in Europe, however, December – March can get really busy and expensive!
Shoulder season is April – November and is the best time to visit Mauritius.
WHERE TO STAY IN MAURITIUS
No matter which part of the island you opt to stay at, there will be interesting things to do there, but the best sunsets are to be found on the East part of the island. Port Louis on the West is one of the best to explore for foodies.
If you'd like to stay in the South, Kaz'alala, a quaint BnB is budget-friendly and very pretty and has some great hosts!
Evaco in the North is a good option if you're travelling with family and would prefer a budget-friendly villa which you can share with family. However, do keep in mind that you will need your own vehicle if you chose to stay here and explore.
For ones who prefer luxurious stays, Prince Maurice and Beachcomber had amazing reviews from friends!
---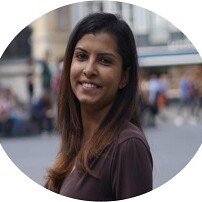 Award-winning Analyst, multi-nominated digital content creator and photographer Lavina Dsouza's words capture stories about culture and tradition mainly through its food and people. She has written and contributed to publications such as The Washington Post, Lonely Planet and Matador Network, to name a few. She is the editor of UntraditionalHumans.com, a non-profit created to share inspiring stories from women of colour who break free from traditions and choose happiness.
She's also a speaker passionate about DEI and champions solo travel. She has collaborated with numerous renowned brands such as Intrepid Travel, TripAdvisor, Travel and Leisure and Adobe, to name a few.
She can be found on Twitter and Instagram.
---
---
Have you ever been to another destination where the food is a great mix of cultures? I'd love to know in the comments below!
---
EXPLORE MORE OF NORTHERN IRELAND
---
Some of the links on this post are affiliate links. These do not cost you extra to use, but will help provide Continent Hop with a small commission if/when you purchase through them, to recover some of the costs of running this website and providing free content to help you plan your travel. I appreciate your support!
---