There's so much to do in Europe! You could drive through 3/4 countries in a day or could spend 10 days driving through a single one! While you can't do it all these four 2 Week Itinerary Europe should help you see the best of Europe 2 weeks !
Europe sits on every person's wish list! It is full of fascinating cultures and centuries of history!
Lucerne in Switzerland, Mykonos in Greece, Paphos in Cyprus and Venice in Italy are some of the most fascinating places in Europe, however it can get quite tricky to tackle these places in Europe in two weeks.
2 weeks in Europe is not enough to experience this vast continent.
There's so much happening in each town, experiences that need to spend more than a day sometimes and travel does take up quite a chunk of the itinerary too!
There are 44 countries in Europe, full of fascinating cultures and experiences.
Ideally, through a Europe two weeks itinerary, you should be able to cover three or four countries at least. If you have even lesser days, this 10 day Europe itinerary should also help (there's 8 options!)
So read on to see how to best experience this continent and get the most out of your 2 week Europe trip!
---
Here's four – 2 week itinerary Europe for an amazing getaway!
---
General Info – Europe in Two Weeks
---
This post has four itineraries for a 2 weeks Europe trip
Here's some information about these itineraries which can help you plan your 2 weeks Europe trip :
A Europe trip itinerary 2 weeks should ideally be only for four to five cities maximum.
This is because despite many countries being pretty close to each other, you have to take into account the time you'd need for travelling and getting to the airport/train station and from the airport/train station to the city.

These itineraries for a Europe trip in 2 weeks suggest at least two days in a city and one day for travelling between two cities.

Plan your 2 weeks Europe trip itinerary in advance especially if you are visiting in summer. June-August is the peak season for tourism in Europe.

For those who want to do a Europe trip in 2 weeks, I'd suggest you stick to the main, well connected cities. If you have only two weeks in Europe, avoid travelling to faraway places.
---
---
Day 1, 2 – Lisbon
See the Carmo Convent ruins and Santa Justa Lift. Head to Alfama – the oldest neighborhood of Lisbon. Visit the São Jorge Castle and Lisbon Cathedral.
Enjoy the view of the city from the Miradouro das Portas do Sol, a scenic viewpoint in Alfama. Watch a Fado show and enjoy some Portuguese food.
Start Day 2 with a trip to the colorful Pena Palace in Sintra. Sintra is a 40-minute train ride from Lisbon. In the second half, spend time at the Lisbon Oceanarium, the largest indoor aquarium in Europe.
Day 3 – Lisbon to Barcelona
Fly to Barcelona (nearly 2 hours by flight)
Day 4,5 – Barcelona
Start your day by seeing the Sagrada Familia Cathedral and Arc de Triomf. Next, see the Casa Batlló and Casa Milà.
In the afternoon, you can either see the Palau Nacional de Montjuïc, visit Camp Nou (home stadium of FC Barcelona) or spend time at Tibidabo, home to Spain's oldest amusement park. Spend your evening at Park Guell. Return to Plaza Catalunya (near La Ramblas) for the Fountain show at 9.30 pm.
For day 2, I suggest these: a Gothic Quarter walking tour; seeing the Cathedral of Barcelona, La Ramblas, La Boqueria market, Monument of Christopher Columbus, Maritime Museum and sailing in a sunset cruise at Port Vell.
Day 6 – Barcelona to Monaco
Fly to Monaco. Train and bus journeys would be tiring: 9 hours and 12 hours at least.
Day 7, 8 – Monaco
On your first day in Monaco, see the Prince's Palace, Oceanographic Museum of Monaco and the St. Nicholas Cathedral. Walk along the Monte Carlo Harbour or take a boat trip.
End your day by visiting one of the casinos that the city is known for. If you are planning a trip in late May or June, you can watch the Monaco Grand Prix in the city.
For the second day, I would suggest taking a day trip to Nice. It's just a 25-minute train journey to Nice from Monaco.
Day 9 – Monaco to Naples
Fly to Naples
Day 10, 11 – Naples
Spend Day 1 in Naples seeing the Naples Royal Palace, Naples Cathedral, Underground Naples, Cappella Sansevero and Castel dell Ovo. In the evening, walk along the city's coast. Try some Neopolitan pizza in one of the city's eateries.
Spend the next day taking a day trip to Mount Vesuvius, Pompeii and Herculaneum.
If you're planning to spend time in Italy in summer this post should help!
Itinerary 1
Europe two weeks Itinerary for Portugal, Spain, France, Italy
Cities: Lisbon – Barcelona – Monaco – Naples – Amalfi Coast
---
---
Day 12 – Naples to Amalfi Coast
You can drive from Naples to Amalfi Coast, take a bus (3-hour ride) or take a ferry.
Day 13,14 – Amalfi Coast
For your first day, take a day trip to the island of Capri, pass through Sorrento and definitely see the Blue Grotto. This sea cave is illuminated in blue due to the sunlight passing through an underwater cavity and shining through the seawater.
Spend your second day in Amalfi town. See the Duomo di Amalfi and the Museo della Carta. Spend time by the beach or drive along the coastal road. You can also visit the Positano, just a few minutes away from the town of Amalfi.
---
Itinerary 2
Europe two weeks Itinerary for Turkey and Greece
Cities: Istanbul – Santorini – Naxos – Mykonos – Athens
---
Day 1, 2 – Istanbul
For Day 1, I suggest visiting the Sultan Ahmed Mosque, Hippodrome of Constantinople, Basilica Cistern, Hagia Sophia and Topkapi Palace. End your day by taking a sunset cruise on the Bosphorus Strait.
On day 2, see the Grand Bazaar, Suleymaniya Mosque, Spice Bazaar, Galata Tower, Taksim Square and Dolmabahce Palace.
If you have some time left, you can either do a short food tour or visit one of the many museums in the city.
Day 3 – Istanbul to Santorini
Fly to Santorini (about 4 hours)
Day 4,5 – Santorini
Here is a 2 days in Santorini itinerary
Day 6 – Santorini to Naxos
Ferries take between one to two hours to get from Santorini to Naxos.
Day 7, 8 – Naxos
The main village on the island is called Naxos town or the Chora.
The best things to do on the island are dining and shopping in the Naxos town, spending time at the gorgeous golden beaches, seeing the ruins of Apollo Temple and Temple of Demeter, hiking on one of the mountain trails and seeing the traditional Chalki village.
Plaka Beach, Agios Georgios Beach, Agios Prokopios Beach, Agia Anna Beach and Aliko Beach are some of the best beaches on the island.
Day 9 – Naxos to Mykonos
Take the ferry from Naxos to Mykonos (45 mins – 1.5 hours: depends on the ferry you take)
Day 10, 11 – Mykonos
The main town here is Mykonos town. Mykonos town is where you'll find the best nightlife and dining options and the Old Port.
The best things to do in Mykonos are –
Enjoying nightlife in the Mykonos town, shopping and dining in the area

Visiting the Ano Mera village

Seeing the ruins of Delos island

Seeing the Kato Mili windmills

Watching the sunset from Little Venice or Armenistis Lighthouse

And of course, spending time at some of Greece's most beautiful beaches!
Ornos and Platis Gialos beaches are great for families. Paradise, Super Paradise, and Paraga are the best beaches if you want to party.
Here's a Greece 7 days itinerary if you're trying to figure how many days to spend in Greece!
If you're planning to spend April in Greece refer to this post!
---
Day 12 – Mykonos to Athens
Fly to Athens (the fastest way) or take a ferry (time depends on the ferry you'll take).
Day 13,14 – Athens
Visit the Acropolis, Acropolis Museum and Parthenon during your time in Athens. There are other sites of Greek history to see, such as the Philopappos Hill, Temple of Hephaestus and Temple of Olympian Zeus.
See the changing of the guard in front of the changing of the guard in front of the Greek Parliament and spend time at the National Archaeological Museum. Try Greek food from street outlets in Monastiraki and Plaka
---
This is a great 2 week itinerary Europe for the summer season. Naxos and Mykonos have some of the best beaches in Greece.
If you don't have enough time for a Europe trip 2 weeks, this itinerary can be done in 10 days too – skip one of the islands and spend only a day in Athens and Santorini.
This post has information on how you can see Athens in a day and this on spending a day in Santorini (and how many days in Santorini you actually need!).
If you'd prefer staying in Athens, Cozy holidays rentals offers a range of accommodations you can pick, either in the area or anywhere in the world!
---
Itinerary 3
Europe two weeks itinerary for United Kingdom, Netherlands, France
Cities: Dublin – Edinburgh – London – Amsterdam – Paris
---
These well connected capital cities in Western Europe would make for an easy 2 weeks Europe trip.
Day 1,2 – Dublin
Begin day 1 by seeing the Trinity College, Book of Kells and The Long Room. Next, see the street with the Temple Bar. Next, see the Ha'penny bridge and the GPO Museum. See The Brazen Head, Dublin's oldest pub, Christ Church Cathedral and the Guinness Storehouse.
End your sightseeing early for a pub crawl and enjoy the nightlife in the city.
For Day 2, see the Molly Malone statue, the Dublin Castle, the Chester Beatty Museum and St Patrick's Cathedral. Visit the Teeling Whisky Distillery for a tour or tasting session and the Irish Whiskey Museum to learn about the history of Irish whiskey.
Day 3 – Dublin to Edinburgh
Fly to Edinburgh. The journey needs a little above an hour.
Day 4,5 – Edinburgh
Start day 1 by seeing the Edinburgh Castle. After that, you can either visit the Camera Obscura or visit the Scotch Whisky Experience.
Post lunch, walk down the Royal Miles to see St Giles' Cathedral, The Real Mary King's Close, Cadenhead's Whisky and the Palace of Holyroodhouse. Go to Arthur's seat for a great view of the city.
On Day 2, see the National Museum of Scotland, Scottish National Gallery and Royal Yacht Britannia.
In the afternoon, explore the Dean village, a quaint city area. Or for Potterheads, there is the Potter trail, a free tour of Old Town Edinburgh (Pre-book: the afternoon tour starts at 2 pm).
Day 6 – Edinburgh to London
Take the train or fly to London
Day 7,8 – London
On Day 1, see the London Tower, Tower Bridge and eat at the nearby Borough Market, the city's well-known food market. See the beautiful Kensington Garden and Palace. Pick between the Science Museum and the Natural History Museum.
On day 2, see Hyde Park, the changing of the guard at Buckingham Palace, Westminster Abbey, Houses of Parliament and Big Ben. You can see the state apartments inside Buckingham palace during the summer months.
Walk by Trafalgar Square and see the National Gallery. Take a ride on the London eye in the evening to watch the setting sun paint the city with beautiful red hues. Pop into a pub to enjoy London's pub scene.
---
Day 9 – London to Amsterdam
Fly to Amsterdam or take the train (involves change at 1 station).
Day 10, 11 – Amsterdam
Visit the Jordaan neighbourhood when in Amsterdam – this neighbourhood is popular for its food and architecture. Explore Des 9 Straatjes or 'the nine streets', which is excellent for food, shopping and seeing the canal houses.
You should also see the Anne Frank museum, the house where the Frank family hid for two years during the war, the Rijksmuseum and the Van Gogh Museum. Take a canal cruise during the evening time.
If you're here in spring (end of March to May), don't miss out on going to Keukenhof to see the incredible tulip gardens.
Day 12 – Amsterdam to Paris
Take the high-speed train to Paris or a direct flight.
Day 13,14 – Paris
A trip to Paris would be incomplete without spending time at the iconic Eiffel Tower. This is one of the most crowded attractions in Paris: buy skip-the-line tickets for the Eiffel Tower, especially if this is a part of your Europe summer itinerary
Other traveler favorites include the Notre Dame Cathedral, the Louvre Museum, and river cruising on the Seine river. You can also visit the Sainte-Chapelle, a royal chapel with exquisite glass stained windows and Musée d'Orsay, a museum with stunning impressionist art.
If you are looking for something other than museums, consider visiting the Moulin Rouge to experience cabaret and theatre or taking a wine tour or tasting session through a local operator.
---
Itinerary 4
Europe two weeks itinerary for art lovers – Germany, Czechia, Austria, Italy
Cities: Berlin – Prague – Vienna – Florence – Rome
---
Day 1, Day 2 – Berlin
Spend at least half of your day at the Museumsinsel or Museum Island, a group of five museums in the heart of Berlin. Antiques, paintings, sculptures and artefacts galore: you'd easily need a few hours to admire and wander around this UNESCO World Heritage site.
For contemporary art, there are so many spaces that you possibly cannot cover all of these in two days. Contemporary Fine Arts, EIGEN + ART and Koneg Gallery are a few of the well-known ones.
See the East Side Gallery memorial, a large open-air museum with painted graffiti and the largest preserved section of the Berlin Wall.
Day 3 – Berlin to Prague
Currently, there are no direct flights from Berlin to Prague. You can take the bus, train, share a ride, or drive to Prague, which will need 4 to 4.5 hours.
Day 4, 5 – Prague
In Prague visit the National Museum, DOX Centre for Contemporary Art, Museum of Decorative Arts, Museum Kampa and Meet Factory. Like Berlin, there are so many galleries and spaces here, that in 2 days you will not be able to see all of them.
Day 6 – Prague to Vienna
Prague to Vienna by train needs 4 hours vs 4.5 hours through a car or rideshare. Or you can fly to Vienna in 2.5 hours.
Day 7, 8 – Vienna
There are so many museums in this city that you'll be spoilt for choice. You'll have to pick a few depending on your interests.
Start with the Museums Quartier, an area with 60 cultural institutions. The Natural History Museum, Kunsthalle Wien, Leopold Museum, ZOOM Kindermuseum and the MUMOK (Museum of Modern Art) are popular attractions here. You can also see the Hofberg, another speciality museum nearby.
See the Belvedere Palace and relax in its beautiful Baroque park. The Belvedere Palace also has a stunning art collection made up of paintings from famous Austrian and other European artists.
Day 9 – Vienna to Florence
The best way is to take a flight to Florence (3-4 hours). Taking a bus is cheaper, but it'll need at least 12-13 hours or more.
Day 10, 11 – Florence
On Day 1 visit the Uffizi, Galleria dell'Accademia, Musée Marino Marini (for contemporary art) and Pitti Palace Galleries. The Pitti Palace Galleries include the Royal Apartments, Palatine Gallery, Museum of Costume, Modern Art Gallery and Grand Dukes Treasury.
Keep some time aside to visit the Duomo, a landmark of the city, Basilica of Santa Croce and see the city from the Piazzale Michelangelo.
Day 12 – Florence to Rome
Take the scenic train ride from Florence to Rome ( a little more than an hour) or drive to Rome. Most flights are indirect flights and will take longer than a train or road trip.
Day 13,14 – Rome
Vatican museums, striking architecture and contemporary art galleries; there's art around every corner in Rome.
Here are some of the places you could visit to admire Roman art –
Vatican Museum
National Roman Museum
Galleria Borghese
Musei Capitolini.
Doria Pamphili Gallery
San Luigi dei Francesi for Carravagio paintings
For day 2, do keep some time aside to see the mighty Colosseum and the Pantheon.
---
---
Europe is full of endless possibilities and no matter which destination you pick you will leave with memories to last a lifetime!
Pick places you've had on the bucket list for ages for your first Europe trip, then keep returning to cover itineraries you can do in proximity of each other to get the most done and not spend time on transport!
Even if you pick the same route, there's always more to discover in Europe!
---
European Itinerary 2 Weeks – frequently asked questions
How many European countries can you visit in 2 weeks?
You can visit three/four/five countries, if you want to see Europe in 2 weeks. Many European countries are very close to each other or well connected by road, rail and air. Three-four countries is ideal for a Europe in 2 weeks itinerary
What is the best way to see Europe in 2 weeks?
The best way to travel Europe in 2 weeks is to pick two/three/four countries and stick to the main cities in these countries. Stick to the main, well connected cities for a 2 week europe trip itinerary. In this way, you'd have a good number of options to travel between cities quickly and get enough time to see the highlights of the cities on the days you are not travelling.
Is two weeks enough for Europe?
Yes, if you don't plan to visit too many places and travel frequently.
A Europe 2 weeks itinerary is definitely not long enough for Europe. Through a 2 weeks Europe trip itinerary, you can see one city in three to four countries, or five countries, if the countries are closer to each other. Seeing Europe in two weeks means you'd have to pick only a few cities and their highlights to see.
What is the average cost of a 2 week European vacation?
A low budget 2 week Europe trip would cost 1500-2000$. A mid budget two week Europe trip would cost 2500-3000$. This also depends on the season when you take the 2 week trip to Europe.
2 weeks in Europe would be the most expensive from June to August which is the peak season, so you would be paying higher for flights and accommodation.
---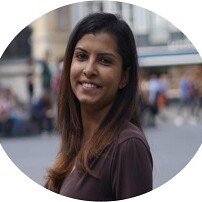 Award-winning Analyst, multi-nominated digital content creator and photographer Lavina Dsouza's words capture stories about culture and tradition mainly through its food and people. She has written and contributed to publications such as The Washington Post, Lonely Planet and Matador Network, to name a few. She is the editor of UntraditionalHumans.com, a non-profit created to share inspiring stories from women of colour who break free from traditions and choose happiness.
She's also a speaker passionate about DEI and champions solo travel. She has collaborated with numerous renowned brands such as Intrepid Travel, TripAdvisor, Travel and Leisure and Adobe, to name a few.
She can be found on Twitter and Instagram.
---
---
What's a Mediterranean destination you love?
I'd love to hear them in the comments below!
---
---
Some of the links on this post are affiliate links. These do not cost you extra to use, but will help provide Continent Hop with a small commission if/when you purchase through them, to recover some of the costs of running this website and providing free content to help you plan your travel. I appreciate your support!
---