Monaco, the tiny microstate, is enough to keep you on your toes for at least a week. So, when given only a day in Monaco, here's how to make the most of 24 hours in Monaco. This Monaco itinerary covers the top tourist attractions you can explore in a day.
Monte Carlo and Monaco, located on the French Riviera, have long been associated with luxury, wealth, and the jet-set lifestyle. Home to Port Hercules, Stade Louis II, and other palatial destinations, this beautiful ruling principality is a playground for the wealthy and famous.
Every nook of this little nation screams tales of grandeur, excitement, and boundless potential, from the glistening Mediterranean Sea to the fabled Casino de Monte Carlo.
It exudes a feeling of elegance and appeal that draws tourists from all over the world. This destination is renowned for its legendary casinos, prestigious events, and captivating landscapes that evoke a sense of wonder and excitement.
As one of the smallest nations in the world, you can easily explore Monaco in one day by taking a short day trip while exploring the French Riviera.
From the glitz and glamour of Monte Carlo's iconic Casino Square to the historical charm of Monaco-Ville's old town, we'll uncover the must-see attractions, and unforgettable experiences. So, if you are thinking about what to do in Monaco for a day, then keep reading!
---
What to do in Monaco for a day
---
Best time to visit Monaco
A Monaco itinerary can be planned at any time of the year as the excellent Mediterranean climate prevails year around. However, summertime between June and August is the peak season with heavy tourist footfall.
If you plan to spend a day in Monaco during the summer, expect packed beaches, hot weather, and long waiting lines. But this will also be the time when Monaco will be the liveliest!
Spring (April – May) & Autumn (October) have relatively thinner crowds, and planning a day in Monaco is easy. But, if you are planning to visit Monaco in Spring, do so before the Formula 1 Grand Prix descends on the city!
Or, if you want to spend 1 day in Monaco just for the race, book several days in advance.
Those of you who are all for exploring Monaco in one day in the winter can also plan a Monaco one day itinerary during December.
Winter is a little chilly and sea temperatures can on some days get a little low, but not too uncomfortable for taking a dip in the blue waters of the French Riviera! Bonus? Cheap accommodations!
I would say Saturday and Tuesday are the best day of the week to visit Monaco if you are a shopaholic. Sunday is also a good time to get out though you may find most of the shops closed, whereas Monday is the traditional half day.
---
How to plan a trip to Monaco?
Monaco is part of the iconic French Riviera in Europe which stretches along the Mediterranean Sea, from the Italian border to Saint-Tropez. The entire region is famous for its beautiful beaches, sunny climate, luxurious resorts, and its vibrant nightlife!
If you want to explore Monaco in one day, I would recommend taking a day trip to Monaco from the nearby cities of Nice or even Cannes. It is quite easy to get to Monaco from either city, especially if you are on a South of France road-trip.
If you are keen to drive but need to sort your licence, you can sort your permit in less than 10 minutes with the International drivers association here.
These would be the perfect home base for your day trip Monaco and even to other picturesque areas of the French Riviera. Even if you want to directly head to Monaco, you have to fly into Nice's Côte d'Azur Airport which is the closest international airport serving Monaco.
From Nice, you can choose between a bus or high-speed rail to reach Monte Carlo, the capital in just 30 minutes.
Or you can also plan Monaco day trip by taking this Full Day Monaco Monaco, Monte Carlo & Eze tour from Nice, where you can avoid all the planning and booking and just enjoy exploring!
---
Things to do in Monaco in one day
You may be thinking about how to visit Monaco in one day. After all, it's a country in its own right and plays host to the Grand Prix!
But it is possible to plan a Monaco one day trip. Though Monaco may be exceptionally tiny, you will find that there are tonnes of things to do and see while exploring Monaco for a day. Mind you, Monaco is pretty expensive so it's best to plan only a Monaco 1 day itinerary!
As to how to cover Monaco in one day, I have curated the perfect one day in Monaco itinerary. Since most of the best spots in Monaco are located in Monte Carlo, the largest region, your day in Monaco will involve exploring one day in Monte Carlo.
Read on to find out what to do in Monaco in one day!
---
Old Town
I had started my day wandering through the narrow streets of Monaco's Old Town, known as Le Rocher. Admire the charming architecture which is a beautiful fusion of picturesque squares, small shops, and medieval buildings.
Visit the Monaco Cathedral (Cathédrale Notre-Dame-Immaculée), and enjoy panoramic views of the city from the neighborhoods of Saint-Roman and Saint-Michel. The Old Town also provides breathtaking city panoramas, ideal for treasured photos.
---
DETAILS
Address: 98000 Monaco
Timings: All day
Price: Free
---
The Prince's Palace
Next, I headed to Prince's Palace, a monument to Monaco's illustrious history and royal legacy, perched atop a rocky peninsula and providing a view of the sparkling Mediterranean Sea.
The Grimaldi family, which rules Monaco, has called this majestic mansion home since the 13th century.
As you meander through its grand halls and fabulous courtyards surrounded by astounding architecture and valuable works of art, you will feel as if you have traveled back in time!
Make sure to see the daily 11:55 a.m. changing of the guard ritual, adding an exquisite touch to this gorgeous structure.
---
DETAILS
Address: 98015 Monaco
Timings: Monday to Sunday – 10:00 a.m. to 6:00 p.m.
Price: Adults – 10 Euros / Children (6 to 17 years old) & Students – 5 Euros
---
Oceanographic Museum
Located on the cliffside of Le Rocher, the Oceanographic Museum (Musée Océanographique) is a must-visit attraction of Monaco where you can discover intriguing displays that feature different aquatic life, including rare species, coral reefs, and captivating underwater vistas.
Do not pass up the chance to see the feeding of the marine animals or see a movie in the museum's state-of-the-art auditorium. Visitors of all ages find the Oceanographic Museum to be a fascinating place to visit.
---
---
Casino de Monte-Carlo
Even if you're not a gambler, roaming around Monaco in one day without a visit to the iconic Casino de Monte-Carlo is incomplete! Marvel at the extravagant architecture and opulent interiors of the Casino. Or if you are someone who loves to raise the stakes, join at one of the tables!
The casino opened its doors in 1863. It is adorned with expensive interiors and a stunning Belle Epoque facade with marble columns and priceless chandeliers. While you could always play virtually and refer to suggestions from places like bonuses mightytips, nothing compares to the actual experience of being in Monte Carlo.
---
DETAILS
Address: Pl. du Casino, 98000 Monaco
Timings: Monday to Sunday – 2:00 p.m. to 4:00 a.m.
Price: 10 Euros
---
Monaco Grand Prix Circuit
After a quick lunch at one of the restaurants, I have recommended below, head to the Monaco Grand Prix circuit. A Monaco Grand Prix tour is one of the best things to do in Monaco as a motorsports fan.
The course weaves through the winding streets of Monte Carlo, delivering stunning views and pulse-pounding adrenaline.  While there are guided tours, I was travelling on a budget, so I explored the circuit on my own.
It is one of the most challenging and glamorous events on the Formula 1 calendar. You can still see the action-packed scenes even if you are not in town during race weekend.
---
DETAILS
Monaco Grand Prix de Monaco
Address: 10 bl, Bd Albert 1er, 98000, Monaco
Timings: Open all day
Price: N.A.
---
Jardin Exotique
After a long day of roaming around, take a short bus ride or a pleasant walk to the Jardin Exotique, a beautiful botanical garden with a vast collection of succulents and cacti.
This attractive garden, perched high above the cliffs, provides splendid views of the Mediterranean shoreline and the city below. Wander through a labyrinth of twisting paths decorated with an incredible array of succulents and cacti from all over the world.
The garden's main attraction is the Observatory Cave, where you can explore the fascinating underground world and find a mesmerizing display of stalactites and stalagmites. Jardin Exotique is a true refuge for nature enthusiasts and a calm oasis.
Unfortunately, as of June 2023, the Exotic Garden and the Cave are closed for renovations. But you can still visit the Botanical Centre which contains the collection.
---
DETAILS
Address: 98000 Monaco
Timings (For Botanical Centre only): Tuesday to Saturday – 8:30 a.m. to 3:30 p.m.
Price (For Botanical Centre only): Free
---
Larvotto Beach
The magnificent beaches and ports that line the coastline are a must-see during any Monte Carlo or Monaco trip. For some sunset views, head to Larvotto Beach, which offers the ideal fusion of leisure and luxury with its lively beach clubs, plush loungers, and first-rate services.
Stroll along the promenade, indulge in sumptuous seafood at one of the waterfront eateries, or just relax and enjoy the mesmerizing scenery.
---
DETAILS
Plage du Larvotto
Address: 98000 Monaco
Timings: 24 hours open
Price: Free
---
The Odeon
With so many things to see and do, it is a difficult for me to cover Monaco in one day! If you still have time, Next, visit the Odeon to immerse yourself in Monaco's thriving arts and cultural scene.
This lovely outdoor theater hosts several enthralling shows. The Odeon is a location that blends classic appeal with cutting-edge artistic expression. This grandiose site adds charm to any performance because it is surrounded by lush vegetation and looks out over the shimmering Mediterranean Sea.
The Odeon provides various cultural events year-round, from concerts and ballets to plays and movie screenings. The Odeon is a place of wonder and imagination; seeing a show is like entering that universe.
---
DETAILS
Address: Pl. du Casino, 98000 Monaco
Timings: Monday to Friday – 9:00 a.m. to 6:00 p.m.
Price: Check here
---
Ideally while traversing Monaco in one day, these are all the spots that you will be able to cover. But in case you still have time and you are still thinking about what to do in Monaco for a day, you can check out these bonus spots or choose where you want to go while planning to explore Monaco in one day.
---
Japanese Garden
Pay a visit to the Japanese Garden, a tranquil oasis featuring traditional Japanese landscaping, including ponds, bridges, and lush vegetation, offering a serene and peaceful atmosphere.
---
DETAILS
Jardin Japonais-Princesse Grace
Address: 5 Av. Princesse Grace, 98000 Monaco
Timings: Monday to Sunday – 10:00 a.m. to 1:00 p.m. & 2:00 p.m. to 6:00 p.m.
Price: Free
---
Carré d'Or district
Indulge in some upscale shopping in the Carré d'Or district. Explore designer boutiques and luxury brands, including renowned fashion houses and jewelry stores.
---
Monte Carlo Harbor
Head to Monte Carlo Harbor, also known as Port de Fontvieille, to see an array of impressive yachts and sailboats. Enjoy the lively ambiance, browse the shops, or dine at one of the waterfront restaurants.
---
---
Open-Air Markets
Immerse yourself in the local culture by visiting the Monaco Open-Air Market (Marché de la Condamine). Browse the stalls filled with fresh produce, flowers, local delicacies, and other goods. It's a great place to experience the vibrant atmosphere and taste some local flavours.
---
DETAILS
Le Marché de la Condamine
Address: 11 Rue Terrazzani, 98000 Monaco
Timings: Monday to Saturday – 7:00 a.m. to 3:30 p.m. / Sunday – 7:00 a.m. to 2:00 p.m.
---
Prince of Monaco's Car Collection
Automobile enthusiasts will enjoy the private car collection of Prince Rainier III, showcasing an array of vintage and luxury cars. Admire meticulously preserved vehicles, including classic Ferraris, Rolls-Royces, and more.
It was a thrilling experience watching these vintage cars! And you never know, you might bump into the Prince himself!
---
---
Monaco Naval Museum
Visit the Monaco Naval Museum (Musée Naval de Monaco) to delve into the maritime history of the region. The museum showcases an impressive collection of naval artifacts, models, and exhibits.
As of June 2023, the Naval Museum is temporarily closed. But if you happen to visit the Museum later, do check in for a visit.
---
DETAILS
Musée Naval de Monaco
Address: Terrasses de Fontvieille, niveau 2, Av. Albert II, 98000 Monaco
Timings: Temporarily closed
Price: N.A.
---
What to eat in Monaco in a day
Exploring Monaco in one day is relatively easy; just pick the spots you want to see and cover them one by one. But I would be lying if I told you that it would not be exhausting.
So to make sure that you do not tire yourself, don't forget to take a quick indulgence in Monaco's fab food scene! Don't tell me you are still confused about what to do in Monaco for a day!
Have a sumptuous meal or just stop by for a quick snack of Monaco's cuisine while roaming around Monaco in one day! The best part? There are no particular restaurants where you have to try these delicacies – any local restaurant and bakery in Monaco will serve you these relishing dishes!
Barbajuan, a savory pastry or fritter typically filled with a mixture of Swiss chard, spinach, ricotta cheese, and various herbs usually served as an appetizer.

Fougasse, a sweet flatbread flavoured with oranges and covered with nuts and raisins, is commonly found in all local bakeries of Monaco.

Swiss Chard Pie is a savory pie with Swiss chard as the main ingredient and parmesan cheese, eggs, onion, parsley, and rice.

Pissaladière, a traditional flatbread or tart topped with caramelized onions, anchovies, and black olives, similar in appearance to a pizza.

Stocafi, a local delicacy consisting of dried cod stewed in tomato sauce and flavoured with, garlic, bay leaves, and olives.

Socca, a pancake made from chickpea flour with crisp golden brown edges and a moist interior, usually fried in olive oil.
Don't forget to treat yourself to traditional Monegasque foods or try your luck at Café de Paris, a legendary spot. And, you just can't miss Monaco's organic craft beer at the Brasserie de Monaco!
For those of you who are fans of exquisite dining, check out Monaco's Michelin-starred restaurants such as Louis XV, Le Grill at the Hotel de Paris Monte-Carlo, and Yoshi at Hotel Metropole Monte – Carlo.
Monaco's delectable cuisine ensures that your taste buds are as satisfied as your sightseeing adventures! Don't tell me you are still thinking about What to do in Monaco for a day!
---
---
Monaco and Monte Carlo perfectly embody an atmosphere of wealth, excitement, and boundless opportunity.
Whether you're drawn to the regal history, the natural beauty, or the exhilarating racing heritage, this enchanting principality promises a truly unforgettable experience.
---
Monaco for a day FAQ's
Can you visit Monaco for a day?
Yes, you can easily visit and cover all the major spots of Monaco in one day by either taking a day trip from Nice. Plus, Monaco is pretty expensive so if you are a budget traveller, one day visit is probably the best to keep expenses low!
What to do in Monaco for a day?
There are lots of options – roam around exploring sights, do some shopping, bet at the casino, or simply savor traditional Monegasque foods!
Can you do Nice and Monaco in one day?
While it is possible to do both Nice and Monaco in one day, I would not recommend it as it can get tiring. Rather, consider Nice to be your base as you explore the French Riviera and take a day trip to Monaco from Nice.
Is Monaco very expensive?
I won't lie, Monaco can be expensive to visit. But, you can keep your spending on the lower side if you just follow some tips – avoid high-end restaurants, book as early as possible, use public transport, and scope out which attractions you want to visit by checking the ticket prices.
---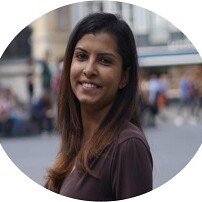 Award-winning Analyst, multi-nominated digital content creator and photographer Lavina Dsouza's words capture stories about culture and tradition mainly through its food and people. She has written and contributed to publications such as The Washington Post, Lonely Planet and Matador Network, to name a few. She is the editor of UntraditionalHumans.com, a non-profit created to share inspiring stories from women of colour who break free from traditions and choose happiness.
She's also a speaker passionate about DEI and champions solo travel. She has collaborated with numerous renowned brands such as Intrepid Travel, TripAdvisor, Travel and Leisure and Adobe, to name a few.
She can be found on Twitter and Instagram.
---
---
EXPLORE MORE OF ITINERARIES
---
Some of the links on this post are affiliate links. These do not cost you extra to use, but will help provide Continent Hop with a small commission if/when you purchase through them, to recover some of the costs of running this website and providing free content to help you plan your travel. I appreciate your support!
---