It isn't a surprise that Miami is as popular as it is! Florida has the perfect weather for most of the year, the beaches are warm and the culture (that comes with the food) eclectic! You need to spend at least 2 days in Miami, be it just for a weekend in Miami or before/after your trip and this Miami 2 days itinerary has you covered!
Miami has a lot to offer – beaches, art districts, good food and trendy nightlife. There are so many things to do and see here that a 2 day Miami itinerary wouldn't be enough to cover all the attractions, but it is enough to get a taste of the city.
---
Refer to these popular Miami tours and stays for your trip bookings –
Recommended tours for Miami 2 days itinerary –
Here are luxury as well as budget hotels in Miami –
Getting an ESTA for Miami (USA) for Australian citizens
You may be aware of the Electronic System for Travel Authorization Visa for the United States if you are an Australian citizen. According to the online ESTA visa system, people from various countries, including Australia, can travel to the United States for up to 90 days without a visa.
Here's benefits for applying if you're Australian and are travelling to the States:
Convenience and speed – Skip long wait times and paperwork

Multiple entries – Travel as many times as needed within 90 days for both business and pleasure

Cost effective – Application fee is just $21 for an ESTA visa

And no interviews needed!
The ESTA visa does not require a face-to-face interview at a US embassy. The application process is entirely online; approval is usually granted within minutes. This makes the process of acquiring an ESTA Visa USA for Australian Citizens much more convenient and less time-consuming.
---
A Miami 2 days itinerary
Here's what to do in Miami on your 2 day trip
---
Day 1 of your Miami 2 days itinerary – Wynwood walls, Little Havana and Key Biscayne
---
Take a cab to Little Havana, have breakfast at Sunguich De Miami
Start your day in Little Havana, the world's best known Cuban neighbourhood outside of Cuba. Little Havana is a 15 to 20-minute drive from South Beach. You can also take the free Miami Trolley to Little Havana.
If you are interested in using Big Bus Miami hon-on hop-off, then this Miami Go City All-Inclusive Pass will come in handy. Buy this pass and you will also get free admission to over 25 tourist attractions in Miami.
Sanguich De Miami is one the best places in Miami that offer Cuban food. It is known for its Cuban sandwiches and shakes. All ingredients used in the sandwiches are made in-house, which differentiates them from the ones you can buy elsewhere.
You can try the classic 'Cubano' sandwich (ham and cheese sandwich with pickles and mustard) or try one of their modern takes on the Cuban sandwich – pan con lechon, pan con croquetta or pan con bistec. Try the sandwiches with Colada (Cuban style expresso) or 'batido' (milkshake), another speciality the cafe is well known for.
Try starting your day early and reaching here as Sanguich De Miami often has queues due to its popularity among tourists and locals.
---
DETAILS
Address:  2057 SW 8th St, Miami, FL 33135
Timings: Thursday – Tuesday: 10 AM – 6 PM. Closed on Wednesdays
Approximate price: $8 -$12
---
Stroll through Calle Ocho, a vibrant street in Little Havana. The best time to visit is in March during the Calle Ocho music festival, though this street is worth visiting during other times of the year too. The Calle Ocho music festival is the best way to experience Latin culture through street performances, dance, music, and street food.
You'll find many family-owned Cuban cigar shops here, a big crowd puller for tourists. El Titan de Bronze and Cuban crafters (a few kilometres away from Calle Ocho) are popular shops, but you should be able to find high-quality Cuban cigars in any of the shops here.
Try ice cream at Azucar Ice Cream, an ice cream shop that makes artisanal Cuban inspired ice creams. Try the Abuela Maria flavour here, which is a blend of crumbled Maria cookies, cream cheese and guava chunks.
You can also see the Calle Ocho Walk of Fame, a few metres away from the Azucar ice cream shop, which celebrates Latin origin artists and celebrities.
---
---
Eat Lunch in Wynwood
There are many good restaurants a stone's throw away from Wynwood walls. You can choose one depending on what you eat – these casual, reasonable restaurants offer different cuisines such as Asian, Japanese, Italian etc.
There's 1-800 Lucky, a food hall that offers delectable Asian options through its various stalls. Or you can eat at Coyo Taco/The Taco stand for tacos, Joey's Italian Cafe for Italian and Beaker and Gray for fusion and American food. If you'd like to have a light lunch, eat at Zak the Baker, a cafe where you'll find the best bread and pastries and traditional Jewish dishes like the Challah and Boureka.
All the suggested restaurants are within walking distance from Wynwood walls and a distance of 2-3 kilometres from the Institute of Contemporary Art.
Wynwood is the perfect place for remote working. However if you're a student and love travelling the world, chances are you may need help with essay writing on time that's handled by an expert. WriteMyPaperHub is one such service and they have professionals that will help you develop the perfect essay!
1.30 PM
See Wynwood Walls
Wynwood, the colourful and artsy neighbourhood of Miami, is worth visiting even if you are not particularly into art. Visit Wynwood walls for abstract paintings, life-size murals of the Dalai Lama, graffiti quotes and extraordinary sculptures that adorn the walls.
The best way to cover the popular art district in lesser time is to book this Wynwood Art District 1-Hour Wynwood Buggies Street Art Tour. You will get to interact with local artists and learn about this unique form of urban street art.
Don't be surprised if this is the most creatively painted space you've ever come across – these walls are painted and repainted by some of the best artists in the world!
The paintings and murals here are updated before Art Basel Miami Beach, a global art fair that attracts artists and art lovers from all over the world. Book tickets in advance for your visit to Wynwood Walls here.
Wynwood also has a few family-owned, local breweries that make craft beer. Visit Veza Sur for their strong ales or J. Wakefield Brewing, a brewery known for creating unique brews with locally sourced mangoes, grapes and peaches.
---
If art interests you more than craft brews, visit the Institute of Contemporary Art (ICA), displaying local and international curated art. The ICA has various programs and exhibitions throughout the year, and entry to this museum is free except for children.
Book tickets in advance as they do not allow access without this booking, and limited bookings are available for every hour. It is also important to arrive on time as per your ticket's time as tickets deactivate 30 minutes after the scheduled time.
Sign up for this well in advance so that you can book a 12–1 PM slot for this visit and get free for lunch by 1 PM.
---
DETAILS
Wynwood Walls
Address:   2520 NW 2nd Ave, Miami, FL 33127
Timings: Sunday – Thursday: 11am – 7pm, Friday & Saturday : 11 am – 9 pm
Approximate price: 10$ for adults (discount on military and student ID)
Ticket website: https://museum.thewynwoodwalls.com/iframe/wynwood/main
---
Institute of Contemporary Art (ICA), Miami 
Address: 61 NE 41st St, Miami, FL 33137, United States
Timings: Wednesday – Sunday: 12-6 PM, Senior Hours: 11-12 PM, Closed on Mondays and Tuesdays
Approximate price: Free for adults 
Ticket website: https://icamiami.org/tickets/
---
---
Relax in Key Biscayne
Visit Crandon park, located on Key Biscayne and watch the sunset at Crandon Beach. Crandon Beach is a family-friendly beach with pristine sand and calm, shallow waters. There are few other things to do at Crandon Park, but the idyllic Crandon Beach that gets lesser tourists than South Beach remains the key attraction.
The park also has a nature centre, a designated environmental study area (the Bear Cut Preserve) and an amusement centre for children.
You can also try activities like snorkelling, kiteboarding, canoeing, kayaking, paddleboarding, wakeboarding, windsurfing and sailing here.
Cabanas (rooms) are available on rent at the south end of the park and cost about 40$ per day.
The Crandon Beach Park closes at 5 PM, but you can access the beach or free post that time from the Public Access Beach close to the Village Green Park on Crandon Boulevard.
Key Biscayne isn't located too far from Miami and takes about 20-25 minutes by car.
---
DETAILS
Crandon Park 
Address:   6747 Crandon Blvd, Key Biscayne, FL 33149
Timings: All days – 8 AM to 5 PM
---
Dine at Versailles in Little Havana
Head back to Little Havana for dinner at Versailles, an iconic restaurant of the city known for its authentic Cuban food.
There are also many bars in Little Havana. Ball & Chain, Hoy Como Ayer or Habana 305 are the popular ones that offer good music and drinks.
---
DETAILS
Versailles Restaurant Cuban Cuisine
Address: 3555 SW 8th St, Miami, FL 33135
Timings: Monday – Thursday – 8 AM – 1 PM, Friday – Saturday – 8 AM-2.30 PM. Sunday – 9AM – 11 PM
Approximate price: 30-35$
---
Day 2 of your Miami 2 days itinerary – South Beach and Art Deco district
Day 2 of this Miami trip itinerary involves lesser activities to get enough time to explore and relax at South Beach and enjoy the nightlife.
Have breakfast at the hotel/hostel you are staying in or someplace close by so that you can start your day early and get enough time at Jungle Island or the science museum.
---
Visit the Phillip and Patricia Frost Museum of Science
The Phillip and Patricia Frost Museum of Science has fascinating exhibitions, a planetarium and an aquarium. You can see sharks and stingrays here gliding in an open water tank through the glass. The aquarium's second and ground floor, accessible through a lift, have tropical fishes and corals.
This is a great option if you have kids or if it's not a pleasant day weather-wise!
---
Details
Address:  1101 Biscayne Blvd, Miami, FL 33132, United States
Timings: 10 AM – 7 PM on all days
Approximate price: $30 for adults, 21.95$ for children aged 3-11
---
DETAILS
La Sandwicherie Miami Beach
Address:  229 14th St, Miami Beach, FL 33139
Timings: 8 AM – 5.30 AM on the next day, on all days
Approximate price: 10-15$
———
Havana 1957 Cuban Cuisine Ocean Drive 
Address:  1410 Ocean Dr, Miami Beach, FL 33139
Timings: 9 AM – 12 AM on all days
Approximate price: 15-20$
---
---
Visit the Art deco district
Art deco architecture originated in Paris in 1925 and is a modern version of neo-classical architecture. Today, the style is characterised by bright colours – orange, green, yellow and pastel blue and pink and elegant, linear buildings with geometric motifs.
The Art deco district consists of over 800 buildings built in the Art Deco, Mediterranean Revival and Miami Modern (MiMo) architectural style. To learn more about these styles and Miami's architectural heritage, visit the Art Deco Museum located inside the Art Deco Visitor's Centre.
You can see Art Deco buildings if you walk north of the intersection between 5th street and Ocean drive. Guided tours start at 10.30 AM, but self-guided and private tours are available even if you visit in the afternoon.
---
DETAILS
Art Deco District 
Address:  1001 Ocean Dr, Miami Beach, FL 33139
Timings: Open 24 hours
Approximate price: Free entry, guided tour for 25$
Art Deco Museum 
Address:  1410 Ocean Dr, Miami Beach, FL 33139
Timings: 10 AM – 7 PM on Thursdays, 10 AM – 5 PM on all other weekdays on Sundays and all weekdays except Monday, closed on Mondays
Approximate price: Free
---
Relax at South Beach
I recommend keeping aside a good amount of time to spend on at least one of the days of your Miami 2 day trip to explore the South Beach/North Beach.
North Beach is more residential, laidback and has lesser tourists than South Beach. If you want to spend quiet time by the sea, visit North Beach. South Beach is more touristy.
South Beach, the most famous beach in Miami, is a white-sand beach that's buzzing with activity throughout the year. This stretch of the beach has abundant nightlife options, unlike any other Miami beaches. Cafes and art-deco buildings add to the charm.
Interested in capturing a bird's eye view of this famous Miami beach along with Star Island? Check this South Beach Private 30-Minute Guided Flight Tour and experience the glamorous side of Miami.
The busiest section of South Beach is between 5th and 15th street and runs parallel to Ocean Drive. To find quieter patches of the beach or walk to spots that offer great sunset views, head to the part of the beach south of Fifth Street.
Visit South Pointe Beach in this area, which offers easy access to walking trails and sunset views in the adjacent South Pointe Park.
As public transport is limited in Miami, if you need to hire a car for convenience to get to South Beach, Discover Cars is a good option and they offer day rates as low as £60 per day for small cars.
---
8 PM
Dine, dance and vibe at South Beach's bars
Here are a few options to choose from for dinner and entertainment at South Beach depending on the kind of ambience and entertainment you prefer:
Mango's Tropical bar: This bar has live performances of Salsa, Reggae. Pop etc., throughout the day. It serves Latin inspired food and drinks.
Do not sit on the furniture: This is a dimly lit night club that focuses on music and features guest DJs from all over the world.
E11even – This neon-lit, highly energetic club has DJs, burlesque performances and live performances.
Clevelander South Beach Bar: Clevelander South Beach, located on Ocean Drive, has live performances and a party atmosphere, unlike other clubs. An outdoor pool on the beach and a great crowd of tourists and locals make it one of the most popular clubs in the area.
---
---
Where to stay in Miami?
You cannot go wrong with a place like Hampton Inn & Suites Miami in Wynwood Design District. For me, the location of this 5-star Miaimi hotel is everything as I wanted to spend more time in the art district. Amenities like free breakfast and an outdoor swimming pool are an added bonus.
The Elser Hotel Miami is a good choice if you are interested in staying closer to the city centre. It is only minutes away from Bayside Market Place and American Airlines Arena. Free wifi, breakfast, swimming pool, AC family rooms, what else do you need, right?
For those looking for a budget stay, The Demetree Hotel is a perfect place to stay in Miami. It is around 2 kilometres from Bayfront Park and comes with free WiFi and free private parking.
---
I loved the glimpse I got of Miami in 2 days and whenever I can, I am sure to go back to soak in the charm of this beautiful city.! When are you planning your Miami trip? Do tell me when you follow this 2 day Miami itinerary.
---
FAQs – Miami 2 days itinerary
Is 2 days enough for Miami?
Spending 2 days in Miami is enough to visit a few popular tourist places and wander through the vibrant streets. It will also allow you to catch some tan on the beach and try activities like kayaking, windsurfing, snorkelling, and kiteboarding, depending on the weather. 2 days in Miami will give you a chance to eat where locals eat and enjoy local delicacies.
How many days do I need in Miami?
It is highly recommended to spend at least 3 days in Miami as it is the perfect amount of time you will need for covering all the major tourist attractions. Be it the Wynwood Wall or Vizcaya Museum and Gardens, you can explore it all in 3 days in Miami. You can also dedicate enough time to relax on the beach and enjoy watersports.
Is it worth going to Miami for 3 days?
Going to Miami for 3 days makes for an ideal trip plan. It is worth spending 3 days in Miami as it allows you to cover popular places like South Beach, Crandon Beach, Vizcaya Museum, and Wynwood Wall. It is enough to enjoy a drink on the beach or go windsurfing.
How to spend 48 hours in Miami?
On day 1 in Miami, you can cover Little Havana, Wynwood Wall, the Institute of Contemporary Art, and Crandon Beach. For 2nd day in Miami, you can dedicate most of the time to South Beach and the Art Deco district. Consider visiting the Phillip and Patricia Frost Museum of Science if you have 48 hours in Miami.
---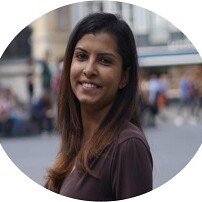 Award-winning Analyst, multi-nominated digital content creator and photographer Lavina Dsouza's words capture stories about culture and tradition mainly through its food and people. She has written and contributed to publications such as The Washington Post, Lonely Planet and Matador Network, to name a few. She is the editor of UntraditionalHumans.com, a non-profit created to share inspiring stories from women of colour who break free from traditions and choose happiness.
She's also a speaker passionate about DEI and champions solo travel. She has collaborated with numerous renowned brands such as Intrepid Travel, TripAdvisor, Travel and Leisure and Adobe, to name a few.
She can be found on Twitter and Instagram.
---
---
EXPLORE MORE OF READY-TO-GO ITINERARIES
---
Some of the links on this post are affiliate links. These do not cost you extra to use, but will help provide Continent Hop with a small commission if/when you purchase through them, to recover some of the costs of running this website and providing free content to help you plan your travel. I appreciate your support!
---