Belfast is perfect for an autumn getaway but it is a good city break no matter the time of year. If you're looking for free things to do in Belfast in a day, this article has you covered. There are many things you can do on a Belfast day trip and if you have time definitely visit the Titanic museum and do a Game of Thrones tour. Read on!
It's sometimes so difficult to shake the past off. Belfast was the focal point of the 'Troubles'  – a series of violent events that took place between the Nationalists and the Unionists, in other terms Catholics and Protestants.
I wasn't really aware of all the details before I left. What caught my attention while landing was the lough, quiet and peaceful.
When it comes to Ireland, its neighbour Northern Ireland gets sidetracked by many.
Yet, Northern Ireland is perfect for visitors looking for an Irish experience plus a great road trip on the Causeway Coastal Road, Game of Thrones excitement and Halloween festivities in towns like Derry and Belfast.
if you're visiting only for a Belfast day trip then this list shall give you an idea of all the free things to do in Belfast in a day. Also suggestions of some paid activities. Make sure not to miss out on the oysters while you're in Belfast!
---
Free things to do in Belfast in a day
---
Free Things to do in Belfast #1 – Dee Street
After getting refreshed, we stepped out to take a walk down Shankill Rd.  A friendly conversation with the driver led us not to Shankill Road, but to Dee Street in the vicinity of Titanic quarters, 3 miles to the East of Shankill Road.
The Irishman was right when he stated that Shankill is great in the evenings, less tourists, more time to explore at peace. A few locals and numerous colorful murals dotted Dee Street – one of the best places to start your free things to do Belfast tour.
Using Wikipedia and Google as our guide, we started our walk at the Titanic mural  – with Captain Smith looking upon the ill-fated liner. There was no dearth of murals. In fact, every so often a few get added as well.
Information (or pictures) for all of the murals is not yet available on the internet. Some are attempting to document it…but it's still a long way off. You can find additional information here.
After admiring the murals and the cranes Samson and Goliath that helped build the Titanic, for a good 2 hours or so, we then proceeded to Holohan's NI, serving some of the freshest produce in Belfast for lunch.
---
---
Free Things to do in Belfast #2 – Shankill Road
Shankill Road has a 5 km long peace wall. Full of murals and messages of peace, we came across some of the last Black cab tours doing the rounds.
The Ulster Volunteer Force was set up at Shankill Road and they continued to be actively involved in attacks throughout the troubles. The Ulster Defense Association also made Shankill its centre of activity from 1971 thus leading to many bombings in the area during The Troubles.
While Shankill is not voted the best place to stay in Belfast it sure is the most colourful and one of the best free things to do in Belfast in a day that will give you an insight into the Troubles. You'll also find a number of Protestant Churches and pubs in the locality.
The driver (and guide) of the Black cab tour was encouraging tourists to scribble notes of peace on the wall. After doing so ourselves, we finally walked down Cathedral quarters to have a drink at the famous Duke of York pub.
It isn't a bad idea to have a guide explain the events and history of The Troubles. If you'd prefer a guided tour, this one is highly recommended!
---
---
Free Things to do in Belfast #3 – Ulster Museum
Ulster Museum is one of the best free things to do in Belfast in a day if you have kids. A treasure house of Northern Ireland's past and present with its vast rich collection of natural sciences, history and art. The 8000-square metres of collections featured here are Belfast's secret door to Earth's past.
Meet dinosaurs, Egyptian mummies and everything that has been a part of Northern Ireland's rich history. Walk through the galleries that house modern masterpieces, interact in the discovery zones and learn everything about Northern Ireland's past.
The museum is free and a great place for both adults and kids. It also has a cafe in case you want to splurge the saved entry fee on lunch.
---
DETAILS
Address: Botanic Ct, Belfast BT9 5AB
Timings: 10 AM – 5 PM every day except Mondays. Closed Mondays
Price: Free
---
Free Things to do in Belfast #4 – Botanic Gardens
Located next to the Ulster Museum are the serene Botanic Gardens that provide the perfect opportunity to spend an afternoon or walk among nature.
It was established by the Belfast Botanic and Horticultural Society in 1828 as a private park. After it opened to the public in 1895, it gained popularity among locals and tourists and was awarded a Green Flag as one of the UK's best open spaces.
There are numerous walking routes one can take through the gardens while enjoying the curated lawns and flowers.
The biggest attraction of these free things to do in Belfast in a day is the Palm House, one of the first curvilinear glasshouses in the world. Built-in the mid-1800s, it houses tropical plants and birds.
Another attraction here is the Tropical Ravine which combines a Victorian interior with modern features like a frameless glass façade.
---
DETAILS
Address: College Park, Botanic Avenue
Timings: 7.30 AM – 9 PM every day
Price: Free
---
Free Things to do in Belfast #5 – CS Lewis Square
Located on the corner of the Comber Greenways and Connswater, the CS Lewis Square is a public space that pays homage to the Belfast-born author, CS Lewis.
It is open 24 hours and seven days a week offering visitors a chance to rediscover the Chronicles of Narnia in 1 day in Belfast.
Walk through the square and admire the seven bronze sculptures from 'The Lion, The Witch, and the Wardrobe', the Beavers, the Robin, Stone Table and more.
---
---
Free Things to do in Belfast #6 – Linen Hall Library
The oldest library in Belfast, the Linen Hall Library was founded in 1788 to celebrate the rich history of making linen. It is the last subscribing library in Ireland.
Walk into the library to study a 1725 city map or read a 316-year-old book. Additionally, it also boasts an unparalleled Irish and Local Studies collection with books by C.S. Lewis and an archive of conflict-era material.
It also has a genealogy collection and a 350,000-item Troubles archive. It also hosts many readings and lectures.
To have a fully-immersive insight into the museum, book a guided tour that happens once a day from Monday to Friday.
---
DETAILS
Linen Hall Library
Address: 17 Donegall Square N, Belfast BT1 5GB
Timings: 9.30 AM – 5.30 PM on weekdays, closed weekends
Price: Free. Upcoming events can be found here
---
Free Things to do in Belfast #7 – Dome at Victoria Square
At the head of the ever-bustling Victoria Square is the stunning glass building called the Dome.
Offering 360-degree views of Belfast, it is one of the highest buildings in Belfast due to which you can spot many landmarks like the Belfast city hall, Cave Hill, the Harland and Wolff Cranes and the Stormont Building.
Entry to the Dome is one of the free things to do Belfast and a local guide can help point out the above-mentioned famous landmarks.
---
DETAILS
The Dome at Victoria Square
Address: 1 Victoria Square, Belfast
Timings: 10 AM – 6 PM on Wednesdays, Thursdays and Fridays
Price: Free
---
Free Things to do in Belfast #8 – Belfast Castle and Cave Hill
If you're just there for a day in Belfast, Belfast Castle and Cave Hill, located in North Belfast, offer not only hiking opportunities but also some great views over the city. The Belfast Castle, built in 1860, is home to many wildlife like sparrow hawks and long-eared owls, plus the city's rarest plant.
Explore the castle and the pristine gardens that offer endless hours of family fun time. While many castles around the UK aren't free, Belfast Castle is and has interesting activities such as 'Find the 9 cats' in the castle gardens. The cats are hedges, garden stones and various other items scattered around the garden.
After that, head to the top of Cave Hill for beautiful panoramic views of the city. While the walk is strenuous, the views are worth it.
Early risers can also consider visiting the hill in the early hours of the morning to catch a glimpse of the sunrise.
---
DETAILS
Address: Antrim Rd, Belfast BT15 5GR
Timings: 10 AM – 4 PM on weekdays, 10 AM – 5 PM at weekends
Price: Free
---
---
Free Things to do in Belfast #9 – Colin Glen Forest Park
Spend a day outdoors by bringing a picnic to the Colin Forest Park where one can enjoy outdoor activities and woodland walks. The most notable activity is the Gruffalo Trail, which is a family-friendly event enjoyed most by kids.
The tour offers the little ones an opportunity to immerse themselves in the world of Gruffalo and Stickman. The guided tour will have them search the woods for the characters that are scattered throughout while listening to classic tales.
The highlight of this free thing to do in Belfast in a day attraction is the 8-foot Gruffalo. At the end of the tour, kids receive their Gruffalo book and an 'I have met the Gruffalo' certificate to take home.
---
DETAILS
Colin Glen Forest Park
Address: 28 Colin Glen Road Belfast BT17 0LR
Timings: Vary according to activity in summer and winter. All timings can be found here
Price: Free. Some activities if opted for can be charged
---
Free Things to do in Belfast #10 – St. George's Market
Sr Georges Market is the perfect place to spend a weekend morning in Belfast.
This fun and lively market house a multitude of local vendors that sell everything from handmade crafts to fresh produce. Find gifts and souvenirs for friends and families back home or just wander around tasting local treats.
It is especially worth visiting during St. Patrick's Day, (the patron saint of Ireland) as locals turn up to sell unique items that have a shamrock on it.
An interesting fact about the market is that it was used as a mortuary in the second world war and it won several awards in the UK and Ireland.
But since 1604 there has been a Friday market here every weekend. However, vendors change from Friday to Sunday, so visiting every morning of the weekend can be a different experience.
---
DETAILS
St. George's Market
Address: St George's Market, East Bridge St, Belfast BT1 3NQ
Timings: Friday 8 am – 2 pm Saturday, 9 am – 3 pm, Sunday 10 am – 3 pm. closed Monday – Thursday
Price: Free
---
---
Free Things to do in Belfast #11 – Glass of Thrones tour
Due to the enormous success of the Game of Thrones, on the 10th anniversary of the series, Tourism Ireland created 6 massive stained glass windows placed across various locations in Belfast around the Titanic Museum.
Many visitors usually tend to go on a trail to find these windows as a fun free thing to do in Belfast. Each of these windows represents famous events and corresponds to the four houses in the series with one window each dedicated to the White Walkers and The Iron Throne.
Here's where the 6 windows are located:
HMS Caroline

Titanic Slipways

SS Nomadic

Odyssey Point

Lagan Weir

AC Hotel
Heading off on a day trip to explore the Game of Thrones locations from Belfast makes for an exciting getaway. This tour includes pickup and drop and also includes a visit to the Causeway!
---
Free Things to do in Belfast #12 – The Big Fish
The big fish is located by the river Lagan and is made from ceramic tiles that correspond to different scenes in the history of the city.
While from afar the salmon looks like a beautiful shaded blue, on closer examination, almost all tiles have interesting facts from Belfast that were put together by John Kindness, to celebrate the historic location of the site.
Definitely one free thing to do in Belfast not to be missed if you like Instagrammable locations! The location can be found here.
---
Where to stay in Belfast
Most travellers prefer staying in the Cathedral Quarter due to the vibrant nightlife and the art scene. Also due to the numerous pubs that are full of life. The Queens Quarter is also a preferred location by many.
If you decide to stay in Belfast, then The House Belfast is a good choice. A boutique spot, it has a good bistro and is located near the leafy Botanic area. The Opera is close by and the hotel is preferred by couples. Book here
If you are interested in staying near the Titanic Museum, then the Titanic Hotel Belfast is a good choice. The hotel boasts an art-deco theme, a bar and some great views of the Titanic Quarter. Located just a mile from town, it is good to stay not too far from town but away from the traffic! Book here
If you're looking for hostel options, then this cheap hostels in Belfast post should help.
---
---
Some other interesting things to do in Belfast in a day
---
Crumlin Road Gaol
The Crumlin Road Gaol was one of the main prisons in Northern Ireland for over 150 years. It jailed over 25,000 men, women and children along with 17 executions. The last execution was carried out in 1961.
Dating back to 1845, it closed its doors as a working prison in 1996 and has become a popular tourist destination. Explore the punishment block, the cells, the hospital wing and more.
While the entire experience can be chilling, it is felt more while standing at the tunnel that connects the Gaol to the Crumlin Road Courthouse.
Visitors can also visit the museum at the Gaol that narrates the story of life at the prison over the years.
---
DETAILS
Crumlin Road Gaol
Address: 53-55 Crumlin Rd, Belfast BT14 6ST
Timings: Monday – Thursday 10.30 AM – 3 PM, Friday and Saturday 10.30 AM – 12 AM, Sunday 10.30 AM – 3 PM
Price: Adults – £12.00, online £10.80, Children 5 – 15 yrs, £7.50, online £5.00, Concession Senior citizens 60 + & students – £10.00, online £9.00, Family 2 Adults & 2 Children £30, online £27
---
The Titanic Museum
There are 9 galleries at the Titanic Museum – that give you a glimpse into how Industrialization was at its peak in Belfast right through to how the wreck itself was discovered in the 1980s.
Yes, there are patches of plans that were drawn up to design the Titanic, but no artefacts from the ship.
The museum is more to do about taking a chronological journey through Edwardian Belfast, into the making of Titanic and getting a glimpse of the lives of the people that were a part of Titanic.
It is also about the immense planning and construction that went into making one of the biggest ships in maritime history (the other being the Olympic, built by the same engineering company – Harland and Wolff).
Approximately, more than 10,00 people were employed when the construction of the Titanic started.
Special equipment (including the cranes Samson and Goliath) was utilized, and docks were built – providing massive employment to the locals. This is exhibited through one of the galleries. We were taken through a simulated ride showcasing conditions the shipbuilders had to work in.
We passed through galleries that explained events that happened on the 2nd of April 1912, when the Titanic set sail from Belfast to Southampton, and the 14th and 15th when it set sail from Southampton to New York.
Heart-wrenching stories from survivors, rescued by Carpathia, including one from Molly 'unsinkable' Brown are put up and the experience finally ends with footage shown when Titanic was finally discovered.
---
DETAILS
Titanic Museum
Address: 1 Olympic Way, Queen's Road, Belfast BT3 9EP
Timings: 9 AM – 6 PM every day
Price: Adult – £21.50, Child (5-15) – £10.00, Child (under 5) – Free, Family Pass (2 adults, 2 children) – £53.00, Essential Carer – Free, Student/Unemployed [Mon-Fri Only] – £17.00, Senior (60+) [Mon-Fri Only] – £17.00
If you prefer to skip the tour tickets, it is best to book tickets in advance as they are limited
---
---
Belfast is still quite under the radar and while there are tourists many tend to be local.
The oysters are fresh, the traditional food tasty and the Irish are some of the warmest people you'll ever meet. The sea may not be the warmest and it may just be a day in Belfast but it is sure to give you a taste of the city and hopefully have you returning for more.
---
FAQs for Free things to do in Belfast
Is the Belfast Museum free?
Ulster Museum, also known as Belfast Museum by many, has free entry for all visitors.
The museum is open from Tuesday to Sunday and is closed on Monday. From mummies to Game of Thrones Tapestry and from Bronze-age jewellery to Nobel Peace Prize Medal, you will find a wide variety of displays here.
The interesting combination of permanent and temporary exhibits makes this one of the top free things to do in Belfast.
Is it cheap in Belfast?
Yes, Belfast is considered to be one of the cheapest cities in the UK. From transport and accommodation to studying and eating out, Belfast is way more affordable than Dublin or London.
Rent is cheaper, the city is well-connected by public transport, and you will find a plethora of restaurants, clubs, and pubs to suit your budget.
Is Belfast a walkable city?
Yes, Belfast is a walkable city where you will find a combination of pedestrian-friendly streets and safe sidewalks.
The city is also planning to widen the paths for walking- and cycling enthusiasts. No doubt walking tours in Belfast are a popular choice amongst travellers!
Is Belfast worth visiting?
Of course, Belfast is worth visiting.
Belfast is a city that's well-connected with the rest of the world, has reliable public transport, and is a vibrant mix of historic vibes and modern points of interest.
You will love the hustle and bustle of St. George's Market and City Hall. The nightlife and shopping of the Cathedral Quarter attract many.
Museums like Titanic and Ulster are interesting for all age groups. And of course, Game of Thrones filming locations that are easily reachable from Belfast are an added benefit.
Is it safe to walk in Belfast at night?
Belfast is good in terms of tourists' safety, but that does not mean you can be adventurous enough to go off the beaten path at night. Belfast, even though popular amongst tourists, is still one of the lesser-explored cities in the UK.
So, ensure you are staying around the city centre and travelling with reliable groups at night.
---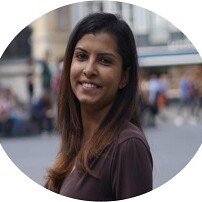 Award-winning Analyst, multi-nominated digital content creator and photographer Lavina Dsouza's words capture stories about culture and tradition mainly through its food and people. She has written and contributed to publications such as The Washington Post, Lonely Planet and Matador Network, to name a few. She is the editor of UntraditionalHumans.com, a non-profit created to share inspiring stories from women of colour who break free from traditions and choose happiness.
She's also a speaker passionate about DEI and champions solo travel. She has collaborated with numerous renowned brands such as Intrepid Travel, TripAdvisor, Travel and Leisure and Adobe, to name a few.
She can be found on Twitter and Instagram.
---
---
EXPLORE MORE OF NORTHERN IRELAND
---
Some of the links on this post are affiliate links. These do not cost you extra to use, but will help provide Continent Hop with a small commission if/when you purchase through them, to recover some of the costs of running this website and providing free content to help you plan your travel. I appreciate your support!
---