As a digital nomad (although not a popular term with many) one of the perks is the ability to work from anywhere! Thailand is a favourite spot for many so here's some of the best cafes to work in Bangkok, Thailand with also recs for Pai, Phuket and others!
There's something wonderfully appealing about life as a digital nomad. Travelling around the world to places like Marrakech the Dead Sea and discovering exciting new places while being able to earn a living anywhere with a working internet connection is a dream that more and more people are turning into a reality.
In fact, it's been predicted that more than 40 million people worldwide are now enjoying this flexible lifestyle, with numbers set to increase to over 60 million by the end of the decade. While there's no shortage of online career options to choose from, teaching English overseas is one of the most popular and rewarding.
.
---
It's possible to work as a digital nomad from any location across the globe as long as you can access stable and reliable broadband. That's one of the reasons that many digital nomads especially TEFL professionals who head overseas to teach English in Thailand find that cafes represent some of the best places to work.
Why work in cafés? Well, read on and find out why they're such a hotspot for nomadic educators!
---
The best cafes to work in Bangkok and beyond!
---
---
Working In Cafes – The Perfect Choice
---
If you were wondering why so many remote workers choose to head to a café to do their day's work, you only need to take a look at a few of the benefits:
Affordability
For a start, as a remote English teacher, you won't have your own classroom to work from. You may not even have a suitable space to work where you're staying, particularly if you're sleeping in a crowded hostel dormitory.
While co-working spaces may seem to be the ideal solution, rental costs can eat into your travelling budget. On the other hand, working in a café will only set you back the price of a drink. You'll also have the opportunity to try some amazing local food and beverages that will open your eyes to a whole new world of flavours!
Convenient Facilities
During your teaching day, you're going to need to use a bathroom, and you'll find one right there in the local café. You'll also benefit from a comfortable place to work. Many cafes are air-conditioned, making them a wonderful respite from the relentless heat in many parts of the country.
Reliable Broadband
Even better, you'll find that many cafes can offer you far better-quality broadband than you'll find in a hotel, hostel, or even in many rental accommodations. Since internet speed and reliability are crucial when you're working online, it makes sense to take this option.
Immersion In The Community
Finally, and most importantly, as a nomadic professional, you're not a tourist looking for a week-long Thailand itinerary. You're here to fully immerse yourself in the local culture and get up close and personal with the people and their unique way of life. And what better way to achieve this goal than by working within the community in one of the country's digital nomad-friendly cafes and coffee shops?
You'll enjoy a great atmosphere in the company of other people, something that you won't necessarily find if you're working out of your bedroom. It's a great way to make new friends, too, something that you're sure to appreciate, especially if you're travelling and working solo.
---
---
Can I Work Online In Cafes In Thailand?
It's clear why working in cafes is so popular. But you may be wondering if it's really something that's feasible in Thailand. Well, you might be surprised to discover that, in fact, it is very well set up for nomadic working, especially if you plan on spending a month in Thailand!
Of course, you'll find a plethora of worker-friendly cafes in the bigger cities, but there are also many quirky coffee shops in out-of-the-way locations that will welcome you with open arms (and often new and unusual menu items!)
So, let's take a look at some of the best cafes in Thailand to use as your virtual classroom.
---
Best Cafes In Bangkok For Online Working
As the capital of Thailand, Bangkok is often one of the first stops for professionals arriving in the country. Bustling, vibrant, and packed with tourists and locals alike, it can feel like an impossible task to find a café suitable to work in.
However, there are some impressive hidden spots that will feel a world away from the lively energy of the city, making them the ideal spot to plan or deliver an online lesson or two.
---
---
Artis Coffee Bangkok
A great choice if you're looking for a no-fuss work environment, Artis Coffee Bangkok is popular with nomadic workers who come to enjoy the in-house roasted coffee and the welcoming atmosphere. There's a simple quick bites menu to keep you going when you're feeling peckish, and since the staff put you under no pressure, you'll enjoy comfortable, stress-free working.
---
DETAILS
Artis Coffee Bangkok
Address: 390, 20 Sukhumvit Soi 18, Khlong Toei, Bangkok
Timings: 7 am – 8 pm
---
AROON Café
This modern and comfortable café is designed specifically to meet the needs of nomadic workers, with every table set up for PC working with integrated power outlets. Even better, the Wi-Fi is super-speedy, with download speeds as high as 563mbps, making it a reliable choice for online working. And of course, you can't overlook the coffee, which is particularly tasty too.
---
DETAILS
AROON Café
Address: 714/6 Sukhumvit Road, Khlong Tan, Khlong Toei, Bangkok
Timings: 7:30 am – 5 pm Monday to Friday, 8:30 am – 5:30 pm weekends
---
---
---
Best Cafes In Hua Hin For Nomadic Professionals
The beautiful coastal resort of Hua Hin is popular amongst nomadic English teachers thanks to its perfect blend of tourism and authentic culture. The beach may be the biggest draw here, but there's plenty more to discover, too, from the vibrant night
market to tranquil temples, and you can explore to your heart's content once your working day is over. Of course, your work experience can be an equally enjoyable part of your adventure when you choose to base yourself in one of these popular cafes:
---
Black Monster
Although it may have a strange and slightly off-putting name, this café is a great choice for nomadic working, especially as it boasts super-fast Wi-Fi. One of the best things about this place is its all-day breakfast, served up in a modern, trendy environment, which comes in at just 275 TBH and will fuel you up for your lessons.
---
DETAILS
Black Monster
Address: 1/34 Hua Hin 45, Hua Hin, Hua Hin District, Prachuap Khiri Khan
Timings: 8 am – 6 pm
---
Two Beds & Coffee Machine
If the quirky name wasn't draw enough, this hidden gem of a coffee shop is a great choice for workers, especially those who are looking for British tea. Taking its name from a Savage Garden song, this cosy and small café may not serve food, but it does
boast plenty of caffeinated beverages to keep you going while you work, as well as cool air conditioning and reliable Wi-Fi. An added advantage of choosing this place as your workplace setting is that its bijou size means that it's far quieter than many of
its rivals. Just look for the classic red British phone box outside!
---
DETAILS
Two Beds & Coffee Machine
Address: 11/62 Hua Hin 43 Alley, Phetchakasem Road
Timings: 12 pm – 6 pm Friday to Monday
---
---
---
Top Nomadic Working Cafes In Chiang Mai
One of the top destinations in Thailand for digital nomads has to be Chiang Mai, thanks to its affordable accommodation, delicious food, and elaborate temples. It also offers a cooler climate thanks to its mountainous Northern location. When you aren't soaking up the cultural atmosphere and discovering the many surrounding villages that specialise in traditional Thai handicrafts, you need to find somewhere to get down to some work, and these are two of the best options in the city.
---
---
Ombra Café
Hidden between Santitham and Nimman, this relaxed café is never too crowded, making it a great work base. It also offers speedy Wi-Fi, which is, of course, absolutely crucial. You can expect download speeds of around 62.9MB here, which should be perfectly adequate to get the job done.
There are plenty of power outlets and cosy seating, too, so you can settle down with a tasty coffee and deliver outstanding lessons in comfort.
---
DETAILS
Ombra Cafe
Address: 21/8 Ratchaphuek Road
Timings: 8 am – 6 pm Monday to Saturday
---
Artisan Café
If you're keen to work in style, you'll find the Artisan Café the ideal choice. With its trendy décor and attractive interiors, it also serves up a good coffee selection as well as ample seating, sufficient power outlets, and amazing coffee. You can expect a Wi- Fi download speed of around 33.1MB, which should meet most needs.
---
DETAILS
Artisan Café
Address: 149, 153 Wua Lai Rd, Tambon Hai Ya, Mueang Chiang Mai District,
Timings: 8.30 am – 5 pm daily
---
---
The Top Digital Nomad-Friendly Cafes In Pai
One of the less common destinations for those choosing to head to Thailand as an online English teacher, Pai nevertheless offers a wonderfully authentic experience for those who are keen to soak up the local culture. Its beautiful wooden villages, hot springs, and rice fields all serve to make this small Northern town an idyllic setting to spend at least some of your time during your adventures.
Although Pai is about as far from bustling Bangkok as you can get, there are still one or two great cafes where you can work comfortably while enjoying a tasty beverage.
The Pedlar
Located right in the heart of Pai, this café is known for its great breakfasts and healthy options. Its homemade products are delicious, while its coffee blends are typically from local beans.
With an inviting, cosy environment, this coffee shop is a perfect place to work, thanks to its plentiful power outlets and comfortable seating. The internet speed is extremely good, too, with upload speeds of around 173mbps, and there's even air conditioning for the hotter days.
---
DETAILS
The Pedlar
Address: 38 Ketkhelarng Road, Pai
Timings: 7 am – 6 pm, Thursday to Tuesday
---
Little Cottage by Ticha Cakes
If you've got a sweet tooth, Little Cottage is going to tick all your boxes. Serving up delicious desserts alongside quality coffee, this cosy café in the centre of town is a great place to settle down and work.
The second-floor balcony is especially welcoming as it's quiet and boasts plenty of natural daylight as well as comfortable seating. With sufficient electrical outlets and download speeds as high as 151.21 Mbps, you'll have no trouble getting down to work here.
---
DETAILS
Little Cottage by Ticha Cakes
Address: Ket Khelaeng Road, Wiang Tai, Pai
Timings: 8 am – 6 pm
---
---
---
The Top Cafes in Phuket For Digital Nomads
Thanks to its amazing tropical climate, vibrant culture, and stunning beaches, Phuket is an appealing choice for many nomadic professionals. Living costs are low, and there are plenty of local cafes that welcome remote workers from all across the globe.
A couple of the best local coffee shops for remote working include:
Roof Pudding And Café
Stylish and cosy, this café is right in the centre of Phuket Town and boasts an airy, bright interior with colourful décor and large windows. You can enjoy a great choice of teas, coffees, smoothies, and meals during your working day here, while panoramic views from the rooftop terrace make this an especially beautiful place to spend your time.
If you choose to sit outdoors, you'll find fans and umbrellas to keep you feeling comfortable and cool, while indoors, there are numerous power outlets to pick from. The Wi-Fi is dependable and speedy too, while the staff are very welcoming, creating the perfect environment for working and socialising alike.
---
DETAILS
Roof Pudding and Café
Address: Yaowarad Rd, Tambon Talat Yai, Mueang Phuket District
Timings: 10am – 7pm daily
---
Roxane Café
With its spectacular views over Patong Beach, Roxane Café is a great place to work and enjoy scenic views. The atmosphere here is comfortable and relaxed, while the natural daylight and cosy seating make this a great place to spend your day.
You can choose from a varied menu of coffees, snacks, and light meals whether you choose to sit indoors in a cool, air-conditioned space or outside, surrounded by peaceful and relaxing greenery.
If you're working unusual hours because of your online teaching schedule, Roxane Café is a particularly good choice since it has extended opening hours from 7 am until 2 am.
---
DETAILS
Roxane Café
Address: 104 Thawewong Rd, Pa Tong, Kathu District,
Timings: 7am – 2am daily
---
---
---
The Thai people are some of the warmest in the world and are super welcoming. If you ever plan on visiting, its nicer not only to help the community but also to meet other like-minded nomads on their journey around the world too, so I hope these cafes help with that!
---
FAQs-About Working In Cafes In Thailand
What Do I Look For In A Café In Thailand For Remote Working?
The most important consideration is probably going to be internet speed and reliability, however, if you're going to be working in a single location for an extended period, you're also probably going to need to look for somewhere with plenty of available power outlets, too.
Are Cafes In Thailand Open When I Need To Work?
As a nomadic online English teacher, your working hours could vary considerably depending on where your students are located in the world. While many cafes in Thailand are only open during the standard working day, you can often find some that stay open for extended periods, such as the Roxane Café in Phuket, which is open until 2 am daily.
Will It Be Too Noisy To Work In A Café In Thailand?
You'll need to choose your café carefully as some of the larger coffee shops do get very busy and noisy. Smaller cafes are often a better bet since they tend to be less bustling and, thus, quieter. Wearing headphones, of course, will eliminate and block out external noise, too.
Will I Be Allowed To Work In A Café For Long Periods Of Time?
If you're working in a large chain café like a Starbucks, you're unlikely to face any constraints on your working time, although the coffee will, of course, be more expensive, and you can expect the environment to be noisier and busier. Smaller cafes may have a minimum charge policy, so you should make sure to find out in advance how much you need to spend. Even if there's no policy in place, it's only fair and polite to buy some food and drink to consume while you're on the premises.
---
---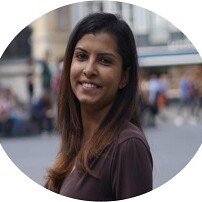 Award-winning Analyst, multi-nominated digital content creator and photographer Lavina Dsouza's words capture stories about culture and tradition mainly through its food and people. She has written and contributed to publications such as The Washington Post, Lonely Planet and Matador Network, to name a few. She is the editor of UntraditionalHumans.com, a non-profit created to share inspiring stories from women of colour who break free from traditions and choose happiness.
She's also a speaker passionate about DEI and champions solo travel. She has collaborated with numerous renowned brands such as Intrepid Travel, TripAdvisor, Travel and Leisure and Adobe, to name a few.
She can be found on Twitter and Instagram.
---
---
---
Some of the links on this post are affiliate links. These do not cost you extra to use, but will help provide Continent Hop with a small commission if/when you purchase through them, to recover some of the costs of running this website and providing free content to help you plan your travel. I appreciate your support!
---