Mykonos is one of the prettiest islands in all of Greece. Whitewashed houses, blue domes and Little Venice is just breaktaking! Here's how you can get from Athens to Mykonos. There's also info on how to get to Mykonos from Santorini and how to get around Mykonos too!
You've probably seen the windmills of Chora in some popular movie; I'd seen it too and it was the stuff of dreams, with the sun setting in the horizon.
When I finally did get myself here, the balmy wind, music playing in one of the cafes lining Little Venice and the smell of the sea was brilliantly calming.
Come evening, Mykonos turned into a party destination, however you could still wander the streets enjoying the music and have a relaxing time if you didn't want to join the party people!
It isn't too difficult getting to Mykonos nor does it have to be expensive. In this post I shall cover various ways to get to Mykonos, especially Athens to Mykonos and Santorini to Mykonos. Get yourself here too, you won't ever regret it!
P.S. Travel questions are covered at the end of the post.
---
How to Get from Athens to Mykonos
From Athens to Mykonos by plane
Duration: Around 45 minutes
The fastest way to travel from Athens to Mykonos is via flight. Throughout the year there are direct flights available and during peak season, there are as many as 18 flights every day between the two destinations!
Mykonos airport is busy and well connected with other parts of Greece. It usually takes from 35 to 50 minutes to fly from Athens to Mykonos, but of course, the travelling time to and from the airports is extra. However, this is not always the cheapest mode of transportation, except if you book the tickets way in advance.
From Athens to Mykonos by ferry
Duration: Around 40 minutes depending on route
Rafina and Piraeus are the two ports available in Athens and both are well connected to the port in Mykonos. Athens to Mykonos distance is about 182 kilometers and the ferry time is about 5 hours via a direct fast ferry. There are several ferry options between Athens and Mykonos to choose from, including the high-speed hydrofoils which only take 2 to 2.5 hours to cover the distance.
But if you are looking for more relaxed and cheaper options, there are other ferry options available as well which take between 4 to 9 hours. Some ferries even transport your vehicles, but with an increase in the ticket price.
---
How to get to Mykonos from Santorini
Duration: Around 45 minutes by ferry
Mykonos and Santorini are perhaps the most popular tourist spots in Greece. These two islands are located about 120 kilometres away from each other and if you're wondering how to get from Santorini to Mykonos it has to be through a ferry.
There are more than 4 daily ferries that make the trip between the two islands and of these, the speedboats take up to 3 hours to complete the distance.
Taking a ferry may as well be the only way to travel between the two islands since there are no direct flights between Santorini and Mykonos.
---
DETAILS
Direct Ferries would be a good place to compare prices and book ferry tickets to Mykonos
---
How to get to Mykonos from other Greek islands
Greece has a total of 227 islands and while it is definitely not possible to cover each of these on your trip to this Mediterranean country, it is definitely worth exploring islands apart from Mykonos and Santorini.
Mykonos is well connected to a lot of other Greek islands including Paros, Andros, Naxos, Patmos, Kavala and many more. In fact, during peak tourist season Crete also has direct ferries running to Mykonos daily.
Most of these Greek islands have direct and indirect ferry routes to Mykonos. Some of these are slow or fast depending on the distance and the stops they take. One of the popular stops is Mykonos. So Mykonos is a stop on most routes even if you may not find a direct ferry for it.
---
How to get to Mykonos while island hopping
With 227 islands in total, island hopping is definitely a very popular tourist activity to do in Greece. While you can find several travel agents selling island hopping packages, it is definitely possible to do it by yourself as well.
Thanks to the efficient and convenient ferry network throughout the Greek islands, you do not always need to rely on third-party agents to make island-hopping possible during a vacation to Greece!
Mykonos has a plethora of islands that are well connected in order to have an island hopping experience for yourself! From Mykonos, the most popular islands to visit include Crete and Santorini.
However, other nearby islands from Mykonos that one could include in their island-hopping route are Paros, Milos, Andros, Naxos and Sifnos.
---
---
How to get to Mykonos on a day trip
There are several islands around Mykonos close enough for a day trip. Mykonos can be covered during a day trip from Santorini but it'll be a tightly-packed day since it takes 2 to 3 hours one way on a ferry.
A more feasible option is taking a day trip from Naxos which only takes about 40 minutes one way to Mykonos and has more than 4 ferry crossings every day! Other islands which can be considered for a day trip to Mykonos include Delos, Syros and Tinos.
---
Before we go from Athens to Mykonos:
How to get to Athens from anywhere in the world
---
There are several ways to get to Athens, the beautiful historic capital of the country of Greece. Depending on the time you have, your budget, and your most preferred way of getting around, there are ways to get to Athens from anywhere in the world.
Since this capital city is situated on the southernmost tip of the Balkan Peninsula, air and sea are usually the most preferred ways of travelling to Athens. However, travelling to Athens via road is possible too!
---
By Air
Duration: Around 4 hours or so from the U.K. duration depends on whether you're flying from Europe or elsewhere.
The fastest, and often the cheapest way to travel to Athens is by flight. Depending on where you're travelling from, costs can vary but flying to Athens is definitely a very popular choice among travellers.
There are several direct flights available to Athens from many parts of the world. The UK and the rest of Europe are the most well connected with regular direct flights to the Greek capital since Athens is one of the best tourist spots in all of Europe. Some of the most popular airlines on this route include British Airways, Ryanair, Easyjet and Aegean Airlines.
The US and Canada, too, are fairly well connected to Athens with direct flights. However, these flights are not as frequent and as plentiful as they are in Europe. The most popular options include Air Canada, Delta Airlines, Emirates and American Airlines.
Athens is also incredibly well connected to the Middle East, with several direct flights operating each day. Flights from the UAE, Cyprus, Israel, Turkey, Egypt and Lebanon are frequent and common. Emirates, Aegean Airlines and Middle East Airlines are among the most popular airlines that run these routes.
South Asia to Athens is also a fairly well-connected route, with flights from India, Sri Lanka, South Korea, Thailand and Indonesia amongst many other countries. From Central Asia to Athens, there are fewer flights that usually operate from Russia.
---
DETAILS
One of the best ways to get a good deal on flights is to set reminders on Google Flights and check the flexible option in Skyscanner
---
By Sea
Cruises are also a popular choice while getting to Athens, but they often cost a fortune as compared to flying and take a long time. From the US, there is only one cruise service that ends in Athens and takes almost a month to complete!
There are often no direct cruises between the two destinations, and most cruises stop at various other places before finally reaching Athens. From Europe, however, there are many cruise options to Athens which take anywhere between 5 to 10 days.
---
By Rail
Being a tourist hub in Europe, Athens is very well connected to several other European cities via train. To witness a fantastic journey of the snowy Alps into the sunny Mediterranean, consider taking the trans-Europe train journey! Cities like Munich, Zurich, Budapest, Vienna and Istanbul are all well connected to Athens via train.
---
By Road
Taking a road trip to the stunning capital of Greece may not be the fastest or even the most convenient, but it definitely is unconventional, and considerably cheaper! Depending on where you start from, you might have to change buses multiple times, but the scenic roads of the Mediterranean are sure to make you forget about all your worries while making this overland journey!
A road trip around Greece to the South, covering the regions of Glyfada and Sounion might be quite a pleasant trip!
---
How to get around Mykonos
Hiring a car is incredibly easy in Mykonos and there are several car rental shops near the Mykonos airport. Having your own car would mean more flexibility, ease of transport and the option to explore quieter paths.
However, it is important to note that finding parking spaces in Mykonos can be quite difficult. This Greek island also has an excellent bus network which connects most tourist spots and villages.
This is also a much cheaper way to get around in Mykonos, instead of hiring a car. You can also hire a bike or a moped which is budget-friendly and quite efficient to get around.
---
---
How to get to Mykonos – Frequently Asked Questions
---
How much in advance do I need to book my Mykonos ferry?
Ferries to and from Mykonos do not need to be booked too far in advance, apart from particular times of the year. The week of August 15 is a huge festival in Greece and during this time, most ferries run at maximum capacity so make sure you reserve your spot in advance.
Apart from that, Easter and weekends during the months of July and August are especially busy. Tickets also need to be booked in advance for sleeping cabins and for transportation of vehicles.
Where do you fly to go to Mykonos?
Since Mykonos has an international airport, you can directly fly into this "island of winds", depending on your departure location. Various flights from the UK, Israel, UAE, Italy, France and many other countries land directly into Mykonos.
However, you can also fly into Athens and then take a short flight to Mykonos if needed.
How long is the ferry from Athens to Mykonos?
Depending on the service you choose, a ferry from Athens to Mykonos can take anywhere between 2 to 9 hours. From high-speed boats to slow, relaxed ferries, there are a number of services to choose from!
What is the best way to get to Mykonos?
From within the Greek islands, the best way to get to Mykonos is definitely using a ferry service. However, if you are travelling internationally, flights are often the most efficient way to get to Mykonos.
What is the cheapest way to get to Mykonos?
The cheapest way to get to Mykonos from other parts of Greece is through the several ferry services available. Of these, Blue Star is the cheapest and has a number of classes available from Economy to Business and even VIP.
What is the difference between the Mykonos ferry classes?
The VIP class is like a fancy lounge where you can relax during your journey. The business class has roomier seating and is much quieter. The economy class on most ferries usually looks like the seating in an aeroplane.
Some big ferries which run overnight routes also have sleeping cabins that come in two or four bunk rooms which include a desk and a small private bathroom. All car ferries also have outdoor seating which is open to all classes and cannot be reserved.
---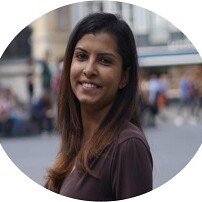 Award-winning Analyst, multi-nominated digital content creator and photographer Lavina Dsouza's words capture stories about culture and tradition mainly through its food and people. She has written and contributed to publications such as The Washington Post, Lonely Planet and Matador Network, to name a few. She is the editor of UntraditionalHumans.com, a non-profit created to share inspiring stories from women of colour who break free from traditions and choose happiness.
She's also a speaker passionate about DEI and champions solo travel. She has collaborated with numerous renowned brands such as Intrepid Travel, TripAdvisor, Travel and Leisure and Adobe, to name a few.
She can be found on Twitter and Instagram.
---
---
HERE'S MORE GUIDES FOR FUN THINGS TO DO IN GREECE!
---
Some of the links on this post are affiliate links. These do not cost you extra to use, but will help provide Continent Hop with a small commission if/when you purchase through them, to recover some of the costs of running this website and providing free content to help you plan your travel. I appreciate your support!
---