Getting from Belfast to Giants Causeway is worth a day trip as these mystical rock formations are full of stories and myths. They're the best stop on the Causeway Coastal route! Here's info on how far is Giants Causeway from Belfast and Giants Causeway tour from Belfast
Road trips in Northern Ireland are very common.
And while there may be many options, the best and most gorgeous hands-down would be the one from Belfast to Giant's Causeway.
Want proof? Lonely Planet announced in 2018 that the best region to see was Belfast and the Causeway Coast.
And if both places are featured here, then how can the journey between them not be the most beautiful ever? The drive from Belfast to the Causeway Coast is about 61 miles and can take two hours.
But there is plenty of things to do in between that you do not want to miss. So here is all the information you need to plan a trip from Belfast to Giant's Causeway.
---
How to get from Belfast to Giants Causeway
---
How far is the Giant's Causeway from Belfast?
The distance from Belfast city center to Giant's Causeway is 60 miles (96 kilometers). It will take you to Ballymena and from there, to Ballymoney before reaching Giant's Causeway in a little more than an hour.
If you decide to go to Giant's Causeway from Belfast via A29, then the distance is 72 miles (115 kilometres). You will cross Antrim and Maghera on your way. This route takes more than one and a half hours to reach Giant's Causeway.
---
Here are two ways to reach Giant's Causeway and they are by bus/train or car.
Belfast to Giants Causeway by car
One of the easiest ways to get from Belfast to Giant's Causeway is through a car. You can make as many stops as you like and spend as much time as you want at the sites you will encounter on the way.
The quickest route is by heading to the M2 towards Ballymena, then travelling up to Coleraine and reaching Giant's Causeway from there. However, for those driving up there, a scenic route will make up for all the effort.
For that go up to Larne from Belfast and then reach Giant's causeway through a winding coastal road that offers breath-taking views of the surrounding scenery.
Parking Giants Causeway: There is a car park at Giants Causeway that is open 24 hours. However while there are many spaces available it can only accommodate spaces enough for visitors who have purchased tickets. However, there is another car park nearby on Causeway Road where you can pay by Phone.
Parking at Giants Causeway at this spot costs about £10 and spaces are limited. From the car park you can walk to the Giant's Causeway.
Belfast to Giants Causeway bus
For those not preferring the car option, there is also a train and bus route.
From Belfast's Victoria Street, take a train to Coleraine. It runs every hour from Monday to Saturday with fewer options on Sunday. The journey should take around 1 hour and 15 minutes.
After arriving at Colerain, turn left into the bus centre to catch the 170 or 402 bus to the Giant's Causeway. Make sure to sit on the left side when travelling to the Causeway and on the right side on the way back.
---
Giant's Causeway tours from Belfast
Taking a guided tour of Giant's Causeway from Belfast is the best way to spend your day. You will not have to worry about driving, traffic, or parking space, and you will also get to stop by different interesting tourist attractions on your way. Here are the most-preferred Giant's Causeway tours that start from Belfast –
From Belfast: Giant's Causeway Fully Guided Day Trip – along with Giant's Causeway, this tour also covers Cushenden Caves, Carrickfergus Castle, Dunluce Castle. Carnlough Harbour, and the famous Dark Hedges. You will get to travel by a luxury coach with your guide. The tour lasts for 9.5 hours and lots of walking is involved. So, do not forget to wear comfortable shoes.
From Belfast: Giant's Causeway and Game of Thrones Day Tour – this popular Giant's Causeway tour will take you to several GOT filming locations. You will travel by air-conditioned bus and you can request a pickup from Belfast centre. The tour also covers entry to Giant's Causeway.
From Belfast: Causeway Express Tour Shore Excursion – This tour is specifically designed for cruise ship passengers and takes 5.5 hours. So, if you do not want to spend an entire day, this Belfast to Giant's Causeway tour is perfect for you. The short Belfast city and murals tour is covered along with GOT filming locations like Dark Hedges and Dunluce Castle.
---
Places to stop on the way from Belfast to Giants Causeway
---
The Dark Hedges, Ballymoney
The Dark Hedges located in Ballymoney was popularized by HBO's hit show, Game of Thrones. Irrespective of being a fan of the sitcom, everyone should visit this place, which is Ireland's most popular tourist attraction.
A long avenue of beech trees was planted at this location by the Stuart family in the eighteenth century.
Don't forget to photograph yourself standing or walking among these trees.
---
Additional Information
Address: Brehagh Road, Stranocum, Ballymoney
Distance from Belfast: 1 hour
Tip: Arrive before sunrise for the best photographs
---
Ballycastle, Northern Ireland
A quaint harbour town, Ballycastle is located by the sea and houses multiple independent cafes and shops. Thus, it is an excellent place to stop for a snack or lunch. The exceptional food combined with the atmosphere of these places makes this town adorable.
If someone gets to visit in August, then the 'Ould Lammas Fair' is unmissable. It is a 17th-century harvest festival that attracts 150,000 visitors every year. Wander among the hundreds of market stalls that sell local produce, handcrafted goods and artisan wares.
---
Additional Information
Recommended café to visit: Ursa Minor
Address: 45 Ann Street, Ballycastle
Timings: 10 am to 4 pm from Tuesday to Saturday
---
Kinbane Castle, Ballycastle
A stunning spot on the Causeway Coast, the Kinbane Castle is one spot that will make one feel like they are truly in Ireland. The ruins of the castle are on a cliff edge that is surrounded by rugged coastal scenery leaving all viewers speechless.
Many couples choose this place for their engagement or marriage shoots and it is very easy to see the reason why. This place is purely magical.
---
Additional Information
Address: Ballycastle BT54 6LP, UK
Price: Free
Timings: None
Tip: Wear trekking shoes or boots to avoid slipping
Carrick-A-Rede Rope Bridge
The Carrick-A-Rede rope bridge has plenty of history attached to it and wasn't always a popular tourist attraction.
Salmon fishermen have been building bridges to the island of Carrickarede for over 400 years. There was a time when this bridge had only a handrail and large gaps in the steps. But over time it has evolved.
This bridge that connects the mainland to the tiny island of Carrickarede today is world's one of the top pedestrian suspension bridges.
On a good day, one can spot three large caves and Scotland from here. Nevertheless, it is an exhilarating walk across it and offers spectacular views.
---
Additional Information
Address: 119A Whitepark Road, Ballycastle
Timings: 9:30 – 6:30
Price: £7 per person
---
Ballintoy Harbour
Another Game of Thrones location is the Ballintoy Harbour, which is located on a very steep and narrow road on the Causeway Coast.
The smell of the ocean from the harbour combines with the views of seaweed and varied rock formations offer a serene experience. One wants to sit here and read or write.
---
Additional Information
Address: Harbour Road, Ballintoy, Ballycastle
---
White Park Bay
During a long drive and with so many attractions to see, some people require a break to stop and stretch their legs. And the white park bay might be the perfect play.
A white sandy beach, it stretches as far as the eye can see making it the perfect place to stroll and walk around while watching the water lap against the shore.
If one is lucky, spot the White Park Bay cows, a speciality to this beach.
Cushendall and Cushendun
The two quaint little villages, Cushendall and Cushenden, sit at the heart of the Glens of Antrim.
The atmosphere combined with the scenery makes it feel as if it was plucked out of a historical movie. The small coastal village of Cushendun is situated right by the sea. But Cushendall is further back and houses brightly coloured villages.
Don't forget to say hello to Johann the Goat.
---
Dunluce Castle
Another Game of Thrones location, the Dunluce Castle is a little away from the Belfast to Giant's Causeway route. But it is worth a visit.
While there are hordes of castles in Ireland, this one has a history that dates back to the 13th century. A little 9 minutes away from the road, it is can access via a bridge from the mainland.
It is surrounded by steep drops on all sides but the views from here are like no other.
---
Additional Information
Address: 87 Dunluce Road, Bushmills
Price: £5 per person
---
Downhill Demesne and Mussenden Temple
Another Game of Thrones filming location, these places are around 35 minutes from Dunluce Castle and 45 minutes from Giant's Causeway.
They can be visited if there is extra free time during this road trip. The Downhill Demesne is a mansion that was built in the 18th century for Lord Bishop of Derry and Frederick the 4th Earl of Bristol.
However, it was mostly destroyed in 1851 during a fire.
Mussenden Temple is a library that models the Temple of Vesta located in Rome. Sitting on a cliff's edge, it overlooks the serene Demesne Beach.
---
Places to stay near Giants Causeway
Looking for places to spend the night near this attraction? Here are some ideas.
Located just a 25-minute drive away from Giant's Causeway, this hotel offers natural views and has a Bistro that caters to all types of dietary preferences. The rooms are very comfortable for the price and the Royal Portrush Golf Club is a 10 minute walk away. Perfect for a night or more. Book here
Looking to splurge a little? Then the Fullerton Arms can help. Plus they offer breakfast too. Book here
---
What to pack for a road trip to Giants Causeway from Belfast?
Raincoat and Umbrella – It can rain anytime. Therefore, it is important to carry them to ensure you do not get wet on the journey while visiting all the sites.
Waterproof Hiking Boots – Due to rains, the hiking routes can get slippery. Therefore, it is important to wear boots that can help prevent it and be comfortable on rocky paths.
---
---
Do not miss a chance to soak in the striking beauty of Giant's Causeway when you are visiting Ireland.
And of course, stopping by the places suggested above and exploring this lesser-known side of Ireland is also a must when you are going from Belfast to Giant's Causeway.
---
FAQs about Belfast to Giants Causeway
Can you visit the Giant's Causeway from Belfast?
Yes, you can visit the Giant's Causeway from Belfast and it takes a little more than an hour by road. You can drive your own vehicle, hire a taxi, or you can use public transport. You will also find different full-day and half-day guided tours from Belfast to Giant's Causeway.
Is Giants Causeway worth visiting?
The surreal sight of 40,000 interlocking basalt columns that were created after the volcanic eruption some 50 million years ago is worth all your time in Northern Ireland. These columns look as if they are rising from the sea and make for a breath-taking landscape.
What is there to see between Belfast and Giants Causeway?
There are several Game of Thrones filming locations as well as tourist attractions between Belfast and Giant's Causeway. You can stop by the Dark Hedges in Ballymoney, Kinbane Castle in Ballycastle, Carrick-a-Rede Rope Bridge, Carrickfergus Castle, Glenariff Forest Park, and Dunluce Castle. You can choose which sights to cover depending on your interest.
How long would you spend at the Giant's Causeway?
If you truly want to soak in the exciting Giant's Causeway landscape, then you will need around 3 hours for this destination. You need to walk down to the basalt columns, explore the area on foot, and then again, climb up to your vehicle. This uphill walk to the parking area can be tough for some and may need more time than expected.
---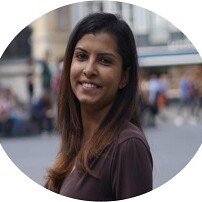 Award-winning Analyst, multi-nominated digital content creator and photographer Lavina Dsouza's words capture stories about culture and tradition mainly through its food and people. She has written and contributed to publications such as The Washington Post, Lonely Planet and Matador Network, to name a few. She is the editor of UntraditionalHumans.com, a non-profit created to share inspiring stories from women of colour who break free from traditions and choose happiness.
She's also a speaker passionate about DEI and champions solo travel. She has collaborated with numerous renowned brands such as Intrepid Travel, TripAdvisor, Travel and Leisure and Adobe, to name a few.
She can be found on Twitter and Instagram.
---
---
EXPLORE MORE OF NORTHERN IRELAND
---
Some of the links on this post are affiliate links. These do not cost you extra to use, but will help provide Continent Hop with a small commission if/when you purchase through them, to recover some of the costs of running this website and providing free content to help you plan your travel. I appreciate your support!
---