Majorca, or as Spain prefers to call it – Mallorca is a stunning island in the Mediterranean.
Even though it is full of luxury beach resorts, historic places carrying Roman and Moorish past, spectacular mountains, and sheltered coves, many prefer to spend only a weekend in Majorca.
The capital city of Palma is dotted with interesting places to visit during the day and bars and pubs to hit after the sun has set.
Other towns and villages on the island have preserved their charm. A historic tram ride is the perfect example of how Majorca lets you take a step back in the past.
When planning Majorca weekend, you will find plenty of tours and tourist attractions to add to the itinerary.
So, here is all the information you will need for your weekend in Majorca.
How to plan a weekend in Majorca
If you're wondering what to do in Majorca, there's lots other than just beach hopping! It is one of Spain's most attractive yet underrated destination for a reason!
When it comes to spending 2 days in Majorca, the best way is to stay in the capital city of Palma, explore its places of interest for a day, and head to nearby towns or villages on the next day.
Staying in Palma will give you a chance to spend most of the time understanding the city's history, architecture, and food scenes.
And as it has several interesting places nearby, you will be able to cover other villages without spending much time traveling.
Many people chose to stay in Alcudia during the weekend in Majorca, but it is recommended if you are looking for a slow-paced vacation without adding different tourist attractions to your itinerary.
Where to stay in Majorca
The island of Majorca is home to numerous hotels, resorts, service apartments, and homestays.
From luxury 5-star hotels in Majorca to modest BnBs, you can choose from different types of accommodations for your Majorca weekend depending on your budget and interest.
Hotels in Palma – staying in the capital city of Palma will help you make the best of your weekend trip in Majorca. You can consider staying in Hotel Saratoga as it is located in the heart of the city with different tourist attractions only minutes away.
If you are a beach lover, then this beachfront Melia Palma Bay is an excellent choice. You will find Ca'n Pere Antoni Beach only 350 meters away. Along with an outdoor pool, a roof-top terrace with sea views is also available at the property.
Hotels in Alcudia – staying in Hotel Can Mostatxins is a treat when it comes to relaxation as well as architecture. Restored 15th and 19th century buildings make it a good place to stay and its spa facilities ensure you are pampered during your weekend in Majorca.
You can also consider PortBlue Club Pollentia Resort & Spa. Even though it is a little away from the city center, you will like its extensive sports and spa facilities. It is located next to Can Cap de Bou Beach making it a perfect hotel for your Majorca weekend.
---
Day 1 in Majorca
You can keep the popular La Seu cathedral and Royal Palace of La Almudaina for the morning.
These two are the main points of interest when you are only spending 48 hours in Majorca.
If you feel a bit tired after taking a tour of the Gothic Roman cathedral and the impressive palace, then you can stop by S'Hort del Rei for some time.
This public garden in Majorca is known for its delicate fountains and beautiful statues. It will make for a lovely stop when you want to relax and still enjoy the beauty of the island.
For the 2nd half of the day, Castell de Bellver is a must.
Located a little away from the center of the city, this 14th-century circular castle is perched on top of the hill. Taking a free guided tour is recommended to understand its interesting history.
If you take a bus to the castle, then keep in mind that the bus stops at the foot of the hill and you will have to walk uphill to reach the castle.
When using public transport, you can consider booking this Palma de Mallorca: 24 or 48-Hour Hop-On Hop-Off Bus Tour for covering as many sights as possible.
Depending on how much time you have, you can either stop by Es Baluard Contemporary Arts Centre or Palma Aquarium.
Both the places are popular tourist attractions in Majorca and attract travelers from around the world.
Or you can skip these places and spend the remaining time lazing around Cala Major. This sheltered sandy beach will make your Majorca weekend fun.
Day 2 in Majorca
When it comes to making the best of the weekend in Majorca, it is recommended to take one of the popular Majorca day trips.
It will help you explore more places of interest without having to worry about transport.
A Tramuntana Tour with Historic Railway Ride is enjoyed by many. Taking this tour will give you a chance to soak in the stunning vistas of Tramuntana mountains and explore the charming towns of Deía and Valldemossa. Consider visiting Valldemossa on a day tour as you can get to ride the the historic train and spend a wonderful day in the country.
If you're travelling with kids, and still need some activities that can keep them engrossed yet fascinated, the Palmaquarium is a great choice. Full of Mediterranean sea life and events this aquarium of the Balearic islands is sure to keep everyone in the family busy for at least half a day if not more!
They also focus on conversation activities and have the only 360 degree whale experience in all of Europe!
How to reach Majorca
When it comes to getting to Majorca, taking a flight is the most preferred way. You can also consider taking a ferry to reach this beautiful Spanish island, but it is usually time-consuming.
And when you only have a weekend in Majorca, opting for a faster mode of transport is recommended. Here is detailed information about different modes of transport to reach Majorca.
---
Flight to Majorca
If you don't mind flying and are looking for a quick island getaway Majorca is worth considering!
As Barcelona is the capital and a major hub, flights are available for cheap and a flight to Majorca takes about 50-55 minutes. Airlines such as Vueling have good connectivity. Majorca is well-connected to other major cities in Spain by plane. You can take a direct Majorca flight from Barcelona, Madrid, and Valencia.
The international Palma de Mallorca Airport is also connected to different European cities, attracting millions of travelers every year.
As Barcelona is the capital and a major hub, flights are available for cheap and a flight to Majorca takes about 50-55 minutes. Airlines such as Vueling have good connectivity.
That has made Majorca one of the top weekend trips from Barcelona.
Hopping on a flight from Valencia will also take less than an hour to reach Majorca.
If you want to reach Majorca by flight from other cities, then the rates may be a bit higher, but it will still take less than 2 hours if you take a direct flight to Majorca from Madrid.
That makes it an ideal choice for those spending a weekend in Majorca.
---
Ferry to Majorca
You can also consider reaching Majorca by ferry if you are okay with spending more time traveling.
The port of Palma is located on the southwest of the island and you will find Alcudia port on the northeast side. Both the ports are served by multiple ferry operators and see the traffic of over 100 ferries every week.
You can take a Majorca ferry from Barcelona or Alcudia and the shortest distance ferry will take around 5 hours to reach the island.
You can opt for these ferry services when reaching the island for your weekend in Majorca. The longer duration ferries need more than 7 hours to reach Majorca.
---
No matter which tours you book and which beaches you visit, a weekend in Majorca will give you a chance to soak in the Spanish vibes.
All you have to do is hop on a plane and Majorca will welcome you with open arms!
---
FAQs – Weekend in Majorca
Is 3 days in Mallorca enough?
Spending 3 days in Mallorca is enough to cover all the major attractions and activities.
You can visit Cap de Formentor, stay in Palma, and take a trip to Tramuntana which is popular for its historic train ride. It will give you enough time to see the famous points of Majorca without rushing yourself.
Is 2 days in Majorca enough?
When you spend 2 days in Majorca, you will get enough time to see what the capital city of Palma is famous for. You can spend one day exploring Palma and then the next day, you can plan to tour the nearby areas.
Many tourists opt for a day trip to Tramuntana where you can ride on a historic train and cover Deía and Valldemossa towns.
How many days do you need in Majorca?
If you are looking for a fast-paced trip to Majorca, then 2 or 3 days are enough. But if you are interested in a laid-back Majorca vacation then it is recommended to spend at least 5 days here so that you will get enough time to be a part of the local canvas.
What is the best month to visit Majorca?
The best time to visit Majorca is from June to September as these are summer months.
The weather is warm and perfect for outdoor activities. If you prefer shoulder season, then consider visiting Majorca in October. The spring months of April and May also see a lot of tourists for several cycling and sailing events.
---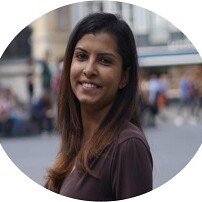 Award-winning Analyst, multi-nominated digital content creator and photographer Lavina Dsouza's words capture stories about culture and tradition mainly through its food and people. She has written and contributed to publications such as The Washington Post, Lonely Planet and Matador Network, to name a few. She is the editor of UntraditionalHumans.com, a non-profit created to share inspiring stories from women of colour who break free from traditions and choose happiness.
She's also a speaker passionate about DEI and champions solo travel. She has collaborated with numerous renowned brands such as Intrepid Travel, TripAdvisor, Travel and Leisure and Adobe, to name a few.
She can be found on Twitter and Instagram.
---
---
---
Some of the links on this post are affiliate links. These do not cost you extra to use, but will help provide Continent Hop with a small commission if/when you purchase through them, to recover some of the costs of running this website and providing free content to help you plan your travel. I appreciate your support!
---