If you're visiting Santander for a weekend, you need this travel guide to Santander, Spain with the best things to do! Santander has beaches, tapas and a lot of history and culture and this guide will help you get the most from your quick getaway!
I wake up, half groggy, wondering if I forgot to switch the lights off only to realize there was bright orange light streaming in, through a gap in the curtains. I got up and pulled the curtains aside to be greeted with one of the best sunrises I've had the pleasure of experiencing this year. It was picture perfect, with a ship and a few seagulls completing the image.
Unsure how long the setting would last, I took a quick shower and decided to jump-start my weekend in Santander by taking a walk down Playa Sardinero which I could see through the window of my hotel.
I wanted to experience the best things to do in Santander, but it was quite tricky as Santander had plenty to offer for all types of visitors. My visit was centered around food and I planned on having some of the best tapas in Santander, Spain.
However, the mountains were calling too, providing an excellent opportunity for hiking, but there were also beaches, museums and pre-historic cultural sites! Travel in Santander could be as packed as I wanted it to be, or very relaxing!
I opted for a mix of activities and in this Santander travel guide, I list all the unique things to see in Santander that I visited, so that you can pick what you feel best for yourself!
---
Some of the best things to do in and around Santander, Spain
Your Santander, Spain travel guide
---
FLIGHTS
There are direct flights to Santander from London, by Ryanair and Iberia, but these could be seasonal. The flight takes 2 hours from London. There are direct flights throughout the year from Barcelona and Madrid.
FERRY
Brittany Ferries operate a Portsmouth to Santander and a Plymouth to Santander route. You can even choose to make it a holiday with them if you wish so! They do not run daily and you may need to check the website to inquire about prices and availability.
---
DAY 1
---
8 AM
Start off by taking a walk on the beach or one of the promenades in Santander, Spain
Santander won't charm you instantly. This city which caught fire and burned for two days in 1941, underwent a dramatic change from stone and wood structures to concrete buildings, hence you won't find it similar to most other Spanish cities, but a stroll around the city will certainly make you grow fond of it!
It is abundant in natural beauty which you will instantly notice if you take a walk down any of the promenades or spend some time on any of the delightful beaches.
If you're living in the city, the Paseo de Pereda or the Paseo Marítimo de Santander are quite popular. If you plan to stay somewhere close to Hotel Chiqui, where I stayed, the El Sardinero beach and Playa de Mataleñas are the beaches which you should head to.
El Sardinero is very popular for surfing too and good for beginners to learn surfing too.
OR
Stay in and enjoy a relaxing continental breakfast. Many hotels in Santander  have breakfast included, so make the most of it!
---
9 AM
Head to Picos De Europa to get a taste of Green Spain. Stop for a festival on the way!
If you're looking to have an active holiday, then make your way to Liébana.
The drive takes about 3 hours and is quite picturesque. As a 3-hour drive can get tiring, taking pit-stops at the historic towns of Santillana del Mare and Potes is refreshing. Both towns will transport you to medieval times and have cute little cafes and markets where you can buy local products.
The markets in Potes sell colourful earthenware and a herb, that's used in making tea, 'Té Del puerto' which helps in digestion, something I'd never come across before, so I purchased a few sprigs before continuing on our way to Liébana. If you plan on spending the entire day walking or hiking in the mountains, Potes is a good spot to collect some fruits and pack a light lunch that you can then enjoy at the top.
If you're visiting in the month of October, the Feria Agroalimentaria "Hechu en Liébana" en Camaleño is held near Potes too, where Cocido is prepared for the community in bulk and there are many handmade and organic products for sale.
To get to Liébana, take the route via N-621 and A-8 till you get to Fuente Dé, which is where you can park cars and take the Fuente Dé Cable Car to the top.Keep an eye out for public holidays, as during these days it can get quite busy and the queues can be long to get the cable car.
---
1 PM
Time to try some authentic Cocido Montañés
The Picos De Europa or The 'Picos' form part of the Cantabrian mountain range and are bound to impress you. The short ride in the cable car takes about 3 minutes but gets you to an altitude of 1823 metres, where the air is crisp and the landscapes breath-taking.
You can spend an entire day here, picking from one of the numerous trails or directly head to Hotel Áliva, to have some Cocido Montañés, a stew that was made in the olden days with leftover meat. Cocido Montañés is now treated as a ritual and is had in a 2 stage process where the soup with noodles is served first, followed by the stewed meat and chickpeas.
The olives, local Cantabrian cheese platter and the chorizo are other delicacies you can try and I can confidently say are very tasty.
Once you've had your full, you can then opt either to walk back or take a 4×4 to the bottom.The walk back is quite tedious, hence if you do not catch a ride back from the restaurant, it is near to impossible to get one later.
---
DETAILS
Address: Puerto de Áliva s/n, 39588 Puerto de Aliva, Spain
Opening Hours: Open by season. Usual timings 8 AM – 12 AM
Reviews: You can check reviews here
---
4 PM
Time to drive back to Santander and get some rest
If you're not keen to spend an entire day, head back to Santander via the same route. Stop at Potes again if required and try some Orujo, a pomace brandy from Northen Spain. Once back in Santander, have a short siesta before heading to Canadio street to try some authentic tapas or pinchos as it's called in Cantabria.
OR
Spend an additional couple of hours exploring more of The Picos. Start your journey back to Santander when it starts getting dark and enjoy dinner once back by sharing some tapas!
---
8.30 PM
Indulge in some of the best tapas in Santander
Santander's location makes it one of the best in the country to try fresh seafood. It's also renowned for its pinchos, which are very affordable and tasty. There's no shortage of great restaurants in Santander serving delectable Cantabrian cuisine with some popular Spanish dishes like croquettes, fried squid and patatas bravas to name a few.
Plaza de Cañadίo is also the most favoured amongst locals to spend the evening and many tapas bars are located in the vicinity where locals are packed to the brim as it starts getting darker.
Start off your tour of the tapas bars in Santander from Plaza de Cañadίo, which is also the location for the pinchos bar of the same name. Then make your way to El Sol to have the best patatas bravas of your life!
El Sol also has outside seating, perfect for summery days. Bodega Fuente De has some of the best croquettes and jamon.
If you're vegetarian, do not miss out on the 'tomate', tapas from tonin y bruma, which will be the biggest tomato you've ever had and probably one of the tastiest! Lovers of oysters have El Mar to be thankful for, an oyster bar that exclusively serves only oyster and little bites.
You can either then dance the night away at any of the bars or clubs at Plaza de Cañadío, Calle de Santa Lucίa or Calle Río de la Pila. Expect crowds to turn up only after 12 though. If you've had a long day, then time to call it a night to get some well-earned rest.
---
Day 2
---
9 AM
Take a bike ride from El Sardinero to Palacio to Peninsula de la Magdalena
Bikes are available for hire at various points around Santander. You just need your credit card to use one and then need to return it back to a bike station once done. If you would prefer talking a walk, then it's a 30-minute walk to the Royal Palace of La Magdalena. Beautiful views guaranteed irrespective of the medium you choose.
On a clear day, you can expect to see views of Faro de Muoro and Isla de la Torre from the península. The palace now hosts various events throughout the year however you can take a tour inside and admire the paintings and architecture. You'll be shown quirky details like a oratory that is made entirely of copper and furniture restored with Vaseline!
---
DETAILS
Address: Av. de la Reina Victoria, s/n, 39005 Santander, Cantabria, Spain
Tours: 1st June – 30th September, only weekends at 10 AM, 11 AM and 12 PM. The rest of the year, weekdays 11 AM, 12 PM, 1 PM, 4 PM, 5 Pm and 6 PM. Weekends, 10 AM, 11 AM and 12 PM.
Cost: 3 Euros per person
---
11 AM
If you're a history buff, head to the Museo de Prehistoria y Arqueologίa de Cantabria
There are many prehistoric sites located in Santander and in the vicinity. The Museo de Prehistoria y Arqueologίa de Cantabria aka The Museum of Prehistory and Archaeology contains many relics and bones from the Paleolithic and European prehistory times. You can walk through a replica of the cave system of La Garma, and admire artefacts and ornaments created during those times.
OR
If it's a sunny day, head to the beach! Since it was just about taking a walk the previous day, if you love the beach, spend time on the vast beaches Santander has to offer with golden sands and calm waters.
---
DETAILS
Address: Calle Bailén, s/n, 39004 Santander, Cantabria, Spain
Tours: Tuesday to Sunday, October 1 to April 30 from 10 AM to 2 PM and from 5  to 7.30 PM
May 1 to September 30 from 10 to 2 PM and from 5 to 8 PM
Saturdays, Sundays and holidays from 10 to 2 PM and from 5 to 8 PM
Closed every Monday of the year, January 1 and 6, December 24, 25, and December 31.
Free entry after 5 pm on Sundays
Cost: 5 Euros per person, children 2 Euros
---
1 PM
Admire installations at Centro Botin and have lunch
Centro Botin is a massive structure that one will easily notice if they pass Paseo de Pereda. As with any city that undergoes massive architectural change, Santanderinos were sceptical when a gigantic structure was to be built right in front of some of the buildings that had survived the fire and would obstruct their views from city to the sea.
Keeping this in mind, Renzo Piano, the celebrated Italian architect, envisioned and designed Centro Botin, that gave me the impression of a spaceship when I first laid eyes on it, however some believe it looks more like a pinball machine.
While the structure is modern, it still evokes mixed feelings from locals and visitors, however, when one steps in, one can be sure that they'll definitely be in awe.
When I visited, an exhibition by Christina Iglesias was on display, titled 'Interspaces' and had structures involving latticework, corridors and labyrinths that made one take notice of their surroundings in detail.
Many distinguished artists have periodic installations on display at Centro Botin, and if you're unsure if this is for you, the views from the rooftop terrace and the tapas with a distinct Cantabrian touch at El Muelle del Centro Botín will definitely make you spend a few hours here!
Centro Botin is something you can keep returning to, as both the installations and the menu at the cafe keep changing!
---
DETAILS
Address: Calle Muelle de Calderón, 39002 Santander, Cantabria, Spain
Tours: October to May, Tuesday to Sunday, 10 AM –  8 PM. June to September, Tuesday to Sunday, 10 AM – 9 PM, closed every Monday, 1st of January and 25th December
Cost: 8 Euros per person, seniors and students 4 Euros. More pricing details here
---
---
4 PM
Head to the Monte Castillo caves to see some Paleolithic art
Located on the banks of the Pas river, about 30 minutes from Santander is where the labyrinth of El Castillo caves are located in the heart of the Monte El Castillo.
The caves at El Castillo saw many civilizations come and go over the past few centuries, however as the caves were discovered only about a hundred years ago, many prehistoric paintings are still preserved in their entirety.
Our guide clearly explained what inferences were drawn about the people who may have drawn it, based on the type of limestone the figures were drawn on. The bones of birds were used for blow painting in addition to painting by hand. There were many figures of bison, goats, deer and hand impressions that we saw in addition to an eerie and stunning formation of stalactites or stalagmites in various forms.
Iron and charcoal were the substances used to draw and the calcium deposits wee used to figure out how old each painting could be. The whole experience was fascinating.
Visitors can only enter the caves with a guided tour and the tour lasts for about 45 minutes and should be on your to-do list!
---
DETAILS
Address: SP-6022, s/n, Puente Viesgo, Cantabria, Spain
Tours: Timings are different per season and are sparse. For the most up to date timetable please visit the website here
Cost: 3 Euros per person, children 1.5 Euros
---
8.30 PM
Time for some tapas again before wrapping up
After returning back to Santander take a nap if you please! Tapas time starts around 8, so once you're hungry make your way to Casa Lita. Serving more than 300 varieties of tapas aka pinchos which are prepared fresh, daily, have your fill or head off to another tapas bar for more.
El Diluvio is located just around the corner and serves some of the best tortillas in Santander. If tortillas don't excite you but seafood does, try the tapas with some imitation Gulas on it. Angulas, the 'caviar of Spain' is nothing but baby eels, but as they can sometimes be even more expensive than caviar, mock Angulas are used.
If you still have the energy to spare, continue pub hopping as Santander is a city that stays awake through the night. If you'd rather spend some time away from the crowds, you can always pick a spot on the promenade and enjoy the sounds of the sea.
Santander will surprise you in more ways than one. It is one of the most versatile, under-the-radar cities and one you should pay a visit to before the crowds do!
---
---
The capital of region of Cantabria is Santander, situated between the Basque Country to the east and Asturias to the west. It is one of the regions of Green Spain, which also includes the Basque Country, Asturias, Cantabria, and Galicia, and is rich in both history and culture.
The Cantabrian Mountains and the Bay of Biscay keep the temperatures mild and pleasant.
---
WHAT IS THE BEST TIME TO VISIT SANTANDER
With average temperatures about 25 degrees being the highest and being the hottest, June to September is still the hottest and the best time to visit Santander. However, the climate is humid, and the area can expect light, sporadic rainfall, which usually subside quickly and are moderate.
The pleasant weather tends to draw crowds, making Santander busier than usual. When I went in October, Santander had a high of about 28 degrees on the first day, but thundershowers were predicted for the second day, and it rained all day, which was a little off-putting.
It was pleasant, though, and there were times during the day when it didn't rain.The coldest months are December through February, and it may be below zero in the mountainous areas close to Liebana.
---
HOW TO GET AROUND SANTANDER
If you're looking to get around in Northern Spain and not just Santander, this post for trains in Northern Spain might help.
While in Santander:
FROM THE AIRPORT
Finding an Uber in Santander is difficult but you can easily get a cab or taxi to reach the city center, around 6 kilometers from the airport.
The ride is pretty cheap and will cost around 10 Euros. You also have the option of taking public transport buses which leave from Santandar Airport every 30 minutes and take around 15 minutes to get to the city.
It will similarly take around 15 minutes to reach Santander's Seve Ballesteros airport from the bus station and the buses leave 30 minutes apart. The ticket price for a single trip is 2.90 Euros. You can refer to the link here for more information about the airport.
TAXI
By taking a taxi from any of the city's taxi stands, you can get around Santander with ease. The closest taxi stand to you will be shown if you use Google Maps and choose the taxi option.If you're at a restaurant or at your hotel/lodging in Santander, you can also ask to pre-book cabs.
BUSES
Each bus trip in Santander costs 1.30 Euros, and the city has a good bus network. To check the many routes available, you can refer to the link here. Many bus stops feature maps that also show the route map, and some even have boards that offer information about bus arrivals.
---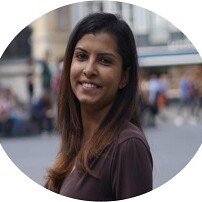 Award-winning Analyst, multi-nominated digital content creator and photographer Lavina Dsouza's words capture stories about culture and tradition mainly through its food and people. She has written and contributed to publications such as The Washington Post, Lonely Planet and Matador Network, to name a few. She is the editor of UntraditionalHumans.com, a non-profit created to share inspiring stories from women of colour who break free from traditions and choose happiness.
She's also a speaker passionate about DEI and champions solo travel. She has collaborated with numerous renowned brands such as Intrepid Travel, TripAdvisor, Travel and Leisure and Adobe, to name a few.
She can be found on Twitter and Instagram.
---
---
---
Some of the links on this post are affiliate links. These do not cost you extra to use, but will help provide Continent Hop with a small commission if/when you purchase through them, to recover some of the costs of running this website and providing free content to help you plan your travel. I appreciate your support!
---