Cruising is fun no matter the time of year. When poeple think of cruises, they imagine summer and beaches however you can cruise even in January if you pick the right places. Here's the best cruise destinations in January even if you're cruising solo!
Exploring the world solo is one of the most exciting and exhilarating travel experiences you can have.
The chance to be free, to go exactly where you want to go and do exactly what you want to do, is intoxicating and gives you a unique perspective on the wonderful places you end up.
Solo travel also offers you the chance to get to know yourself a little better and connect with yourself, as well as offering the opportunity to make new friends as you go!
When you think about a cruise, you might not automatically connect it with traveling solo. Cruises tend to be associated with romantic getaways, family holidays, or packing up and exploring the world with your partner.
But a solo cruise can be an absolutely amazing experience and is a wonderful way to explore the world by yourself.
A cruise takes care of many of the challenges and problems associated with traveling solo, making everything a little more convenient, and it doesn't hurt that it is incredibly hard not to make friends on board a cruise ship!
When you add in cruises that are specifically targeted at singles, with matchmaking events and the chance for a little romance on the high seas, suddenly taking a cruise to Europe by yourself sounds like a brilliant idea!
So if you'd like to try exploring the world alone in a slightly different style, take a look below at the best cruises to take by yourself, either as a steadfastly solo traveller or as an adventurer looking for love!
The best cruise destinations in January for solo travellers
---
A cruise is a great way to meet new people and make new friends, so it is unsurprising that cruises for singles have become increasingly popular.
Some cruise lines offer single staterooms and organize matchmaking events specifically for singles, while others even create 'singles-only areas' where solo travelers can socialize with other, similarly unattached adventurers.
---
Norway
For sheer raw natural beauty and stunning scenery, it is hard to beat a cruise to Norway. From the jaw-droppingly beautiful fjords to the charming, curious wildlife, it is a delightful destination and one that is great to share with new friends.
There are plenty of Norwegian cruises that offer individual rooms (a rarity on most ships) and that waive the single-person supplement, as well as that provide specific activities for singles like speed dating or open-bar meetups.
---
Central Europe
For high culture, art, and history, a cruise through central Europe is the ultimate choice.
River cruises are particularly good choices for singles as on smaller ships it is more common to find smaller cabins, so taking in places like Vienna, Budapest, Prague, and Nuremberg is perfect.
A central European cruise offers all the elegance, sophistication, and style of these historic Old World destinations, and conjures up some serious romance along the way if you happen to hit it off with a special someone along the way.
---
The Bahamas
A cruise from Miami to the Bahamas is a lively, exciting affair. From the glitz, glam, and bright lights of Miami to the sun-kissed paradise beaches of Grand Bahama, a Bahamas cruise offers the chance to party, dance the night away, then relax in the lap of luxury.
This combination of good times and comfort make it the ideal choice for a single traveller looking for a little flirty fun, or really anyone traveling alone and hoping to dance until they drop.
---
Brazil
For more adventurous singles, a cruise down the Amazon river might be just the ticket. Brazil offers a slightly more rugged, exciting cruise experience, but this doesn't diminish the attraction for single travellers one little bit.
There is something deeply romantic about exploring deep, dark jungles and mangroves, and the stunning wildlife you will see along the way is an additional bonus. A South American adventure along this wide river basin is a great option for single cruise travellers.
---
The Galapagos
The Galapagos Islands are a truly one-of-a-kind destination, the birthplace of the theory of evolution, and stunning addition to any cruise itinerary.
For singles, the chance to see animals, birds, and marine life found nowhere else in the world is a truly unique experience, and the Galapagos offers amazing activities like snorkeling, scuba diving, and luxury camping trips that are perfect for lone travelers.
The Galapagos as a cruise destination might appeal particularly to slightly older singles, who are less in need of late-night entertainment and lively dance parties but will enjoy the chance to share once-in-a-lifetime experiences with new friends.
---
The Mediterranean
For romantic backdrops and beautiful sea views, a Mediterranean cruise is a gold standard.
Think of the most romantic and picturesque places in the world and chances are spots like Cinque Terre, Santorini, the Amalfi Coast, or the French Riviera will come to mind.
The Mediterranean lets you visit this highlights reel of beauty, as well as discover even more exciting, sophisticated, and exquisite spots such as Sicily, Malta, the Bay of Kotor, and Istanbul.
A Mediterranean cruise is also one of the best choices for foodies, with fine dining and a fabulous variety of cuisines everywhere you land, as well as offering endless options for art and culture lovers.
---
Some popular exotic cruise destinations in January
---
The key to traveling solo on a cruise is to go places where there are loads of fun things to do and adventurous activities to take part in!
If you are with your family then relaxing by the pool or on the beach might sound like bliss, but as a lone adventurer, you are going to want to fill your days with great experiences as much as you can.
Plus, it is far easier to meet people and make friends when you've got a shared activity to do or a hobby in common!
---
The Caribbean
Although the popular vision of the Caribbean is exclusive palm-fringed beaches, turquoise waters, and endless, glorious sunshine, there is an extraordinary variety to be found in the Caribbean, which makes it the perfect place for a solo traveller to explore on a cruise.
From the vibrant, music-filled towns of Jamaica, where a great meal and a live band await around every corner, to the jungle-covered hiking paradise of Puerto Rico, there are an awful lot of experiences for almost every type of traveller to be found.
You can snorkel and scuba dive in the Dominican Republic, try sumptuous seafood in Turks & Caicos, and embrace elegant luxury in St Lucia. The opportunities are endless.
---
Mexico
Mexico is a similarly brilliant spot for solo cruise travellers, again because of the extraordinary amount of things to see and do.
A Pacific coast cruise offers wine tasting in Ensenada, whale watching in Los Cabos, untouched gorgeous beaches in Zihuantanejo, and world-class surfing in Puerto Escondido, alongside the stunning food scene of Oaxaca.
On the Caribbean side, you'll discover Mayan magic and mystery in Quintana Roo and Yucatan, exploring ancient pyramids, deep, dark cenotes, and some of the best beaches in the world, alongside the amazing party scenes of Tulum and Cancun.
Mexico is one of the best places in the world to be a solo traveller, and a cruise lets you experience all of the most exciting parts of the country in a single trip!
Costa Rica
For adventurous, outdoor-loving solo travelers, Costa Rica is one of the greatest destinations on the planet.
From remarkable surfing beaches to arduous jungle hikes, mile-long ziplines over cloud forests to eco-tourism farm stays, Costa Rica is rugged, beautiful, safe, and eco-friendly, and the perfect spot to explore alone or with a new group of friends you just met on board.
---
Alaska
Of course, if you are talking about destinations where the main event is the great outdoors, it would be impossible not to mention the Last Frontier, the vast wilderness that is the great state of Alaska.
Alaska combines wild, empty tundras, massive, ancient glaciers, and jagged mountain peaks, alongside a coastline for which the world 'dramatic' just doesn't cut it.
Sled with dogs, hike frozen glaciers, explore sub-zero ice caves, and kayak across sparkling bays, surrounded by remarkable landscapes and some of the most exciting and interesting wildlife to be found anywhere.
What more could a solo traveler ask for? Exploring Alaska by cruise is a wonderful experience, not least because you can discover the best of this vast wilderness and still retreat to your luxury stateroom at the end of the day!
---
Croatia
If the Mediterranean, in general, is amazing for romance, then Croatia is the place to be for solo travelers.
From the stunning medieval walls of Dubrovnik to the remote islands of Vis and Krk, Croatia offers the same awesome coastline as other Mediterranean spots like Italy or Spain, with a delightful dash of Eastern European influence that makes it extra special.
It is also a rather more affordable place to explore than most other Mediterranean destinations, making it absolutely ideal for a solo traveler looking to survive on a shoestring budget!
Cruising can be a little overwhelming if you haven't ever been on one however once you do like it, it can be quite addictive!
Its important to pick the right cruise line and destination so that its a good mix of activities and leisure. I hope you now have some inspiration for destinations for your next holiday and get to planning right away!
---
FAQs – Best Cruise Destinations in January
Is January a good time to go on a cruise?
You may find it surprising but January to March is considered to be the best time to book and go on that cruise trip you always wanted. This period is known as the wave season when almost all the cruise lines offer a discount or a promotion.
 Where is the best place to cruise in the winter?
If you are tired of the wintery cold and want to go on a warm winter cruise, then Grand Cayman in the Caribbean is the best destination for you. Other best places to cruise in the winter are Nassau in the Bahamas, Cozumel in Mexico, Belize, and Cabo San Lucas in Mexico.
Is January a good time to cruise to the Caribbean?
January to March is the dry season in the Caribbean, making it a good time to cruise to the Caribbean. January sees the least rainfall and the climate is also typically tropical.
The temperature stays in the upper 80s during the day and usually falls to the mid-60s after sunset. It will change depending on which Caribbean region you explore, but it will make for an ideal winter cruising experience.
What cruises are there in January?
You can opt for Alaska cruises, Arabian Gulf cruises, Bahamas cruises, Caribbean Cruises, and eastern and western Mediterranean Cruises. You can also check the European cruises, specifically Northern Europe cruises.
---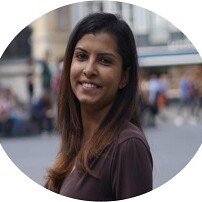 Award-winning Analyst, multi-nominated digital content creator and photographer Lavina Dsouza's words capture stories about culture and tradition mainly through its food and people. She has written and contributed to publications such as The Washington Post, Lonely Planet and Matador Network, to name a few. She is the editor of UntraditionalHumans.com, a non-profit created to share inspiring stories from women of colour who break free from traditions and choose happiness.
She's also a speaker passionate about DEI and champions solo travel. She has collaborated with numerous renowned brands such as Intrepid Travel, TripAdvisor, Travel and Leisure and Adobe, to name a few.
She can be found on Twitter and Instagram.
---
---
---
Some of the links on this post are affiliate links. These do not cost you extra to use, but will help provide Continent Hop with a small commission if/when you purchase through them, to recover some of the costs of running this website and providing free content to help you plan your travel. I appreciate your support!
---