Zanzibar is one of the most sought after island destinations in Tanzania in the Zanzibar Archipelago. Azure beaches and the warm Indian Ocean provide some of the best seafood and sunsets here. The people are welcoming and the town is bursting with culture. Here's what to do in Stone Town Zanzibar to have the best time!
Zanzibar is a city, island, and region in Tanzania. Located off the coast of Eastern Africa, it lies east of Dar es Salaam on mainland Tanzania, and west of the border with Kenya. The capital is Zanzibar City.
It is a popular tourist destination known for its history and beaches. Of historical importance, Zanzibar is the only place in Africa where cloves grow and was once a major clove producer. Moreover, the island produces spices such as nutmeg, mace and black pepper.
Today's Zanzibar is known for its abundant wildlife reserves, which are home to an astounding array of marine species: dolphins (bottlenose and common), dugongs, sharks, and several species of turtles. Also in the waters surrounding Zanzibar are coral reefs that contain a variety of fish species.
The culture of Zanzibar is diverse, with its own language, and cuisine. and music. Zanzibar has a rich history that can be traced to early settlers from Southern Arabia, particularly Oman.
There's much to do here and I share what to do in Stone Town to have an amazing few days here!
---
Do you need a visa to visit Zanzibar?
Since Zanzibar is part of Tanzania, most foreign visitors still need a visa to get there. Foreign travellers can obtain a visa in a traditional way, which means visiting the nearest Tanzanian Embassy located in their neighbourhood. It is the official way to get an obligatory permit.
However, those who want to make it a bit easier and quicker, can apply for the electronic version of the Tanzania visa and get the necessary document delivered directly to the email inbox.
Tanzania e-Visa is an electronic, single-entry visa that allows its holders to visit Tanzania (and Zanzibar) for up to 30 days. That's more than enough for a one-time trip!
You can use it for all leisure-related purposes, whether you want to go on a relaxing getaway, an exciting safari exploration, or a combination of both, the Tanzania e-Visa will be perfect!
The best part about obtaining the Tanzania e-Visa before visiting Zanzibar is the fact that the whole application process takes place online.
How to apply?
Grab your valid passport, the applicant's face photo (that also may be in digital form), and your return ticket.
Submit your application at least 10 business days before the planned trip and wait for the approved document to be delivered to you via email.
---
What to do in Stone Town Zanzibar
Here are some of the things to do in Stone Town
---
Sample Street Food at Forodhani Gardens
Forodhani Gardens is a beautiful park by the Indian Ocean coast, located right across the Arab Fort.
The park makes for a beautiful post-lunch afternoon stroll but the garden truly comes alive after dark for its nightly food market. The Zanzibar Pizza is the hottest selling dish here (literally and metaphorically!).
You can also try out many other Zanzibari and Swahili dishes here including grilled cassava, coconut bread, garlic chapatti, meat kebabs and roasted corn amongst others.
---
DETAILS
Address: Mizingani Rd, Zanzibar, Tanzania
Timings: Open 24 hours
---
Take a Sunset Stroll at Stone Town Beach
Since Stone Town is surrounded by the beach on almost three sides, it's most likely to end up at Stone Town Beach at some point or the other.
A stroll on the beach is a great way to get acquainted with the local way of life in Stone Town since most people come here to relax after a hard day of work. You can see people dancing, doing acrobatics, singing and just having a good time, especially during the sunset.
---
---
Pay a visit to the Old Fort
The Old Fort goes by several names.
Many also know it as the Arab Fort and locally this place is called Ngome Kongwe. This fort was built in the 17th century by the Arabs from Oman atop an older Portuguese Church.
It was built to help defend against the occupying Portuguese army. Ever since, the fort has gone through several transformations – from a prison in the 19th century to a tennis club around the time of the 1964 Revolution!
In the present day, tourists can explore this fort for free and visit its many souvenir shops and restaurants. Every now and then, there are also live musical performances at the open theatre in the fort – so keep an eye out for those!
---
DETAILS
Address:  Mizingani Rd, Zanzibar, Tanzania
Timings: 8 AM to 6 PM
Approximate price: None (tours cost extra)
---
Take a Dhow to Nakupenda Beach
A dhow is a traditional wooden Arabic sailing boat that is widely used even today in Zanzibar. While on a sunset stroll on Stone Town Beach, you can see them coming back to port after a full day of fishing.
There are also several sunset dhow cruises which you can take from Stone Town but the best way to enjoy the charm of a dhow is to take one to the famous Nakupenda Beach.
Nakupenda means 'I love you' and that is exactly how you'll feel about this white sandy beach with azure blue waters after just one visit!
---
---
Stay at a Swahili Hotel
Spending a night (or two) in a traditional Swahili-style hotel can give you an insight into the Swahili architectural style that was once used widely but is now being replaced by more modern options.
One of the most preferred of these hotels is the Swahili House Inn. This once was a house belonging to an Indian merchant in the 19th century. Almost 125 years later, this building has been converted into a hotel from its original state, making for a very authentic experience!
---
Go Shopping at Darajani Market
Darajani Market is where most of the action happens in Stone Town. This is the hotspot where most commercial activities of the town take place, also making it a great spot to shop for souvenirs.
Some of the most unique things to buy here include the kanga which is a colourful traditional garment worn by women (and sometimes even men) as a wrap-around skirt, head wrap or other styles.
You can also buy locally made handbags, paintings and textiles here to take back home for yourself, or for friends and family. Another very interesting thing to experience at Darajani Market is the early morning fish auction that takes place daily at the end chamber of the market.
Experiencing the frantic energy with which all these exotic fishes get sold off is definitely a sight to behold.
---
DETAILS
Address: Market St, Zanzibar, Tanzania
Timings: 8:30 am to 6 pm
Approximate price: Entry free
---
---
Visit the Hamamni Persian Bath
My first experience in a hammam was in Granada while I was travelling through Spain in a week. It was an invigorating experience and I came away with soft glowing skin after my experience!
Sitting bang in the middle of the town is the first Hamamni Persian Bath that was ever built in Zanzibar.
In 1889, This public bath was commissioned by Sultan Barghash bin Said to be made by Shirazi architects in the traditional Persian style. But because of its entry fee back then, it was only accessible to the elite and the wealthy.
These baths went on to be used until as late as the 1920s. In the present day, however, tourists can visit these ancient rooms that once served as baths for 1 USD only. The Warm Room is something to look out for – named so because of geothermal water springs flowing underground.
---
Details
Address:   Soko Ya Mohogo, Near Maru Maru Hotel, Zanzibar, Tanzania
Approximate price: 1 USD entry fee
---
Enjoy Local Life at Jaw's Corner
Jaw's Corner is where most of the local socializing takes place throughout the day. Jaw's Corner is essentially an intersection of the narrow alleyways of Stone Town where local men sit to chat over copious hot cups of Zanzibari black coffee.
The coffee is served in traditional Zanzibari style – unsweetened and coffee sips are alternated with sweet peanut brittle for maximum flavour.
---
Visit the Freddie Mercury House
Freddie Mercury, the much-acclaimed British singer and songwriter and the lead vocalist of Queens was born in Stone Town before being sent off to India for schooling.
The place where he spent his initial few years located in the main market area in Stone Town is now the Freddie Mercury Museum which was inaugurated in 2019.
Visitors here can get a peek into the challenging yet glorious life Freddie Mercury lived. There is also a restaurant named Mercury located on the waterfront that honours the singer.
---
DETAILS
Address:   P.O. Box 3181, Shangani, Stone Town, Zanzibar
Timings:  10 am to 6 pm
Approximate price: 7 GBP for adults; 4.5 GBP for kids
---
---
Go Snorkelling at Chumbe Island
Chumbe Island makes for a great day trip from Stone Town since it is a hub for water activities. The island houses a well-protected reef sanctuary which is home to over 200 species of fish and reefs.
The sanctuary is kept in check from polluting human activities by disallowing scuba diving and needing the procure a special permit for snorkelling. This site is so pristine that some even call it the best snorkelling destination in all of East Africa – making it definitely worth a visit!
---
Marvel at the Famous Stone Town Doors
If there's one thing Instagram tells you about Stone Town, is its many beautiful, intricately designed doorways. These Zanzibari masterpieces often give an insight into the homeowner's heritage and economic status.
These doors are also symbolic of a person's wealth and the designs on many of these doorways can be traced back to India, specifically Gujarat with the massive brass studs.
On the other hand, Arabic doors usually have inscriptions on top and the lotus, pineapple and chains are common motifs found on these doors.
---
Try Your hand at Coffee Roasting at Zanzibar Coffee House
Coffee is one of the most important drinks in Tanzania and there's no better way to learn about its cultural importance than to attend a coffee roasting session at Stone Town's Zanzibar Coffee House.
Apart from a day of roasting and tasting the aromatic Arabic coffee, Zanzibar Coffee House also offers accommodation as well as a tour of their coffee farm. The rooftop breakfast available in this place is also to die for!
---
DETAILS
Address:  1563, 64 Mkunazini St, Zanzibar, Tanzania
Timings:   8:30 am to 6 pm
---
---
Visit the Giant Turtles of Changuu Island
Changuu Island is a popular day trip from Stone Town and is known for its Aldabra giant tortoises which can be seen roaming around freely throughout the island.
These tortoises are believed to have been brought from the Seychelles to Zanzibar. Changuu Island is also a wonderful snorkelling destination thanks to its beautiful reefs. However, there is a dark past to this island as well.
This island formerly used to be a punishment place for slaves and also a quarantine place for those with yellow fever. Hence, Changuu Island is also often known as Prison Island.
---
Pay Respects at the Malindi Mosque
Malindi Mosque is an architectural phenomenon that is also one of the oldest mosques in Stone Town. It is also known as the Ijumaa Mosque and is believed to have been built around the 1830s on the site of an even older mosque, possibly dating back to the 15th century.
The mosque belongs to the Sunni sect and it is known to be one of the only three mosques featuring cone-shaped minarets sitting on square platforms. A mausoleum which is located right across the street from the mosque is also worth checking out.
---
DETAILS
Address:  Malindi, Stone Town, Zanzibar
Timings:  Open 24 hours
Approximate price: Entry free
---
Attend a Zanzibari's Taarab Performance at Dhow Countries Music Academy
The Dhow Countries Music Academy (DCMA) is Zanzibar's only music school that aims to protect the traditional music of countries from the "dhow region" including Comoros, Iran, Oman, Kuwait – and of course, Tanzania.
The DCMA hosts concerts every week at the Old Customs House in Stone Town, of which a Taarab performance is something worth experiencing.
---
DETAILS
Address:  Mizingani Road, Opp. Mizingani Seafront Hotel, Zanzibar, Tanzania
Timings:  Monday to Friday 9 am to 5 pm; Saturday 9 am to 4 pm; Sunday closed
Approximate price: Prices vary (usually around 5 GBP)
---
---
Take a Spice Tour at Spice Island
The Zanzibar archipelago is also often known as the "Spice Island" because of its strong usage of various spices in traditional food. The spices of Zanzibar find their origins in India, Persia and the Arab region.
Some of the most commonly grown spices here include nutmeg, black pepper, cloves and cinnamon. The spice tour is a fascinating experience to learn how each of these spices is grown, and their importance in foods as well as overall health.
---
Indulge in Swahili Food at Lukmaan Restaurant
Lukmaan Restaurant is the place to go to for those who would like to experience traditional Tanzanian cuisine. What earlier used to be a regular local haunt has become increasingly popular with tourists wanting to get a taste of the local food.
Some of the must-try dishes here include the mouth-watering octopus curry which pairs well with the pilau rice. While curries taste different to those you would have in India (or Goa), most spices are similar.
They also have a number of fruit juices and smoothies options (especially the passionfruit juice) on their menu which are worth a try.
---
DETAILS
Address:  The Mkunazini Baobab tree, New Mkunazini Rd, Zanzibar, Tanzania
Timings:  8 am to 11 pm
---
---
Experience a Local Festival
Attending local festivals is a great way to immerse in a foreign culture and this goes for Stone Town too.
Throughout the year, several festivals take place in the town including the Zanzibar International Film Festival, Stone Town Food Festival and the Sauti za Busara arts festival.
Make sure to search up the dates for these and see if they coincide with your vacation dates!
---
Visit the Livingstone Beach Restaurant
The Livingstone Beach Restaurant is an iconic place in Stone Town which pays homage to David Livingstone.
David Livingstone was a Scottish explorer who led the acclaimed anti-slavery campaign which led to the abolishment of the slave trade in 1873. He lived in Stone Town before embarking on his last expedition.
The house where he used to live is now the Livingstone Beach Restaurant, a great place to grab a bite or enjoy Stone Town's nightlife.
---
Address:  House 48 Shanghani Stone Town, 3661, Tanzania
Timings:  Monday to Thursday 10:30 am to 12 am; Friday and Saturday 12:30 am to 2 am; Sunday 10:30 am to 12:30 am
---
Take a Day Trip to Jozani Forest
The Jozani Forest, or the Jozani Chwaka Bay National Park, is the only national park in Zanzibar. It is most famous for its population of the Zanzibar red colobus, also known as Kirk's red colobus.
Other animals found in this national park include the nocturnal Zanzibar tree hyrax, bush babies, Sykes monkeys and the Zanzibar leopard.
The park is also home to over 50 species of birds and butterflies, making it a paradise for nature enthusiasts! The park has a natural trail and mangrove swamps which can be explored on foot along with a guide.
---
DETAILS
Address:  Mapopwe, Tanzania
Timings:  7:30 am to 5 pm
Approximate price: 1,200 TZS (less than 1 GBP)
---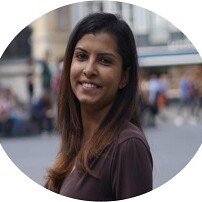 Award-winning Analyst, multi-nominated digital content creator and photographer Lavina Dsouza's words capture stories about culture and tradition mainly through its food and people. She has written and contributed to publications such as The Washington Post, Lonely Planet and Matador Network, to name a few. She is the editor of UntraditionalHumans.com, a non-profit created to share inspiring stories from women of colour who break free from traditions and choose happiness.
She's also a speaker passionate about DEI and champions solo travel. She has collaborated with numerous renowned brands such as Intrepid Travel, TripAdvisor, Travel and Leisure and Adobe, to name a few.
She can be found on Twitter and Instagram.
---
---
EXPLORE MORE READY-TO-GO ITINERARIES
---
Some of the links on this post are affiliate links. These do not cost you extra to use, but will help provide Continent Hop with a small commission if/when you purchase through them, to recover some of the costs of running this website and providing free content to help you plan your travel. I appreciate your support!
---