Cornwall is one of the most stunning locations in all of England, probably the U.K. It has the warmest weather at most times. It isn't just the weather though that makes it so appealing. Numerous idyllic villages, fishing towns, coves and beaches make it one of the top places to visit in Cornwall and here are some Penzance things to do that'll make it an excellent holiday!
It poured that day in Penzance, yet St. Michael's Mount appeared like a castle out of a fairytale through the mist, rain and clouds.
On the pathway, we could see the marshes and kept an eye out for fossils. Occasionally a lazy crab peeked through the rocks while we made our way to the Mount.
St. Michael's Mount is one of the most photographed locations in all of the U.K.
It is probably one of the reasons why many people are drawn to Penzance.
Marazion is located about 3 miles from Penzance which makes it one of the easiest locations to get to irrespective of whether you're driving or using public transport.
While most of the U.K. has excellent public Cornwall doesn't have the best connectivity which makes Penzance a great spot for those who looking to get the most out of their getaway yet not travel around much.
These Penzance things to do have a little something no matter what type of traveller you are!
---
Penzance things to do – for the best of Cornwall!
---
Where is Penzance?
Penzance is a harbour town and port in the Penwith district of Cornwall, United Kingdom. The town is sheltered by Mount Bay, a large, sweeping bay of the English Channel. Due to its location, Penzance is warmer in summer and has milder winters than the rest of the country.
---
How to get to Penzance?
You can reach Penzance by air, train or road.
By road: Take the motorway towards Exeter until you reach A30. Stay on this road which is signposted till you reach Penzance. If you're travelling can take the alternative scenic route through the A39 Atlantic Highway till you reach the A30 at Riverton Cross.
The National Express runs buses from some locations in the UK to Penzance. Book tickets here.
Cornwall is a great location to explore via a motorhome. This way you can save on accommodation costs and spend more time here!
By air: To reach Penzance, you need to take a flight to Cornwall Airport Newquay and travel by road to Penzance. Penzance is about 66 km away from the airport. There are regular flights from London and Manchester.
By train: If you are travelling from London and the South, you can book tickets through the Great Western Railway. If you are travelling from Birmingham or further north, book the tickets through Cross Country. 
---
Where to park in Penzance?
Penzance has ten car parks. The rates vary from 1 to 1.50 £ per hour to 8-10 £ per hour. Parking in the council car park is free from 4 pm to 9 am on all days.
---
---
Where to stay in Penzance
There are many small towns, villages and neighbourhoods around Penzance that you could stay at.
There are pretty cottages with sea views you could pick or for a unique experience, you could opt for glamping! Unique Hideaways has some of the most offbeat and pretty pods in Cornwall.
The Hideaway, Mount Lookout and Mount View Sunrise Safari (all pictured below) near Penzance have some of the best locations, with views of the sea, so you're ensured privacy with sustainability and a touch of luxury too! You can rest assured you'll be toasty in winter and feel breezy when it's warm!
Mount View Sunrise Safari even has a hot tub for all those chilly evenings, perfect to watch the sunset with a glass of Prosecco!
Check this page for more options of places you could go glamping in Cornwall (below properties included). If you're looking for options where you could also take your furry friends along, you'll find dog-friendly glamping options here. (Images courtesy Unique Hideaways)
Planning a holiday to Penzance is one of the most fun things you'll ever do. There are many places you could stay at including Centre Parcs however there are many Centre Parcs alternative's you could pick too.
---
---
Penzance is a historic port town in Cornwall, United Kingdom. The town has a rich history involving pirates, smugglers, an invasion, and Cornish myths about mermaids, ghosts, and giants.
The name Penzance is derived from 'Pen Sans' in Cornish, which means Holy Headland. It is was a reference to a chapel called St. Anthony's, the patron saint of fishers and sailors.
Penzance has white sand beaches, postcard villages in the vicinity, sub-tropical gardens and Cornish food – enough to entice you to a weekend or more here. Penzance is also the gateway to the Scilly Isles, one of the UK's favourite destinations.
Here's a list of the best things to do in Penzance :
---
Watch a performance at the Minack Theatre
The Minack Theatre is an open-air theatre carved into a granite cliff overlooking the port with a spectacular view of the Porthcurno Bay, located 30 minutes from Penzance.
You can watch a play or performance at the theatre or explore the place. The theatre is surrounded by the Minack Gardens, a sub-tropical garden with exotic plants and flowers.
You need to book in advance to visit the Minack Theatre. The official website lists upcoming performances and events here.
---
DETAILS
Address:  The Minack Theatre, Porthcurno, Penzance TR19 6JU
Approximate price: Adults – £7.50 – 10
---
---
Take a trip to a historic island and castle – St. Michael's Mount
Visit the historic St Michael's Mount castle, garden and island community off the coast of Marazion.
The site is named after Archangel Michael after fishers and sailors claimed they saw an apparition of him on the western side in 495 AD. According to local folklore, a giant named Cormoran would terrorise residents from nearby villages, steal and kill their cattle, and build the Mount.
A young boy named Jack tricked and killed the giant and from then on was known as Jack, the Giant Killer. The lofty castle atop the mountain was bought by the St. Aubyn family in 1659 and opened to the public in 1954.
---
---
You can hike to St. Michael's Mount from Penzance. It is a 5.3-kilometre walk along the coast or take the bus. Once you reach the Marazion, you can walk to the island through the pilgrim path if you visit during low tide or take a boat ride during high tide.
Book tickets in advance to visit the island here. Parts of the island and castle are very steep and difficult to access if you have limited mobility. If you need a wheelchair-access vehicle, book in advance. 
If you'd rather prefer to stay closer, Cozycozy offers a range of accommodations you can pick, either in the area or anywhere in the world!
---
 Spend time at the beaches in Penzance
Walk to the Long Walk Beach, the most easily accessible beach from Penzance. The shallow waters make it ideal for swimming.
Visit Praa Sands Beach for a white sand beach experience and surfing. The light white sand is made of seashells that waves have pulverised over the years. Praa Sand beach is considered one of the best in Cornwall due to its beautiful white sand and idyllic setting.
There are about 13 beaches close to Penzance, some blissfully empty if you want to explore quiet beaches. Most beaches in the area have a seasonal dog ban at particular times of the year.
---
---
Visit local art galleries and landmarks
Scroll through Chapel Street, and see the different historic buildings which date back to the 18th century. These include – the Egyptian House, Union Hotel, Wesleyan Chapel, and St Mary's. Chapel Street also has the oldest pub in town – Turk's Head.
Visit the Penlee House and Gallery to see the work from the Newlyn School and Lamorna artists and exhibits that show the history of West Cornwall. The Exchange and Newlyn Art Gallery are other well-known galleries in Penzance, known for contemporary art.
Enjoy seafood at Michelin-starred restaurants – The Shore Restaurant and Tolcarne Inn. There's Polgoon Vineyard for a tour and tasting of the local wines and ciders produced here for wine enthusiasts. The tour costs 10-15£. Pre-book the tour here.
---
Take a dip in the Jubilee Pool
If you enjoy swimming, the Jubilee pool is worth going to. It is a large seawater pool with water that undergoes minimal chemical treatment for a natural bathing and swimming experience. A small part of the pool is geothermal, heated to 30-35 degrees via a deep geothermal well.
Children under the age of 4 are not allowed in the geothermal pool. Book tickets in advance to ensure you can guarantee a place to swim.
---
---
Visit the lush gardens in Penzance
Penzance has serene, subtropical gardens home to exotic trees and plants. You can visit the Tremenheere Sculpture Gardens to see the gorgeous plants, contemporary art and panoramic view of St. Michael's Mount. The ticket price is 9 £ and entry to the Art Museum is free.
Morrab Gardens is a free, public park in the heart of Penzance with plants such as magnolias, azalea and hydrangea. You can also visit the Morrab library that has an eclectic collection and a photo archive.
Visit the Tanglewood Wild Garden for a picnic or birdwatching. This large garden with ponds is a tranquil, non commercialised place with endemic trees. The entry fee is 5 £ for adults.
You can also visit the Trengwainton Garden to see flowers and exotic shrubs. It also has the best snowdrop walks in Cornwall! The ticket price is 9.50 £.
---
Take a trip to the Scilly Islands
The Scilly Isles, UK's largest archipelago, consists of five inhabited islands and many uninhabited small islands… think clear, turquoise water, unusual wildlife, sub-tropical gardens and quiet, dreamy, white-sand beaches.
You can board the Scillonian, a ferry that takes passengers from Penzance port to St. Mary's, the largest island or, fly to the island through Skybus or Penzance Helicopters. A single trip on the ferry costs 60 £, and a return trip costs 30 £. Flying through Skybus or Penzance Helicopters would cost 120-130 £.
If you are taking a day trip to the islands, you'll get a few hours in which you can spend time on the beach or do water sports like Kayaking or deep-sea diving to see the underwater shipwrecks. There are also boat tours that take tourists on excursions to see the island's seabirds and seals.
If you have more time, you can visit the Star Castle on St Mary's and King Charles Castle on Tresco, see the Bishop Rock lighthouse, enjoy the sub-tropical Abbey garden and explore the many beaches on the uninhabited islands.
---
Visit nearby Mousehole
Mousehole is a picturesque fishing village with narrow streets and quaint houses. This quintessential Cornish village is about 4 km away from Penzance on the shore of Mount's Bay.
Mousehole is well known for its Christmas lights – the village has been lit up using lights since 1963 from December to early January to celebrate Christmas. The village is also known for being Dorothy Pentreath's home, the last native speaker of ancient Cornish.
Stroll around the Mousehole harbour and chill at the Mousehole beach. You can also visit the Tyler art gallery that showcases contemporary art and the Mousehole Wild Bird Hospital, a hospital and sanctuary which treats injured birds that arrive at the island.
You can also hike to Penlee Point (an easy 15-minute hike) or Lamorna Cove (a moderate hour-long hike) from Mousehole.
The roads leading to and in Mousehole are very narrow and sometimes gridlocked, so consider travelling in a small vehicle. Mousehole gets crowded in summer, and if the Mainland parking spaces are full, you'll have to park against the harbour wall.
Consider parking on the road leading to Mousehole (within walking distance) if you visit when there are many visitors to avoid getting stuck in the gridlock.
---
Local Transport in Penzance
The best way to get around is to hire a private car. Enterprise in Long Rock and Europcar operates from Penzance Railway Station offers a reasonable price.
You can also hire a cycle to get around the town. Cycle Centre, Penzance Bike Hire, Land's End Cycle Hire are some of the renting bikes in Penzance.
Local buses ply from Penzance Bus Station to nearby places such as Newlyn, Marazion, St Ives, Land's End, and Mousehole. Bus schedules are available are here.
---
Things to do around Penzance
St Ives – St Ives is known for its Porthmeor Beach and its art galleries. The Tate Gallery and Barbara Hepworth Museum and Sculpture Garden are worth visiting. St Ives is 12 km away from Penzance.
Kynance Cove – A sandy beach among rugged cliffs — Kynance Cove is a spectacular stretch of the Lizard Peninsula. Kynance Cove is frequented by many tourists and is very busy during summer and September. Kynance Cove is 40 km away from Penzance.
From Kynance Cove, you can hike or drive to Lizard's Point, the most southerly tip of the country. Lizard Point is 4.3 km away from Kynance Cove.
Sennen Cove – Sennen Cove is a small village in Sennen known for its beach Whitesand Bay. The beach is popular among surfers and has beautiful cliff-top views of the area. Sennen's Cove is 14 km away from Penzance.
From Sennen Cove, you can also visit Land's End, a tourist complex at the westernmost point of Cornwall.
Truro – Truro, the capital city of Cornwall, is known for its architecture – the narrow streets have old buildings built in Gothic and Georgian styles. Visit the Grand Truro Cathedral, Royal Cornwall Museum and Healeys Cornish Cyder Farm. Truro is 44 km away from Penzance.
Hike along the South West Coast Path – The South West Coast Path is the UK's longest National Trail, traversing 1014 km of the Cornish coastline. A few trails in and around Penzance, part of this Coast Path – take you to Marazion, Mousehole, and Porthcurno.
The best time to visit Penzance is from March to August. Consider visiting Penzance in June during the Golowan Festival; the midsummer celebration is a tradition that started in the 19th century.
The ten-day festival begins before Mazey Day and involves rituals, processions, street performances and fireworks. It gets chilly from September to November, but tourism is slow, and you can save on accommodation costs.
Rains are frequent, though, during this period. Avoid visiting from November to February as it rains or snows a lot and it would be difficult for you to enjoy the beaches during this period.
---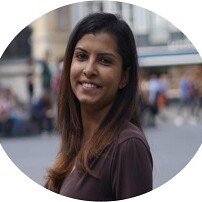 Award-winning Analyst, multi-nominated digital content creator and photographer Lavina Dsouza's words capture stories about culture and tradition mainly through its food and people. She has written and contributed to publications such as The Washington Post, Lonely Planet and Matador Network, to name a few. She is the editor of UntraditionalHumans.com, a non-profit created to share inspiring stories from women of colour who break free from traditions and choose happiness.
She's also a speaker passionate about DEI and champions solo travel. She has collaborated with numerous renowned brands such as Intrepid Travel, TripAdvisor, Travel and Leisure and Adobe, to name a few.
She can be found on Twitter and Instagram.
---
---
EXPLORE MORE READY-TO-GO ITINERARIES
---
Some of the links on this post are affiliate links. These do not cost you extra to use, but will help provide Continent Hop with a small commission if/when you purchase through them, to recover some of the costs of running this website and providing free content to help you plan your travel. I appreciate your support!
---