Dubai is the playground for the rich and wealthy and Dubai Marina makes for the perfect pitch.
With all things luxurious and grand, Dubai Marina is everything you may have imagined.
With skyscrapers ready to touch the sky, sprawling Dubai Marina Mall, sandy Marina beach, and leisurely Dhow dinner cruises that pass through shining water, this place will dazzle you from the first moment.
There is no dearth of activities, events, and places, and therefore when it comes to things to do in Dubai Marina, you need a carefully curated guide to make the best use of your time.
So, here it is! Everything you will need about Dubai Marina things to do –
---
Dubai Marina is an artificial canal district that attracts thousands of tourists. So, you will not find any problems finding and reaching Dubai Marina by public transport.
Dubai Marina by metro – DAMAC Properties Metro Station, which was known as Dubai Marina station in the past, is on the red line. The metro station that serves this district is located on Sheikh Zayed Road.
After getting off, you can cross the overpass that will take you to the marina promenade. You can also consider opting for a tram that will take you to the Dubai Marina Mall Station.
Dubai Marina by bus – this district is well-served by the bus network. When traveling by bus, you can get down at Jumeirah Beach Residence Station 2 and you will be minutes away from the famous promenade.
If you are coming from Oman, then you can check the detailed information about how to cover Dubai to Oman by road.
---
Sightseeing in Dubai Marina
---
When it comes to things to do in Dubai Marina, you will find plenty of options nearby.
Numerous attractions are located close to the housing building. When you are planning your Dubai itinerary, adding Dubai Marina to this list is a must.
The following places in the district deserve special attention:
---
Dubai Marina Walk
When it comes to transforming a simple promenade into a stunning attraction, Dubai knows how to do it well.
Dubai Marina Walk is a 7-km long promenade that attracts tourists with more than 300 shops and close to 70 public catering establishments as well as numerous exciting activities.
For those looking for exciting things to do in Dubai Marina, the Marina Walk is the one. With so much to do and see around the Marina Walk, wearing comfortable shoes for the day is a must!
---
The JBR Walk
Way smaller than Marina Walk and yet, equally exciting when compared to it, The Walk at Jumeirah Beach Residence is something every shopaholic craves.
From tiny handicraft shops to ritzy boutiques and everything in between, the JBR Walk is dotted with such establishments.
Of course, when you are tired after all the shopping, you can hit one of the restaurants to satisfy your taste buds. From local to international, you can pick from a number of cuisines around here.
---
Ain Dubai
Dubai loves everything grand and Ain Dubai Ferris Wheel is no exception.
This is the largest and tallest Ferris Wheel in the world that is set to take you 250 meters high in the sky. It is the perfect place to soak in the awe-inspiring view of the sea and the city.
For more than half an hour, this observation wheel will take you away from all the hustle and bustle.
Even though Ain Dubai operates day and night, take a ride around sunset and you will get to witness how Dubai starts sparkling first in sunrays and then as the night falls, in the glow of thousands of lights.
---
Details
Address: Bluewaters – Bluewaters Island – Dubai – United Arab Emirates
Timing: 11 am to 9 pm from Tuesday to Sunday. Monday closed.
Cost: Ain Dubai Views -AED 130 for adults and AED 100 for kids, Ain Dubai Premium
AED 380, Celebrate Ain Dubai Club AED 775.
---
Dhow Cruise
Taking a Dhow Cruise ride is always one of the popular things to do in Dubai Marina. It usually takes a couple of hours and taking a ride around the marina will offer you several breathtaking views.
You can opt for a dinner Dhow cruise if you are interested in a romantic evening or you can simply take in the sights like Ain Dubai, Dubai Marina Mall, and the Dubai Yacht Club while cruising along.
From pampering your taste buds with Arabian food to swaying to the tunes of local songs, the Dhow Cruise ride will be an exciting experience.
You can consider booking this Dhow Dinner Cruise in Dubai Marina as it has some great reviews and is well-planned.
---
Dubai Marina Mall
No list can be complete without mentioning Dubai Marina Mall. When it comes to Dubai Marina things to do, this mall is a must.
A popular tourist attraction and a perfect place to spend a day with family, Marina Mall houses more than 140 stores, several food joints, and a kids' play area to keep your little ones engaged.
Whether luxury shopping or a leisurely purchase, this place has options that suit every budget. Reserve at least a couple of hours for Dubai Marina Mall when you are shopping.
---
Aqua Fun Waterpark
Popular to be the largest inflatable water park in the world, Aqua Fun Waterpark makes for one of the best things to do in Dubai Marina.
This multi-award-winning tourist attraction in Dubai will present you with more than 100 obstacles. This unique experience is enjoyed by thousands of visitors every year.
Do not miss a chance to spend a fun day with your loved ones here when you are around Dubai Marina.
---
Details
Address: The Beach, opposite of – Jumeirah Beach Residence – Dubai – United Arab Emirates
Timings: 9 am to 5.30 pm every day
Cost: All day ticket for kids and adults alike is AED 155 per person
If you are interested in adding more activities to your itinerary, then you can refer to this 2-day Dubai itinerary for different options.
Beaches and entertainment
---
The area is a gated island. It features a well-maintained and sandy coastline on all sides.
Beautiful coastal views and private beaches are available to locals. In close-by neighborhoods are well-known public beaches where you can spend some relaxing time.
The road there takes about 10 minutes by car. Here are some of the public beaches in Dubai Marina to add to your trip plan –
Marina Beach
One of the best free beaches in Dubai, Marina Beach combines leisure and activities perfectly. You can hop on a cycle and ride on the tracks or you can take a dip in the water for some time.
There are different water sports available at Marina Beach. You will also find a jogger track nearby.
But if you are not in the mood to do anything, then Marina Beach is the place to be!
You can simply enjoy sunbathing, take in the beautiful sunset, and watch life go by.
JBR Beach
The long, sandy stretch of JBR Beach is everything you may need for the perfect day outdoors.
A splash zone for kids, an outdoor gym for health enthusiasts, and a variety of food joints to tickle your taste buds – JBR Beach has got it all.
You will also find changing rooms, showers, and public toilets on the beach.
Enjoy a game of beach volleyball or catch some tan, the choice is yours!
---
---
Active lifestyle enthusiasts can also visit the parks in close proximity to the complex. Just a 5-minute walk will take you to –
Calisthenics Park

A dog park;

The park "On The Walk".
Fitness centers with ultra-modern exercise equipment will be available in the following buildings: C-Fitness Dubai Marina, NRG Fitness, TK MMA & Fitness, and Club Mina.
If you are in the mood to pamper yourself, then there are various spas and beauty parlors nearby –
Ritz Carlton JBR;

NStyle;

Tips and Toes;

NBAR Nail Spa;

Solo Tre.
Hospitals, schools, supermarkets, restaurants, shopping malls, and other social institutions can all be found in the neighborhood.
---
How to obtain a residence visa if looking to buy a property and move to Dubai
The UAE is a welcoming nation for foreigners. The visa policy for individuals who relocate here is relatively loyal since the authorities want to promote the inflow of foreign capital into the country's economic growth.
There are more than 60 free zones in Dubai where foreigners can sell the housing units based on the right to full ownership rather than a long-term lease.
Emaar Beachfront is a part of these zones. When purchasing a home in this country for AED 750,000 (USD 204,000), you can receive a three-year visa.
The legislation was amended in October 2022 to make it easier to apply for a ten-year visa, popularly known as a "Golden visa":
AED 2,000,000 (USD 544,000) is the lower threshold for the cost of the housing units. Previously, it was necessary to invest at least AED 10,000,000 in order to obtain a ten-year visa.

Real estate can be purchased using a loan from a local bank as long as the loan is approved by the state.

Investors can buy not only ready-made properties but also properties for sale off the plan in Dubai from government-approved real estate developers.

There may be several residences, but their total cost should exceed the predetermined amount.
It is crucial to remember that owning property in the UAE does not automatically imply getting a visa. For its registration.
A set of legal documents should be submitted in order to register a visa application, as required by law.
---
---
The perks of the district
---
The prestigious Emaar Beachfront is part of this district and is one of the highly sought-after complexes in Dubai. After the completion of construction, real estate in Emaar Beachfront will feature 77 residential towers with over 1,000 units available for rent and sale.
Offering the spectacular view of the Arabian Gulf and the skyline of Palm Jumeirah, you will love witnessing such grand places around.
Emaar Beachfront has many benefits, including a developed infrastructure, a broad variety of amenities and entertainment options, attractions that are close by, and much more.
You will come across some of the best Dubai Marina things to do when you are at Emaar Beachfront.
The community has an advanced public transportation system. Bus routes 8, N55, 83, 84, and 85 travel through the neighbourhood. These buses cover the following stops in the district:
Royal Mirage Hotel 2

International Advertising Association

Dubai Internet City 1
From any building in the complex, it takes no longer than 8 to 15 minutes to walk to the above-mentioned stops. Al Khail, Sobha Realty, and DMCC metro stations are approximately 10 minutes away by car.
---
So, with all this information, you are ready to explore Dubai Marina. Be it for shopping or dining or even some leisurely sunbathing, head off to this beautiful district on your next Dubai trip.
And if you come across any hidden gems, remember to share them in the comments section!
---
Things to do in Dubai Marina – FAQs
What is special at Dubai Marina?
Dubai Marina is that glamorous district in Dubai where you will find the perfect cocktail of luxury, shopping, and entertainment.
Be it the gorgeous glassy skyscrapers or tiny handicraft boutiques along the streets, Dubai Marina has got it all.
You will also come across Ain Dubai, Marina Walk, JBR Beach, and Dubai Marina Mall around this neighborhood.
How long is The Walk around Dubai Marina?
The Dubai Marina Walk spans 8 kilometers or 5.3 miles. And as it is dotted with numerous cafes, restaurants, and shops, the walk around Dubai Marina may take more than half a day if done at a leisurely pace.
But, there are three roads that let you cross the marina and it will help you cut your walk short if needed
Is Marina Beach in Dubai free?
Yes, Marina Beach is one of the popular free beaches in Dubai. Located along the JBR walk and known for offering different beach activities, Marina Beach attracts adults and kids alike.
Be it for water sports or for sunbathing, you can visit this free beach in Dubai Marina.
Is Dubai Marina same as JBR?
No, Dubai Marina and JBR are two different places. Jumeirah Beach Residence, or popularly known as JBR, is a residential community area located in the district of Dubai Marina.
---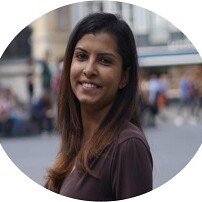 Award-winning Analyst, multi-nominated digital content creator and photographer Lavina Dsouza's words capture stories about culture and tradition mainly through its food and people. She has written and contributed to publications such as The Washington Post, Lonely Planet and Matador Network, to name a few. She is the editor of UntraditionalHumans.com, a non-profit created to share inspiring stories from women of colour who break free from traditions and choose happiness.
She's also a speaker passionate about DEI and champions solo travel. She has collaborated with numerous renowned brands such as Intrepid Travel, TripAdvisor, Travel and Leisure and Adobe, to name a few.
She can be found on Twitter and Instagram.
---
---
EXPLORE MORE READY-TO-GO ITINERARIES
---
Some of the links on this post are affiliate links. These do not cost you extra to use, but will help provide Continent Hop with a small commission if/when you purchase through them, to recover some of the costs of running this website and providing free content to help you plan your travel. I appreciate your support!
---