Scandinavia is notorious for being expensive which is why ensuring you plan well is so important. Here's a Scandinavia itinerary 10 days to make sure you get the most out of the Scandic region and have the best time on your trip to Scandinavia
3 fascinating countries – Norway, Sweden and Denmark, countless beautiful destinations, numerous exciting activities, and many things to do – this is how a trip to Scandinavia can be described.
But then, how to decide how many days are enough for Scandinavia? Is it possible to explore Denmark, Sweden, and Norway while sticking to a strict trip plan?
Planning a trip to Scandinavia can be overwhelming with all the logistics and it may become hard to choose which places to visit and which ones to skip.
So, to help you make the best of your vacation Here is the ultimate 10 day Scandinavia itinerary to help you make the most of your vacation.
10 days may not be enough to go off the beaten path, but it is enough to explore popular tourist attractions and be a part of the local canvas.
Here is how to do it in the best possible way.
---
Scandinavia itinerary 10 days
---
---
10 day Scandinavia itinerary
Days 1 and 2 – Start your Scandinavia trip with Copenhagen, Denmark
It is recommended to start with Copenhagen when travelling to Scandinavia. The capital of Denmark is well connected with rest of the Europe as well as several North American airports.
You will also find good train connectivity with neighbouring European countries including Germany.
You may not get the first half of the day to start exploring the city away, but you can plan some activities for the late afternoon and evening.
Consider guided tours of either Christiansborg Palace or Rosenborg Castle. It will be enough to keep you engaged for a couple of hours.
If you arrive late, then you can simply walk around Copenhagen's city centre and opt for one of the food and drinks tours in Copenhagen that suits your taste buds.
On your second day in Copenhagen, you can combine Nyhavn District with Tivoli Gardens. The 17th-century waterfront district is known for its iconic colourful buildings and will be a memorable addition to your Scandinavia trip.
This is an entertainment area where you will find a variety of cafes, bars, and restaurants. Spend a couple of hours exploring, clicking photos, and trying out different dishes.
Then head off to Tivoli Gardens as this oldest amusement park and pleasure garden in the country is a must for your Scandinavia itinerary.
It is recommended to buy this Tivoli Gardens and Unlimited Rides Combo Pass to skip the ticket lines.
---
10 day Scandinavia itinerary
Day 3 – Fly to Stavanger (Norway) as a part of your trip to Scandinavia
---
You could of course choose to fly to Sweden too, and if so, jump to days 8 and 9 of this itinerary. If you're not keen on just staying in Stockholm, trains in Sweden are quite fast and convenient. They're well connected so you'd have to shuffle a few days to do more justice to this country.
However, I suggest you take the late-night flight out of Copenhagen and reach Stavanger on 2nd day of your Scandinavia travel itinerary. It will give you a fresh start for exploring the city and hiking one of the famous sites in Norway.
There are several hiking trails around Stavanger, but the most popular and doable of all is the Pulpit Rock hike. You will find public transport to take you to the start of the trail and from then, the hike can be done by anyone with average fitness.
To reach the viewing plateau and soak in the breathtaking view of Lysefjord, you will need to cover 8 kilometres of distance.
So, plan your day accordingly. Carry enough water and snacks. Wear hiking boots as the steps are steep. You can consider booking Preikestolen (Pulpit Rock) Guided Hike to be a part of a small group. It will be easier to do this hike with a local guide.
If you want to spend only part of the day on a hike when travelling in Scandinavia, then book this RIB Sightseeing Cruise to Lysefjord.
It will take only 2 hours and you will still be able to witness the stunning beauty of Lysefjord.
---
Scandinavia travel itinerary
Day 4 and 5 – Add Bergen and Floyen to your Scandinavia itinerary 10 days
---
Fly out to Bergen early on day 4 as it is an important step in your Scandinavian itinerary. The best part about reaching Bergen is the transport options between Bergen and Stavanger.
You will find a flight, a ferry, and an express bus to choose from and all three options will take more or less similar time.
When in Bergen for such a short time, you can add a quick tour of Bergenhus Fortress and then walk around Bryggen where traditional wooden buildings stand tall along the water.
This is a series of Hanseatic heritage commercial buildings that make for a fascinating stop in your Scandinavia trip itinerary.
You will also find several restaurants and bars in Bryggen where you can have a relaxing dinner. For the 2nd day in Bergen, you can spend the day in the Mountain of Fløyen.
Make this Scandinavian vacation itinerary all about being in the heart of nature.
You can take the Fløibanen funicular to reach the top or you can choose to hike Mount Fløyen. Either way, it is recommended to start your day early as it starts getting crowded later in the day.
Buy your tickets to Fløibanen in advance to skip the lines.
If you go Hiking at Mount Fløyen, then there are multiple trails to choose from. It would be easier to be a part of a group where a professional guide will take you to the top of Mt Fløyen.
---
Scandinavia travel itinerary
Days 6 and 7 – Add Oslo to your Scandinavia itinerary 10 days
---
Spending 2 days in Oslo will give you just enough time to see the best this city has to offer. Oslo, the capital city of Norway, is a must for any Scandinavia tour itinerary.
For the first day in Oslo, you can visit Akershus Fortress, the City Hall, Royal Palace, and Oslo Cathedral.
Do spend some time relaxing around nearby Karl Johans gate as this is the main neighbourhood in Oslo where you will find numerous cafes, restaurants, bars, and pubs.
This Scandinavia itinerary 10 days will give you enough time to pamper the foodie in you. You can tour Astrup Fearnley Museum of Modern Art and Tjuvholmen Sculpture Park in the late afternoon.
You will also find Tjuvholmen Beach at the end of the sculpture park. This beach is perfect for catching stunning sunsets.
While there are many restaurants in Oslo where you can pamper your taste buds, it is recommended to book Fjords Evening Buffet Cruise.
This will give you a chance to appreciate this beautiful harbour city from the water.
For day 2 in Oslo, you can spend most of the time exploring the peninsula of Bygdøy. This area is known to be the best recreational site in Oslo where some of the top museums in Oslo are located.
You can cover The Norwegian Museum of Cultural History, Kon-Tiki Museum, Fram Museum, and Norwegian Maritime Museum. You can personalize your Scandinavia itinerary 10 days depending on your interests.
You will find many travel plans insisting on adding the Viking Museum in this area to your plan. But keep in mind that the popular Viking Museum will be closed to the public and will open its doors in 2026.
You can spend an evening on Paradisbukta Beach. Try to cover Vigeland Park where more than 200 creative sculptures are placed. This sculpture park is open 24 hours. So, add this to your Scandinavian itinerary depending on your convenience.
---
10 day Scandinavia itinerary
Days 8 and 9 – Make sure you stay in Stockholm
---
Take an overnight train from Oslo to Stockholm and you will reach the capital of Sweden in around 6 hours.
For those interested in Scandinavia by train itinerary, a train journey from Oslo to Stockholm will be an easier as well as pocket-friendly option.
As the train station is in the heart of the city, it will save you from the hassle of booking a taxi. It will give you 48 hours in Stockholm when travelling in Scandinavia and you can select activities that suit your pace.
Check this Red Sightseeing Hop-On Hop-Off Bus & Boat pass for easier and cheaper transportation. You can start your Stockholm trip with Stockholm City Hall and then take a leisurely walk to Gamla Stan.
This popular neighbourhood is everything a traveller could hope for. You can stop by the Parliament House and then proceed to soak in the bustling energy of Gamla Stan.
You will find some beautiful buildings around here. The Royal Palace, Noble Prize Museum, Riddarholmen Church, and the awe-inspiring Science Fiction Bookstore are part of this neighbourhood. These are enough to engage you for hours.
This 10 day Scandinavia itinerary will give you a chance to slow down in Stockholm and relax a little.
For the second day in Stockholm, you can cover the remaining tourist attractions. From the Fotografiska to Skansen, you have a lot to explore.
Do try to visit ABBA The Museum as the interactive exhibition here is popular amongst visitors. Tour the Vasa Museum in the late afternoon and then spend the evening on Norrmalm Island around the City Center.
You can consider buying Vasa Museum Entrance Ticket in advance to skip the lines. Check the events and rides at Gröna Lund in the evening before calling it a day.
---
Scandinavia itinerary 10 days
Day 10 – Time to bid adieu
---
You will find plenty of flights out of Stockholm as this city is well-connected with the rest of the world. No need to plan any activities on this day, but if you do have some free time on your hands, you can wander around Stockholm.
Be a part of the local canvas and say goodbye to this beautiful Scandinavian city.
---
Best time to visit Scandinavia for your 10 days Scandinavia itinerary
Scandinavian countries can be a year-round destination depending on your interests.
May to September is the best time to visit Scandinavian countries as these months guarantee warm weather and longer days.
But, you can also check what each season has to offer and then decide which is the best time to travel to Scandinavian countries for you.
Do you love northern lights and snowy adventures?
Winter is for you! December to February are the winter months when you can enjoy activities like cross-country skiing and ice fishing. You will also find Christmas markets and decorations adding to the beauty of Scandinavia.
Do you like hiking, and exploring outdoors minus touristy crowds? Then your 10 day Scandinavia itinerary is perfect for spring weather.
The months of spring in Scandinavia are from March to May. the crisp air and greenery will ensure you will see the spectacular side of these countries. But keep in mind that air may feel chilly and rainfall is common. So, be prepared for unexpected weather.
Are you a fan of sunbathing and swimming on the beach?
Then plan your 10 day Scandinavia itinerary from June to August. These summer months are busiest for any Scandinavia itinerary 10 days as the weather is sunny and days are longer.
---
---
No matter how much time you spend, Scandinavian countries will always need more time to soak in their beauty. Following this Scandinavia itinerary 10 days will give you a chance to make the most of your time here especially if you're visiting for the first time.
Keep in mind that if you visit in winter there's always the chance for Northern Lights and while this itinerary doesn't include it you could always come back to visit Iceland and Finland which are technically not Scandic but Nordic countries!
---
FAQs – Scandinavia itinerary 10 days
How many days do you need for Scandinavia?
You will need a Scandinavia itinerary 10 days to explore the best of these countries.
It will give you enough time to enjoy the rides at Tivoli Gardens in Copenhagen, hike to the top of Pulpit Rock and witness the raw beauty of Lysefjord in Stavanger, take the Fløibanen funicular in Berger, see the best of Oslo, and witness the sites in Gamla Stan.
You can also try for 2 weeks in Scandinavia to add more cities to a slow-paced itinerary.
What are the best months to visit Scandinavia?
The summer months of June, July, and August are considered to be the best months to visit Scandinavia. The sunny weather, longer days, little rainfall, and predictable climate ensure you get to spend as much time as you want outdoors. Midsummer celebrations also attract many to Scandinavia during summer.
Is 10 days enough for Norway?
10 days can be enough for Norway if you make it a fast-paced itinerary. You can cover major cities like Oslo, Bergen, and Stavanger, and witness the beauty of the fjords. You will get to tour the famous museums in Norway as well as enjoy hiking if the weather is right if you spend 10 days in Norway.
What is the prettiest city in Scandinavia?
Stockholm is the prettiest if you love castles, museums, and medieval alleys. You can call Copenhagen the prettiest city as it has remarkable architecture, the shopping street of Strøget, and the famous Tivoli Gardens.
Bergen is the prettiest for historical wooden houses lining the harbour. Cities like Oslo, Aarhus, and Malmo are beautiful in their own ways with so much to offer to visitors.
---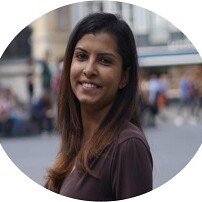 Award-winning Analyst, multi-nominated digital content creator and photographer Lavina Dsouza's words capture stories about culture and tradition mainly through its food and people. She has written and contributed to publications such as The Washington Post, Lonely Planet and Matador Network, to name a few. She is the editor of UntraditionalHumans.com, a non-profit created to share inspiring stories from women of colour who break free from traditions and choose happiness.
She's also a speaker passionate about DEI and champions solo travel. She has collaborated with numerous renowned brands such as Intrepid Travel, TripAdvisor, Travel and Leisure and Adobe, to name a few.
She can be found on Twitter and Instagram.
---
---
EXPLORE MORE OF ITINERARIES
---
Some of the links on this post are affiliate links. These do not cost you extra to use, but will help provide Continent Hop with a small commission if/when you purchase through them, to recover some of the costs of running this website and providing free content to help you plan your travel. I appreciate your support!
---