Many have seen the azure blue waters of Lake Moraine in Banff National Park as it is one of the most stunning natural landmarks in Canada. However, Canada is vast and rich with numerous things to see an do throughout the year. This post covers travel tips for Canada if you're visiting this beautiful country for the first time.
It's no secret that Canada is a beautiful country with lots to offer, but what's the best way to experience it? Canada is a country of vast wide-open spaces and welcoming people. Planning a trip to such a big country may seem overwhelming.
The first time you visit, it's probably going to be on a vacation or as an international traveler on business. No matter the reason, visiting Canada is one of the most rewarding trips one can take.
There are many reasons to visit Canada and even more places to see and explore. As a land of varied natural panorama, Canada has got everyone covered, be it someone looking for relaxation, adventure, or a little bit of both. However, to be able to fully appreciate your time spent in Canada, it's best to know a few things before crafting an itinerary.
Here's my list of seven most essential things that first-time visitors to Canada should know, read on to make sure you're prepared!
Reasons to Visit Canada
Visiting Canada will never be a disappointment and the country has so much to see and explore, be it the diverse natural landscapes or its vibrant cities, or Canada's rich cultural heritage, Canada has it all!
The natural beauty of Canada is unparalleled in terms of its diversity, from the rugged Rocky Mountains to the pristine lakes and rivers of Ontario, the rolling hills of Quebec, and the dramatic coastline of Newfoundland and Labrador you have the opportunity to travel over all kinds of panorama that can ever be seen

If you are travelling to any country, you have to head outdoors! Canada is a great destination for outdoor enthusiasts and you can try your hand at everything, from hiking, skiing, and snowboarding in British Columbia and Nova Scotia to kayaking in the Gulf Islands, to hiking on the West Coast Trail of British Columbia and the Banff Legacy Trail in Alberta.

This is thanks to its massive size but less population, meaning that the country has extensive land for tourists to roam

Who hasn't heard of Toronto, Montreal, and Vancouver? These are just a few Canadian cities amongst countless which are considered the world's most cosmopolitan and diverse, with excellent options to shop, dine or simply to experience Canadian culture

I think we all agree that the heart of tourism or any tourist experience is people welcoming people. Nowhere does it ring true more than in Canada where you'll find locals who are eager to share their knowledge of the country, recommend their favourite spots to visit, and provide tips to make the most of your trip.

All around the country, you are sure to find Canadians who are more than happy to strike up a conversation and make you feel at ease

Last but not least, Canada's cultural heritage makes it a fascinating destination to visit the country as it is a blend of Indigenous, French, and British influences and has also been shaped by immigrants from all over the world.

The result is a vibrant and diverse culture reflected in the country's food, music, art, and festivals, best observed in Toronto or Vancouver where you can find diverse neighborhoods.

A visit to Canada means exploring different cuisines, learning about indigenous cultures, and attending multicultural festivals which leave a lasting impression
---
Top attractions in Canada
The land of maple syrup, hockey, and some of the most beautiful natural scenery on the planet, Canada is a country that offers endless opportunities for adventure and exploration.
There is so much history and culture to be explored in its dynamic cities which are filled with excitement and energy. It does tend to get cold in winter and staying indoors playing games online is a lot of fun. Spin Ontario has a variety online and its quite secure as well, however Canada has a lot to do when it comes to being outdoors.
Here's just some of these attractions that have to be on your list whenever you visit Canada.
Niagara Falls:  Located on the border of Ontario and New York, Niagara Falls is a world-famous natural wonder attracting millions every year. Whenever you visit, you can expect to be soaked in the mist. Definitely consider taking a Boat Tour & Journey Behind the Falls to get an up close and personal experience
CN Tower: The CN Tower is a symbol of Toronto dominating the city's skyline from where you can get a bird's eye of the entire city. There is also a revolving restaurant at the top where you can enjoy a meal while soaking in incredible views
Whistler: A beautiful resort town located in British Columbia, Whistler is known for its world-class skiing and snowboarding. With over 200 runs and 37 lifts, it is the largest ski resort in North America, perfect for a winter outing
Stanley Park: Nestled in the heart of Vancouver, Stanley Park is a lush and vibrant urban oasis that offers a tranquil escape from the bustling city. With stunning views of the mountains and the sea, this park is a favorite among locals and visitors alike
Old Quebec: This is a charming and historic district located in the heart of Quebec city and has many ancient buildings which deserve a close visit. With its cobblestone streets, beautiful architecture, and quaint shops and cafes, Old Quebec feels like stepping back in time to a bygone era.
Ottawa Parliament Hill: Parliament Hill is the seat of Canada's government and is a beautiful example of Gothic architecture. You can easily recognize it by the imposing Peace Tower. The Centennial Flame, lit in 1996, is in front of the Parliament buildings
Banff National Park: Right on the Canadian Rockies lies the Banff National Park, a natural wonderland that's stunningly beautiful and endlessly captivating. Its crystal-clear lakes, soaring peaks, and picturesque valleys are a sight for sore eyes! The Hop-on-Hop-of Bus Day Pass can come in very handy as it will allow you to explore the highlights of the Park at your own pace.
Bay of Fundy: The Bay of Fundy is a natural wonder that must be seen to be believed and has towering cliffs, rugged coastline, and massive tides, a place of stunning beauty and unparalleled natural diversity.
---
Travel Tip for Canada #1 – Canada's Climate May Be Brutal, Layer up!
When packing for Canada, make sure to bring layers! Even if you visit in the summer time, there can be thunderstorms on the prairies, and mountain temperatures drop at night.
Many people don't realize just how cold it can get when they plan their visit; however, you should be prepared for each kind of weather in your journey through Canada.
It's best to research the average weather conditions before planning a trip. Some factors that will influence the climate are natural geography, exposure, and elevation. Weather can change very quickly from one part of the country to another within a province or between provinces.
For example, Alberta has four distinct climate regions:
● Northern mountains
● Foothills forests and grasslands
● The parkland region
● The southern prairies and the Rocky Mountains
In the Winter, the East of Canada is often cold and snowy, while the west can be pretty wet, especially in spring with many rainstorms. Beware that hurricane season runs from June 1 to November 30, so you can expect strong winds on your trip along Eastern coastlines.
The weather conditions change throughout the year, so you should research what time would be best for your travels for ideal weather conditions. If you're looking for what to pack this packing list might help!
This will help ensure a wonderful Canadian experience no matter what time of year or location you choose to visit!
---
If you do end up going during the colder seasons, make sure you layer up instead of carrying one big warm jacket. Putting on several layers of warm clothing is a way more effective way to protect yourself against the cold.
The best way to layer up is to usually start with a base layer – ideally made of merino wool since it is much lighter and way more insulating. Follow this up with a woollen flannel shirt, followed by a warm jumper and finally a good insulating jacket – preferably made with down. Follow a similar method for layering your bottoms as well and you'll be good to go! Depending on the weather, you can add or subtract layers.
---
Travel Tip for Canada #2 – Visa and Insurance
Get your travel documents in order, from visas and passports all the way down to ID cards or driving licenses.
Especially now when the Covid-19 pandemic has dramatically changed international travels, a complete paperwork is crucial to cross the border. Visiting Canada has become more complicated, and visitors must plan ahead to make sure they are prepared for what lies in store.
So, what exactly will you need?
an eTA (Electronic Travel Authorization) – is required for travelers from certain countries when visiting by air.

ArriveCAN – a recently introduced health form for Canada must be filled out by any person entering the country.

Proof of being fully vaccinated – is crucial for completing the ArriveCAN health form.
You may need additional documents to be allowed to enter Canada, depending on your situation/nationality. It's best to research what's currently needed at least two weeks before the planned trip.
Don't forget to make applications for the necessary documents on time. For ArriveCAN it's within 72 hours prior to departure, while the Canadian visa application online for an eTA should be submitted at least 3 business days before the planned trip.
Make sure you also have a valid Insurance that covers clauses like Covid when traveling.
Travel Tip for Canada #3 – Couchsurfing
Why spend a lot on accommodation when you can stay with locals for free? Couchsurfing is just the way to do it; it is a unique way to explore different parts of Canada. So if you desire to save money on accommodation during your trip to Canada, why not try Couchsurfing?
Couchsurfing is a great way to explore Canada for free. It's also an excellent opportunity to meet the locals, learn about the culture, and have some fun.
The Couchsurfing community in Canada is made up of friendly people who are happy to welcome you into their homes. They will give you insider tips on places that are worth visiting or things that are off-limits. You can even stay with someone who speaks your own language!
Another reason to try out Couchsurfing is that more often than not, you will end up exploring such offbeat spots that only the locals can guide you there. And if you're a solo traveller, Couchsurfing can be a great way to find some company to explore with!
Although Couchsurfing is free, it is a polite thing to bring your host a gift – this can be something unique from your own country, or even a simple box of chocolates or a bottle of wine should do.
The main idea is to be appreciative of your host. Another great way to "repay" your host is by cooking for them, paying for groceries, mowing their lawn or even walking their dog! It can really be anything, but a simple gesture goes a long way.
---
---
Travel Tip for Canada #4 – Use Public Transportation
Canada is a large and diverse country, which can make travelling difficult. However, there are many different public transportation options to help you get where you need to go.
The bus system in Canada is one of the most popular, being both affordable and easily accessible. If you're looking for more flexibility than what buses provide then consider booking your ride with Uber! They offer safe rides through trusted drivers 24/7.
Outside of major cities, buses and trains may be less frequent but still exist. Don't forget to include getting from one place to another in your itinerary and check which public transportation options are available in the area.
Wherever you end up travelling to in Canada, there are several modes of public transport always available – these can include buses, trains, subway and trams.
If you plan to use public transport most of the time, consider buying a Transit Pass. These passes offer unlimited rides across different modes of public transport for up to a month (or sometimes even more). This can help save costs instead of buying multiple tickets over and over again. These passes are readily available at many convenience stores and train stations. You can even buy them from the bus driver themselves!
Another great way to save costs while exploring a town or a city in Canada is to rent a bike. Not only does this help save money, but can be a great way to explore on your own accord (and not have to rely on public transport routes). You can get bicycle route maps from most bike shops across Canada.
---
Travel Tip for Canada #5 – Stay Aware
As with any country or region, it's important to stay aware and keep yourself secure and safe at all times. These tips will help irrespective of country.
Pack your things in a carry-on bag or suitcase whenever you go out

Don't bring anything valuable with you when going exploring or sightseeing on foot. If it is not possible to leave valuables at home, consider keeping them with you discreetly while travelling around (for example, using an inside pocket) as they will be less likely targets if hidden from plain view.

If staying overnight during travel, make sure all valuables are locked away securely before leaving the room unattended even briefly – never leave items like phones or cameras lying about where people can access them easily without being noticed.
Also, beware of common tourists scams across Canada. These can include adding a voluntary tax on your visit to Niagara Falls, offering you a 'foreigner menu' with inflated prices if you are a non-Chinese visiting a Chinese restaurant, scammers posing as monks who offer amulets, beads or blessings and then insist on a donation, unlicensed taxis who offer lower prices etc.
Pick-pocketing and snatch theft are also not uncommon in busy hotspots across Canada. Some places to look out for include Toronto, Calgary, Montreal and Vancouver.
---
Travel Tip for Canada #6 – Tipping in Canada
Tipping is common in Canada and the USA because most service employees are paid less than minimum wage. Tipping isn't mandatory, but it's customary to leave 15-20% of your bill when you receive services from waiters, hairdressers, cab drivers, or hotel workers that were helpful and attentive.
Although tipping isn't a requirement for restaurants/cab rides (the employer pays them), many people feel obliged to tip since they're not being paid fairly by their employers, leaving customers feeling like they need to pay more so as not to be taken advantage of.
---
Travel Tip for Canada #7 – Canadian Food
Canada is well-known for its delicious food. One of the most popular Canadian dishes to date, poutine (french fries with cheese curds and gravy), was invented in Quebec as a late-night snack because it's easy and cheap to make.
You can even find this dish at fast-food restaurants like McDonald's or Burger King! Canadians are also known for their love of maple syrup which many cultures throughout history have used due not only to how tasty but versatile it is; you can use maple syrup on pancakes, waffles, oatmeal. The possibilities really are endless!
Some other traditional Canadian foods you can look out for include bannocks, Nova Scotia lobster rolls, tire d'érable or maple taffy, pouding chômeur and tourtière.
---
Newfoundland, Calgary, Alberta, Toronto, Montreal, Whistler….the amount of places you can visit is endless and while there are seasons in Canada it usually tends to be chilly except in peak summer, so as mentioned previously, don't forget those layers!
Irrespective of where you plan on visiting, you're sure to have a grand time as Canadians are one of the friendliest and warmest people you'll ever meet (even if the weather is cold) and I say this from experience.
Make sure when you visit you stuff yourself with lobster rolls and poutine and wash it down with a Bloody Caesar or a classic Double-Double!
---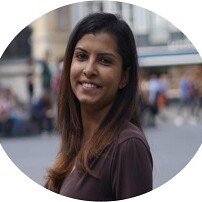 Award-winning Analyst, multi-nominated digital content creator and photographer Lavina Dsouza's words capture stories about culture and tradition mainly through its food and people. She has written and contributed to publications such as The Washington Post, Lonely Planet and Matador Network, to name a few. She is the editor of UntraditionalHumans.com, a non-profit created to share inspiring stories from women of colour who break free from traditions and choose happiness.
She's also a speaker passionate about DEI and champions solo travel. She has collaborated with numerous renowned brands such as Intrepid Travel, TripAdvisor, Travel and Leisure and Adobe, to name a few.
She can be found on Twitter and Instagram.
---
---
EXPLORE MORE OF TRAVEL INSPIRATION
---
Some of the links on this post are affiliate links. These do not cost you extra to use, but will help provide Continent Hop with a small commission if/when you purchase through them, to recover some of the costs of running this website and providing free content to help you plan your travel. I appreciate your support!
---