These amazing quotes on road trips should help inspire your next road trip! The post has many sections like quotes on road trips from popular culture, long drive quotes, night drive quotes, road trip captions for Instagram, road journey quotes etc.!
Road trips are the best way to forget your worries and make memories while travelling.
I've been on quite a few myself – a Morocco road trip through the Atlas mountains and the Sahara desert, one through Iceland, one through the Scottish Highlands and one through Jordan as well!
These places need you to drive as that is the best way to see the sheer beauty in these parts.
While planning a road trip you need inspiration to pick the best places and I hope these quotes on road trips I've put together help do that for you!
Here are the best quotes on road trips from authors, popular culture and famous personalities.
You could even use these as road trip captions for Instagram too! Happy planning!
Here's some curated quotes on road trips
---
Here are the best quotes on road trips that I came across. I've categorised them into sections so that it's easier for you to find what you're looking for, be it for printing purposes or just to read through.
I've also added in imagery in case you'd like to save it on your Pinterest board.
Save this page or bookmark it for later if a road trip is on your mind.
---
1. Caption for road trip/Road trips captions for Instagram
---
These short quotes on road trips, adventures and travel would make the best Instagram captions :
"Take only memories, leave only footprints."

 – Chief Seattle

"Life is either a daring adventure or nothing at all."

– Hellen Keller

"Find what brings you joy and go there!"

– Jan Phillips

"Adventure, without it, why live?"

– Hortense Odlum

"Nothing adventured, nothing attained."

– Peter McWilliams

"If you're not lost, you're not much of an explorer."

 – John Perry Barlow

"Roads are a record of those who have gone before."

– Rebecca Solnit

"Blessed are the curious for they shall have adventures."

– Lovelle Drachman
---
The wise man travels to discover himself".

– James Russell Lowell

"There are no mistakes. Only new paths to explore."

– Gregory David Roberts

"Wherever you go becomes a part of you somehow."

– Anita Desai

"And just like that, we're on our way to everywhere."

– Emery Lord, Open Road Summer

"The only impossible journey is the one you never begin."

– Tony Robbins

"All he needed was a wheel in his hand and four on the road."

– Jack Kerouac, On the Road: the Original Scroll
"When you go on a road trip, the trip itself becomes part of the story."

– Steve Rushin

"If we were meant to stay in one place, we'd have roots instead of feet."

– Rachel Wolchin

"Only those who risk going too far can possibly find out how far they can go."

"The freedom of the open road is seductive, serendipitous and absolutely liberating."

– Aaron Lauritsen

"An adventure is only an inconvenience rightly considered. An inconvenience is an adventure wrongly considered."

– Gilbert K. Chesterton
---
---
"A good traveler has no fixed plans, and is not intent on arriving."

– Lao Tzu

"God made the world round so we would never be able to see too far down the road."

– Isak Dinesen

"Travel sparks our imagination, feeds our curiosity, and reminds us how much we all have in common."

– Deborah Lloyd

"I love being on the road. I love that lifestyle, traveling city to city, rocking out and moving on to the next place."

– Caleb Johnson

"To move, to breathe, to fly, to float, To gain all while you give, To roam the roads of lands remote, To travel is to live."

– Hans Christian Andersen, The Fairy Tale of My Life: An Autobiography
---
RELATED: If you're looking to plan a road trip through Morocco, this Morocco road trip post will help!
---
---
3. Road trip Instagram captions
---
"And just like that, we're on our way to everywhere."

– Emery Lord, Open Road Summer

"Everything in life is somewhere else, and you get there in a car."

– E. B. White

"Americans will put up with anything provided it doesn't block traffic."

– Dan Rather

"If everything seems under control, you're just not going fast enough."

– Mario Andretti

"They drove, the city slowly dissolving around them and breaking up into fields and trees."

– Brian Evenson, Last Days
"You steer down lightless highways, and you invent a destination because movement is key."

– Nic Pizzolatto, Galveston

"A passenger on a road journey is in the hands of a driver; a reader embarking on a book is in the hands of a narrator."

– Romesh Gunesekera

"I climb behind the steering wheel… I drive off immediately without once looking back; it's a long journey but it leads to freedom."

– Corinne Hofmann, The White Masai

"Now, on this road trip, my mind seemed to uncrinkle, to breathe, to present to itself a cure for a disease it had not, until now, known it had."

– Elizabeth Berg, The Year of Pleasures
---
"A passenger on a road journey is in the hands of a driver; a reader embarking on a book is in the hands of a narrator"
— ROMESH GUNASEKARA
---
"If you come to a fork in the road, take it."

– Yogi Berra

 "There are two kinds of travel: first class and with children."

– Robert Benchley

"If you don't know where you're going, any road will take you there."

– George Harrison

"The American tendency in travel; one goes not so much to see, but to tell of it afterward."

– John Steinbeck, Travels with Charley: In Search of America

 "One of the great things about travel is that you find out how many good, kind people there are."

– Edith Wharton

 "You can be writing every day. When you go on a road trip, the trip itself becomes part of the story."

– Steve Rushin

"We are all travelers in the wilderness of the world & the best we can find in our travels is an honest friend."

– Robert Louis Stevenson
---
"There is something about the momentum of travel that makes you want to just keep moving, to never stop."

– Bill Bryson

"I just go with the flow, I follow the yellow brick road. I don't know where it's going to lead me, but I follow it."

– Grace Jones

"A tourist is a fellow who drives thousands of miles so he can be photographed standing in front of his car."

– Emile Ganest

"A road trip is a way for the whole family to spend time together and annoy each other in interesting new places."

– Tom Lichtenheld

"I have found out that there ain't no surer way to find out whether you like people or hate them than to travel with them."

– Mark Twain

"Every journey is simultaneously a beginning and an ending: I was leaving my old life behind and starting on a road trip to find a new me."

– Debi Tolbert Duggar, Riding Soul-O
---
"Road trips required a couple of things: a well-balanced diet of caffeine, salt and sugar and an excellent selection of tunes—oh, and directions."

– Jenn McKinlay

"Afoot and light-hearted I take to the open road, Healthy, free, the world before me, The long brown path before me leading wherever I choose."

– Walt Whitman, Song of the Open Road

"I love just going out; long drives, the ocean, my kids, new music, new gear, new plug-ins, coffee, and donuts at four in the morning. Even just waking up and writing."

– John Feldmann

"A journey is a person in itself; no two are alike. And all plans, safeguards, policing, and coercion are fruitless. We find after years of struggle that we do not take a trip; a trip takes us."

– John Steinbeck, Travels with Charley: In Search of America

"For my part, I travel not to go anywhere, but to go. I travel for travel's sake. The great affair is to move; to feel the needs and hitches of our life more nearly; to come down off this feather-bed of civilization, and find the globe granite underfoot and strewn with cutting flints."

– Robert Louis Stevenson
---
5. Short road trip quotes
---
"Nothing behind me, everything ahead of me, as is ever so on the road."

– Jack Kerouac

"The open road is a beckoning, a strangeness, a place where a man can lose himself."

– William Least Half-Moon

"Kilometers are shorter than miles. Save gas, take your next trip in kilometers."

– George Carlin

"I love road trips. You get into this Zen rhythm; throw the sense of time out the window."

– Miriam Toews

"You know more of a road by having traveled it than by all the conjectures and descriptions in the world."

– William Hazlitt

"Because the greatest part of a road trip isn't arriving at your destination. It's all the wild stuff that happens along the way."

– Emma Chase
---
" I love road trips. You get into this Zen rhythm; throw the sense of time out the window."
— MIRIAM TOEWS
---
---
6. Quotes on long drives / Long drives quotes / Long road quote
---
"The road goes on forever and the party never ends."

– Robert Earl Keen

"The entire road trip could be summed up as one giant attempt to keep from crashing the car during fits of rage and fits of hysteria."

– Kari Martindale

 "It's in those quiet little towns, at the edge of the world, that you will find the salt of the earth people who make you feel right at home."

– Aaron Lauritsen

"The pleasure we derive from journeys is perhaps dependent more on the mindset with which we travel than on the destination we travel to."

– Alain de Botton, The Art of Travel

"Once you have traveled, the voyage never ends but is played out over and over again in the quietest chambers. The mind can never break off from the journey."

– Pat Conroy

"Travel isn't always pretty. It isn't always comfortable. Sometimes it hurts, it even breaks your heart. But that's okay. The journey changes you; it should change you."

– Anthony Bourdain

"I wonder why it is that when I plan a route too carefully, it goes to pieces, whereas if I blunder along in blissful ignorance aimed in a fancied direction I get through with no trouble."

– John Steinbeck, Travels with Charley: In Search of America

"What you've done becomes the judge of what you're going to do – especially in other people's minds. When you're traveling, you are what you are right there and then. People don't have your past to hold against you. No yesterdays on the road."

– William Least Heat Moon

"Road trips are the equivalent of human wings. Ask me to go on one, anywhere. We'll stop in every small town and learn the history and stories, feel the ground and capture the spirit. Then we'll turn it into our own story that will live inside our history to carry with us, always. Because stories are more important than things."

– Victoria Erickson
---
7. Long drive with love quotes / Romantic long drive quotes
---
"Never go on trips with anyone you do not love."

– Ernest Hemingway

"Traveling in the company of those we love is home in motion."

– Leigh Hunt

"I can speak to my soul only when the two of us are off exploring deserts or cities or mountains or roads."

– Paulo Coelho, Aleph
---
8. Long drives quotes with friends
---
"A journey is best measured in friends, rather than miles."

– Tim Cahill

"Good company in a journey makes the way seem shorter."

– Izaak Walton

"I get a friend to travel with me… I need somebody to bring me back to who I am. It's hard to be alone."

– Leonardo DiCaprio
---
9. Night long drive quotes / Night drive quotes
---
"It's like driving a car at night. You never see further than our headlights, but you can make the whole trip that way."

– E L Doctorow

"Getting on the road and driving along a road at night, or even in the daytime and seeing the oceans or whatever, is always liberating."

– Chuck D

"Politics can be likened to driving at night over unfamiliar hills and mountains. Close attention must be paid to what the beam can reach and the next bend."

– David Trimble
---
"Getting on the road and driving along a road at night, or even in the daytime and seeing the oceans or whatever, is always liberating."
— CHUCK D
---
10. Alone long drive quotes/Solo drive quotes
---
"When the traveler goes alone he gets acquainted by himself."

– Liberty Hyde Bailey

"I think one travels more usefully when they travel alone, because they reflect more."

– Thomas Jefferson

"To awaken alone in a strange town is one of the pleasantest sensations in the world. You are surrounded by adventure. You have no idea of what is in store for you, but you will, if you are wise and know the art of travel, let yourself go on the stream of the unknown."

– Freya Stark
"The best car safety device is a rear-view mirror with a cop in it."

– Dudley Moore

"Honk if you love Jesus, text while driving if you want to meet up."

– Barbara Kingsolver

"Take care of your car in the garage, and the car will take care of you on the road."

– Amit Kalantri, Wealth of Words

"Certified stunt drivers earn a living, unlawful dangerous driving will earn you tragedy."

– Wayne Chirisa

"For a driver to be driven by somebody else is always an ordeal, for there are only three types of drivers; the too fast, the timid and oneself."

– Virginia Graham, Say Please
"No road is long with good company."

– Turkish Proverb

"Some beautiful paths can't be discovered without getting lost."

– Erol Ozan

"The world is a book and those who do not travel read only one page."

– Saint Augustine

"That's why I love road trips, dude. It's like doing something without actually doing anything."

– John Green

"The best journeys are the ones that answer questions that at the outset you never even thought to ask."

– Rick Ridgeway

"I see my path, but I don't know where it leads. Not knowing where I'm going is what inspires me to travel it."

– Rosalía de Castro
---
13. Quotes on road trips from songs / films / popular culture
---
"According to the map, we've only gone four inches."

– Dumb & Dumber

"Sometimes all you need is a great friend and a tank of gas."

– Thelma and Louise

"Just grab a friend and take a ride, together upon the open road."

– The Goofy Movie

"Sometimes, the road less travelled is less travelled for a reason."

– Jerry Seinfeld, Seinfield sitcom

 "Each new day is an invitation to an adventure of your own making."

– Steven Redhead, Life Is a Dance (2019)

"Well, we're not in the middle of nowhere, but we can see it from here."

– Thelma and Louise

"If we wait until we are ready, we will be waiting for the rest of our life!"

– Lemony Snicket

 "Where will my heart lead if I've yet to wander so many unknown paths?"

– Paulo Coelho, Hippie (2018)

"Get your motor runnin', Head out on the highway, Lookin' for adventure…"

– Steppenwolf

"We're almost there, but nowhere near it. All that matters is that we're going."

– Gilmore Girls

"Some journeys take us far from home. Some adventures lead us to our destiny."

– The Lion in The Chronicles of Narnia: The Lion, the Witch and the Wardrobe

"In 1903 the Wright brothers invented airplanes, because in 1902 they took a road trip across the country with their family."

– Bill Engvall
---
"The journey is part of the experience – an expression of the seriousness of one's intent. One doesn't take the A train to Mecca."

– Anthony Bourdain in A Cook's Tour: Global Adventures in Extreme Cuisines

"On the road again, Goin' places that I've never been, Seein' things that I may never see again, And I can't wait to get on the road again"

 – Willie Nelson, On The Road Again

"It's a dangerous business, Frodo, going out your door. You step onto the road, and if you don't keep your feet, there's no knowing where you might be swept off to."

 – J.R.R Tolkien

"Road trippin' with my two favorite allies – fully loaded we got snacks and supplies. It's time to leave this town it's time to steal away. Let's go get lost anywhere in the U.S.A."

– Red Hot Chilli Peppers

 "No one you have been and no place you have gone ever leaves you. The new parts of you simply jump in the car and go along for the rest of the ride. The success of your journey and your destination all depends on who's driving."

– Bruce Springsteen, Born to Run
---
14. Quotes on road trips in which roads are used as metaphors
---
"You may not find a path, but you will find a way."

– Tom Wolfe

"Roads were made for journeys, not destinations."

– Confucius

"Life is beautiful if you are on the road to somewhere."

– Orhan Pamuk, The New Life

"Look on every exit as being an entrance somewhere else."

– Tom Stoppard

"Look at life through the windshield, not the rearview mirror."

– Byrd Baggett

"Still, round the corner, there may wait, A new road or a secret gate."

– J. R. R. Tolkien
---
---
---
"Stop worrying about the potholes in the road and enjoy the journey."

– Babs Hoffman

"One's destination is never a place, but rather a new way of seeing things."

– Henry Miller

"Sometimes the most scenic roads in life are the detours you didn't mean to take."

– Angela N. Blount

"The road is there, it will always be there. You just have to decide when to take it."

– Chris Humphrey

"A journey is like marriage. The certain way to be wrong is to think you control it."

– John Steinbeck, Travels with Charley: In Search of America

Look for chances to take the less-traveled roads. There are no wrong turns."

– Susan Magsamen
---
"The road must eventually lead to the whole world. Ain't nowhere else it can go – right?"

– Jack Kerouac, On the Road

"It's your road, and yours alone. Others may walk it with you, but no one can walk it for you."

– Rumi

"Do not follow where the path may lead. Go instead where there is no path and leave a trail."

– Ralph Waldo Emerson

"Map out your future – but do it in pencil. The road ahead is as long as you make it. Make it worth the trip."

– Jon Bon Jovi

"If you make the mistake of looking back too much, you aren't focused enough on the road in front of you."

– Brad Paisley

"Our battered suitcases were piled on the sidewalk again; we had longer ways to go. But no matter, the road is life."

– Jack Kerouac
---
I've grown quite fond of road trips over the years as it is so convenient to pop all your essentials in and head off anywhere you'd like!
Also stop anywhere you like, which is why I hope you do get to planning one real soon and these quotes on road trips give you the energy you need to plan an amazing one!
---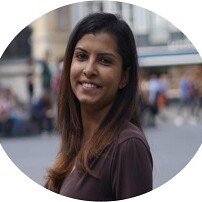 Award-winning Analyst, multi-nominated digital content creator and photographer Lavina Dsouza's words capture stories about culture and tradition mainly through its food and people. She has written and contributed to publications such as The Washington Post, Lonely Planet and Matador Network, to name a few. She is the editor of UntraditionalHumans.com, a non-profit created to share inspiring stories from women of colour who break free from traditions and choose happiness.
She's also a speaker passionate about DEI and champions solo travel. She has collaborated with numerous renowned brands such as Intrepid Travel, TripAdvisor, Travel and Leisure and Adobe, to name a few.
She can be found on Twitter and Instagram.
---
---
---
Some of the links on this post are affiliate links. These do not cost you extra to use, but will help provide Continent Hop with a small commission if/when you purchase through them, to recover some of the costs of running this website and providing free content to help you plan your travel. I appreciate your support!
---