Shipwrecks in Cyprus are aplenty. They're not just mysterious but also make for a great getaway if they're ashore. If you're into diving these shipwreck Cyprus make for excellent diving sites full of marine life. Here's all the info you need to visit the Edro III shipwreck and pick a site if you'd like to go diving.
There's something mysterious about shipwrecks. Irrespective of whether they're submerged or sat ashore, almost everyone you come across knows they come with a story of their own.
Shipwrecks are a beauty to look at. Stories behind each shipwreck make us feel like we're part of the voyage.
Each shipwreck has had a different struggle that it went through before turning into a wreck.
The ships were turned to wrecks by turbulent seas or unfavourable weather conditions.
The sea around Cyprus is rife with shipwrecks. While most are submerged, Edro III is one of the rare ones you can find ashore. These Cyprus shipwrecks have become a major tourist attraction especially due to the diving opportunities they offer.
Edro III is located a short distance from Paphos and makes for a great half-day Paphos excursion. Here's all you need to know about Edro III and shipwrecks in Cyprus.
---
History of shipwreck Cyprus
---
Shipwrecks have been part of Cyprus' history for ages. While sometimes shipwrecks may cause oil spills when they're recent, they can help improve the surrounding environment as they become a habitat for marine flora and fauna.
Shipwrecks are undoubtedly a significant part of the tourism industry, especially those that concentrate on eco-tourism.
When it comes to people who love adventure and outdoor activities, shipwrecks are attractive to divers as they get to witness vessels that could not withstand highly rough sea conditions during their respective voyages. They're eerie but full of marine life.
Many shipwreck Cyprus are sat at the bottom of the sea; however there are a few recent ones that are sat by the shore.
The Mediterranean weather in Cyprus and clear, sunny skies make it easier to view these shipwrecks and underwater caves, many of which are by the island's shores.
The very first shipwreck discovered in Cyprus was the Kyrenia shipwreck which dates back to 300 BC. The ship apparently set sail during the time of Alexander the Great and sank near the harbour of Kyrenia. The Shipwreck museum at Kyrenia now houses this cargo ship.
Closer to Paphos, on the drive to Peyia near Coral Bay there are two shipwrecks to be found. The MV Demetrios II was moving wood, with the destination being Limassol and Beirut. However, it encountered a storm near Paphos in March 1998 and sank near the Chloraka coast.
The other is the Edro III shipwreck. Edro III has been by the coast of Cyprus since 2011 when it ran aground after setting sail for Rhodes from Limassol. It has stayed here ever since, as many species of fish thrive here and turtles also use it for nesting.
---
Edro III shipwreck Cyprus
The Edro III shipwreck in Cyprus is one of the recent shipwrecks in Cyprus quite close to Paphos. Not only does it make for a great half-day excursion but the location itself is quite stunning to spend an entire day here having a picnic.
The Edro III shipwreck happened in 2011 when strong winds caused it to go off course and hit the rocks near the village of Peyia. The ship was on its way to Rhodes carrying a total of 9 crew members all of whom were saved after a distress call was placed to the British army present at Limassol.
The fuel and other items that would have caused pollution in the area and caused harm to the environment were extracted immediately. The cargo of plasterboards was also discarded thus making it an empty yet an attractive shell for visitors and locals.
Located a mere 200 metres from the sea caves of Paphos, the Edro III shipwreck is one of the rare shipwrecks in Cyprus that you can see from up-close. Although it may be possible to even get on it it is highly advised not to do so as it is rusted, sat at a slant and quite dangerous to do so.
Due to its location, it is quite popular with couples looking to get married in a picturesque setting with the wreck as a backdrop. The sunsets here are breaktaking and are a photographer's delight!
---
Getting to the Edro III shipwreck
Getting to Edro III is quite easy as it is a short ride from Paphos. Although both Edro II and the Demetrios are located in close proximity to each other it is still quite time-consuming to get here by public transport.
It takes about 20 minutes to get here from Paphos if you hire a car from Paphos and drive yourself or get a cab. A cab would cost anything between 5-10 Euros one way.
If you still prefer public transport, bus number 615 and 616 from Paphos got to the Edro 3 shipwreck via the Kato Paphos station, to Coral bay and Ag Georgiou Pegias. The total time taken is close to 3 hours to get to the Edro III shipwreck.
If you do opt for public transport make sure you check the bus time table to get back from the wreck in time as public transport in Cyprus isn't too frequent even if the wrecks are open 24 hours.
---
DETAILS
Edro III shipwreck
Address: Peyia, Cyprus. Location can be found here
Timings: Open 24 hours however Google does mention it to be from 10 AM to 4.30 PM
Cost: Free
---
Some shipwrecks in Cyprus perfect for a trip or diving
---
Zenobia at Larnaca
Zenobia sank on her maiden voyage in May 1980 on her way to Syria from Sweden. Thankfully when it sank it did not take the passengers with it. Zenobia was facing issues with its ballast system which was causing her to tilt to one side.
The captain kept making corrections to avoid it, however on its way between Heralion and Athens the issue was beyond repair and a call had to be placed to the authorities in Cyprus, with Larnaca being the next port of call.
At Larnaca, once Zenobia was close enough, the authorities slowly evacuated the passengers making sure all got off safely. In a short while, Zenobia was sinking quickly and was towed closer to the Larnaca port.
Zenobia gets ranked amongst the top diving sites in the world because most divers can dive to this site with a 2nd level training. For those who are experienced divers, they can enter the wreck via the main lorry deck.
Lady Thetis and The Constandis at Limassol
A cruise ship carrying passengers from Cyprus, Lady Thetis, was sunk intentionally along with the Constandis, in 2014, a fishing vessel to serve as dive sites.
Due to the size and weight of the ship, when the Lady Thetis sank, it created a depression in the sea bed, which was at a depth deeper than the level of the seabed.
Due to this when divers enter the wreck, not only do they get ample space to dive due to it being a cruise ship, but they can also dive to a deeper level. This also makes it easier for divers of any level to easily navigate the wreck.
The Constandis was a trawler that operated in the Mediterranean but was built in the USSR.
Both these ships were sunk as part of the Wrecks to Reefs initiative in Cyprus.
---
Alexandria at Larnaca
The shipwreck of Alexandria at Larnaca is situated quite close to Zenobia. Another fishing trawler, Alexandria was apparently slowly sinking by itself as it sat at the port of Larnaca.
So as to not cause any obstruction to any incoming vessels it was then taken as little off the coast and sank properly so as to be able to create a dive site.
Others say it was already on its way to be scrapped when it encountered a storm and sank.
The clarity of the waters around Larnaca makes it another great site for divers especially due to the presence of many fish such as eels, tuna that can be spotted here. The 'No fishing' zone around the area helps in the preservation of these species for it to be enjoyed by all.
---
The Mazotos shipwreck
One of the most ancient shipwrecks to be found around the world, the Mazotos is dated to be sat here from the 4th century BC, between the Kyrenia shipwreck at at thes start of the 3rd and the Ma'agan Michael in Israel at the end of the 5th BC.
Located near the village of Mazotos in Cyprus, the shipwreck was believed to have belonged to a wealthy merchant. When discovered around 2006/2007 it shed light on the seafaring and naval life in those times and was significant in helping find new technology on how ships were to be built later.
Many excavations have been carried out on the Mazotos and still continue however some of the first findings were that of amphorae filled with red wine from Chios, rarely found in the Cypriot region.
These amphorae along with other discoveries are now present at the Archaeological Museum of Larnaca.
---
Things to do around the Edro III shipwreck
---
Paphos sea caves
The sea caves are located in the Peyia region itself quite close to the Edro III shipwreck and can be seen dotting the coastline. Surrounded by rocky formations that have taken centuries to form, the caves are a place of immense natural beauty.
The only way to get to the sea caves is from the beach in Coral Bay, either by swimming or a boat that can be hired in the vicinity of the village. The waves here can be quite rough so it is best to be an experienced swimmer if you plan on swimming.
The caves used to be used as a resting place for seals however due to the presence of the tourists in the area, seals are now not to be found anymore in the area, yet it is still also known as Seal Caves.
---
Oniro by the sea
Oniro by the sea translates to 'Dream by the sea' and is located quite close to the shipwreck. While it can't be classed as one of the things to do in the area, it is however a spectacular restaurant and bar, worth spending a couple of hours at, relaxing after spending some time at the Edro III.
The restaurant serves European and Mediterranean fare and it is delicious, but the views are what customers pay for when they visit.
Enjoying a refreshing cocktail with a shipwreck in the background and stunning sunsets to accompany it; it does not get better than this! Prices are on the higher end but worth it for all it offers. The lavender cocktail and seafood dishes are worth a try!
---
DETAILS
Oniro by the sea
Address: Glikou Nerou 05, Peyia 8560, Cyprus
Timings: 11.30 AM – 11 PM everyday, except Mondays. Closed Mondays
---
Coral Bay
Coral Bay has a long sandy beach and offers opportunities for snorkelling and swimming. There's lots of restaurants in the area making it the perfect place to spend a day and relax especially if you are on a family holiday.
In addition to the Coral Bay beach you will also find Coralia beach (Laourou beach) in the area.
It costs 5 Euros to hire a sunbed and an umbrella which is much needed in the summer months. You can take the bus number 615 to get here and it costs about 1.50 Euros one way.
It can get quite crowded here in summer due to the waters being clear and the opportunity to indulge in water sports.
Many prefer to even spend a couple of days here as Coral Bay is also known for its nightlife with Blazing Saddles and Cleo's Cocktail Bars being the popular bars in the area.
You can aso rent Quad bikes to go on a drive in Coral Bay.
Renegades sports bar, Corallo restaurant in addition to Oniro by the sea are some of the recommended restaurants and bars in the area.
---
Peyia village market
As the Edro III shipwreck is located in the village of Peyia, it is worth visiting the village market to not only take a look at the local fresh produce and enjoy some of it but also to check some homemade crafts too.
The stall holders are very friendly and sell their goods at reasonable rates. The market started out small but is picking up really fast and becoming a major tourist attraction where you can find everything from household goods to gifts and souvenirs for your loved ones back home.
The market is held every month.
---
DETAILS
Peyia village market
Address: Car park at the Peyia Football Stadium, location can be found here
Timings: Every first Sunday of the month
---
White River beach
White River beach is located at a 10 minute drive from the Edro III shipwreck. The drive to get to the beach is quite scenic even if short.
Another great spot for photography, the sunsets here are once again, stunning! Visitors can indulge in water sports such as snorkelling.
White River is quite peaceful even in summer as not many tend to go here and usually stick to Coral Bay. There is a car park in the area however you need to pass a dirt track to get here. From the car park it is a 5 minute walk to the beach.
Another car park is also available and the charges for the same are 5 Euros. You cannot rent sunbeds and umbrellas here.
---
DETAILS
White River beach
Address: W86G+MF8, Peyia, Cyprus
---
Tips to keep in mind when visiting the Edro III shipwreck
Ensure you carry plenty of water and sunscreen as there's no shops or restaurants in the immediate area. The closest are in the village of Peyia or Coral Bay

Make sure you wear your shoes on the rocks as they are sharp in places

Make sure you put the location and save it offline as network tends to be unreliable in the area

Wear a hat as it can get quite sunny in summer and there are no provisions for umbrellas to be rented here
---
Getting to Edro III shipwreck Cyprus – frequently asked questions
How far is the Edro III shipwreck from Paphos?
The Edro III shipwreck is located 25 minutes by car from the town of Paphos
Can you get a bus to the Edro III shipwreck?
Yes, if you choose to travel by bus, then the number 615 should get you here. It costs about 2 Euros and takes about 2-3 hours
Can you go diving at the Edro III shipwreck?
As the Edro III is above water, diving to the wreck isn't advisable however you can go diving in the vicinity of the sea caves. Provisions can be found in Coral Bay.
---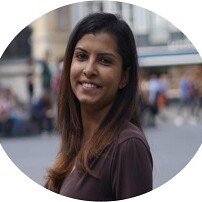 Award-winning Analyst, multi-nominated digital content creator and photographer Lavina Dsouza's words capture stories about culture and tradition mainly through its food and people. She has written and contributed to publications such as The Washington Post, Lonely Planet and Matador Network, to name a few. She is the editor of UntraditionalHumans.com, a non-profit created to share inspiring stories from women of colour who break free from traditions and choose happiness.
She's also a speaker passionate about DEI and champions solo travel. She has collaborated with numerous renowned brands such as Intrepid Travel, TripAdvisor, Travel and Leisure and Adobe, to name a few.
She can be found on Twitter and Instagram.
---
---
---
Some of the links on this post are affiliate links. These do not cost you extra to use, but will help provide Continent Hop with a small commission if/when you purchase through them, to recover some of the costs of running this website and providing free content to help you plan your travel. I appreciate your support!
---