New Zealand is known for its stunning landscapes, cultural diversity, and rich Maori and European history. It offers natural beauty and adventure with inviting outdoor experiences.
One of the best ways to truly immerse yourself in New Zealand's character is through an unforgettable road trip.
A road trip in New Zealand evokes images of coastal roads, mountain ranges, and pastoral landscapes. You'll encounter visual delights, unexpected encounters, and historical gems with stories to share at every turn.
The country's diverse topography captures the imagination of all who embark on this journey. In New Zealand, the opportunity for deep, meaningful exploration is unmatched.
This comprehensive guide will help you prepare to embark on an adventure that promises to be as memorable as the destinations you'll visit.
---
How to get around New Zealand
When exploring New Zealand, there are numerous ways to get around and experience the country's stunning beauty. The options range from self-driving a car or campervan rental, hopping on a bus or coach tour, riding the iconic TranzAlpine train, embarking on guided tours, or even cycling.
Each mode of transport offers its own unique advantages and allows travellers to tailor their journey to their preferences.
Whether you prefer the freedom of the open road, the convenience of guided tours, or the scenery from a train, New Zealand provides many options to suit every traveller's needs and desires.
---
Explore the breath-taking scenic routes of New Zealand
With so many scenic highways, deciding which route to take can be difficult when planning a road trip. This guide gives you a few of the best options to consider.
---
Coromandel Peninsula
Known as one of the premier coastal drives, this route unfurls over 305 kilometres of mesmerizing terrain and is optimally savoured over one to three days.
The Coromandel Peninsula, a cherished holiday hotspot for locals hailing from nearby Auckland and Hamilton, offers more than just sun-soaked, sandy stretches.
Alongside its striking coastline, the Coromandel paints a vivid picture of its gold-mining history through the quaint, heritage-rich streets of Waihi, Thames, and Coromandel Town.
Your journey begins in the Thames, leading you to Coromandel Town via the enchanting Rapaura Water Gardens. From there, an optional detour from Colville transports you to the raw, untouched beauty of the Coromandel Peninsula's northernmost tip.
Should your visit coincide with the summer months—December to February—prepare to be dazzled by the radiant crimson blooms of the pohutukawa trees, enhancing the landscape with their vibrant glory.
---
Thermal Explorer Highway with Tongariro
The North Island of New Zealand showcases a diverse and distinctive landscape that even a brief journey offers a kaleidoscope of experiences. This diversity is remarkably apparent along the Thermal Explorer Highway, with the stretch between Rotorua and Taupo deserving special attention.
Pair this with a drive along Tongariro Desert Road, and you're on track for an unrivalled road trip adventure.
Just a stone's throw away from Rotorua lies Wai-O-Tapu, a remarkable showcase of New Zealand's volatile geothermal landscape. This area is one of the country's most extraordinary locales, complete with erupting geysers, a palpable sulfuric aroma, and naturally heated springs.
It's an otherworldly setting that genuinely encapsulates the unique character of this fascinating country.
---
Christchurch to Queenstown
Distinguished from its northern counterpart, New Zealand's South Island is renowned for its expansive network of nature walks and hiking trails, commanding mountain ranges, and sprawling lakes.
The journey from Christchurch to Queenstown takes you through a collection of the island's most breath-taking locations. Along the way, you'll encounter photo opportunities that are truly visually captivating, promising to create unforgettable experiences in your lifetime.
---
Auckland to Cape Reinga
Auckland is often the chosen starting point for many travellers exploring New Zealand. If this resonates with you, the road trip from Auckland to Cape Reinga is undoubtedly worth considering. Journeying north from Auckland, you'll arrive at the charming coastal town of Paihia, known as the gateway to the enchanting Bay of Islands.
Paihia serves as an idyllic location for spotting dolphins, swimming, and delving into New Zealand's history at the Waitangi Treaty Grounds—the birthplace of the nation's founding document.
If you're a sailing enthusiast, consider embarking on an island tour, which often includes visiting the renowned Hole in the Rock.
Once you depart from Paihia, your route will take you to 90 Mile Beach and Cape Reinga, located at the northernmost tip of New Zealand. This popular destination offers thrilling activities such as sandboarding and the opportunity to visit the iconic lighthouse.
Standing at the edge of the country, you'll be able to gaze out over the vast expanse of the Pacific Ocean, capping off an unforgettable journey.
If you choose this road trip journey, the suggested time is three to four days, so take it slow, and bask in every single view and experience as you hit the road.
---
Auckland to Wellington
Devotees of The Lord Of The Rings are in for a treat as this route offers a pass through the mesmerizing Hobbiton movie set, brought to life by Peter Jackson.
Commencing in Auckland and culminating in Wellington, this journey loops through the illustrious wine regions of Martinborough, showcasing the captivating vistas of North Island before reaching Wellington, the southernmost capital city in the world.
While a domestic flight from Auckland to Wellington may be a quicker alternative, embarking on a campervan journey allows for immersive experiences that a flight cannot offer.
You'll be able to revel in the grandeur of expansive national parks, rugged mountain ranges, and natural spas that have collectively established New Zealand as a mainstay on travellers' bucket lists worldwide.
The New Zealand road trips above are travellers' and locals' favourites, so embarking on any one of them will genuinely give you the best experiences while in New Zealand.
---
Plan and embark on a memorable campervan adventure today
New Zealand is a country that unfurls its true beauty when explored at leisure, in the comfort of a rental car or campervan. Its allure often lies off the beaten path, nestled in locations public transportation can't reach.
Embracing the road trip lifestyle lets you dictate your own pace, pausing as you wish to soak in awe-inspiring views, embark on invigorating hikes, or indulge in various other outdoor activities.
However, embarking on such a journey requires thoughtful planning and the selection of an ideal campervan that fits your needs. Below are some tips when renting a campervan.
---
Check that your campervan is a self-contained vehicle
When selecting a campervan, make sure it is equipped with essential amenities like a portable toilet and a compact kitchen. This helps protect New Zealand's pristine natural beauty by avoiding improper free camping.
While camper cars may be cheaper, they may not comply with New Zealand's strict camping laws. Even with fold-down seats that double as beds, you would still need to set up an external kitchen and toilet, which can be inconvenient.
Choosing a self-contained vehicle prioritizes your comfort during the journey, freeing you from concerns about finding rest stops or suitable sleeping arrangements as night approaches.
---
List your needed amenities
Make a checklist of the amenities you need for your campervan. Ensure that the campervan has essential facilities like a working sink and toilet. Keep in mind that amenities can differ between vehicles and rental companies.
To simplify the process, create a comprehensive list of the features you must have. For instance, you might prefer a larger campervan with multiple bedrooms if you're going on a family adventure.
Consider if navigational aids, a fully stocked kitchen with utensils, pillows, sheets, or air conditioning are necessary for you. By making a personalized checklist, you can effectively compare what each rental company offers and choose a campervan that meets all your travel requirements.
Consider your budget
When renting a campervan in New Zealand, your budget is a crucial factor to consider. Generally, the size and amenities of the campervan directly affect its cost. Bigger and more equipped campervans tend to be more expensive.
Planning ahead is important to secure better deals and potential discounts, like booking airline, train, or bus tickets. Always compare rates and be cautious of suspiciously attractive deals.
It's better to continue your search than settle for an average campervan that initially seemed appealing due to its low price. Investing in quality ensures comfort and a successful journey.
---
Choose the right season
If your travel plans allow flexibility, selecting the right season can lead to substantial savings on campervan rental rates. This strategy is particularly beneficial for budget-conscious travellers seeking to maximize their experiences without compromising the quality of their vacation.
New Zealand's peak season, which spans from December to February, offers warmer weather but typically includes higher rental rates and larger tourist crowds.
Conversely, traveling between March and May often results in lower rates and fewer tourists while still offering agreeable weather. The vibrant hues of autumn foliage during these months also provide a unique and picturesque landscape.
Once you've pinpointed the ideal campervan for your journey, you're all set to kick off your unforgettable New Zealand road trip adventure.
---
Make that dream New Zealand enthralling road trip a reality
Turn your dream of an enthralling road trip in New Zealand into reality. Experience the rugged coastline, majestic mountains, serene pastoral scenes, and vibrant urban spaces that encapsulate the diverse beauty of this island country.
Whether you seek adventure, are captivated by natural wonders, or are intrigued by the fusion of Māori and contemporary culture, New Zealand's scenic road trips offer a fulfilling and unique experience.
Use the above guide to plan your trip today and make your dream New Zealand road trip a reality.
---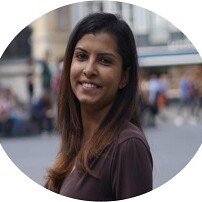 Award-winning Analyst, multi-nominated digital content creator and photographer Lavina Dsouza's words capture stories about culture and tradition mainly through its food and people. She has written and contributed to publications such as The Washington Post, Lonely Planet and Matador Network, to name a few. She is the editor of UntraditionalHumans.com, a non-profit created to share inspiring stories from women of colour who break free from traditions and choose happiness.
She's also a speaker passionate about DEI and champions solo travel. She has collaborated with numerous renowned brands such as Intrepid Travel, TripAdvisor, Travel and Leisure and Adobe, to name a few.
She can be found on Twitter and Instagram.
---
---
TRAVEL MORE WITH THESE ITINERARIES
---
Some of the links on this post are affiliate links. These do not cost you extra to use, but will help provide Continent Hop with a small commission if/when you purchase through them, to recover some of the costs of running this website and providing free content to help you plan your travel. I appreciate your support!
---