Dubai in 2 days is quite possible! Sure you won't get to get an in depth taste but it is enough to see the best bits, including a desert safari. Here's a Dubai 2-day itinerary that covers the souks, beaches and more that you can do on a stopover or a weekend!
A city that dares to live up to its bold dreams and futuristic vision, Dubai is on every second traveller's bucket list.
From the underwater world to the panoramic view from the 148th floor, the city will stand beyond your expectations. Whether you desire to travel to a cutting-edge Downtown or venture into a calm historic emirate, Dubai is a bit of both worlds.
It is commendable how the emirate manages to show the perfect encapsulation of old and new.
Amidst the beehive of activities, here is the perfect guide to help you organize the perfect Dubai in 2 days trip, be it with family, friends, or solo.
Dubai in 2 days – A fab Dubai 2-day itinerary
---
Best Time to Visit Dubai
---
The best time to visit Dubai for 2 days is from November to March when the city embraces pleasant weather conditions.
The temperature is around 20-30°C and evenings remain crisp. The city is lively during this time of the year – all jazzed with New Year celebrations, Christmas markets, and Dubai Shopping Festival.
A sea of tourists swarm Dubai to enjoy the festivities, explore the outdoors and swim on the beaches.
For travelers who are looking to discover the city of gold on a budget, the best time to visit Dubai is April to early June. The weather is not so harsh, and the prices of hotels drop.
---
Here's what's covered on your Dubai 2-day itinerary
Day 1: Old Dubai, Desert Safari, and Dhow Cruise

Day 2: Kite Beach, Dubai Frame, Dubai Mall, Burj Khalifa & Dubai Fountain/ Madinat Jumeirah
---
Day 1 in Dubai in 2 days
Morning: Old Dubai, Al Bastakiya Quarter, and Souks
Start your Dubai 2-day trip from the unseen side of the city. All you would have heard till date is that Dubai is a city of sky-piercing buildings, luxurious hotels, and seaside resorts.
But here is an insight into what Dubai looked before it became a head-turning metropolis.
The Old Dubai has wonderfully retained its heritage. You can hop on an Abra ride that would cost you 1 AED and take you across the scenic Creek (the lifeline of trade during the early 20th century).
Those who want to see what life was like before the oil was discovered in the emirates, can meander through the walkways of the Al Bastakiya Quarter.
Harking back to the 19th century, this residential quarter is lined with homes that have wind towers, art galleries, museums, retailers, and other attractions.
Then, travel towards the souks. From smelling the ouds to browsing a range of spices from Iran, India, Pakistan, and other countries, the souks in Dubai transport your senses to a luxe world.
One of the most popular things to do in Old Dubai is to visit the Gold Souk. The entire market is crammed with pure gold ornaments at dirt cheap rates. Haggle as much as you can!
Meanwhile, you can unwind and relax in the Arabian Tea House with a cup of beverage, appetizers, salads, biryani, or barbecue as per your taste. The authentic Emirati ambiance will bring you closer to the culture.
---
Afternoon: Desert Safari Dubai
After loads of shopping and observations in Old Dubai, pump up yourselves to join the adventure expedition in the middle of the desert.
You will be received in a chauffeur-driven SUV from the given pick-up spot and zip across the town to reach the stretch of red sand. Desert safari Dubai is an exhilarating experience that involves an adrenaline-pumping dune bashing in an SUV.
The trail of adventures is followed by fat-bike riding and sandboarding. One of the most highly recommended activities in desert safari is the camel ride.
Perch on its back and go for a pleasing journey away from the chaos. Thankfully, there are guides to help you out in understanding these sports. Several safari tours will even let you get amazed by the falconry. In the latter half, the caravan reaches the well-embellished camps.
Delve a little deeper into the fascinating culture and history of the emirate as you buy souvenirs, get a henna design, admire the Tanoura show and flaunt a traditional dress.
It's a buzzing campsite with an array of delicious Arabic food. Devour a 4-course buffet with mouth-watering dishes like Spring Rolls, Falafel, lamb kabab, Lebanese bread, baked potatoes, chicken sausages, curries, sweets, muffins, and a lot more.
It's an action-packed excursion with a peep into the world of Arabs.
---
---
Night: Dhow Cruise Dubai
Later in the night as the buildings and malls start to lit like fireflies, you'll be dropped off in the city to experience its happening nightlife.
Catch your breath at the rejuvenating dhow cruise Dubai.
It's time to sail across the poshest location in the city, Dubai Marina on this stunning cruise, which is revamped from a classical model.
Gaze at the continuously changing scenes in the balmy evening with a swift breeze flowing around. Accompanied by warm hospitality, unlimited beverages, and live entertainment, you can plan a romantic dine-out or throw a family party on the cruise.
The visual of 1800-arched Cayan Towers, Marina Mall, and Ain Dubai look straight out of a novel. In the scintillating atmosphere, the 2-hour cruise in Dubai is complete with a lavish spread of dinner that includes salads, soups, a main course, and dessert.
It is hard to not fall in love with the glittering landscape as you sail on the sizzling canal.
Day 2 in Dubai in 2 days
Morning: Kite Beach
Get out of bed early morning to kickstart another day of 48 hours in Dubai reclining by the beautiful Kite Beach.
It is a perfect place in the city for complete family entertainment. Watch the water touching the shores, children building the sandcastles, and thrill seekers playing sports.
There is a score of fun water activities like kite surfing, parasailing, stand-up paddle boarding, and wakeboarding available with the right equipment. If you want to keep your feet dry, play a game of volleyball and jump on trampolines.
Besides lying under the umbrella on the canopy chair, you can snack in food trucks and small outlets. Overall, you can stretch your dollar by relaxing at this free beach in Dubai and basking in the sun.
---
Before Noon: Dubai Frame
If flying up the city in a helicopter isn't your cup of tea, visit the Dubai Frame and spectate the city right from its full-height vantage point. It's both timeless and breathtaking.
A few minutes away from the beach, this world's largest photo frame is tucked in Zabeel Park and entry starts as early as 9 AM.
The frame's topmost floor allows you to witness New Dubai on one side while the Old Dubai on the other. The metaphorical bridge combines the past of Dubai with its present and future. It's interesting how a single deck can give you a 360-degree view.
Through the journey, you will also stumble upon interactive exhibitions on the history of the city. Don't forget to duck into a tunnel while leaving which transports you to Dubai 2050.
---
Afternoon: Dubai Mall
At this time of the day, the heat would have leveled up and the best escape is the largest shopping mall in the city.
Dubai Mall is around 7 minutes away from the Frame.
Give your credit card a marathon as you are going to fall in love with everything you see here and probably be carrying a dozen of shopping bags from the world's most covetable brands.
If you are traveling for 2 days in Dubai on a budget, you can ideally wander, do window shopping, read books or just check out the indoor two-floor waterfall. It's like a tiny city that has an Olympian-sized ice rink, luxurious movie theatre, lifelike dinosaur skeleton, a haunted hotel, and multiple gaming zones.
Visitors find it difficult to leave without witnessing the giant aquarium that overlaps their heads at 270 degrees. The 33,000 marine animals including sharks and rays easily captivate your eyes and give you jitters.
If you have time on your hands, why not go swim with sharks… oh, yes that's safe.
Also, what a shame it would be that you are in the city of foodies and you do not try eating at the hundreds of outlets at the Food court.
---
Evening: Burj Khalifa & Dubai Fountain
In the vicinity is the tallest building in the world. The must-visit attraction in Dubai, Burj Khalifa is visible from anywhere in the city, especially on a clear day.
The tower is home to the world's largest observation deck and prepares you to fight your inner vertigo. Hike the 555 meters and watch the illuminating cityscape with the backdrop of the sunset.
It's a never-seen-before view that will make you sing your favourite song. Check out the interiors and sip the tea in the lounge.
Then, move forward to the foothill to ogle at the most dazzling Dubai Fountain. Yes, you guessed it right, it dances. The Dubai Dance Fountain throws gallons of water up in the air and shimmers to melodious music.
You will remain startled at this short-lived great performance. To watch it up close, book a seat on the cruise in Burj Lake.
Hooked to the view? You can savour dinner at the nearby Souk Al Bahr tapping your feet to the tunes of the fountain and hands to the chopsticks.
---
Night: Madinat Jumeirah
You can spend your evening in Dubai at the entertainment center Madinat Jumeirah which boasts a medley of modern and traditional facets.
It makes you feel truly a tourist. From riding and Abra to hitting the shops, you can come across an array of things in the labyrinth of this huge marketplace.
Around 10 minutes away from Dubai Mall, the retailing mall is one of the popular attractions in Dubai. There are restaurants probably from every corner of the world featuring their best cuisine in the kitchen.
Sign up for a sumptuous meal overlooking the beach. After the sunset, the gardens are lit and shops are all touching the skies with their buzzing energies.
---
Top Tips When Travelling to Dubai in 2 Days
Since you are headed to Dubai for the first time, don't go before you catch up with these top tips:
Pack climate-friendly, comfy and lose clothes that help you enjoy the warm weather. Make sure they aren't too short, revealing, or transparent.

Sunscreen, hats, and sunglasses can come in handy to beat the heat.

Make your money last longer by eating at local restaurants, hopping on public transport, and staying at mid-budget hotels in Old Dubai (or near a metro station).

You will love a plate of shawarma and kebab starting from AED 6. Chow down and booze in the happy hours for better discounts.

If shopping is what you are looking forward to, plan your trip around the mega events Dubai Summer Surprises (July-August) and Dubai Shopping Festival (January). There are hundreds of blockbuster sales and discounts on the biggest brands.

Dubai is one of the safest cities to travel and the rate of crime is negligible. But being aware and vigilant is something that all tourists should follow.

Dubai is not conservative but has a set of protocols that you must abide by. Avoid PDAs, taking photographs of locals without permission, and smoking and drinking in public.
---
Although Dubai in 2 days is not a sufficient time to tick off everything on the bucket list, you can have a good scan of the major attractions and landmarks.
This perfect itinerary and useful tips can help you make a fool proof plan.
---
FAQs about Dubai in 2 days
Is Dubai in 2 days enough?
Yes, 2 days are just enough if you want to see what Dubai has to offer. 2 days in Dubai will give you a chance to explore different souks, take a desert safari, go for a camel ride, go on top of the Burj Khalifa, and visit a couple of famous malls and beaches.
With only 48 hours in Dubai, you will have to go for a fast-paced itinerary.
How many days in Dubai is enough?
You will need a minimum of 5 and a maximum of 7 days to cover the best of Dubai like Burj Khalifa and shopping malls, explore its hidden gems including Al Bastakiya district and Ras Al Khor Wildlife Sanctuary, and then opt for day tours to nearby cities of Abu Dhabi and Sharjah.
With 5 to 7 days in Dubai, you will also be able to include different adventure activities in your itinerary.
Is 3 days enough for Dubai?
Spending 3 days in Dubai is an ideal balance between a fast-paced itinerary and a leisurely trip plan. It will give you a glimpse of all the best Dubai attractions, desert safari, and dune bashing. If planned well, you may also be able to go for a day tour to Abu Dhabi from Dubai.
Is Dubai a cheap trip?
Yes, Dubai can be considered one of the cheap destinations as it offers several outdoor sights that are free of cost. You do not have to pay anything to wander around Dubai souks, relax on the beaches, or explore historic districts.
But, if you are planning to splurge on shopping in malls or buy gold items, then Dubai is not light on pockets.
---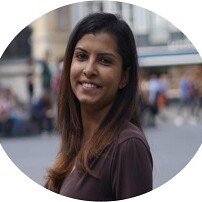 Award-winning Analyst, multi-nominated digital content creator and photographer Lavina Dsouza's words capture stories about culture and tradition mainly through its food and people. She has written and contributed to publications such as The Washington Post, Lonely Planet and Matador Network, to name a few. She is the editor of UntraditionalHumans.com, a non-profit created to share inspiring stories from women of colour who break free from traditions and choose happiness.
She's also a speaker passionate about DEI and champions solo travel. She has collaborated with numerous renowned brands such as Intrepid Travel, TripAdvisor, Travel and Leisure and Adobe, to name a few.
She can be found on Twitter and Instagram.
---
---
---
Some of the links on this post are affiliate links. These do not cost you extra to use, but will help provide Continent Hop with a small commission if/when you purchase through them, to recover some of the costs of running this website and providing free content to help you plan your travel. I appreciate your support!
---