Victoria Quays in Sheffield is the perfect spot to spend a day out in Sheffield by indulging in some outdoor activities in Sheffield. If you're looking at what to do in Sheffield in a day and having a Wild micro gap here, then this is for you!
As much as I still wasn't too fond of the grey skies and the cold, over time I'd realized I'd cut down on the layers I piled over myself and that getting out wasn't as bad as it was first.
It was another day in Britain, full of grey skies and the sound of leaves blowing in the wind.
Travel over the years had become more of an occupation and taking a break in a faraway sunny destination seemed more of a task than a holiday!
Today, it was going to be a little different. Today was about taking a break during Autumn, one of my favourite times of the year and I wasn't going too far to do it. Seasoned travelers say the best adventures are hiding in your backyard and I was going to test that theory.
I was heading to Sheffield, to try a microgap.
---
What is a Microgap?
I was oblivious to what a Gap year is, till I moved to England. India, where I grew up, concepts like a gap year are still new and many may not even bother taking one even if they do hear of it.
In India, you snooze (or take a break) and you lose. Competition is tough, especially if you've just graduated and it's a rat race to the top.
While I shall always maintain that traveling isn't expensive, it does require some savings and investing time.
Getting a much-needed refresh however doesn't need to involve a whole year nor does it need to be expensive. Irrespective of whether you need a break from work, studies or just for fun, you can always take a microgap no matter where you live in the world.
A microgap is meant to give you everything you need in a gap year in shorter but frequent intervals within a day or a couple of days.
While it's easier to stay connected when on the road and even pay bills thanks to your phone, a microgap does help immensely when you only need to take a few days off or maybe even utilize weekends if you can't afford to take holidays.
---
Why take a Microgap
The busier we get, the more the need arises to switch off and take a break. With a microgap, your break doesn't need to span about a year.
If you've never given it a thought, here's why you need a microgap.
It can be taken as frequently as you need

It doesn't need a huge investment

It can be as short or as long as you need

You can continue to work or invest time in other activities you've been already doing

You get to explore destinations you never gave a chance at first glance

You can have different microgap's. It doesn't need to fit a single theme, which makes it even more fun!

It's easier to return to a place if you like what you tried
I've always preferred shorter but more frequent breaks rather than long ones as that way you always have a few spare holidays left and there's something exciting to look forward to!
Taking a break to get refreshed and reset doesn't have to be expensive or conventional!
---
A day out in Sheffield
Growing up in a tropical country, when it got really cold, life slowed down. People went about their daily lives but most of them never dared to be adventurous. We'd go to museums or escape rooms when it was cold and raining, but the outdoor adventure had to wait for summer.
Moving to Europe meant embracing the weather and continuing to have fun irrespective of how cold or hot it got! Hiking, city breaks, food tours….everything went on irrespective of the time of year.
As much as I hate to admit it, I'd been in Britain for 5 years and still hadn't visited Sheffield. Taking a microgap and getting to explore Sheffield for a day seemed like the best combination. Sheffield was located just 40 minutes away by train which made it perfect as I was not keen to spend a lot of time on the journey itself, this time.
Known as the 'Outdoor City', one-third of Sheffield is located in the Peak District National Park, making it one of the best spots for outdoor and adventure activities.
This historically industrial city still has remnants of the past due to the role it played in the Industrial Revolution but new developments added later make for a fascinating mix of the old and new.
What do you do in Sheffield though? Do you just visit it for a microgap? Far from it!
Sheffield is an unknown cultural hub with numerous theatres, museums and my favorite bits as well: street art and beer! It claims to be the 'Ale capital of the world' so you can be sure that there'll be plenty on offer!
Here are a few fun things to do in Sheffield if you have more time:
Take a walk around town to see the Millennium Gallery, Sheffield Cathedral and the Winter Garden

Pay a visit to Chatsworth House

If you like museums, the Kelham Island Museum is worth a visit
---
---
Activities in Sheffield, England you can do on your microgap
Our Microgap was centred around 'Going wild' so imagine unconventional outdoor activities in unconventional destinations.
As with any holiday or trip, it's all about you and what you pick, so if you prefer the outdoors, getting out of your comfort zone and trying something new, then this article and the activities listed are exactly what you need!
If it isn't, then there are numerous other fun places to visit in Sheffield that cater to a diverse travel group. You can pick what to do in Sheffield here. Here's what we did on our day out in Sheffield.
Start your day at The Dorothy Pax at Victoria Quays
Victoria Quays was earlier called the Sheffield Canal Basin. The basin was the first to allow canal boats to get to the heart of Sheffield and acted as an important transhipment point before movement by rail and road took over.
It entered a dilapidated state by the 1970s but the rise of new buildings and warehouses along the river Sheaf helped revive the environment in the area, making it a great offbeat spot to visit in Sheffield.
The Dorothy Pax is located right next to the canal and the location of the bar is just right to use as a base and spend the day here.
Named after a Sheffield Keel called The Dorothy Pax, the bar is made from the famous boat and used to be a dental practice till it was later converted to the hip bar it is now.
All their wines are vegan and it is a great place to visit in Sheffield if you have to spend only one day in Sheffield. You'll find a wide variety of artists belting out live music here in the evenings and if you're a cat person, the Pax Cat can also be found here!
---
DETAILS
Address: Arch 17, Wharf Street, Victoria Quays, Sheffield S2 5SY
Timings: Tuesday – Saturday 12:00 PM – 11:00 PM, Sunday 12:00 PM – 6:00 PM, Monday 4:00 PM – 9:00 PM
The event listing can be found here
---
---
Take a canoe out on River Don near Victoria Quays
Dan and his team of DC Outdoors were ready for us once we got to The Dorothy Pax near Victoria Quays. Based in Sheffield, DC Outdoors delivers a range of outdoor activities exactly where you need them.
Our group was divided into two and I decided to start with canoeing, which was easy to do irrespective of whether you'd ever attempted any water activity before.
We were given instructions, our paddle and life-jackets and off we went down the canal. There was a lot of street art and graffiti that we saw along the way. We also saw a crane that accompanied us for a short distance.
Refurbished structures and Grade II listed buildings with unique architecture dotted both sides and a short distance down the canal was an unusual structure put together by someone who clearly wanted passersby to stop and admire it!
The 'Welcome to Sheffield' stop included several fake skeletons, the bust of a Buddha and a lion with potted plants strewn around it all. It was quite innovative!
While canoeing can be done by yourself, you can also do it with a friend which makes it even more fun!
---
---
Stand-up Paddleboarding (SUP) near Victoria Quays
The next activity for our microgap day out in Sheffield was Stand-up paddleboarding. After having a hearty vegan lunch at The Dorothy Pax, we got ready for the second half of the day.
I'd attempted Stand-up Paddleboarding before so I knew what to expect. What I wasn't sure was how cold the water would be if I fell over!
I had forgotten how sturdy the board was and that it took a little while to understand how to balance on it but once you did, you could pretty much even do yoga on it as long as you didn't fumble!
You didn't have to stand up all the while attempting it though! You could sit cross-legged on it (my preferred mode when tired) and still explore the canal. This was also a great way to ensure you didn't topple over.
Unfortunately, a couple of others from the team ended up in the water which was fun to watch but not pleasant as one of them lost their Go-Pro!
While she did take care to strap it up properly, it came undone due to her falling over.
After a few unsuccessful attempts at trying to retrieve it, we gave up and decided it was now part of the murky clutter at the bottom of the canal.
---
---
DC outdoors delivers not only Canoeing and Stand-up Paddleboarding but a range of other outdoor activities in Sheffield too like Abseiling, Weaselling, Kayaking, Hillwalking, and Orienteering to name a few.
They do so not just in Victoria Quays but wherever you need including the Peak District which makes it ideal as this way you can carve the quintessential microgap you need!
If you're not keen to have a microgap by yourself, activities like these are great fun when done as a group, irrespective of whether you do it with family, friends or even your colleagues!
---
DETAILS
Address: 62 Wheata road, Sheffield, S5 9FN
Email: dcoutdoorpu[email protected]. You can also get in touch with them via their form here
---
Various microgaps you can take
I do like adventure so this day out in Sheffield was exciting but I've been quite tired lately so a 'Switch Off' microgap would be exactly what I need now!
These ideas for a microgap are just a starting point to help inspire your trip. You can do whatever you think will help you switch off and have a great day no matter where you choose to go.
The various options that Visit England have put together, to begin with, other than the 'Go Wild' microgap we experienced are as follows:
Switch Off – Stargazing, escapes to a sub-tropical island or enjoying the benefits of a seaweed bath, the opportunities to pamper and take time out for yourself are plenty and you don't need to pay a hefty price to run away from the grind of daily life

Give Back – If doing good makes you feel good you can choose from being a beekeeper for a day, help clean up the beach while dancing or even have some gourmet meals while giving back!

Learn more – If learning new skills stimulates you then why not try your hand at glassblowing, making whisky or getting your punting license?
If you search for the #myMicrogap hashtag on social media, you'll be able to see what everybody has been up to, to help pick activities at various destinations around England.
However, let this not stop you from coming up and exploring different interests.
WHERE IS SHEFFIELD LOCATED?
Sheffield is located in South Yorkshire, England near The Peak District National Park. It is about 40 minutes away from Leeds and Manchester by train. Its name is derived from the River Sheaf, which runs through the city.
HOW FAR IS SHEFFIELD FROM LONDON?
Sheffield is located about 2 hours and 10 minutes away from London by train. The best way to get to Sheffield is by train.
TRAIN
The train from London Kin'g cross take about 2 hours 10 minutes. It is a direct train. There are also direct trains from Manchester Piccadilly, Manchester Airport and Leeds.
BUS
You can use Megabus or National Express to get to Sheffield. Sheffield will be one of the stops for buses headed to Leeds or Durham. From London, buses to Sheffield take about 3.5 to 4 hours. From Manchester or Leeds it takes about an hour to 1 hour 15 minutes. A bus from Bradford to Sheffield would take about 1.15 hours.
CAR
Driving to Sheffield takes about 4 hours from London. From Leeds or Manchester, depending on traffic, the earliest it takes to get to Sheffield is an hour to 1.5 hours.
FLIGHTS
The closest airports to Sheffield are Leeds Bradford, Robin Hood Doncaster Sheffield and Manchester. Once you get to the airport, use the info above to find the best way to get to Sheffield.
---
All the clouds did that day was get darker and it thankfully did not rain, but even if it did, it wouldn't have deterred any of us from having a great time that day.
As they say in Finland, no matter how cold it gets, you can go about as long as you have the right layers! With England, as long as you were prepared for the day, you could indulge in any form of adventure without fear!
The best bit I learned when I moved continents was never to let the weather or your current circumstances get in the way of what you wanted or needed to get done.
If this meant trying to get away from routine life, it was surely possible to do so in the way you wanted it to be and the concept of a microgap was just waiting around the corner to happen.
---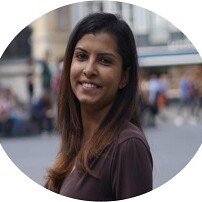 Award-winning Analyst, multi-nominated digital content creator and photographer Lavina Dsouza's words capture stories about culture and tradition mainly through its food and people. She has written and contributed to publications such as The Washington Post, Lonely Planet and Matador Network, to name a few. She is the editor of UntraditionalHumans.com, a non-profit created to share inspiring stories from women of colour who break free from traditions and choose happiness.
She's also a speaker passionate about DEI and champions solo travel. She has collaborated with numerous renowned brands such as Intrepid Travel, TripAdvisor, Travel and Leisure and Adobe, to name a few.
She can be found on Twitter and Instagram.
---
---
---
Special thanks to Visit England and Visit Sheffield for sponsoring my Microgap experience, as always all opinions are my own.
---
EXPLORE MORE THINGS TO DO IN THE U.K.
---
Some of the links on this post are affiliate links. These do not cost you extra to use, but will help provide Continent Hop with a small commission if/when you purchase through them, to recover some of the costs of running this website and providing free content to help you plan your travel. I appreciate your support!
---